Queen among the ranks of those eager for royal baby to arrive
Princess Elizabeth, later to be Queen Elizabeth II, was not the heir apparent on her christening day in 1926. In fact, her birth didn't rate a mention in the Los Angeles Times. At the time, her father Albert, pictured at the far right, was the Duke of York. Only after his father, King George V, above left, died and Prince Albert's brother abdicated the throne in 1936 in order to marry the twice-divorced American Wallis Simpson, did Elizabeth became second in line for the throne. The future queen is in the arms of her mother, Elizabeth, who is seated next to her mother-in-law, Queen Mary.
(Associated Press)
Prince Charles of England is seen as an infant in the arms of Princess Elizabeth, now Queen Elizabeth II, on Dec. 15, 1948. His grandfather, King George VI, and grandmother, Queen Elizabeth, flank their daughter. His father, Prince Philip, stands. His birth was front-page news in Los Angeles, where The Times' headline on Nov. 15, 1948, read: 'Prince Born to Elizabeth; May Be Next British King'
(Archive Photos)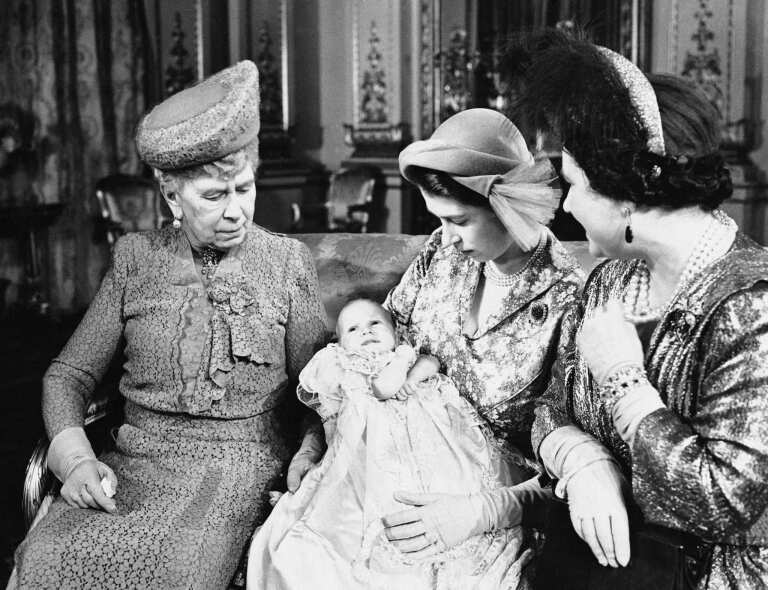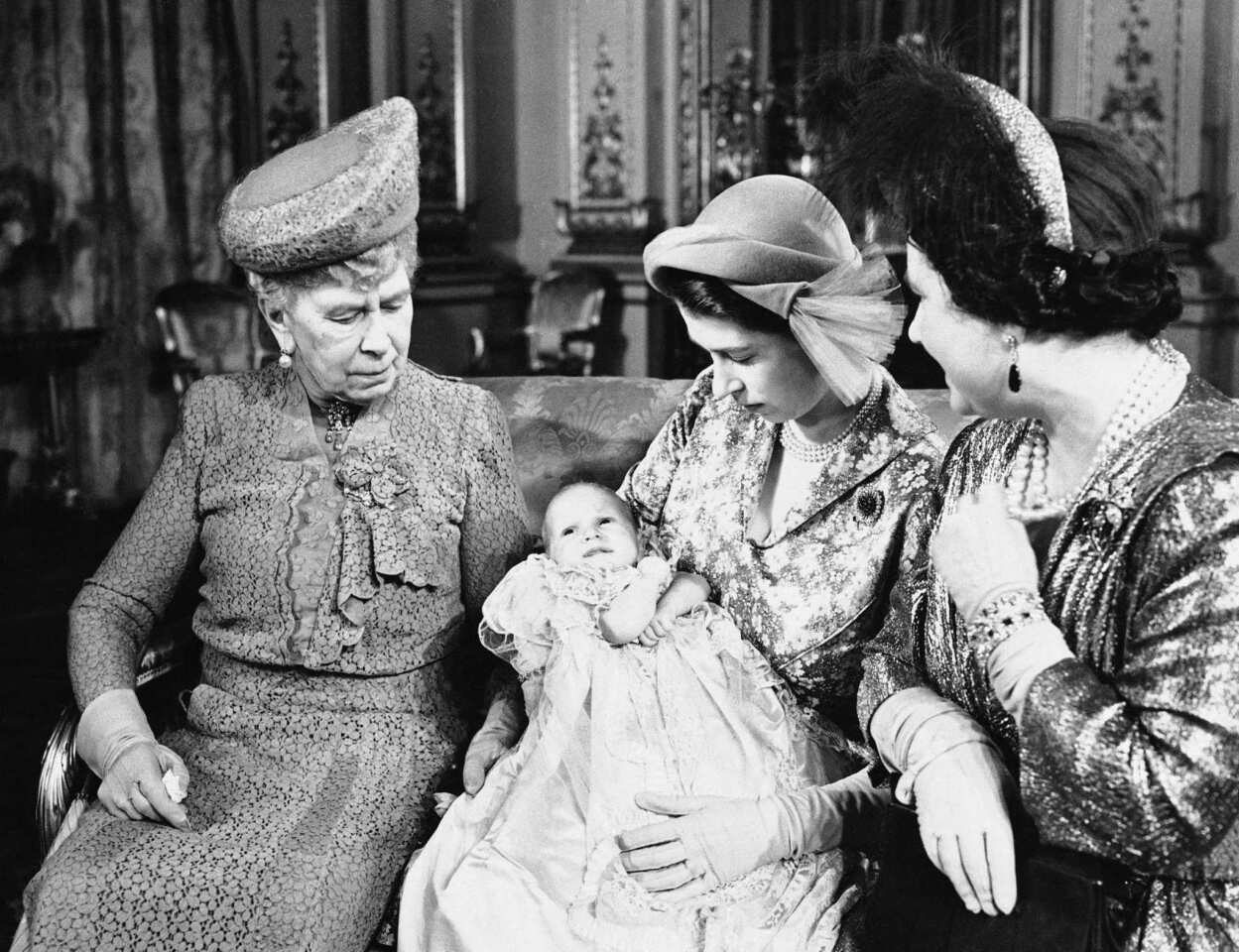 Princess Elizabeth holds her daughter Princess Anne in Buckingham Palace on Oct. 21, 1950, when the 2-month-old princess was christened. Beside them are Queen Elizabeth, right, and Queen Mary.
(Associated Press)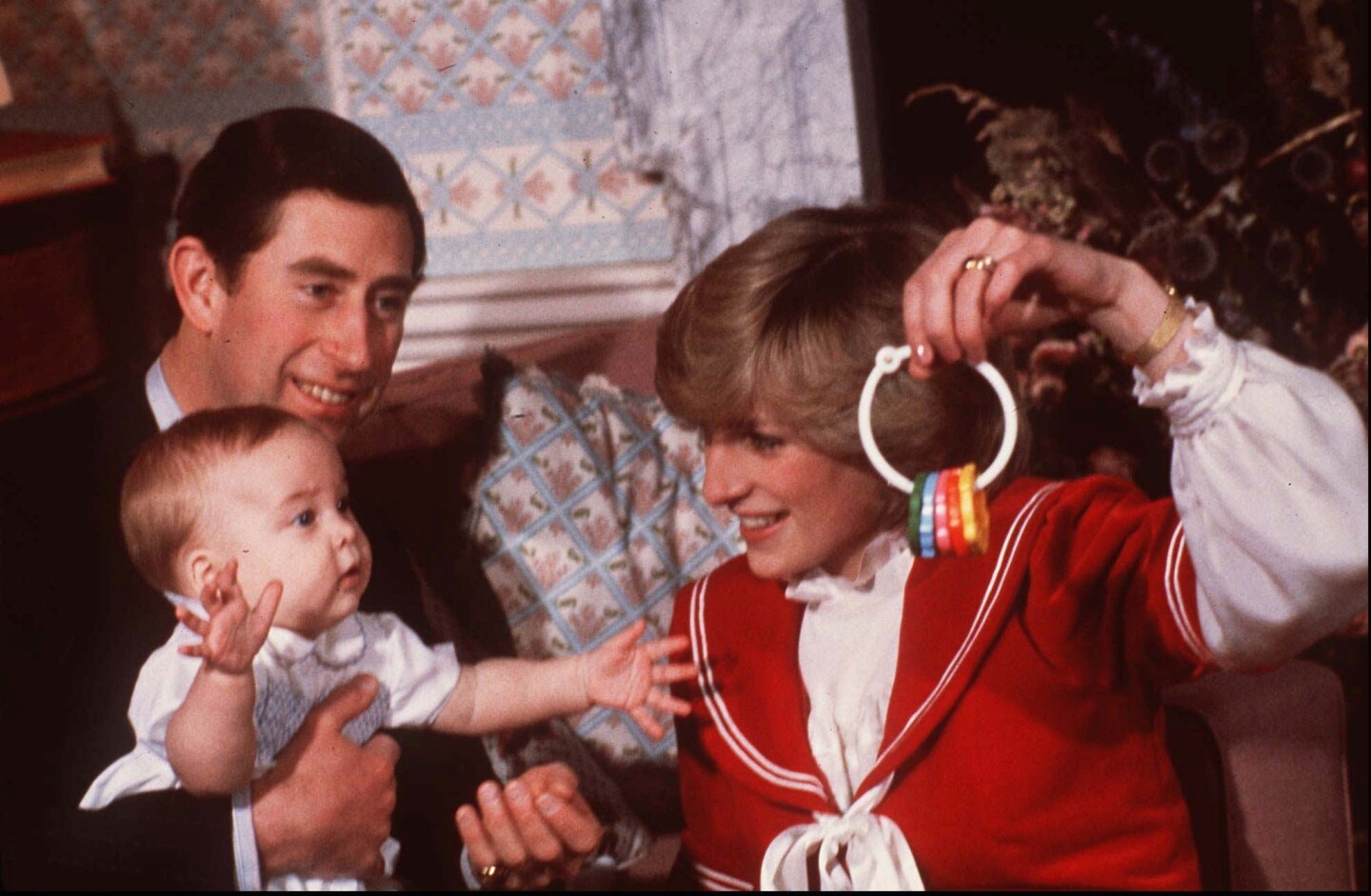 Prince William was born June 21, 1982 -- less than a year after his parents' spectacular, televised wedding ceremony. Word of his birth ran inside the Los Angeles Times' front section, a less auspicious debut than the front-page headline his father, Prince Charles, got. The story noted the prince weighed 7 pounds, 1 1/4 ounces. His mother, the late Princess Diana, was 20.
(Associated Press)
Princess Diana is shown with Prince Harry, born Sept. 15, 1984, and his older brother, Prince William, 2. His entry into the world was marked in the Los Angeles Times by a photo of the infant, with his parents, when they left the hospital where he was born.
(Associated Press)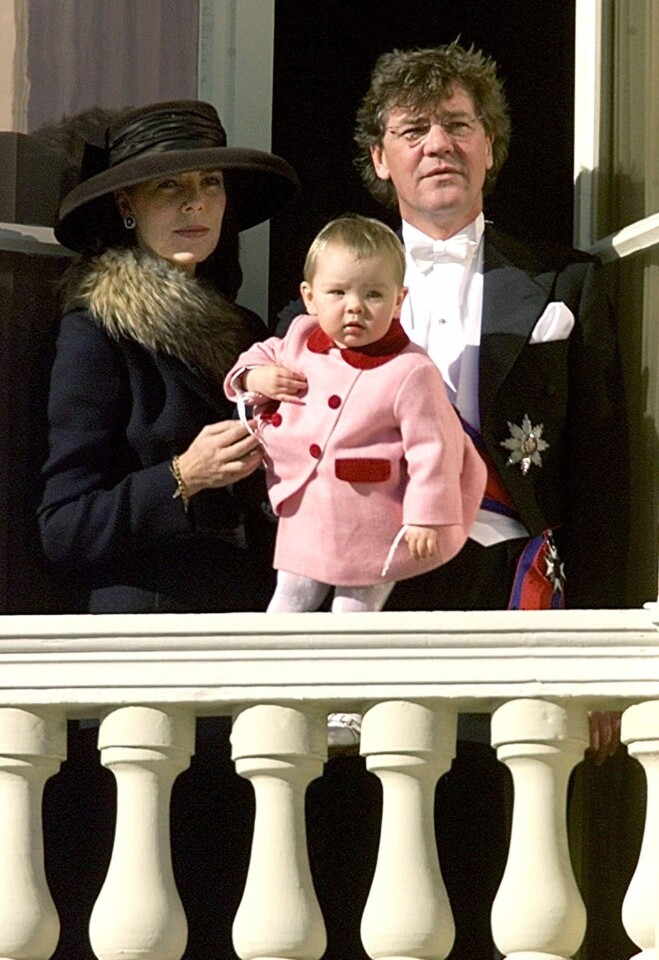 Princess Caroline of Hanover, her husband, Prince Ernst August of Hanover, and their daughter, Princess Alexandra, watch the Monaco National Day parade from a balcony of the Monaco Palace. Princess Alexandra, who has half siblings from both parents' previous marriages, is the granddaughter of Princess Grace of Monaco.
(Lionel Cironneau / Associated Press)
King Abdullah II of Jordan and his wife, Queen Rania, pose for a photograph in Amman with their baby girl, Princess Salma, the third of four children born to the couple. Princess Salma's older brother, Crown Prince Hussein, who was born in 1994, is the heir apparent to the Jordanian throne.
(AFP)
Japanese Crown Princess Masako holds her 3-month-old baby, Princess Aiko, at the Imperial Palace in Tokyo. The new princess, who weighed 6.8 pounds at birth,
arrived eight years after her parents married
. No male heirs had been born in the imperial family since 1965 and the birth had been long-awaited by the Japanese people. She remains her parents' only child and the current laws in Japan limit inheriting the title to male heirs.
(Getty Images)
Prince Philippe, Queen Paola, King Albert II and Princess Mathilde, holding Princess Elisabeth in her arms, pose for a family picture at the Royal Palace in Brussels. Princess Elisabeth, born Oct, 25, 2001, is the heir apparent to the Belgian throne. She has three younger siblings. Her father, Prince Philippe, became king in mid-July, when her grandfather, King Albert II, abdicated the throne for health reasons.
(Olivier Hoslet / AFPGetty Images)
As the world eagerly awaits the arrival of the royal baby, Queen Elizabeth II isn't one to be left out, sharing her sentiments Wednesday while greeting schoolchildren in the county of Cumbria, in northwest England.
"Do you want Kate's baby to be a boy or a girl?" asked 10-year-old Fay Bater, according to the BBC, which posted video of the exchange
"I don't think I mind," the queen joked sweetly. "I would very much like it to arrive. I'm going on holiday.
"No sign yet."
QUIZ: Test your royal baby knowledge
The monarch is headed shortly for her estate in Balmoral, in the Scottish highlands, for her annual two-month stay. She's reportedly invited the Duke and Duchess of Cambridge out for a week's visit, with their new baby, in August.
Meanwhile, Kate is waiting things out with William at her parents' home in Bucklebury, west of London, People reported.
ALSO:
Adam Levine is engaged to a model
Cory Monteith: Heroin and alcohol killed 'Glee' actor
Talia Castellano: Ellen DeGeneres' honorary CoverGirl dies at 13
Follow Christie D'Zurilla on Twitter and Google+. Follow the Ministry of Gossip on Twitter @LATcelebs and on Facebook facebook.com/ministryofgossip.
---
The complete guide to home viewing
Get Screen Gab for weekly recommendations, analysis, interviews and irreverent discussion of the TV and streaming movies everyone's talking about.
You may occasionally receive promotional content from the Los Angeles Times.