Analysis: What makes a sex tape a sex tape? Here are a few things Donald Trump should know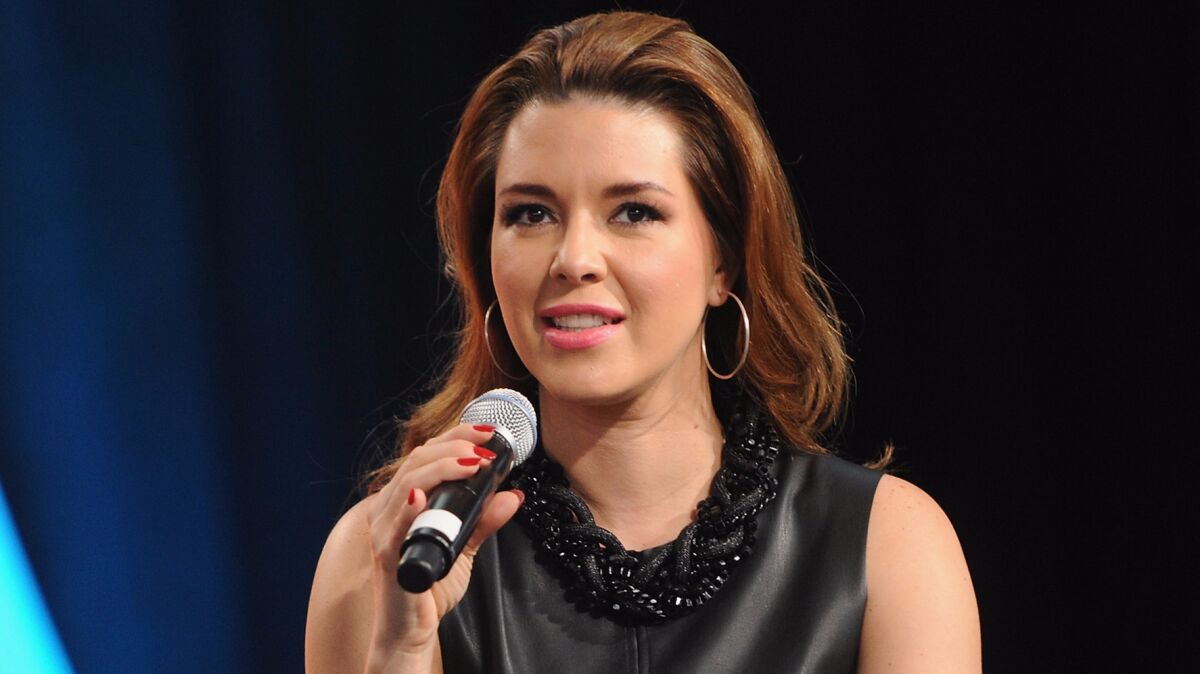 When it comes to sex tapes, Donald Trump clearly doesn't get it. And that seems downright un-American.
While abusing former Miss Universe Alicia Machado during an early-morning tweet, the Republican nominee for president of the United States called her "disgusting" and encouraged followers to look into her past, which, he said, included a "sex tape."
Machado, for those not following the news cycle, is the beauty queen Trump previously berated for gaining weight and called "Miss Piggy" and "Miss Housekeeping." She since has become an American citizen and a vocal supporter of Hillary Clinton, who told her story at the first presidential debate.
Within minutes of Trump's wee-hours tweet, the "sex tape" had been fact-checked and revealed to be a clip from a Spanish-language reality show shot in the style of "Big Brother."
A strange mistake for a former reality host to make.
So, in the interest of assisting Trump and anyone else still unclear about this great American art form, we've assembled a handy primer on what makes a sex tape a sex tape.
Consider it debate prep.
Explicit sex is mandatory
In the clip, Machado is seen, through a night-vision camera, doing something rhythmic with another person under a blanket. Beyond that, it's pure speculation. The couple could be simply experiencing a simultaneous tweet. At 3 a.m. Or, more probably, following a script while wearing two sets of underwear and watching the clock. Either way, that's no sex tape, Donald. It's just reality TV.
A familiar face is mandatory
Not that Machado's win for Miss Universe 1996 wasn't an honor. Not that an acting résumé packed with telenovela roles isn't something. Not that doing four episodes on a Spanish-language reality show involving night vision and a blanket isn't — OK, wait, Alicia who?
Donald Trump having sex on camera would qualify. Ditto a video of Hillary Clinton. Heck, old nudes of Melania Trump got their moment in the spotlight. But this? Not so much.
When you cry "sex tape," you better be in the league of Pamela Anderson and Tommy Lee. We'd already seen her naked in Playboy, and he wound up making a big impression too.
Violation of privacy is half the fun
Machado knew cameras were rolling while she made like a bunny on "La Granja," and presumably she knew her behavior would be catnip for the show's producers.
Paris Hilton's romp with Rick Salomon, a.k.a. "1 Night in Paris," surfaced only after the celebutante neglected to pay rent on a storage unit — and voila, a star was born.
Farrah "Teen Mom" Abraham said she made that sex tape with porn actor James Deen for herself, so that when she was old she could look back on her body's "best year." But she didn't lock down a nondisclosure agreement with Deen, who kissed and told.
Note to teen moms everywhere: You can't trust anyone these days. Not even a porn star.
Someone should make money — big money
The splashiest new fish in the sex tape pond is of course Hulk Hogan, who didn't make any cash up front — Gawker got all the page views — but was awarded $140 million by a judge who decided it wasn't cool for the snarky website to post grainy, surreptitiously recorded black-and-white footage of the pro wrestler knocking it out with the then-wife of his then-best friend.
Of course, Gawker might be best referred to now as a "then-snarky website," after new owner Univision froze the operation in time on Aug. 22 after snapping it up in a bankruptcy sale.
Kim Kardashian, whose sex tape with Ray J launched an empire, has made major moolah from their envelope-pushing adventure, only her money has come from viewers a few bucks at a time. Guesstimates put her half of their sex-tape haul in the multiple millions.
And if you're famous, a sex tape is no longer a big deal
In 1988, when Rob Lowe taped a couple of sexual encounters during the Democratic National Convention and the end result was stolen and leaked to the public, it was quite the scandal. Some thought it would end his career — especially after one of the ladies involved turned out to be 16. (Lowe told authorities he'd met her at a nightclub and thought she was older, and the age of consent in Georgia at the time was 14.)
In September, the roasters at Comedy Central had no problem making jokes about the tape, and this past week, "Code Black" introduced him as a member of its cast.
Mr. Trump, Americans have been served up sex tapes. It knows sex tapes. Sex tapes are its friend. And this, sir, is no sex tape.
Follow Christie D'Zurilla on Twitter @theCDZ.
ALSO
Brad Pitt, Angelina Jolie strike a temporary child-custody deal
Melissa Joan Hart teases the possible return of 'Clarissa Explains it All'
Mary J. Blige serenades Hillary Clinton in clip released of upcoming interview
Get our L.A. Goes Out newsletter, with the week's best events, to help you explore and experience our city.
You may occasionally receive promotional content from the Los Angeles Times.