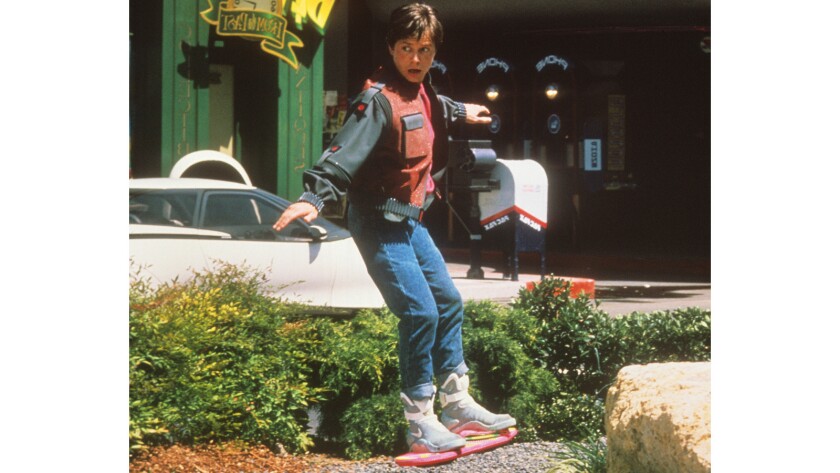 Although our present day looks a little different from what Robert Zemeckis and Bob Gale imagined in the "Back to the Future" trilogy, the films' ideas, futuristic toys and capabilities have trickled into real life. Here's a look at a few of them.
'Where we're going, we don't need roads' ("Back to the Future")
At this year's South by Southwest conference in Austin, Texas, Slovak auto company Aeromobil showed off a prototype for a car-airplane hybrid, sized to fit in a standard parking space and capable of reaching 124 mph in the sky. Aeromobil says the flying car is only a few years away from distribution.
'Power laces!' ("Back to the Future Part II")
Nike recently announced plans for its Nike MAG — a shoe with self-tying laces looking exactly like the fictional pair in "Back to the Future Part II." The futuristic kicks are expected to go on sale by the end of the year.
'I need to borrow your hoverboard.' ("Back to the Future Part II")
"When we first saw the hover­engine work, we came to the very quick conclusion that, 'Hey, we could build a hoverboard!'" says Greg Henderson, co­founder of the Hendo Hoverboard. Henderson's architectural company, Arx Pax, discovered hovering capabilities when using magnet technology to develop earthquake resistance in buildings. The Hendo Hoverboard can fly one inch above a specially designed floor. Pro skateboarder Tony Hawk has already ridden one. The first batch will be released Oct. 21.
---