'Amphibia' creator wants kids to feel seen with his Thai American heroine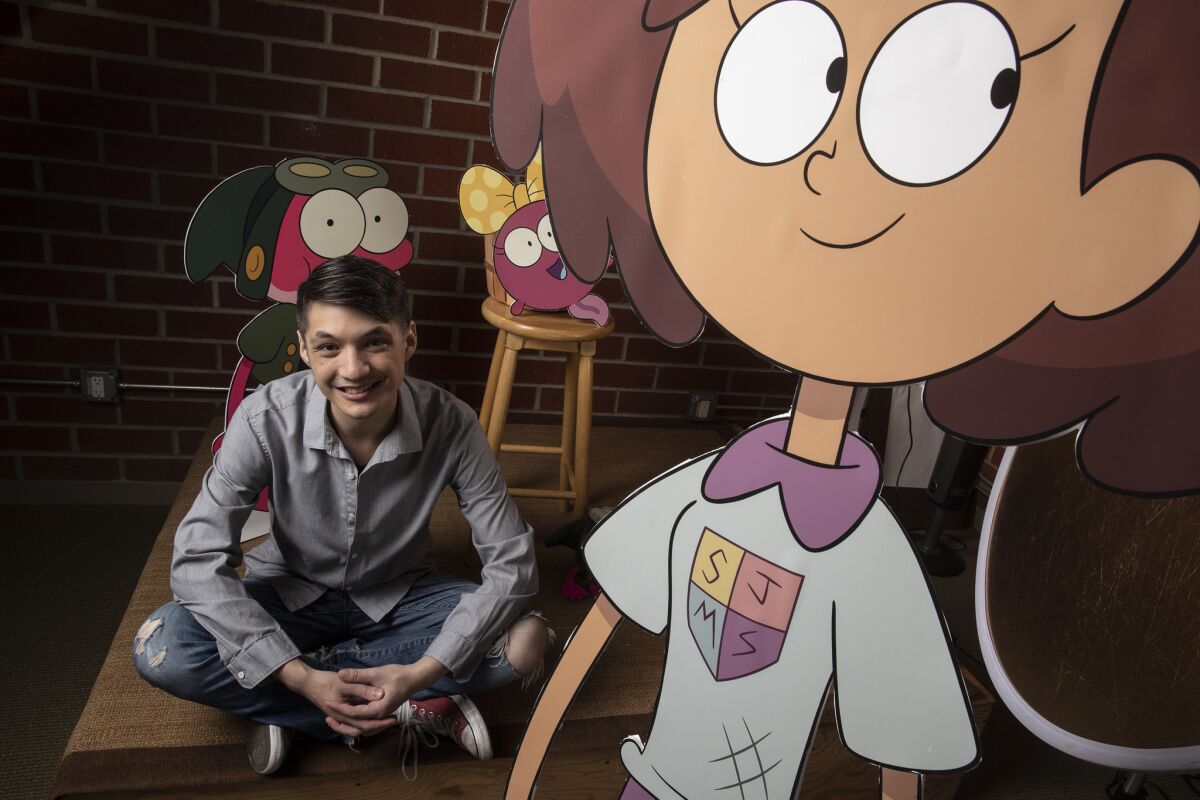 When 13-year-old Anne Boonchuy suddenly finds herself in a lush marshland with bioluminescent mushrooms, giant predatory bugs and a town of frog people in the first episode of "Amphibia," she is immediately mistaken for a beast.
Not because she's a teenager, but because none of the frog folk in Wartwood have ever seen a human before.
The upcoming animated comedy follows the teen as she navigates this mysterious and beautiful fantasy world. She makes new friends and runs into dangerous creatures, all while trying to figure out a way to get back home.
Anne is independent, brave, and can be a bit self-centered. She also happens to be Thai American, making her one of the very few lead characters of Southeast Asian descent on American TV when "Amphibia" premieres Monday on the Disney Channel.
"Anne has always been Thai from the very inception of the project," series creator and executive producer Matt Braly told The Times during a recent interview at his Disney Television Animation office. "One of the big reasons for that is growing up, for me, there was nothing."
Braly, who grew up in Davis, Calif., with his Thai mother and white father, recalled how, when he was younger, he was so desperate for any sort or representation that he clung to movies such as "Mortal Kombat" (1995) just because his mother pointed out scenes shot in Ayutthaya, the old capital of Thailand.
"For me, it's always been a huge priority and goal to make a Thai character," said Braly. "Make a Southeast Asian character that kids now growing up who share a similar background can look at the TV and [say], 'There's someone like me.' "
Although Anne's heritage is not the main focus of the series, it is significant because minorities are continually underrepresented in Hollywood. A recent UCLA study found that only 3.4% of roles in the top films of 2017 were Asian or Asian American. On the TV side, just 4.6% of scripted broadcast TV roles and 3% of scripted cable TV roles were Asian or Asian American during the 2016-2017 season, according to the same study.
Braly, who previously worked as a board artist and director on Disney's "Gravity Falls," examined his own experiences for ideas about his new show. He keyed in on his memories of going to Thailand during the summer with his mother when he was growing up.
"I started thinking about my childhood trips to Bangkok and how, when I got there, I felt very out of place," said Braly. "But then slowly, but surely, over the course of the trip, I really learned to love it. I remember just thinking about that sensation, and wanting to kind of bottle it up in a TV show form, whatever that meant."
One of his early inspirations for Anne was his grandmother when she was a child.
"I had this incredible old photo of my grandmother and I remember always loving that photo," said Braly. "She has this amazing wild-child hair and fierce expression, and I remember thinking to myself, what an amazing kind of character [she would be] — taking that [image] and trying to develop it."
"Amphibia" is also reflective of Braly's love of fantasy, taking inspiration from "The Dark Crystal" and "Lord of the Rings." He describes the world of the show as both "magical and terrifying." Braly was also influenced by Hayao Miyazaki's Studio Ghibli films and their many unique female main characters.
Braly explained that authenticity is key in making the world of Amphibia feel real: Three of the show's four writers are women, and they call up his mother when they need to check the pronunciation of any Thai words. They make sure the many details of Amphibia — including its monsters — are inspired by actual things that affect frogs in nature.
At the heart of the show is Anne, who is funny and fearless, but also has a bit of an edge. Bringing that balance to life is actress Brenda Song, who voices Anne. Song is a Disney Channel fan favorite from shows such as "The Suite Life of Zack & Cody" and TV movies "Wendy Wu: Homecoming Warrior" and "Stuck in the Suburbs."
"There is something about Brenda's voice that has a lot of friendly confidence and warmth. But underneath it all, there is this very relatable vulnerability," said Braly. "The second I heard her audition, it felt like she was embodying the character that had always lived in my head."
Song said that initially she was not aware that Anne was written as a Thai American character.
"Matt Braly is half-Thai and so am I, and I didn't know [about Anne], but it felt like kismet when I realized it," said Song.
"I'm just so excited to be able to share a little bit of my own heritage with the audience, because it's something that I think a lot of people don't know about me," she added. "Just to be able to do that, especially through this show, to me, it's really, really special."
Song appreciates that Anne being Thai allows for very specific representation, introducing kids who might not know much about the culture at a young age. But for her, the show's triumph is that "Amphibia's" themes are tackled in a world where Anne's "difference" comes from just being human.
In a land of frog people, it's through her friendship with young Sprig Plantar, his sister Polly and grandfather Hop Pop that Anne is able to figure herself out. "Amphibia" hints pretty early on that Anne does not quite have the best understanding of what friendship really means. And it's in this strange world that she is able to start to truly feel at home with herself.
"We just want to remind kids, don't ever be ashamed of who you are, where you come from, because it makes you uniquely you," said Song. "And that's something that Anne also learns in this show."
That said, Anne being Thai is definitely a part of the show.
"There are specific instances in the show where [Anne's] heritage comes through," said Braly. "Like the episode 'Lily Pad Thai,' where she converts a frog restaurant into a Thai restaurant, or even in a flashback during an episode where you can hear her mom speaking Thai to her off screen.
"There are these little moments that could only exist because Anne is Thai. It's like the cherry on top."
Twitter: @tracycbrown
Get our L.A. Goes Out newsletter, with the week's best events, to help you explore and experience our city.
You may occasionally receive promotional content from the Los Angeles Times.