Evangeline Lilly explains why 'Ant-Man and the Wasp's' Hope wasn't a part of 'Civil War'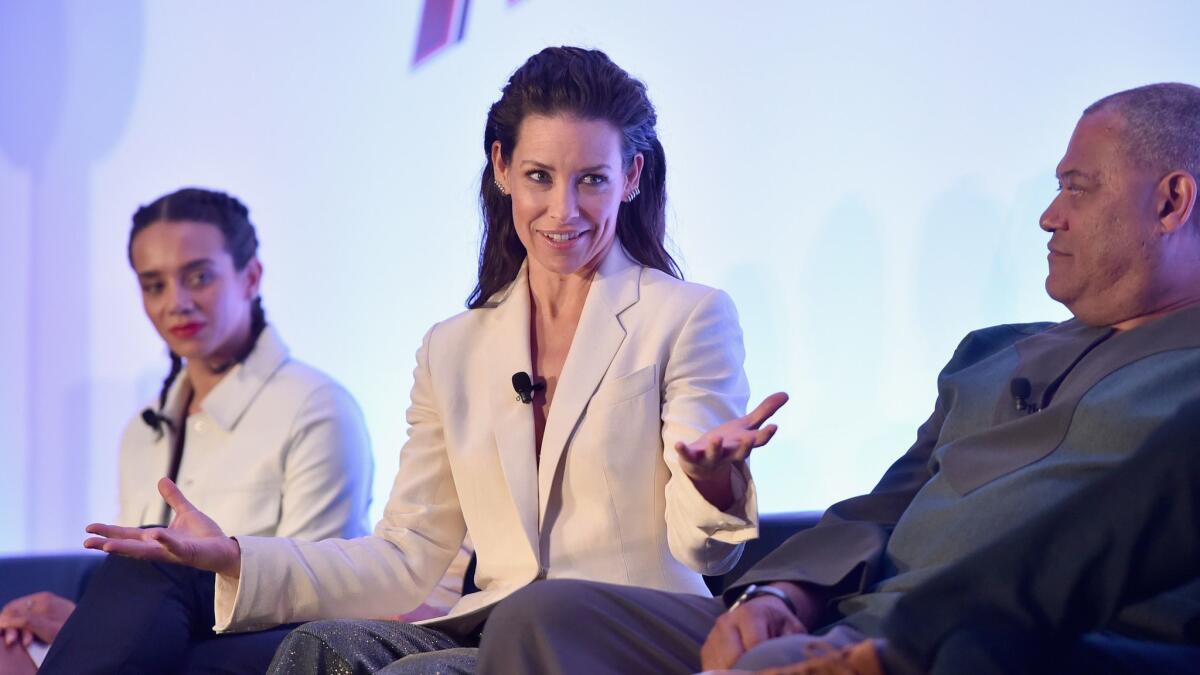 Fielding questions at the "Ant-Man and the Wasp" press conference Sunday afternoon, Evangeline Lilly makes a pretty good case that she may have been born to play Hope van Dyne.
Sitting on a stage with her cast mates Paul Rudd, Hannah John-Kamen, Laurence Fishburne, Michael Douglas, director Peyton Reed and producer Kevin Feige, Lilly wowed the crowd by delving into quantum physics to explain the actual science behind the film's Quantum Realm with an ease that would have made Hope proud.
"I really love quantum physics and always did before this happened, and that's one of the reasons I was excited about this brand," said Lilly. "Because I really dig quantum physics."
It was only fitting that Lilly grabbed her fair share of the spotlight at the event held at the Langham Huntington in Pasadena. With "Ant-Man and the Wasp," Lilly becomes the first woman to play a title superhero in a Marvel movie since the launch of the Marvel Cinematic Universe.
But it turns out this film wasn't always the vehicle planned as the Wasp's debut feature.
"Originally, the Wasp was going to be introduced in 'Captain America: Civil War,' " said Lilly. "That was the original plan."
Although Lilly was grateful to have the chance to don the suit for any film, she shared that at the time she was secretly a little disappointed that the Wasp wouldn't be getting her own film to explore her origin story.
But then she got a call saying the Marvel powers that be decided to not include her in "Civil War" after all.
"Then they said what I thought they were going to say, which is, 'We really want to dedicate a film to introducing this female superhero, and we don't want her just to be a side note in this larger story,'" said Lilly. "That was so exciting for me."
She continued: "I still didn't know [then] that there was going to be double billing. That didn't come until later, and that was presented to me as a surprise by email with a screen cap of the title. So that was pretty cool."
While fans will never know how things may have been different if the Wasp had been part of "Civil War," Lilly was happy she finally got a chance to put on the suit and be a part of the action for "Ant-Man and the Wasp."
"It was just fun to finally get to see her [wearing that suit]," said Lilly. "This is something she's been ready and willing to do basically her whole life. Her parents were both superheroes, and she was rearing to get that suit for an entire film and we never get there. So to actually see her fighting in that moment was wonderful."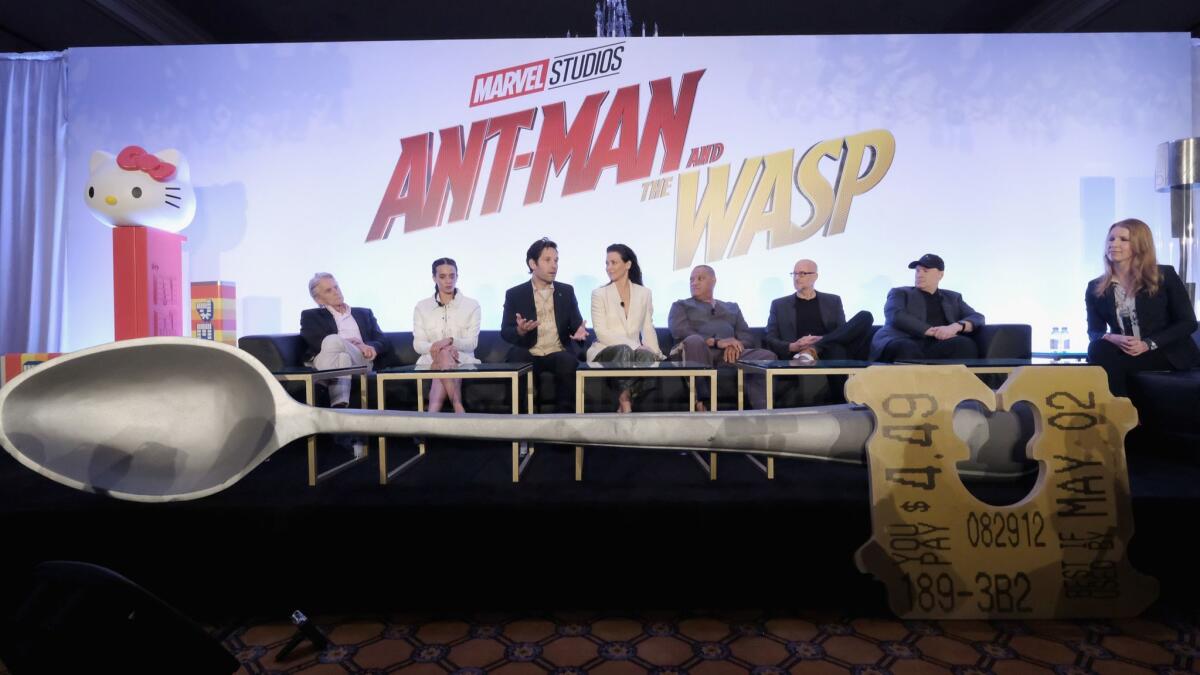 Feige, the president of Marvel Studios, explained that having the follow-up to 2015's "Ant-Man" be called "Ant-Man and the Wasp" has always been the plan.
"The first Ant-Man film is essentially all about how qualified Hope is and [how] her estrangement from her father prevented him from [giving her the suit]," Feige said. "What ended up being the tag at the end of the first movie was in there from the beginning — which was her finding that suit and saying, 'It's about damn time.'
"We always knew the next one was going to be 'Ant-Man and the Wasp' and that it would finally be time to see her suit up and be the hero she she was born to be," Feige added.
Now that Hope is a superhero in her own right, Lilly was asked what other hero from the MCU she would like to see her character team with.
"I don't know, but I just personally have an enormous crush on Okoye and would love a chance to hang out with Danai [Gurira] as much as possible, so let's just say that," said Lilly. "Besides the fact that I am personally going to continue to keep the rumor and gossip about an all female Avengers film going until it happens."
Feige of course masterfully deflected whether there were any actual plans for an all-female Marvel film, although he was keen to take notes on what other everyday object the assembled members of the press might be interested in seeing enlarged in a future "Ant-Man" installment.
Feige also had an answer for whether the events or new knowledge about the Quantum Realm revealed in "Ant-Man and the Wasp" would have an effect on any future Marvel films.
"There are things that you see back [in the Quantum Realm] that Peyton has put in there," said Feige. "Where and how they'll pay off in the near term and the long term remains to be seen."
Twitter: @tracycbrown
Get our L.A. Goes Out newsletter, with the week's best events, to help you explore and experience our city.
You may occasionally receive promotional content from the Los Angeles Times.