'Avengers: Endgame' is 'cathartic,' says directors at a spoiler-free press conference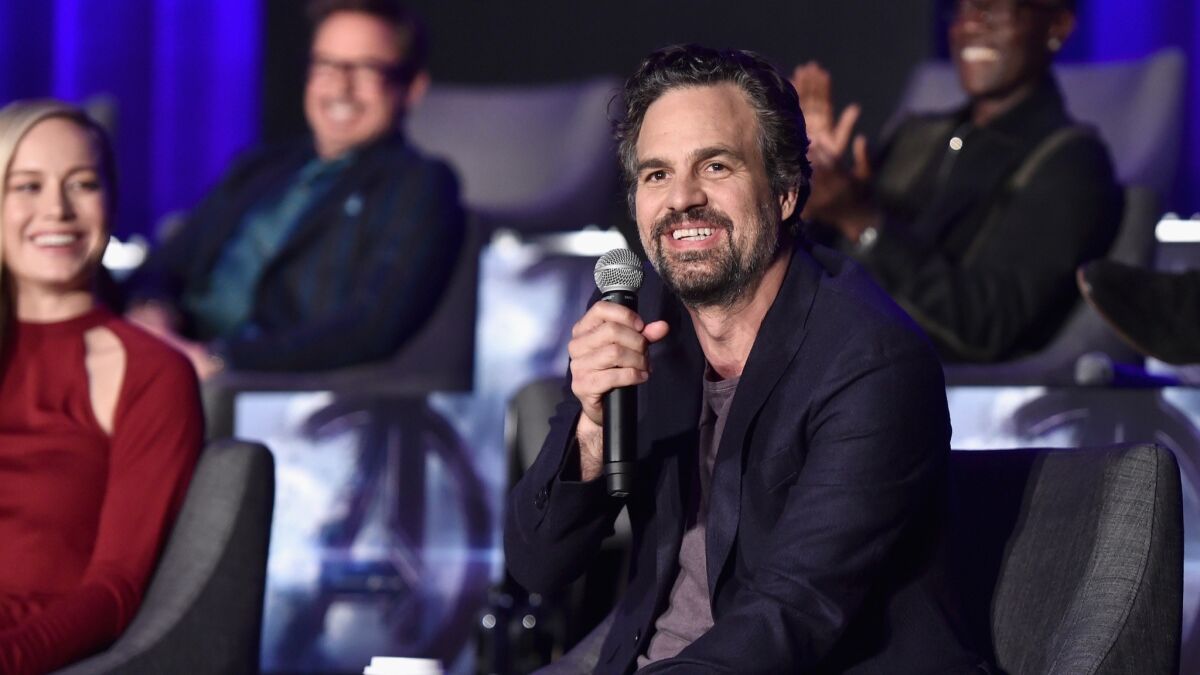 "This all feels like a test" said "Captain Marvel" actress Brie Larson while fielding questions about "Avengers: Endgame."
It was a sentiment that many of her castmates shared Sunday morning as they all tried to avoid accidentally revealing any spoilers about the upcoming film during the "Avengers: Endgame" press conference held in downtown Los Angeles.
Joining Larson at the event hosted by "Iron Man" director Jon Favreau were fellow actors Chris Evans, Robert Downey Jr., Scarlett Johansson, Paul Rudd, Chris Hemsworth, Mark Ruffalo, Danai Gurira, Jeremy Renner, Don Cheadle, Karen Gillan, directors Anthony and Joe Russo and producer Kevin Feige.
"I did see the trailers [so] I do know that I'm in it," joked Rudd, who just celebrated his 50th birthday, before sharing that he too has not yet seen the completed film.
No real details about what happens in "Endgame" were discussed during the event, but the Russos did describe the film as "cathartic."
Feige added that one of the things that sets "Endgame" apart from the 21 other films in the Marvel Cinematic Universe is that this film is an ending.
A direct follow-up to "Avengers: Infinity War," "Endgame" deals with how the Avengers respond to the decimation of their ranks caused by Thanos.
Through trailers and the "Captain Marvel" midcredit tease, fans know that the film will see Carol Danvers finally meet the Avengers for the first time and that other heroes, including Iron Man, are still adrift in space.
Watch the trailer for "Avengers: Endgame."
The movie explores "how these heroes deal with loss. True loss," said Anthony Russo. "How does a hero move forward from that moment? How do they move forward as individuals [and] how do they move forward as a team?"
Overall, the actors limited their remarks to what being part of the franchise has meant to them.
Johansson noted that the best part of playing Black Widow is how much the character has evolved since her first appearance in "Iron Man 2."
"The character really started as a sexy secretary with a skill set on the side," said Johansson. "I didn't know how the audience would react to [her]."
She credits Widow's evolution partly to how much audiences have increasingly desired more diverse representation in the superhero films. It's an attitude that has pushed Marvel to move forward with a solo Black Widow film to be directed by Cate Shortland.
But it was clear that at least some of the MCU stars were feeling the weight of what is possibly the last press junket that they will experience with some of their longtime costars.
"There's a sadness to this press conference," Ruffalo noted after explaining that his fellow "Avengers" actors were like "the family you wish you had."
"It's kind of bittersweet" he added.
But "Endgame" is not the end for everybody.
Larson explained how she's especially excited for "Endgame" (shot before "Captain Marvel," because for her this is the beginning: it was the first time she played Captain Marvel.
"It's surreal and I'm super excited for the movie to come out so I can talk about [that experience]," said Larson.
Twitter: @tracycbrown
---
Get our L.A. Goes Out newsletter, with the week's best events, to help you explore and experience our city.
You may occasionally receive promotional content from the Los Angeles Times.