Karen Gillan is red-hot thanks to 'Jumanji' and 'Avengers,' but her true passion? Directing
Karen Gillan has recently transplanted herself away from sunny Los Angeles to much-less-sunny New York City, and she couldn't be happier about it.
"It's cool here! I find it really inspiring," the actress turned filmmaker explained, FaceTiming in from her new digs on a crisp spring day. "I think I like to be a pedestrian — I don't know how to drive — I'm really pale and I like the colder weather because of where I'm from."
"L.A. doesn't lend itself to any of the things that I am," she quipped with a breezy smile. That's just fine with Gillan, who seems to find the bright side of most things. Besides, she points out, New York is practically halfway home to Scotland.
Back home is where her heart has led her, professionally speaking, as her acting success has dovetailed with a new itch to get behind the camera.
Gillan's coast-to-coast move coincides with major career milestones in a year in which she's already starred in "Jumanji: Welcome to the Jungle," a December release that blossomed into one of the year's biggest box office successes, flexing comedic chops alongside costars Dwayne Johnson, Kevin Hart and Jack Black — only she did it all backwards and in abbreviated short-shorts.
She is days away from the opening of "Avengers: Infinity War," the April 27 release in which she reprises her role of the bald, blue-skinned and surly space warrioress Nebula. Analysts already predict the latest Marvel superhero installment could have a $235 million first weekend and might even score the highest box office opening of all time.
But this month Gillan is celebrating a more personally significant cinematic feat: Her feature directing debut, the Scotland-set "The Party's Just Beginning." The scrappy drama made on an indie budget in 18 days premieres Sunday at the Tribeca Film Festival.
Gillan directs herself in the film as Liusaidh, a young Scottish woman in her 20s stuck in a tailspin of grief a year after the death of her best friend. She's smart and capable but aimless and a touch hostile, haunted by a loss she can't seem to communicate to anyone else. Drowning herself in drink and sex, she screams to be heard in a town where everyone is battling their own private demons.
It's a project that brought her full circle back to Inverness, in the Scottish Highlands, where she grew up. "It's such an idyllic place to live," she described. "It's really picturesque and beautiful and safe, so as a child you could run around without your parents worrying about you. In that respect it was just a really lovely upbringing, running around Scottish landscapes."
Inverness is where Gillan's story began, an only child drawn to the arts from a young age. She decided early on that acting was her path, moving to Edinburgh and then London in her teens. Her big break — her first big break, that is — came when she landed a career-making role on long-running sci-fi series "Doctor Who," the cross-generational British national obsession, at the age of 21.
"It was crazy," she recalled. "It was really naught to 100 overnight. But I'd been working for some time to get somewhere as an actress, and then to get a role like that felt like the most exciting thing that could ever possibly happen to me. So I just embraced it completely."
At 24, her television and film career taking off, she began writing a script, finding a kernel of inspiration for a fictional story in a startling statistic she'd read about her own hometown. "The suicide rates in the Highlands of Scotland where Inverness is are higher among young men than in the rest of Scotland," she said. "Why is this dark statistic looming over us?"
A few years later she moved to Los Angeles to star in the horror movie "Oculus," which would jump-start her film career stateside, beginning a run of American films including "The Big Short" and "In a Valley of Violence" and the short-lived TV series "Selfie." She was still looking to make the personal story she'd written and intended to direct herself in when "Oculus" director Mike Flanagan introduced her to American producer Mali Elfman.
Elfman was focused on horror and genre projects at the time. A Scottish coming-of-age drama was the last thing she intended to make. But then she read Gillan's script.
"I knew this story," said Elfman. "It wasn't my story, but it was my story. It was almost every single woman's story that I know who made it through her 20s. It felt like it knew me, it felt like it knew my friends and it felt like it knew women."
They bonded over wine at L.A. pub the Pikey and set forth to get the movie made over the next five years, receiving endless "nos" and even more discouraging responses from Hollywood's gatekeepers.
"Everybody told us that this was not a story that anybody wanted to listen to," said Elfman. "It was a female perspective and a very dark journey. But we thought that was exactly why it needed to be told, and why it needed to be told by women."
Gillan and Elfman hustled from meeting to meeting until finally they landed financing from newbie shingle Mt. Hollywood Films. Meanwhile, Gillan's star profile continued to rise as what she thought would be a small role in Marvel's "Guardians of the Galaxy" turned into something much, much bigger.
"I knew that being in a Marvel movie was going to be incredible, but my role was supposed to be small in the first movie and I didn't know she was coming back for the second movie," Gillan laughed. "I was supposed to do eight days of filming and that was going to be it, and then it turned into something like 20 days, and all of a sudden I was coming back for the sequel. I was like, 'This is the greatest!'"
Being in the Marvel fold had its other useful perks. With financing in place for her modest passion project, time came to cast "Party" — scheduled for a lightning-quick shoot over the Christmas holiday break in freezing cold Scottish winter. She picked up the phone and called "Guardians" costar Lee Pace to offer him the role of Dale, a mysterious out-of-towner Liusaidh finds herself drawn to.
"I was sitting at the table, it was the middle of winter up here, and it was right before Christmas," Pace said from his home in upstate New York. "I'm always up for an adventure, a kind of out of the blue, drop what you're doing, let's go do something fun [project] … I was very curious about what Karen was trying to make."
In the "Avengers" universe he plays Kree villain Ronan the Accuser under prosthetics and makeup. "We were always blue when we were together!" he said with a chuckle.
Reuniting for Gillan's film, the pair instead played the opposite: strangers who discover in each other an unexpected connection that brings their isolated lives closer together — if for a fleeting moment.
British actor Matthew Beard was cast as Alistair, the transitioning best friend whose tragic absence haunts Liusaidh's memories.
"I'd never worked with an actor-director before and really wasn't sure how it was going to work," he wrote via email. "Incredibly, she was absolutely present in whichever role she was donning. She was always so completely with you in the scene but then able to immediately answer a question about something technical or whatever straight after cut was called.
"It also helps that she seems to have an inexhaustible amount of energy and enthusiasm for the work," he added. "She set the tone for the whole set and on such a low-budget film with so little time it simply would've fallen apart if she wasn't so capable."
Alistair's fight to live authentically in a part of the world that offers little support for trans individuals lies at the heart of "Party," and Gillan hopes the film will spark conversations around LGBTQ rights and mental health. A social outreach effort is planned to accompany the eventual release of the film, which is being sold by UTA.
"It's a very real issue that many people are dealing with," said Gillan. "I wrote it six years ago and it wasn't being as discussed back then, so I feel happy that it's at the forefront of people's conversations."
For Gillan the actor, Liusaidh is a dimensional role that comes rarely when one has to wait for it, and one for which she unleashes the native brogue she rarely gets to use in her Hollywood movies. And a wicked sense of black humor.
Her Liusaidh is driven by an elemental emotionalism, propelled between present and past in the film's shifting timelines like a woman on fire. It's a raw, unadorned performance encapsulated perfectly in the film's poster image, a shot taken from a scene early in the film: a close-up on Gillan's defiantly aggressive scowl as Liusaidh heads home after another chilly night of self-destructiveness and random sex, stuffing her face voraciously with fries.
"There were times when I just took off all the makeup in the scenes when she was really at rock bottom. I think I'd been working for like a year straight at that point, so my skin just looked like absolute [garbage]. I thought, this is perfect! I'm just going to not cover this zit," Gillan recalled fondly of the freezing-cold night shoots she directed with a splinter crew of seven across Inverness, outside the local chips shop, on streets and bridges she knew from her childhood.
She took the crew home with her for Christmas with her family and jumped in Loch Ness on New Year's Day before assembling her main unit in Glasgow.
With collaborators like her director of photography Edd Lukas, who shot on the Arri Alexa, and producer Elfman manning the monitors when she had to be in scenes, Gillan's vision came together.
"I remember starting with [Lukas], showing him trailers of movies I didn't want it to look like," she laughed. "I was aware that there was an obvious version of this movie that was more handheld, indie style, that kind of cliché that we've seen so many times, and I didn't want to go down that road. I wanted to make some bold visual choices."
"My favorite director is Stanley Kubrick – and it doesn't look like a Kubrick movie, but a lot of the choices we made in the film were informed by the emotions of the character that was feeling them. I wanted it to feel static, like she's stuck in a moment. The flashbacks could feel more fluid, more warm and natural. We played around with aspect ratios where we go from 2:39 to 1:85 every time it goes into flashbacks which was a fun device to feel immersed in it."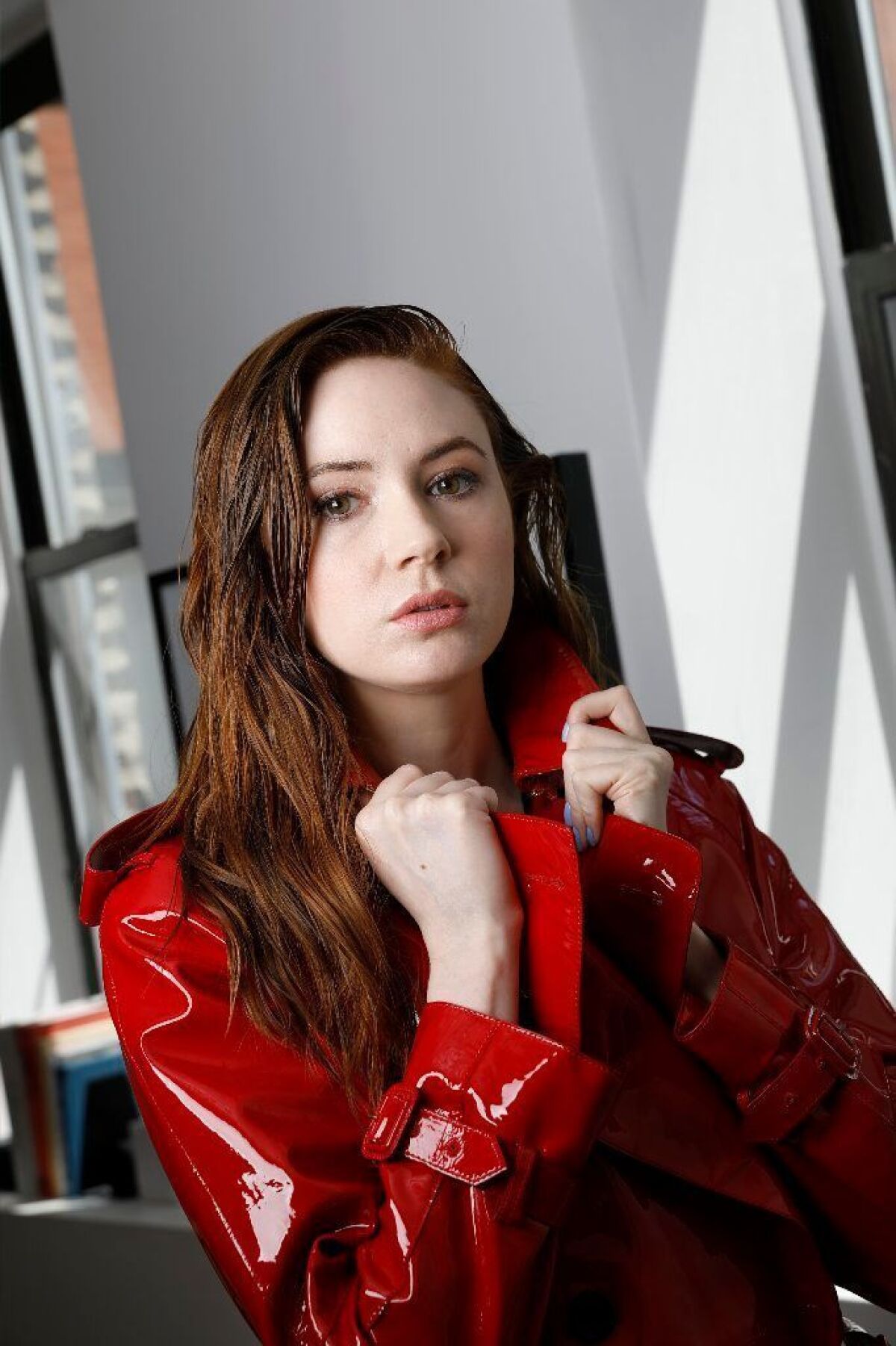 Looking back now it seems obvious to Gillan that she would come to directing; as a child running around those idyllic Scottish vistas, she cast her father in the horror movies she made with a video camera her parents gave her.
"I never really considered directing as a real career, and I'm trying to work out why that is," she paused. As the saying goes in conversations of representation in Hollywood, where women directors made only eight of the top 100 movies of 2017, "If you can see it, you can be it."
"I think that's really true," said Gillan. "And I had just never seen it."
Finding herself on set after set as an actor, she felt that latest urge to direct grow. "I was starting to have opinions on how I thought things should be done, and that's when I realized I should be directing myself," she said. "It just kind of crept up on me."
"I'm so glad that I did, because I'd really love to be an example for another young girl that's thinking about it, who has a natural gift for directing but might not discover that because she doesn't see an example."
She and Elfman see progress being made for women in Hollywood, both on the studio scale and trickling down to the indie film world.
"Before, just going in the room with a female director was a thing that you had to prove," said Elfman. "At the moment I have only female directors – and it's not because I only work with female directors, it's because I want to work with the best directors that have voices that I care about — and those all happen to be female directors."
The two are developing their next feature together, a female-centric project based on Gillan's short film "Conventional," in which she plays a former scream queen dealing with truly scary fans on the convention circuit. For Gillan directing again is not a question of if, but when.
After the "out of body experience" of putting "Party" together in the editing room, she might like to focus only on being behind the camera for her next feature, she mused.
"I think I would prefer to direct another actor, only because I do think that actors can bring so much to the table that you can't think of because two brains are better than one," she said.
As an actor, she trusts actors to be creative partners. "The actor specializes in this character and they've spent a long time, hopefully, researching and putting work into their character. They're going to offer a lot that you wouldn't be able to bring to the table as a director because you're thinking of everything."
"However, I did have the ultimate shorthand with myself," she quipped. "There was no trying to get notes across, no, 'I'm just going to try one more'..."
So her lead actress wasn't terribly difficult to work with?
"No," she laughed. "She was a nightmare."
Get our L.A. Goes Out newsletter, with the week's best events, to help you explore and experience our city.
You may occasionally receive promotional content from the Los Angeles Times.