Comic-Con 2015: Marvel's 'SHIELD' getting a new Inhuman; 'Agent Carter' goes Hollywood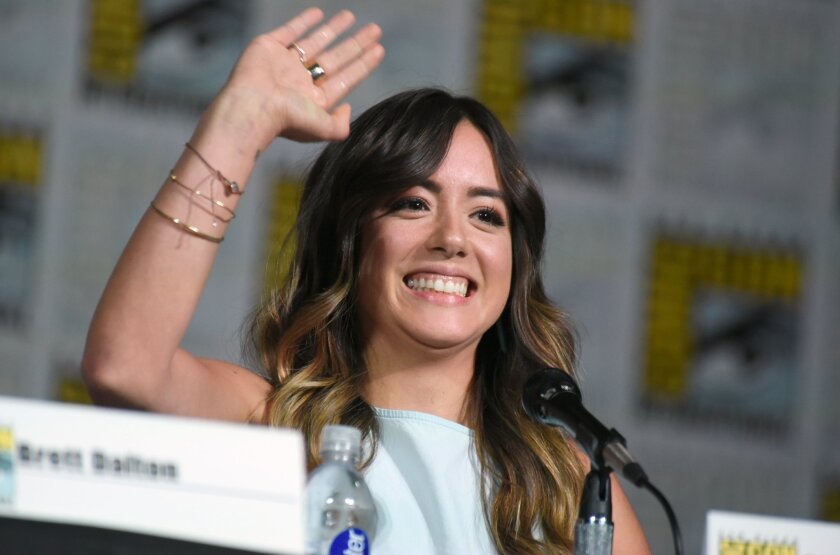 Marvel TV's panel, which included the casts of "Agents of S.H.I.E.L.D." and "Agent Carter," was a rousing success, if you go by decibel level and the sheer number of cosplay characters in the crowd.
Jeph Loeb, the head of Marvel's television division, moderated both panels, starting with the period-piece spy thriller "Agent Carter." In a running gag, Loeb came out in Peggy Carter's signature red hat, and, after being announced, main character Hayley Atwell proceeded to walk across the San Diego Convention Center stage and pluck the hat right off of Loeb's head. Loud screams. Really loud.
Executive producers/writers Tara Butters, Chris Dingess and Michele Fazekas and actor James D'Arcy (who plays Jarvis) were also on hand for the Marvel panel. Loeb gave a shout out to the members of "Agent Carter" that couldn't be at the panel "Captain America: Civil War."
MORE: Follow our Special Edition Comic-Con magazine on Flipboard >>
Then the attention was turned to D'Arcy. The actor said he had misgivings in taking the role. Most of it seemed to revolve around souffle.
"I was slightly worried because in the pilot Jarvis was making a souffle. And I can't make a souffle," D'Arcy said.
"I can do a perfect spotted dick. That's an English pudding. The thing that sold it to me was that he's going be with her on the missions."
Other reveals: Butters buys fan art, Hayley attributes her desire to do the show and the growth of her character to the writing, and general praise was heaped on the writers for penning dialogue from '40s London but (somehow) managing to keep it current.
One of the defining quotes of the series, spoken by Carter about knowing her value, was brought up and Atwell concurred that the line resonated early on with fans and that she's aware of its "big moment" status in the show. Atwell was also asked about one of the final moments of the series, when he got rid of Steve Rogers' blood, a symbolic geture and a strategic action.
"Was it right to pour out his blood? I do think it was the right decision," said Atwell. Though the moment was bittersweet as Agent Carter begins to let go of the super soldier in her heart, Atwell also realized it was a necessary action.
"If it got into the wrong hands, it could be disastrous."
But the big reveal was that the show's action would be moving to Los Angeles during 1947, which coincides with the Black Dahlia murder. The producers specifically said that no historical figures would be spotlighted during the season, though landmarks and events around the time could be referenced. We'll see. ILM will be helping to provide the look of the show, and the producers are happy that they have a great backlog of digital image to help date Los Angeles.
The "S.H.I.E.L.D." panel was massive. Clark Gregg, Ming-Na Wen, Brett Dalton, Chloe Bennet, Iain de Caestecker and Elizabeth Henstridge from the old guard were joined by "newbies" -- as Loeb called them -- and series regulars Henry Simmons, Adrianne Palicki, Nick Blood and Luke Mitchell on the panel.
FULL COVERAGE: Comic-Con 2015
Before questions, the seminal blooper reel was shown. There was a lot of dancing, flubbed lines and giggling. The usual.
The questions for the cast ranged from first impressions that they had of each other to the research that De Caestecker did on brain injuries similar to the one his character Fitz had endured due to oxygen deprivation. An 8-year-old girl asked if the cast had room for an 8-year-old girl on their show. Gregg told her that if the series had taught them anything, it's that anyone can run S.H.I.E.L.D., and that one day she may be able to run it.
After each giving their favorite Marvel character, with Mitchell (Hulk) and Gregg (Daniel Rand/Iron Fist) being the only ones to go off-script with their answers, a question was asked if there was anything they could reveal about the upcoming season. Loeb then introduced a video from the Whedon duo, much to the crowd's delight.
In the video, the two produced a dartboard as their way of deciding which S.H.I.E.L.D. character would die next. They also obviously want to make sure that everyone knows that Bennet's Skye character is now named Daisy (and in order to ensure this transition, something like a swear jar for the writers was enacted). And Daisy's new team will be called Secret Warriors.
Lastly, before leaving, Loeb revealed that the Inhuman named Lash, who can manipulate (absorb and redirect) energy, would also be introduced next season. In the comics, Lash was born in a different inhuman city than the one in "Agents of S.H.I.E.L.D." and was often on a mission to judge if those that received inhuman powers were actually worthy of having them, so there's the hint of an arc. Maybe.
Follow our Comic-Con reporting at the Los Angeles Times Comic-Con team in this Twitter list. And for more news check out Hero Complex on Twitter @LATherocomplex.
---
The complete guide to home viewing
Get Screen Gab for weekly recommendations, analysis, interviews and irreverent discussion of the TV and streaming movies everyone's talking about.
You may occasionally receive promotional content from the Los Angeles Times.