Alan Tudyk's and Nathan Fillion's 'Con Man' sets up shop at Comic-Con HQ for Season 2
It seems like a match made in fandom heaven.
"Con Man," the fan-driven show loosely based on Alan Tudyk's and Nathan Fillion's experiences starring in "Firefly" and "Serenity," is going to launch its second season exclusively on Comic-Con HQ, a new subscription video-on-demand service.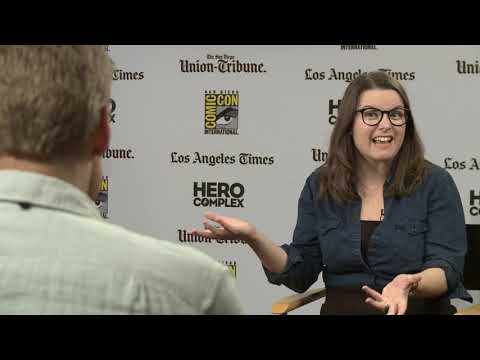 Nathan Fillion and Alan Tudyk chat with Meredith Woerner, Hero Complex editor, about their upcoming release of "Con Man" (written by Tudyk), as well as the movie industry and their friendship.
Lionsgate has announced that Comic Con HQ will produce the second season of the Web series, which is executive produced by Tudyk, Fillion and author PJ Haarsma. The series centers on the post-TV-show life of Wray Nerely (Tudyk), the costar of "Spectrum," a sci-fi TV series canceled before its time that later became a cult classic beloved by fans. Wray's best friend, Jack Moore (Fillion), starred as the series' captain and has gone on to become a major celebrity, while Wray continues to struggle to find his big break.
"Comic-Con HQ is all about capturing the spirit of the fan community, and in its own way, so is 'Con Man.' Alan uniquely understands all sides of the fan experience, and he's captured it in such a farcical way that it's as much parody as it is commentary around the power of fandom," said Seth Laderman, executive vice president and general manager, Comic-Con HQ, in a statement.
"We are thrilled to be a part of the Comic-Con HQ family," said Tudyk, also in a statement. "For a series that was born out of a passion for the genre and support from the fans, we couldn't think of a better way to connect with our community."
The show was initially funded through a crowd-supported campaign on Indiegogo, resulting in a record-breaking $3.2 million raised. The first season drew appearances by "Battlestar Galactica" actress Tricia Helfer, many "Firefly" alums (Gina Torres, Sean Maher, Jewel Staite and Summer Glau), "The Lord of the Rings" actor Sean Astin and filmmakers James Gunn and Joss Whedon.
Comic Con HQ's beta launch is on Saturday, which coincidentally is Free Comic Book Day. The show is offering a comic book based on the fictional TV show "Spectrum" that Tudyk and Fillion star in as well.
The channel hopes to keep the spirit of Comic-Con alive throughout the year with original shows and coverage of fan-centric news and events.
Get our L.A. Goes Out newsletter, with the week's best events, to help you explore and experience our city.
You may occasionally receive promotional content from the Los Angeles Times.