Anika Noni Rose explains the importance of Disney Princess Tiana and her song 'Almost There'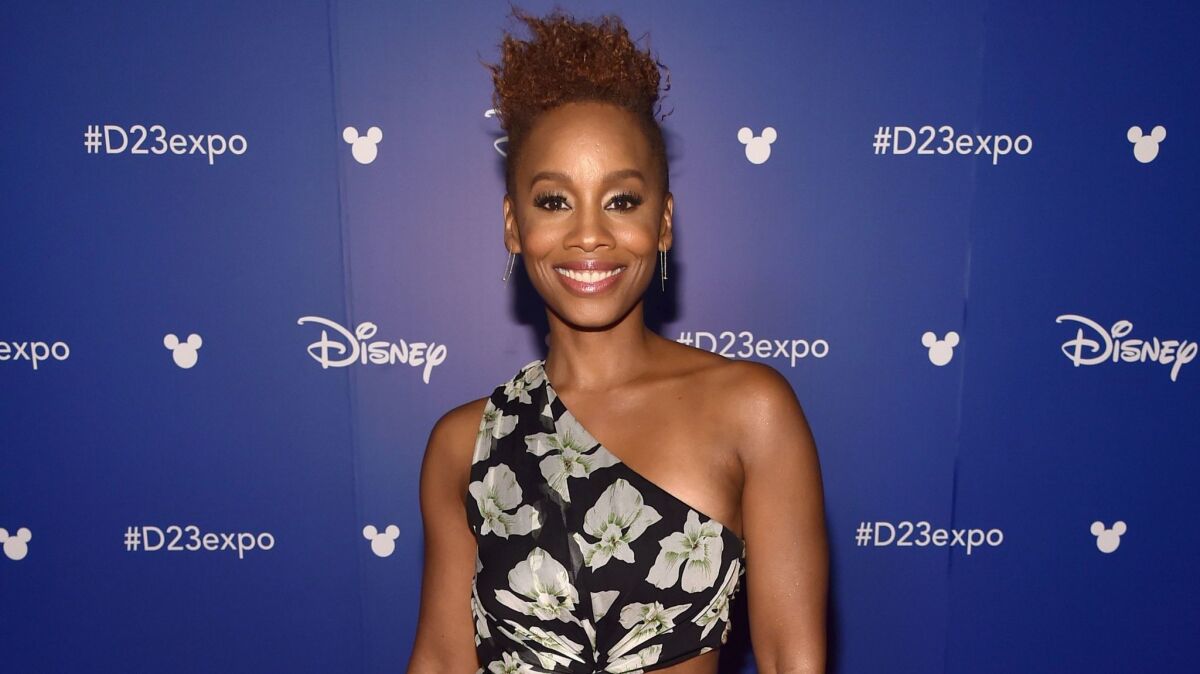 Fans were treated to some Disney magic when the women who voiced Moana, Tiana, Belle and Ariel shared the stage at D23 Expo in Anaheim.
Dubbed "The Power of the Princess," the panel brought together Auli'i Cravalho ("Moana"), Anika Noni Rose ("The Princess and the Frog"), Paige O'Hara ("Beauty and the Beast") and Jodi Benson ("The Little Mermaid") with Walt Disney Animation Studios animators Amy Smeed and Kira Lehtomaki for a chat about their experiences voicing the iconic characters.
The capacity crowd included plenty of Princess faithful who waited in line overnight for a chance at grabbing the best seats.
"I thought I was a Disney fan, but compared to all you I'm like a Disney flop," said Cravalho, addressing the packed house.
A celebration of everything Disney Princess, the presentation included plenty of video clips including Cravalho's casting footage, behind-the-scenes looks from each of the actresses' recording sessions and even some never-before-seen test animation and pencils shared by Disney supervising animator Mark Henn (who worked on "The Little Mermaid," "Beauty and the Beast," "The Princess and the Frog" and more).
The audience also got a look at a fun scene from the upcoming "Wreck-It Raph" sequel showing Vanellope meeting all of the Disney Princesses in the "happiest place online." The film features Cravalho, Rose, O'Hara and Benson and more reprising their roles (including a tiny bit of singing from one of the princesses who couldn't contain her feelings).
But the real magic happened when the actresses discussed their characters' real-world parallels.
When asked about Tiana's "I want" song from "The Princess and the Frog," in which the hard-working New Orleans native sings about one day owning her own restaurant in "Almost There," Rose went deep.
"The song, to me, really was all of what the movie was and all of what my life was," Rose said. She went on to explain how when she first read the script, she felt like she knew Tiana (at a time when the character had a different name).
"I felt like I knew this girl," said Rose. "I grew up in a small town without anybody who did the thing that I wanted to do. Where a guidance counselor told me maybe I should learn a trade. I understood being somewhere where nobody else understood what it was I wanted to do."
The Tony-award winning actress continued revealing how even today, eight years later, she still feels a connection to the Disney princess. "The journey that I was going on, as Tiana, was my journey that I was walking," Rose said. "I knew her voice and I knew her path. I constantly felt, and sometimes still feel, that I'm almost there."
Rose then proceeded to break down the deeper meaning of "Almost There" for the captivated audience.
"There are two ways to take that song," Rose explained. "You can be almost there and be sad about it. Or you can be almost there and find the joy in the journey, and the joy in the steps that you have taken, and the joy in how far you have gone... Sometimes you're not quite touching it yet, but the fact that you have gotten yourself until the point that you are almost there means that you only have a couple more steps to go. Those steps may be be years or days or minutes and you never know. But there is a joy to knowing you're going to do it."
Rose closed with the importance of Tiana to cultural representation on screen. To her, Tiana broke down the racial barriers of who can be seen as princesses.
"What Tiana has done, in addition to showing little brown children that they too are regal, is showing their friends that they too are regal," said Rose.
See the most-read stories in Entertainment this hour »
On Now
Cast of 'American Gods' drop divine secrets on the new Starz series
On Now
Liam Cunningham and Isaac Hempstead on finding the humor in 'Game of Thrones'
On Now
Acting opposite a giant Hollywood monster on 'Kong: Skull Island'
On Now
Luc Besson takes us inside his next space odyssey 'Valerian and the City of a Thousand Planets'
On Now
Norman Reedus on the secret Walking Dead' cast Comic-Con ritual
On Now
The cast of 'Orphan Black' reveal what they want to see resolved in the series finale
On Now
'Supergirl' cast on inspiring little girls to pick up a cape of their own
On Now
Video: Comic-Con: Wishing there could be a body swap between Fitz and Mac on 'Agents of S.H.I.E.L.D.'...
On Now
Charlie Hunnam on the hyper-stylized antics of 'King Arthur: Legend of the Sword'
On Now
Comic-Con: Ana Gasteyer and Wyatt Cenac on 'People of Earth'
Twitter: @tracycbrown
Get our L.A. Goes Out newsletter, with the week's best events, to help you explore and experience our city.
You may occasionally receive promotional content from the Los Angeles Times.