The Player: 'Day of the Tentacle' remake tries to look like the game of your memories
Playing a game from 1993 can be jarring. The heavily pixelated graphics may have worked fine on tiny monitors, but they don't translate well to big-screen TVs, where underpowered pixels are stretched to the inches.
So when remastering 1993's LucasArts classic "Day of the Tentacle" for modern gaming devices, Double Fine smoothed out the look, giving the 22-year-old game the feel of vintage hand-drawn animation.
See the most-read stories in Entertainment this hour >>
It's not so much an update for new technology, says Double Fine founder and "Tentacle" co-developer Tim Schafer, but a way to jog people's memories. This is, say, how the game looked on its box art, not how it felt during its initial play-throughs.
"They want it to look like it does in the brain and their memories," Schafer said Saturday at IndieCade, an annual festival dedicated to independent gaming where "Day of the Tentacle" was previewed. "They don't remember it looking all jagged and pixelated. This is what it looks like in their head."
Purists shouldn't fret.
The remastered "Day of the Tentacle," a loony time-traveling game in which three friends try to stop a mutated purple tentacle, can be played exactly as it looked in '93, complete with players having to click on giant verbs to perform actions. But that, too, has been reshaped for modern audiences, as those who don't want to use the "verb bar" can partake in a more streamlined, more active verb dial.
It represents Double Fine's lessons learned from past remakes, including "Grim Fandango," as well as tips from working on more recent adventures, such as "Broken Age."
The updated game is coming to home computers and Sony's PlayStation 4 and Vita early next year.
"I was always thinking that I wanted adventure games to just be breezier," Schafer said. "Not breezier to solve the puzzles, but breezier so once you decided what to do in your head you could execute that. It shouldn't be like, 'OK, I want to open this door. Now which pixel on the door do I click on? Which verb do I pick?' 'You should just walk toward the door and it opens. You shouldn't have any hassle."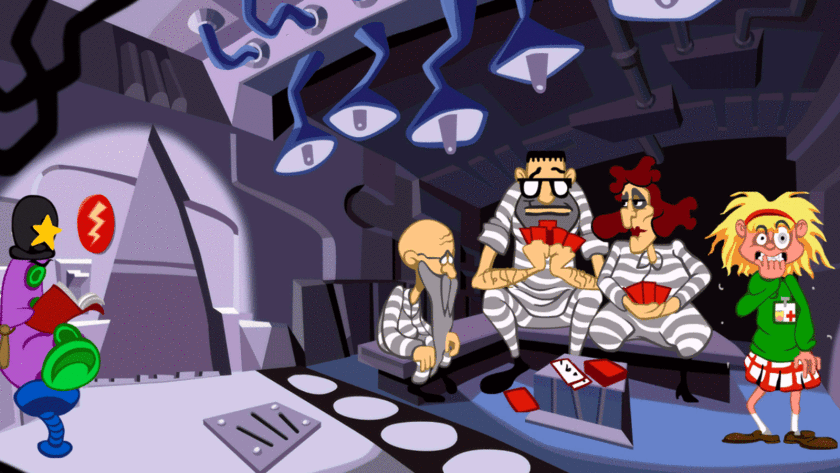 The point-and-click style of "Day of the Tentacle," in which players hunt around a screen with a cursor for clues to puzzles, had largely been phased out as recently as five or six years ago.
But today, a new-found emphasis on narrative-driven experiences has given the genre something of a rebirth. At IndieCade, there are plenty of games that experiment more with story rather than action, from the full-motion detective game "Her Story" to the upcoming supernatural teen comedy "Oxenfree."
Some, such as "Cibele," which deal with the intimacy of a new relationship, are simply about the experience of playing through a dramatic period in one's life. Others, such as "Story Warriors: Fairy Tales," involve the player having to figure out which words to click on to bring the world to life.
"It was looked down on five years ago," Schafer said of story-driven games. "Narrative in games was viewed as too scripted -- it limited you and games should be about systems. That's valid, but I think people have come out of the closet a little bit and I like when games have a more scripted narrative and a linear progression."
In revisiting "Day of the Tentacle," Schafer said he was surprised at how streamlined the story felt. It's told essentially in three acts, and players are allowed to jump from character to character, including the portly heavy-metal dude Hoagie or the slim and the perpetually perplexed Laverne.
"Laverne," said Schafer, "is very unusual. It's very unusual to have a slightly off-balance confused character in a game." He added that Laverne is something of a "crazy ostrich," while Hoagie "was based on a roadie we met from Megadeth."
Then he corrected himself.
"No, actually, we met his girlfriend and she told stories about him, but we never met him because we were a little scared of those stories."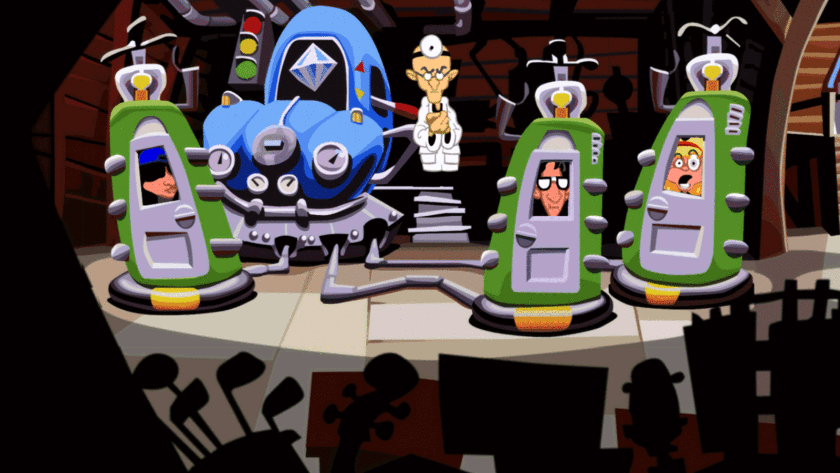 I played the original when it was released, but many of the finer details of "Day of the Tentacle" are lost to memory. But a short clip at IndieCade had Hoagie interacting with our founding fathers, as well as talking to a mummy. What stood out, however, was how fresh the game looked.
"Tentacle" has received more of a graphic overhaul than the one given to last year's "Grim Fandango" reboot. Schafer said the game was initially influenced by "Looney Tunes" animator Chuck Jones, and today the game can finally show it.
"It always was an homage to Chuck Jones," Schafer said. "That was the name I kept throwing around a lot. I loved 'Duck Amuck' and all of his oeuvre. There are big expanses of solid color. Even in the remaster, we really wanted to stick to that. There's not a lot of detailed shading. There's just big swaths of color. It's good for puzzle design."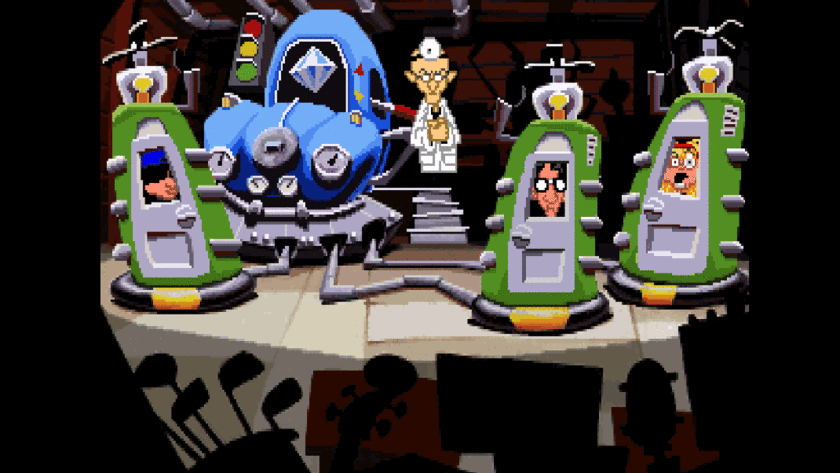 As for why the game has stood the test of time, the key lies in the game's simplicity, even if some puzzles may leave fans scratching their heads.
"I hadn't played 'Day of the Tentacle' in years," Schafer admitted. "I went through and played with Dave Grossman, who was the co-project lead. I really liked the density and the simplicity of it.
"Story-based games," he continues, "have a tendency to do a lot of long epics. That was 'Grim.' You travel across the land of the dead. 'Day of the Tentacle' was just this three-part mansion -- three stories stacked up like a Rubik's Cube. The puzzles all rotate around themselves. I appreciated how dense and tightly designed it was."
MORE:
A game made almost entirely of LED lights? It's addictive, and it's at IndieCade
Playing with sex: This year's IndieCade shows how games are getting intimate
Game designer Tim Schafer's 'Grim' path tracks adventure genre's growth
---
Inside the business of entertainment
The Wide Shot brings you news, analysis and insights on everything from streaming wars to production — and what it all means for the future.
You may occasionally receive promotional content from the Los Angeles Times.