After 40 years, Wendy and Richard Pini finish 'Elfquest,' the 'first American manga,' and go on fanquest
Wendy and Richard Pini set out to tell one story in 1978 with their fantasy comic book series "Elfquest."
Four decades later, that tale was still following the adventures of a forest-dwelling tribe of feral elves and their leader — Cutter, Blood of Ten Chiefs — who's been looking to complete his hero's journey. The elves, who have allied with wolves, roam an earth-like world, seeking a home and answers to deep, life-affirming contemplations like why they exist at all. The Wolfriders come across many other tribes in their travels, and those interactions have layered and enriched the comic tremendously over the years.
At last, however, the duo finished the story. They released the book's final issue on Feb. 28, exactly 40 years to the day they debuted their first issue.
"It was a miracle of timing," says Wendy Pini, co-creator, writer and artist for "Elfquest," which is the longest-running American fantasy comic series. It has been called "the first American manga" in recognition of Wendy Pini's art, a blend of Eastern and Western styles, and was voted the "Most Life-Changing Graphic Novel" by BuzzFeed.
"There was a feeling of inevitability towards an ending. We reached that point in the story, and we brought it home."
Since releasing the final issue, the couple have been on and off the road, making appearances with "Elfquest" fans on the way to this summer's massive gathering at San Diego Comic-Con. This weekend, they'll participate in panels and offer fan sketches during all three days of the Chicago Comic & Entertainment Expo (C2E2).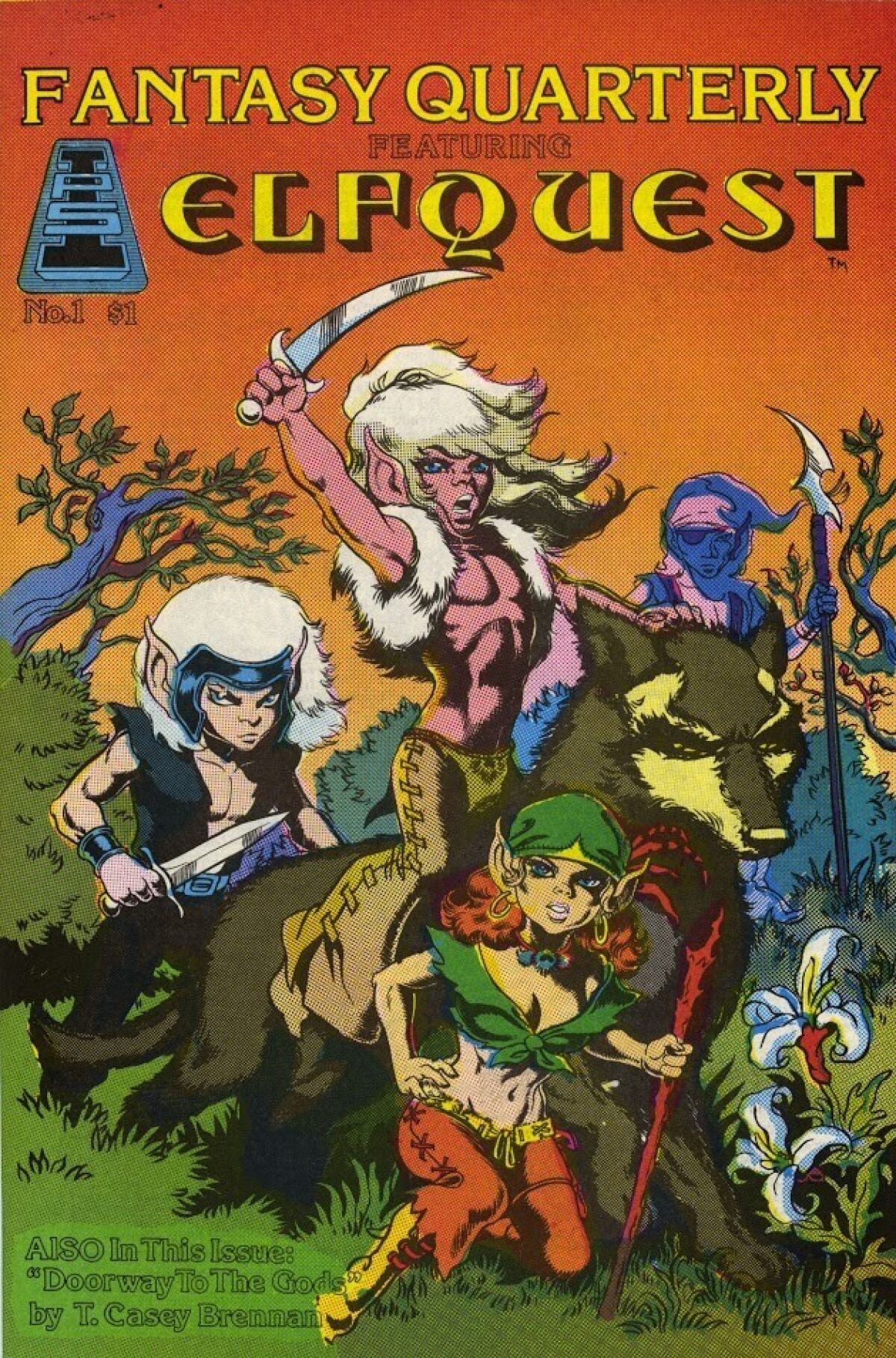 "Elfquest" was originally self-published by the Pinis out of their apartment in southeast Massachusetts. Back in 1978, independent comic books typically sold at most a few hundred copies per issue. So "Elfquest's" first-issue print run of 10,000 was an anomaly. It sold out and went back to press for additional printings, which was also unheard of at the time.
"We had no idea it would take off like that," says co-creator and editor Richard Pini. "All we wanted to do was tell the story and not go broke doing it."
They didn't go broke — quite the opposite. When the title ended its first series in 1984, sales had reached 100,000 copies — circulation numbers that compete with "X-Men" and "Batman."
"Elfquest," which has been a New York Times bestseller, was selected as one of NPR's "100 Favorite Comics and Graphic Novels." It's the only independent title to have also been published (under licenses) by the three largest U.S. comic book publishers: Marvel Comics, DC Comics and Dark Horse Comics.
Though the Pinis have decided to step back from daily production, it's not the end of "Elfquest." Dark Horse is currently publishing graphic novel collections, and the Pinis will serve as story and art advisers on future "Elfquest" projects.
"We're not really constrained by a lot of the considerations that other creators or publishers or companies might have," Richard Pini says. "If you're a big comic book company and you've got very, very well-known, long-running popular characters, you kind of have to keep them going because they are your bread and butter."
We chatted with the couple as they prepared to go on what they're calling the Forty Years of Pointed Ears tour. Stopping at comic book conventions around the country, the Pinis hope to interact with fans that they've been distant from for years due to the grind of creativity. We asked them about the beginnings of the comic book and where it could go in today's cinematic universe-crazy times.
---
In "Elfquest," it's all about who you support and identify with. Which tribe do each of you most identify with?
Wendy Pini: That's a great question. I'd have to say for me, it would be the Wolfriders because they express my love of nature — and I'm absolutely crazy about wolves. This gave me a chance to draw them in their natural habitat and show a lot of their natural behaviors. The Wolfriders are my tribe, and Cutter is the character that I identify with most. He speaks for me.
Richard Pini: I'd have to go along with Wendy in saying the Wolfriders. But if Cutter is her character, Skywise is mine. He had a little bit of a dailiance with the Gliders. But [with Skywise] being a lover of the stars in the sky, being that world's first astronomer — I also love astronomy — I wouldn't mind just kind of being able to do what the Gliders do and just float up and fly. Still, when it comes down to it, deep in the soul, it's Wolfriders.
What sustained this idea for you two for so long, and what made you go for it in the beginning?
WP: I had been telling myself stories since I was a wee tot, and they all tended to be a similar kind of story about a character or a group of characters questing out into the world to find out who they are or where they really belonged. A search for identity. All of my stories through high school and into college reflected that. The story of "Elfquest" had kind of been bubbling inside of me since I was a teenager. When "Star Wars" burst on the scene in 1977, it was such a thrill to see a fantasy world — because "Star Wars" was to me more fantasy than sci-fi — fully realized and so incredibly well-received by the whole world. The time for it was right. I sat Richard down and told him the germ of my idea for "Elfquest," and he immediately responded.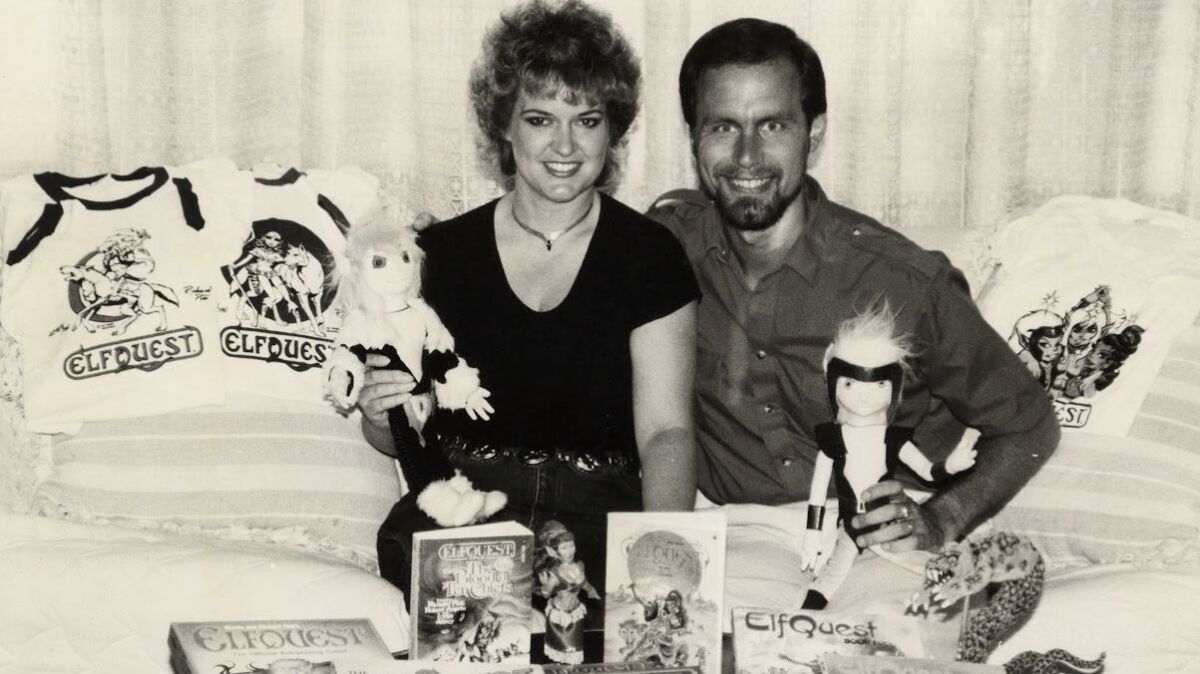 RP: As Wendy said, she has been a storyteller and an artist since the age of 2, and we have proof. All of her stories have been about a search for home, a search for tribe, a search for family, maybe a search for safety. We've been asked over the years what's the secret to "Elfquest's" continuing popularity, and we've come to understand that it's a story about outsiders, about people who feel put upon, who feel marginalized — and there's a lot of that going on in the world. There always has been. Particularly in fandom — fandom is made up of people who feel marginalized — that's what fandom is. They have gravitated to "Elfquest" because there's a kind of a universality to that story. You add Wendy's incredibly beautiful and lush artwork, and you can't miss.
WP: It's a formula for longevity.
How did you settle on your art style?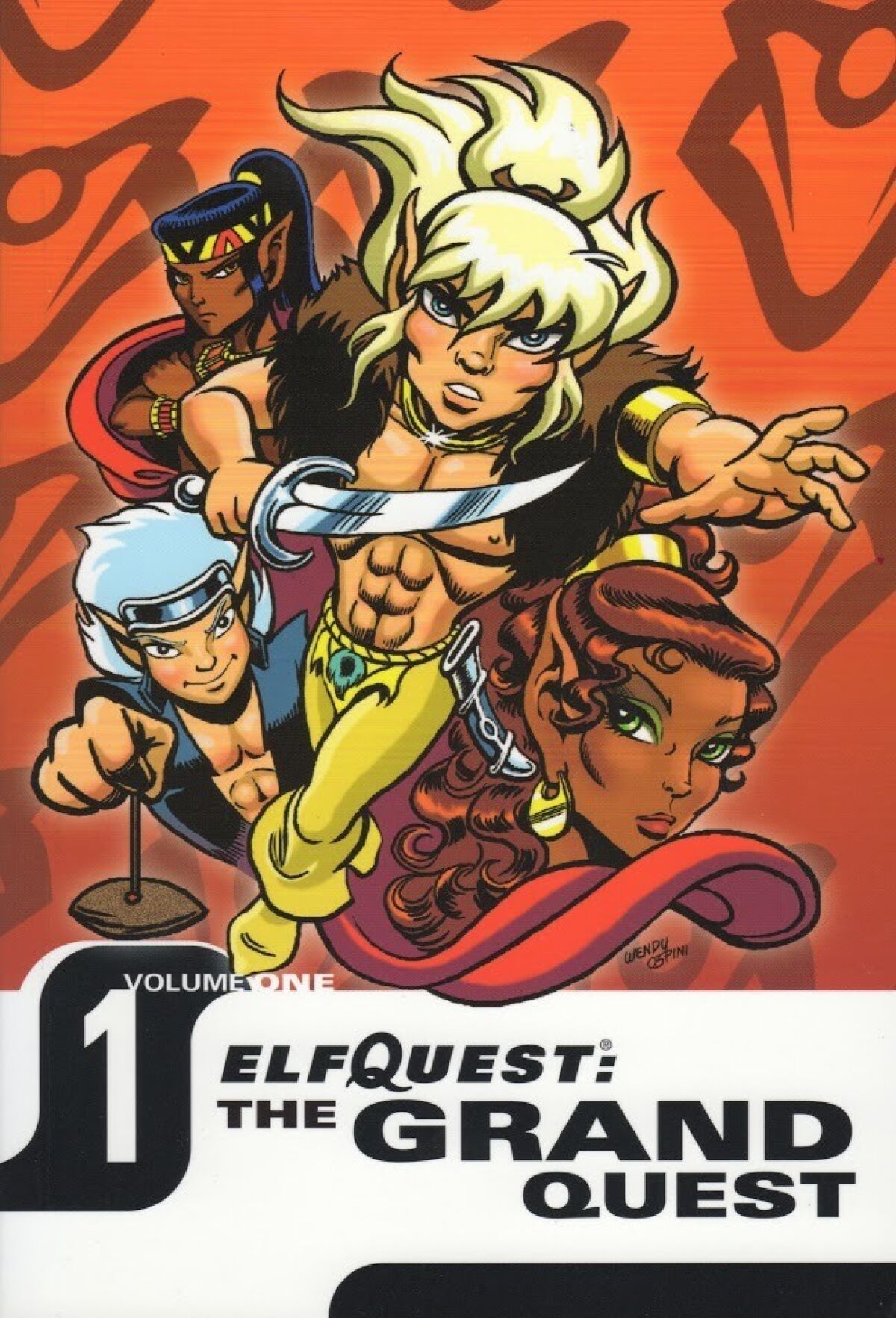 WP: In my early years I was influenced by great illustrators like Arthur Rackham and Aubrey Beardsley, but when it comes to comics, my two main influences are Jack Kirby from the west and Osamu Tezuka, the creator of Astro Boy, from the east. Those two great masters helped me to form my sensibility when drawing comics. Jack Kirby taught me strength, power and good solid structure. Osamu Tezuka taught me the line of beauty. Beautiful, linear, curvaceous, sensual lines. So you combine those two things, and you more or less have my style.
You've dealt with the biggest comics companies in Marvel, DC and Dark Horse and branched off in the independent world. What's the biggest difference?
RP: Well, when you do it yourself, every possible reward is yours and every possible failure is your responsibility. It is an incredibly heady, incredibly exciting and incredibly lonely path. But you are your own boss, the captain of your own ship. You make all the decisions and try to make the very best ones you can so that you survive.
We licensed "Elfquest" first to Marvel, then to DC and now at Dark Horse, so it's really the big three that we've been with. I think we're the only ones who can make that claim. There was always an element of other chefs in the kitchen, who have some say in how the dish is prepared. There's a certain comfort in that because you're not carrying the whole load yourself, but you do have to make compromises because of the way other companies do things. Our experiences on the whole have been incredibly positive and incredibly rewarding and we're grateful to anyone we've ever worked with.
If you were to pick out a certain storyline to introduce the world of "Elfquest," what would you choose to embody the run?
WP: I can give you both a storyline and a series of issues, and I can give you one book that has stood out to our fans and us over the years. We did a series of painted watercolor comics — each story was a standalone — and one of those comics was called "Little Patch." It takes place in ancient, primitive times and is the story of a baby that's been abandoned because he's born with what's a called a port wine birthmark on his face. He's thought to be cursed, so he's abandoned and the elves find him and raise him. It's the story of a human who was raised by the Wolfriders and it tells his whole life from when he was a little baby to when he finally comes back to the Wolfriders in old age and dies with them.
It's a real heartbreaker — you'll need several boxes of Kleenexes. Our fans always name that one as their favorite single "Elfquest" story. As for a series, I would have to say, just start with the beginning. Start with the opening issues of "Elfquest," and it will just carry you on.
RP: We call that the original quest. It was the original 20 issues that we published. It is a very, very nicely self-contained story although is just the first chapter in the larger arc, which ends with final quest. The original story is an absolutely perfect introduction.
Forty years of storytelling makes it incredibly dense. Could you see this being boiled down into some kind of television series or movie?
RP: It would be easier to boil it down into a series than to try to make it into a movie.
I wouldn't even try making a movie!
RP: [Laughs] Believe me, we have been to that altar many times. We have been courted and jilted many times. But given that long-running fantastic series [are popular] — of course the golden standard these days is "Game of Thrones" — these allow you to explore things at a more leisurely pace, to get much more into intrigue and plot than a two-hour movie would allow. Obviously, if we didn't think it was possible, we wouldn't be talking to people about the possibility. Yeah, we'd love to see what some very creative director's take would be on "Elfquest" because there is so much material.
WP: Absolutely. Because I'm a lover of animation. I certainly would love to see a beautifully done, 2-D animated, sort of more adult-oriented series that might end up on Netflix or some other cable station. Our minds are also open to a combination of live-action and CGI. Anything that gets the story told so that people who have followed this series for so many years would be able to say "That is Cutter" or "That is Skywise." "It really really looks like and feels like the characters and the voices are right."
RP: At the same time, we understand that there are a lot of people out there who have never heard of it. If they are intrigued enough to view the pilot, it would have to be catchy enough and attractive enough to grab them and suck them into the world so that they become a fan of "Elfquest."
The talk today in entertainment is about diversity, inclusion and equality in the content created and in the workplace. What has your journey been like, Wendy?
WP: My answer to you about being a woman in a largely male-dominated industry might surprise you a little bit. Before we actually started "Elfquest," I already had a reputation as a science fiction and fantasy illustrator for almost ten years. With that kind of reputation behind me, I think that's why there was so much trust in my work and why we were able to get "Elfquest" off the ground so soon. Because I had been working professionally since I was 19 years old, the issue of being a woman in a largely male-dominated industry didn't really come up for me. People tended to treat me more like a peer and to treat me like someone who could meet a deadline, which was kind of rare whether it be male or female. If you can meet a deadline, they really love you in the comic business. My experience is one of being treated as a professional first, and my being a woman never came up as causing me any problems or giving me any struggles.
So, you're going on a victory lap of a tour?
RP: As far as the tour, we've been asked, "Well, all right, now that 'Elfquest' is done, what are you going to do next?" Well, for 2018, as you pointed out, this is a victory lap. We have been so busy the last four or five years that we haven't gotten out to the conventions, so we've not seen a whole lot of our readers and fans and people who might want to meet us. We're taking this year to — well, we just got back from France and going to the Angoulême festival and had a wonderful time there. We're going to be up at Emerald City in Seattle, and we're going to try to hit all of the big shows and some of the smaller shows simply because we're not working to a deadline anymore, simply because we want to get out there and share the great feeling that we have of completion with everybody who reads "Elfquest." It doesn't get any more basic than that. We have been working our tails off for a very long time. This is both a celebration and a victory lap and a vacation all rolled into one.
Why haven't you two taken a trip in so long?
Follow me on Twitter: @Storiz
---
Get our L.A. Goes Out newsletter, with the week's best events, to help you explore and experience our city.
You may occasionally receive promotional content from the Los Angeles Times.