From the Archives: Alan Rickman on his decade as 'Harry Potter's' Severus Snape
British actor Alan Rickman has died after a battle with cancer. He was 69. Hero Complex spoke with Rickman in 2011 to discuss the end of the "Harry Potter" franchise and his years as Severus Snape.

No one sneers or snarls quite like Alan Rickman and, looking back on a cinematic decade of "Harry Potter," his Severus Snape now stands as the franchise's most fascinating figure after being revealed in the eighth film as misunderstood double-agent motivated by long-lost love.
According to David Yates, the director of the final four "Potter" movies, there was a similar sort of aura around Rickman on the set when he wore the black robes and sour scowl of his character even when the cameras weren't rolling.
"My early reaction to Alan was, 'Wow, he's really prickly and quite unpleasant,'" Yates said during a recent Los Angeles visit. "But there's a method to his madness. I realized that he has to get in that zone when he's on the set. When I finally met him away from the job, he was a lovely guy. I don't know that he shows that to everyone, though. I think Alan is also shy — painfully shy, in fact — and he believes his craft should have an element of mystery to it. He sees no value in talking about it too much or dissecting it too much."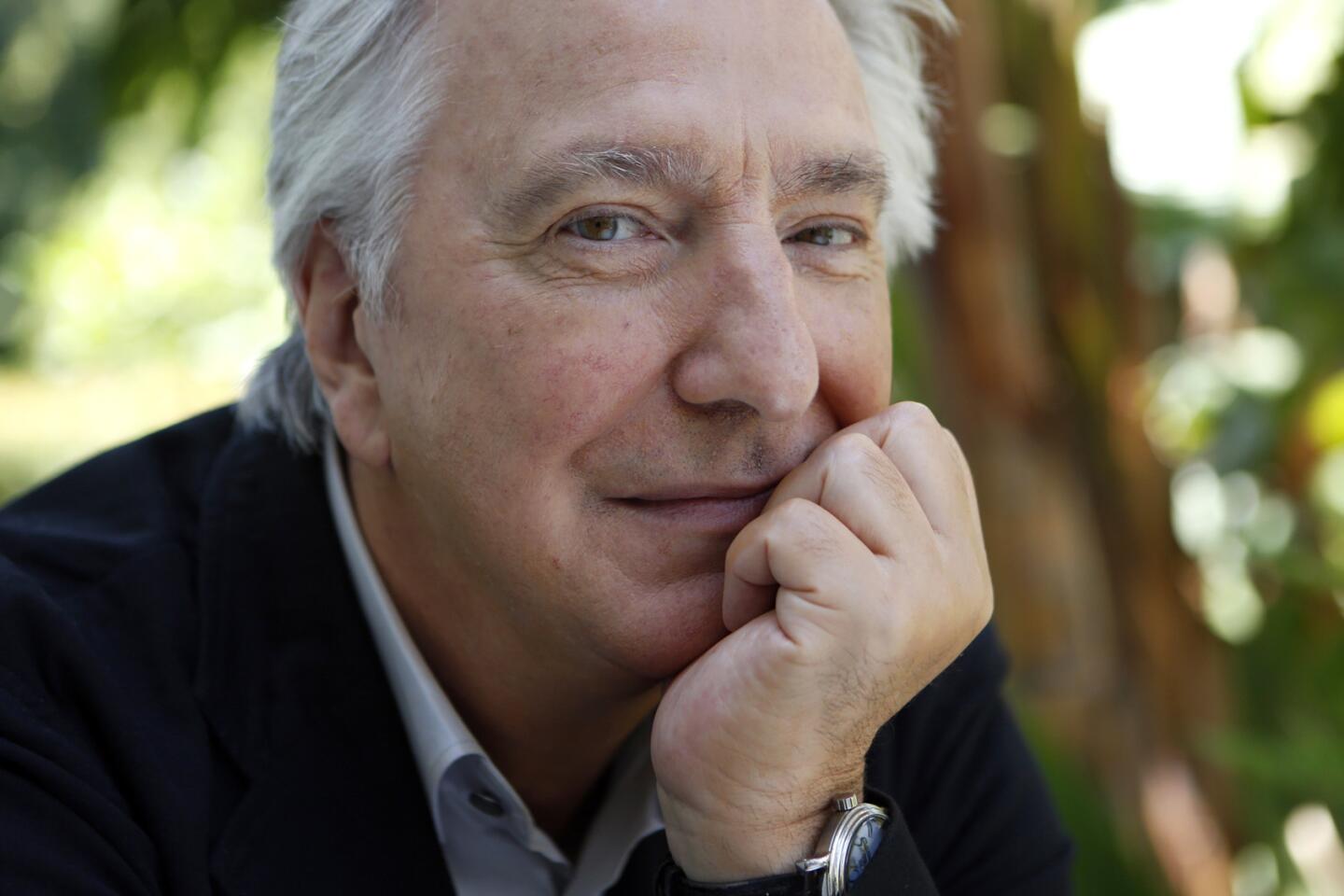 British actor Alan Rickman is photographed at the Sunset Marquis in West Hollywood on June 22, 2015.
(Francine Orr / Los Angeles Times)
Rickman won a Golden Globe in 1997 for his role in the HBO film "Rasputin: Dark Servant of Destiny."
(Robert Gauthier / Los Angeles Times)
Alan Rickman with his best actor Emmy for his work in "Rasputin."
(Patrick Downs / Los Angeles Times)
Alan Rickman in New York in 2011.
(Jennifer S. Altman / For The Times)
Perhaps, but reached by phone in New York, Rickman was more than willing to express his affection for the "Potter" creative team and cast. He spoke fondly of the three young stars at the center of the magical epic — Daniel Radcliffe, Emma Watson and Rupert Grint — and cited "the unique experience" of "watching the movies grow up with the children" as the years brought a darker story tone and evolving cast dynamic.
"It was a punctuation mark in my life every year because I would be doing other things but always come back to that, and I was always aware of my place in the story even as others around me were not," Rickman said. "Am I sad? The point about a great story is that it's got a beginning, a middle and end. The ending of this story was quite popular and beautifully judged by Jo Rowling and David Yates, so it's not a cause for sadness; it's a cause for celebration that it was rounded off so well."
Rickman's Hogwarts odyssey was singular in one major way: Early on, years before the ending of the book series, "Potter" author J.K. Rowling took him aside and revealed the secret back story of Snape, trusting Rickman and Rickman alone with one of the biggest twists in contemporary popular fiction. That set up the actor up to portray Snape as something more complicated (and more tragic) than mere a black-caped villain.
The point about a great story is that it's got a beginning, a middle and end.
— Alan Rickman, actor
"It was quite amusing, too, because there were times when a director would tell Alan what to do in a scene and he would say something like, 'No I can't do that — I know what is going to happen and you don't,'" said "Potter" producer David Heyman. "He had a real understanding of the character and now looking back, you can see there was always more going on there — a look, an expression, a sentiment — that hint at what is to come ... the shadow that he casts in these films is a huge one and the emotion he conveys is immeasurable."
Heyman, like Yates, admits to finding the "real Rickman" an elusive figure.
"I think a lot of people don't understand Alan Rickman and I'm not sure I do," the producer said, "but what I can say is that with that voice and that demeanor, sometimes people misinterpret him. He does have a deep voice and he does speak quite slowly and he speaks in such a way that some people might find him haughty — nothing could be further from the truth. He is one of the most generous people and most brilliant actors I've ever met."
In the end, Snape was revealed as a hero, and now the "Potter" producers and Warner Bros. are holding out hope that Rickman might do the same for them; the classically trained 65-year-old actor is the last great hope to bring home the franchise's first Oscar nomination in an acting category.
Despite all of the "Potter" franchise's box-office magic (the films have grossed $7.7 billion in worldwide box office and sold more than 165 million DVDs) the spell has never worked on academy voters. The series has a mere nine Oscar nominations to date and all of them in technical categories. To shed that hex, Warner Bros. has splurged on a lavish campaign ( it even included "For Your Consideration" billboards around Los Angeles) to persuade Academy of Motion Picture Arts And Sciences voters that (like the final "The Lord of the Rings" movie) the finale of this fantasy mega-franchise deserves some nomination and trophy love.
That may not be in the cards but if it is, no one is more deserving than Rickman or Maggie Smith, according to Yates, who ranked them as the two best actors in "Potter" cast. That's saying quite a lot too, considering the "Potter" ensemble is a veritable who's who of contemporary British and Irish actors with Helena Bonham Carter, Ralph Fiennes, Kenneth Branagh, Gary Oldman, Michael Gambon, Jim Broadbent, John Hurt, Emma Thompson and the late Richard Harris to name just a few.
Harris portrayed Dumbledore in the first two films but succumbed to Hodgkin's lymphoma in October of 2004. Gambon picked up the baton for the rest of the series and put his own stamp on the character — there was less twinkle in the eye but more gravel in the gut — and Rickman made a point to underline the importance of both headmasters.
"It was hard losing Richard so early on but it was a great gift to find Michael to pick up those reins and it was a gift to have two Dumbledores to work with," Rickman said. "The rest of the cast stayed steady. You didn't see the cast come and go, just get taller."
Like many of the "Potter" stars, Rickman has considerable stage work in his past and (like Hurt, Fiennes, Gambon and Branagh) he studied at the Royal Academy of Dramatic Art. The theater still beckons to him with the intensity of being on a "roller coaster and in a ballgame at the same time" and since last month, Rickman has been on Broadway performing in Theresa Rebeck's new play, "Seminar," in which he portrays a bitter novelist with a savage tongue.
"It's exhilarating," he said with languid baritone that "Potter" fans know so well. "It feels like we started three years ago but I think it's more like a week. We're still learning."
On the silver screen, Rickman has veered back and forth between popcorn films and art house pursuits as well as dramas that fall somewhere in the middle. He is well known to moviegoers for his droll turns in big popcorn projects such as "Die Hard," "Robin Hood: Prince of Thieves," "Galaxy Quest" and "Sweeney Todd: The Demon Barber of Fleet Street" as well and his nimble work in less bombastic films such as "Truly, Madly, Deeply," "Love Actually," "An Awfully Big Adventure," "Michael Collins" and Ang Lee's "Sense and Sensibility."
He picked up an armful of awards for HBO's "Rasputin" — he took home an Emmy, a Golden Globe and Screen Actors Guild Award for playing the "mad monk" of old Russia — and he has also stepped into a different spotlight as the director of "The Winter Guest," both on stage in London's West End and for the feature-film version starring future "Potter" costar Thompson back in 1997.
"You try to find things that are challenging and interesting and hopefully it will be the same to the audience," Rickman said. "It's interest in drifting on the one hand but it's also a question of what people decide to offer you. Right now with this play, for instance, I hear unbelievable laughter every night and that's a huge treasure chest. At the same time sometimes there's dead silence, and that's a great pack of cards to be given."
When in years to come people reflect on Rickman's career, Snape will likely be considered the ace card and the eight "Potter" movies his winning hand — and that will be the case no matter what happens this Oscar season. For the actor, the acceptance speech that matter most is his thank you to Rowling for creating the complex tapestry of a huge wizard epic where Snape was the most mysterious thread.
"It's completely staggering that she had all of that in her head," Rickman said. "Rumor has it that she put the ending in a bank vault when she was writing the beginning. So she held it all in her head, all seven books. It's jaw-dropping, really. When we started she had only written three of the books so it was like trying to walk down two potential roads not at all knowing what the end would be but having some sense of what that man's life was," Rickman said. "I knew with Snape I was working as a double agent, as it turns out, and a very good one at that."
Get our L.A. Goes Out newsletter, with the week's best events, to help you explore and experience our city.
You may occasionally receive promotional content from the Los Angeles Times.