E3 2019: 'Marvel's Avengers' gameplay will make you forget you doubted it
Surely the studio behind the new "Marvel's Avengers" game has heard that some fans think the characters shown in its preview trailer appear a bit … off?
"I haven't heard anything about that," Crystal Dynamics studio head Scot Amos said Wednesday morning at the Electronic Entertainment Expo (E3), sitting inside a giant militaristic "Avengers" booth inside the Los Angeles Convention Center.
He was joking, of course. He's heard plenty.
When Square Enix developer Crystal Dynamics revealed the look and feel of its take on the Avengers at a pre-E3 press event Monday evening, the studio was well aware that it had just opened itself up to debates and criticism from fans of the storied superheroes.
With more than half a century of comics, as well as more than a decade of films in the current Marvel Cinematic Universe, there's plenty of art and inspiration to pull from — all of which feed fans' strong opinions of how, say, Iron Man should look and sound, especially in the wake of this year's blockbuster "Avengers: Endgame."
E3 2019: Is the video game industry ready for pop-culture saturation? »
Crystal Dynamics, perhaps best known for its recent work on the "Tomb Raider" franchise, made the decision to give its "Marvel's Avengers" game a cinematic look instead of going for a more stylized comic feel.
Amos is hopeful — and confident — that once fans see more of the game they will react the way many in an E3 crowd did Wednesday morning after watching about 30 minutes of early gameplay footage: They clapped enthusiastically.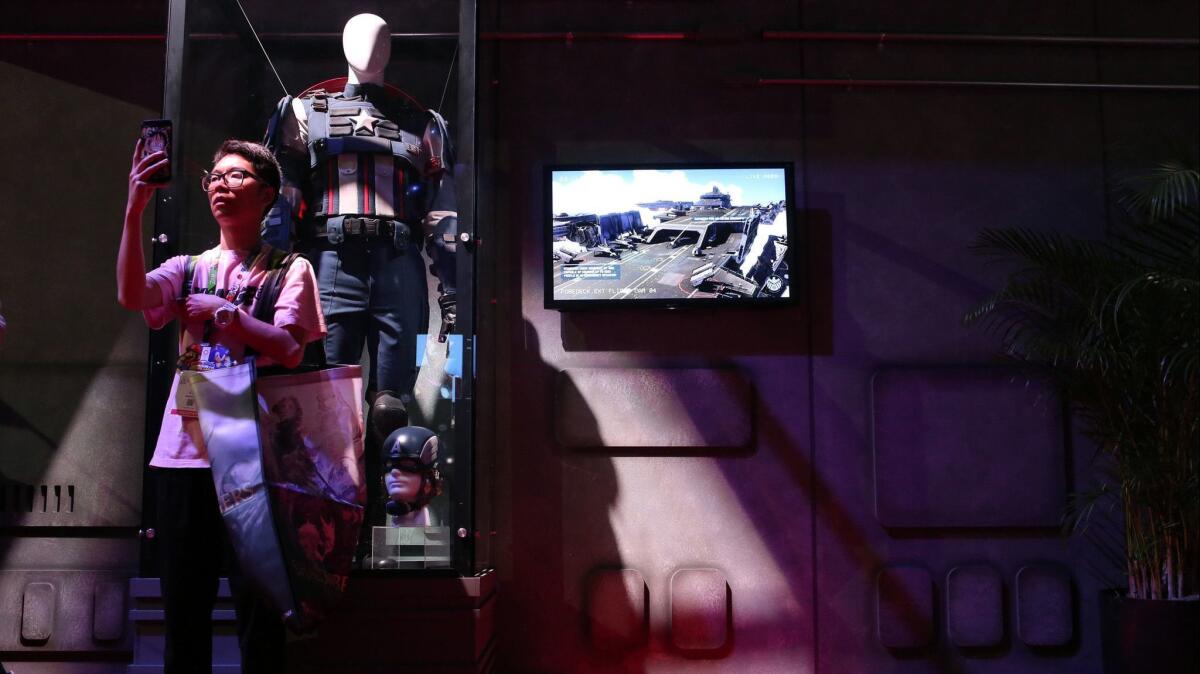 "It's a very conscious choice from our side," Amos said of the art style. "When we started this several years ago with Marvel, we said, 'What do we want this to be? Do we want this to be this or that?' We don't want to be the game of the comic — of the movie — we want to be an original thing.
"From a story perspective, from the way these characters are, we still need them to be familiar because they're iconic. They're god-level. But how many versions are there from the comics, TV shows and everything else from where they've gone?"
Amos said Crystal Dynamics worked closely with Marvel on the look of the heroes, but it ultimately wanted something that captured the realistic style and feel the studio honed with games such as "Tomb Raider" yet would indeed contrast with the Marvel Cinematic Universe (MCU).
"That's the example of the MCU," Amos said. "That was a brilliant scenario. That was that moment. That was that saga. That was awesome. So we put that there, and said, 'Great, we're going in our own direction.' Not just because we have to, but because we want to. We want to give fans another expression of these characters."
While the game's trailer gave fans a sense of the story — a day to celebrate the Avengers in San Francisco is crashed and destroyed by the villain Taskmaster — it also emphasized the more film-like moments from the start of the game. The good news is that once the action starts players will likely stop wondering why Black Widow doesn't resemble Scarlett Johansson — and not just because she battles Taskmaster with invisible-like stealth mechanics.
Shown at E3 was the extended opening, where the Avengers are framed, more or less, to take part in a losing scenario in which those fighting alongside Taskmaster are using stolen Avengers weapons against them. It plays into the game's theme that the Avengers are more dangerous than helpful.
At one point, we see Thor telling Iron Man that the firepower used against them is nearly impossible to defend against. "These weapons were meant for the good guys," Iron Man says in response.
The overall tone appears to be old-fashioned, comic-inspired corniness. "Hulk smash" is, of course, said as Hulk pummels a tank-like vehicle, turning it over to eject its driver and then kicking him as if he were a soccer ball.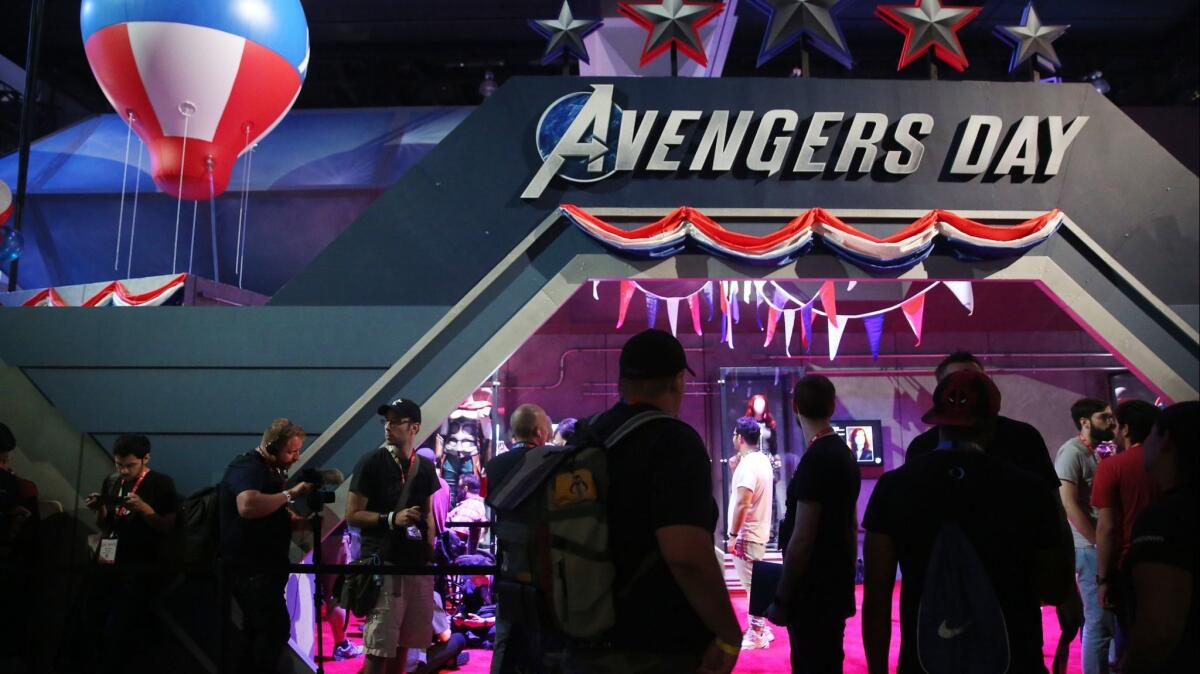 Inside E3: Images from the convention center floor »
Amos said the game flashes forward five years, past the destruction of San Francisco, putting the player in the role of someone who must get the band back together. Details are scant at a marketing-focused event like E3, and Amos would not define who the player controls at the start.
Could it be the woman heard providing a voice-over in the trailer? Amos would only say that as the "core five" Avengers are found, they'll be unlocked and playable characters. Missions will allow players to discover what the heroes have been doing the last five years.
Complementing the main story of "Marvel's Avengers" will be a steady stream of updates, with new heroes, villains and regions to uncover.
"Once you're in," Amos said, "we want to keep giving you new ways and new places to explore and new stories. The best thing for us is that we actually add new villains. You can go back and play content you've already gone through, but now it has some new villains in it, and you have a new hero to go play that stuff again."
It's a game-as-service model. And while the post-launch updates will be free — the studio hopes the additional content will give the game a long lifespan — it's also counting on players wanting to deeply sculpt their heroes. So while the studio has promised no predatory pay-to-win schemes or "loot box" behavior, in which players purchase a randomized collection of items, there will be plenty of cosmetic character customizations to spend cash on. Amos is counting on fans to want to explore with multiple characters from the Marvel roster.
It could also explain the art style for the heroes, which some have criticized as lacking in personality. Amos said the long-term vision for the game and its characters is that they become something of a canvas.
"Every hero that you have you can customize," he said. "You can customize the look. You can customize their skill trees. … If you have Black Widow and I have Black Widow, I can tune mine differently than yours.
"So," he said, "your Widow can play and look differently than mine."
But she still won't look like Scarlett Johansson.
Get our L.A. Goes Out newsletter, with the week's best events, to help you explore and experience our city.
You may occasionally receive promotional content from the Los Angeles Times.