Is the video game industry ready for pop-culture saturation?
With "Avengers" films and appointment television such as the final season of "Game of Thrones" dominating our social media-driven world, the mainstream cultural conversation only rarely turns to debates over a "Fortnite" moment or spoiler reveals of a new "Red Dead Redemption" edition.
When games do garner headlines it's usually to trumpet a blockbuster sales figure or to highlight something far more unsavory — a killing blamed on video game violence or the addictive nature of video games, which lately centers around so-called free-to-play games that attempt to get players hooked on endlessly making small purchases.
The Entertainment Software Assn. (ESA) may value the global video game industry at around $135 billion and claim 65% of American adults play games at least one hour per week, but there's still a nagging sense that a large customer base remains untapped.
This may be why in the days leading up to the annual Electronic Entertainment Expo (E3), which opens Tuesday at the Los Angeles Convention Center, a key theme for the video game industry has emerged: accessibility.
Even as Netflix has its eye on the game community — planning a "Stranger Things" game and more from its original content to be revealed at its E3 talk on Wednesday and even going so far as to once cite "Fortnite" as a primary competitor — the game industry is looking longingly at how the streaming giant provided a low barrier to entry for premium content.
Could streaming do the same for games?
With the industry's eyes on greater reach — and aspects of play turning up everywhere from our theme parks to our television shows — perhaps it's no surprise that hot topics at E3 will include a new "Avengers" game, Keanu Reeves' involvement in next year's "Cyberpunk 2077" and "Game of Thrones" creator George R.R. Martin's "Elden Ring."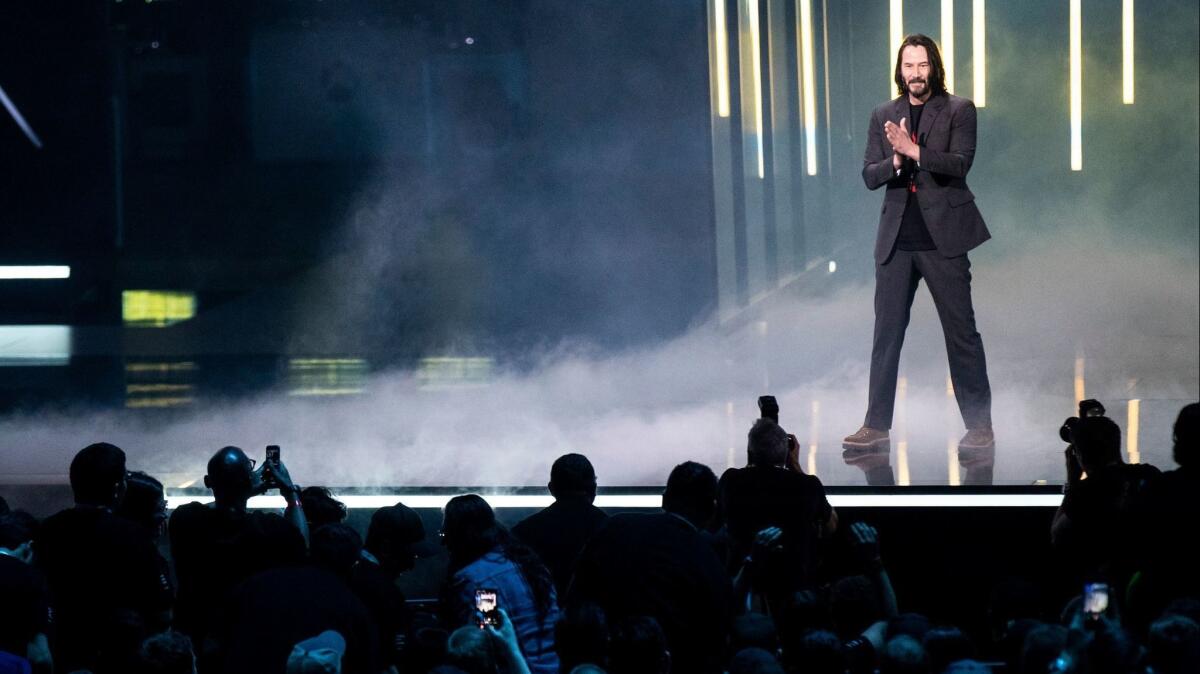 Some, however, wonder if the video game industry is ready for the pop-culture saturation it seeks.
In a move that may increase parental fears about the time their children spend gaming, the World Health Organization in late May voted to officially include a "gaming disorder" entry in its International Classification of Diseases, with the potential to result in "addictive behavior." It comes as members of Congress and the Federal Trade Commission are taking a closer look at the ethics and compulsive effects of in-game purchases dubbed "micro-transactions" — specifically targeting the randomized collections of virtual items called "loot boxes."
The word itself — micro-transactions — has become one the industry is reticent to say because the subject almost always overpowers all others. When Electronic Arts-owned developer Respawn Entertainment discussed its much-anticipated "Star Wars: Jedi Fallen Order" at a Star Wars convention in May, the most applause, noted company founder Vince Zampella, occurred when he said there would be no micro-transactions in the title.
"That got the biggest cheer," he said. He jokingly added, "By the way, it's a great game!"
Micro-transactions are required, however, for the same studio's runaway hit "Apex Legends," using in-game purchases in much the same way as the cultural phenomenon "Fortnite," that is, essentially for cosmetic appearances rather than gameplay enhancements.
"The reality of it is there are games, apps, whatever, that are predatory," Zampella said at a pre-E3 event this weekend. "We don't want to be that."
RELATED: 'Call of Duty: Modern Warfare' adds a female Middle Eastern soldier's POV. Here's why »
For the ESA, the trade body putting on the game showcase at the Los Angeles Convention Center, it's a sudden and uncomfortable spotlight. This is a year in which cloud gaming and streaming will be buzzy topics on the E3 show floor; these are tech innovations that could put games in the hands of those not interested in pricey computers of consoles. Already the smartphone is the most common device used to play games (60% of players compared with 49% on a console), according to the ESA.
New head of the ESA Stanley Pierre-Louis has been on the defensive ahead of E3. Instead of heralding that the number of Americans who play games is up 9% over the previous 12 months, he's downplaying the WHO's findings: "What we're seeing instead is there are diagnoses of other underlying concerns," he said, "like ADHD, that may manifest themselves into other types of behavior that may become problematic." He's also blasting a proposed bill from Sen. Josh Hawley (R-Mo.) designed to stop "manipulative video game practices" against children.
While legal experts believe any sort of legislation aimed at regulating in-game purchases has an uphill climb, many are in agreement that such scrutiny could have easily been avoided.
"The proliferation of these mechanisms — loot boxes and micro-transactions in games — and just the inability of the industry to this point to police itself is what has led us here," said Steven Blickensderfer, an attorney with Carlton Fields who hosts a game-focused legal podcast with his colleague Nicholas A. Brown.
Broadly speaking, the Hawley-introduced legislation, which has bipartisan support from Sens. Ed Markey (D-Mass.) and Richard Blumenthal (D-Conn.), seeks to put an end to loot boxes and their randomized collections of digital accouterments, as well as so-called pay-to-win schemes, which allow players to spend money to more quickly advance through a game.
RELATED: 'Alt-Frequencies,' an interactive radio drama for the social media era »
According to a recent University of British Columbia study, loot boxes can turn gaming into a form of gambling. The Hawley bill slightly sidesteps the gambling question, for which opinions and regulations can vary by region, and instead casts a wide net by singling out games played by those under the age of 18, or what Markey has described as "inherently manipulative game features that take advantage of kids and turn play time into pay time."
As written, said Will Bucher, a litigation associate with Debevoise & Plimpton, the bill is likely too expansive to survive judicial review. Still, the emphasis on an age limit could "effectively ban most games from the marketplace," said Bucher, touching not just free-to-play games but massive franchises such as "FIFA," which in one mode sells randomized packs of players.
Regardless of the bill's fate, the issue is here to stay.
Long a hotly contested subject in the game community, the debate blew up in 2017 with the release of "Star Wars Battlefront II," a game that practically required players to make additional purchases in order to prevent the action from becoming a tedious slog. Publisher Electronic Arts apologized and reversed course, with the game redeeming itself in the eyes of many. But all in-game purchases have been viewed under a microscope since.
"I think if you do it in a fair way, it's pretty reasonable, especially if you're giving away a game for free," Zampella said. "We are a business. We do want to make money. We have to make money. So yeah, it's sensitive, because people take advantage of it."
Ire has fallen on everything from "Harry Potter: Hogwarts Mystery," which was criticized at launch for asking players to pay to restore energy, ultimately prompting price adjustments and tweaks, while a recent summer event for "Call of Duty: Black Ops 4" raised eyebrows for placing some powerful weapons behind a pay gate. Hawley has gone on the offense against mobile game "Candy Crush," where purchases can speed up wait times or make the game more forgiving.
It's become such a prevalent practice that even some industry experts are becoming cynical. "If 'Mario Brothers' came out today, you wouldn't get to the first Goomba before you got told you could buy the green version of Mario for an extra four dollars," said Ryan Morrison, founding partner of the law firm Morrison Rothman.
The most egregious loot box offenders — often free-to-play mobile games — won't make headlines during E3, where the emphasis will be on advancements in tech, play styles and narrative experimentation.
"We made free-to-play games beforehand, and I always wanted to do artful games, but it's hard with the free-to-play genre to put a deep story into it," said Cornelia Geppert at an indie-focused Electronic Arts event on Saturday. She's a founder of Jo-Mei Games, which will soon release a metaphorical game about battling loneliness with "Sea of Solitude."
It's no surprise then that in this climate the ESA's Pierre-Louis is bullish on expanding who plays and where. "Consoles have always been important to our industry, as have PCs, but you see the growth of mobile and the opportunity to reach casual gamers," Pierre-Louis said.
Though there's no shortage of wonderful and experimental mobile games, the smartphone market is inundated with free games, where one bad experience could inspire someone to write off the medium.
Enter the next big hope: cloud-based streaming.
Google got a head start last week with an online-focused press event touting its Stadia platform, which aims to allow anyone to access high-end games on the device of their choosing, as long as they have a stable internet connection.
Sony and Microsoft too have been investing in the space, but it remains to be seen if they can attract newcomers or just be a supplement for dedicated gamers to play on the go.
Long term, developers are counting on the former. To once and for all change the narrative surrounding games — to, in other words, ensure that the content rather than the business model makes headlines — the best the industry has to offer needs to get in the hands of the most people.
Streaming's promise is not only visibility but the hope that more personal projects will start to find the audience they deserve, said Karthik Bala, a veteran developer ("Skylanders," "Guitar Hero") who has gone indie with Velan Studios, which is working on a game to be published by Electronic Arts.
"Look at Netflix and everything else with linear video streaming," Bala said. "How awesome is the content that's out there now compared to the dark days of reality TV in the '90s?"
Get our L.A. Goes Out newsletter, with the week's best events, to help you explore and experience our city.
You may occasionally receive promotional content from the Los Angeles Times.