'Riverdale' cast on turning 'Archie's' high school sweeties into a foggy, noir series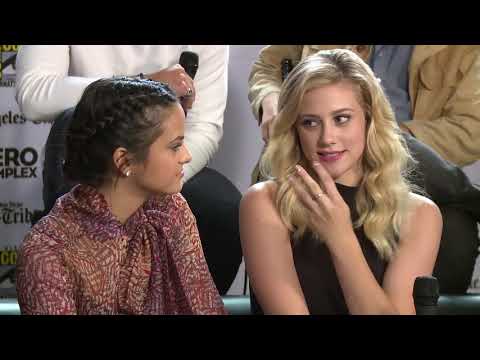 The cast of "Riverdale" talk about the new look for the "Archie."
"Archie," the 77-year-old comic whose overriding plot line hinged on which milkshake-sipping Riverdale teen (Veronica or Betty) the titular character would take to prom, is being updated as a noir live-action series.
Call it "Darchie," jokes Cole Sprouse, who plays series narrator, budding journalist and hometown sleuth Jughead Jones.
Officially titled "Riverdale," the CW series premiered its pilot at this year's San Diego Comic-Con to pretty positive reviews from the crowd and critics. But if you're looking for more information (a trailer, a few stills) you won't find any.
"Riverdale" is shrouded in the same moody fog of mystery that the noir series pumps onto their teenage-laden set. But does this mean that every time Jughead dines out on burgers, they'll taste of suspense and mystery? Like the series, it's all a mystery, but at least he'll still have his character's signature crown-shaped whoopee cap, which Sprouse revealed at the LA Times Comic-Con video suite with the rest of the "Riverdale" cast.
So what's the modern day Riverdale look like? "It has no ZIP Code," jokes Luke Perry, former "90210" actor, now cast as Archie's father, Fred Andrews.
"It's not as bright and happy as the comic books," warns Lili Reinhart, who plays Betty Cooper.
"Betty's mother is giving her Adderall!" Camila Mendes chimes in, perfectly stoking the frenemies fire that is building between Mendes' character, Veronica Lodge, and longtime series combatant Betty. The rivalry has been set.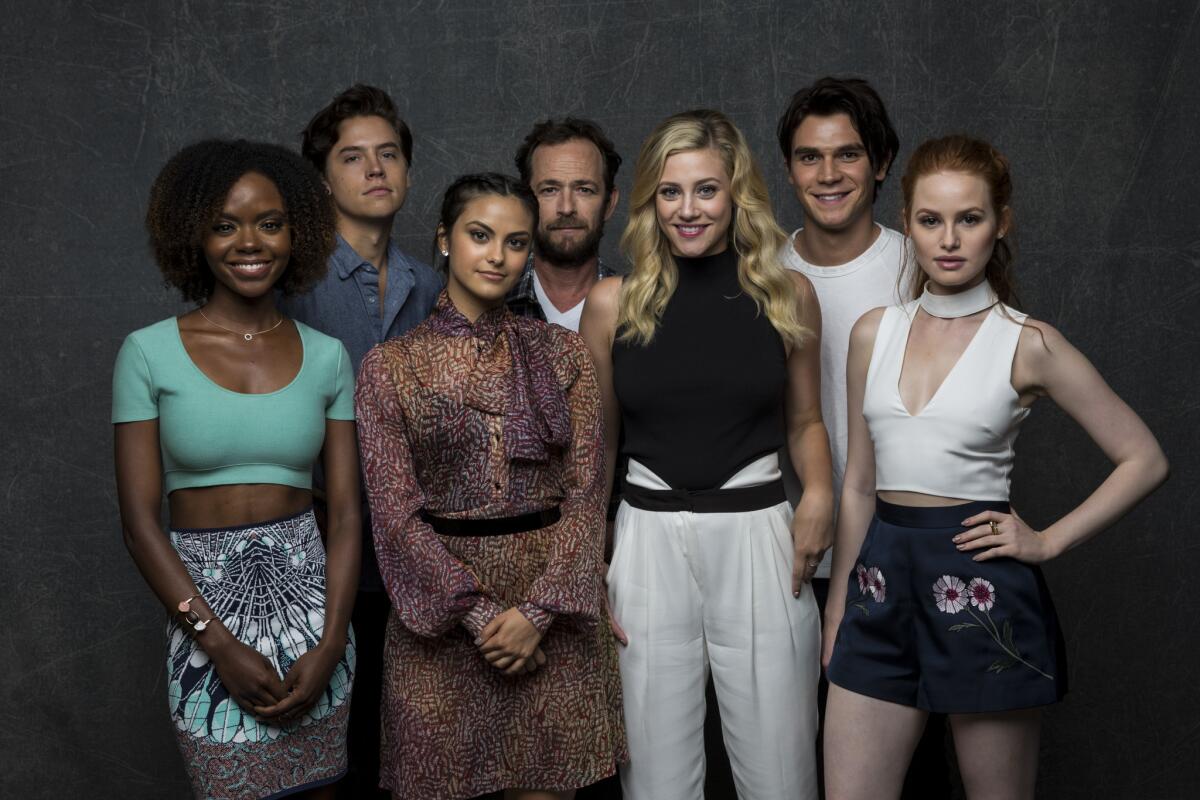 Sprouse continues, embracing his role as series storyteller, "It's important to clarify that this is just a version of Riverdale. This is not the modern Riverdale. This is our interpretation of it. 'Archie' has a ton of universes, and where we fit in is a little more film noir, dark kind of take, a little more like the movie 'Brick.' It's a dark, brooding, understanding of 'Archie' and the town of Riverdale."
To get specific, the series pulls from the recently rebooted "Archie" comics by writer Mark Waid and "Saga" artist Fiona Staples. Waid's Archie is more like a human teen who plays the guitar and hangs around with his hipster-looking bestie Jughead and less like a bow-tie wearing, 1950s representation of proper teen values.
"But you still laugh, don't worry," assures actress Madelaine Petsch, who plays classic comic book redhead Cheryl Blossom, the self-proclaimed head mean girl of Riverdale.
Other characters who will be populating Riverdale High include Ashleigh Murray as Josie McCoy, leader of the Josie and the Pussycats band. And yes, they will be wearing cat ears of some kind, but Murray wouldn't spill any detail except that her character is motivated: "Josie is very determined to succeed, she's like the Beyoncé in the tiny pool of water."
The high school melodrama (even with the noir bent) should come naturally to actor Perry, who spent his 20s playing West Beverly Hills High School's heartthrob Dylan McKay. But this time Perry returns to television not as the freewheeling, leather-jacketed bad boy but as father figure.
"We're not the happy all-American family," Perry explains. "Archie's parents are separated, he lives with his dad. We're the working-class side of Riverdale. We're the blue-collar guys. Andrew's construction. I'm a construction worker and it's me and my boy, and we're going to figure it out together, and it's kind of neat because traditionally in the comics, Archie came from a happy family, you know everything was always great and apple pie in the window and all that stuff, and it ain't like that here."
But despite the vacant windowsills in this new dark and foggy Riverdale, there's still plenty of room for the classic comic. "We have Ms. Grundy," Perry says.
Get our L.A. Goes Out newsletter, with the week's best events, to help you explore and experience our city.
You may occasionally receive promotional content from the Los Angeles Times.