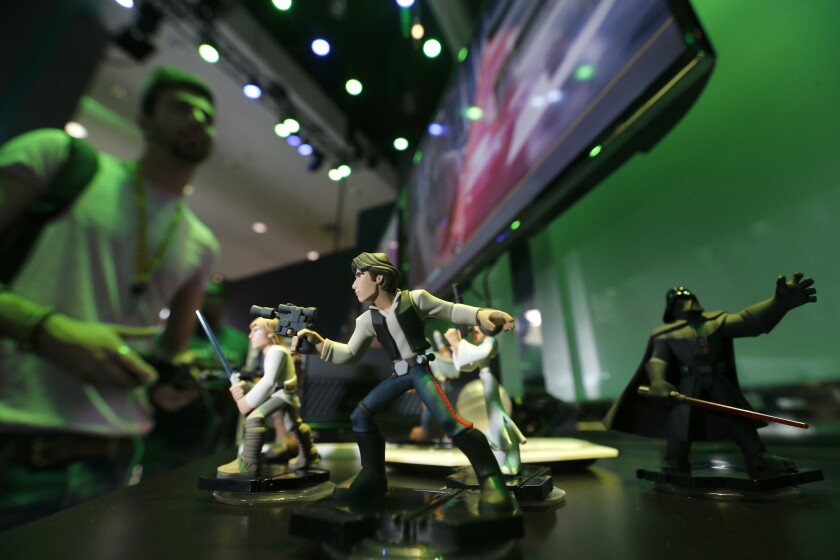 When the developers of "Star Wars: Battlefront" discuss this November's game, they repeatedly use the words "fantasy fulfilling." The game is not, for instance, about recreating iconic scenes from the movies, although locations such as Hoth and Endor are represented in the game. And it's not about rewriting "Star Wars" history.
So yes, a trailer may show Darth Vader and Luke Skywalker battling on Hoth, a scene not found in the films, but the idea was to go with a sort of anything-goes take on the universe's famous battles. A multiplayer game — "Battlefront" allows for matches of up to 40 versus 40 — simply requires improvisation.
"I think everyone, when we announced the game and talked about Hoth, everyone would have the same picture in their head. That's great, but we did not want to accurately replicate that battle one by one too perfectly" said Sigurlína Ingvarsdottir, a senior producer on the title.
"That's not what happens in a multiplayer game," she continued. "This is not scripted. What if we add Starfighters? What if we had heroes? What would that be like? We took that classic fantasy and gave it a nice twist. It's dynamic and epic, and anything can happen."
The rebels can't always win, and the power of Darth Vader can't be so imposing that no other player has a chance. But if the game can't approach "Star Wars' " past with an entirely blank slate, there's surely a pencil and an eraser in the Sweden studios of Electronic Arts developer DICE.
On Wednesday at the Electronic Entertainment Expo trade show in Los Angeles, I learned, for instance, why I did not belong on Hoth. With my character standing outside the rebel base in the game, I heard via an intercom that "the walker was exposed," meaning this was the time to strike one of the AT-ATs from "Star Wars: Episode V — The Empire Strikes Back."
Blaster fire shot past me, I caught sight of a few Stormtroopers in the distance and I tried to make my way toward one of the Imperial Walkers.
The snow was waist-deep at some points. I tried to stay low on the path as ships whirled around me and Imperial aircraft landed in the distance. I ran, threw a bomb and it bounced off a snowbank and blew me up. This wasn't the sort of fantasy fulfilling DICE had in mind, but if I had been quicker on me feet, I could have used a jetpack, maybe, to get out of the way.
Yes, jetpacks are standard in the "Battlefront" universe, though glimpsed only sparingly in the "Star Wars" films.
"Rebels and Stormtroopers have a jump box," Ingvarsdottir said. "You don't see that in the movies, but you do see Boba Fett with a jetpack, so you know the technology exists. Then that brings that creativity into it. We're going to take a mechanic from the world, and apply it in a different way."
"Star Wars" has a big presence at this year's E3, which concludes today at the Los Angeles Convention Center. Also making its debut at the industry event this year are the "Star Wars" additions to "Disney Infinity 3.0." They're lighter and more cartoonish, but the line to play as a toyish Princess Leia firing a blaster was always multiple people deep.
"Battlefront," for its part, attracted the attention of Kanye West. DICE general manager Patrick Bach on Wednesday tweeted a picture of the team with the famed rapper. I like to think West was the unseen player who destroyed me every few seconds, but I'll never know. It was clear, however, that I probably didn't belong in multiplayer matches.
I fared much better in "Battlefront's" single-player and co-op missions. On the E3 floor is a playable demo of what the developers are calling "survival" mode. Here, players can pick a "Star Wars" location — DICE refuses to say how many locals and single-player missions are in the game — and try to fend off waves of enemy attackers.
The demo at E3 is a battle on the desert planet of Tatooine, and it takes place on a side of the planet and during a battle not shown in the films. Players in this mission took on the roles of rebel soldiers — Bach said it likely will be randomized, but that's not definite — who had escaped from Imperial forces and were awaiting a rendezvous with their team.
Though the "Battlefront" series traditionally has been multiplayer focused, DICE's Ingvarsdottir said she wanted to ensure those who are, well, terrible at multiplayer games (hand raised) still can find a way to play "Battlefront," which is due Nov. 17 for PlayStation 4, Xbox One and PC.
There's sure to be high interest from nonshooter aficionados. An add-on mission for the game will center on a battle on the planet Jakku, a locale that will be introduced in December's "Star Wars: Episode VII — The Force Awakens."
"We wanted to bring the player who is not a super proficient multiplayer shooter player into the game and enable them to have a great experience and have fun in a 'Star Wars' shooter," Ingvarsdottir said.
Indeed, I fended off all but one wave in the Tatooine battle and even took down a smaller Imperial Walker all by myself. Here, I got a better feel for some of the characters' special abilities, such as personal shields. They provide protection, but one can't fire through them.
While DICE is known for multiplayer games, specifically the "Battlefield" franchise, Ingvarsdottir said the company was in constant contact with Lucasfilm to ensure that any addition to the game was true to the technological capabilities already established by the "Star Wars" universe.
"It's very, very challenging," she said. "When you say 'Star Wars,' everyone knows what that is. It's The Force. It's the blasters. It's the heroes. It's the rebels and the Stormtroopers. You paint such a big picture just by using that phrase. You're not going to go off on a tangent and invent lots of new characters or new things."
There are moments in the game in which players will be able to take on the roles of, say, Luke Skywalker, Darth Vader or Boba Fett. More so-called "heroes" are in the game, but Ingvarsdottir isn't saying how many. Players in multiplayer matches generally will have to earn the right to play as Luke, but Ingvarsdottir said there is a friend versus friend mode in which one can play a match of Luke versus Darth.
"We've gone for the biggest fantasy of Jedi Luke," Ingvarsdottir said.
"Infinity" has for a far more playful take on Luke and pals. The latest in the franchise, in which toys are placed on a plastic tray and then spring to life in a video game, is due this fall for all major consoles. The starter pack will include a play set dubbed "Twilight of the Republic," which will enable fans to play in the "Star Wars" world more reminiscent of the prequels and the animated "The Clone Wars."
The "Twilight of the Republic" play set includes figures for Anakin Skywalker and Ahsoka Tano. Yoda and Darth Maul are among the additional figures that will be available, and I watched a young and spry Yoda take down a droid army with his lightsaber.
"The fact of the matter is that the younger audience, the first audience that comes into 'Infinity,' is more familiar with Episodes 1-3," said Disney Interactive executive John Vignocchi, explaining why Han and Luke and Leia aren't in the starter packs. "They're more familiar with 'The Clone Wars'-era and 'The Clone Wars' characters. We wanted to make sure we were servicing them."
An add-on set, "Rise Against the Empire," will reference the original "Star Wars" trilogy and star Luke and Leia. Here, I used Luke's lightsaber to attack the foot of an AT-AT, eventually disabling the Walker from the top.
Unlike the more intense "Battlefront," "Infinity" will take a family approach, even allowing players to let good guys and bad guys switch sides (it's important to remember that "Infinity" features not digital recreations of the famed characters, but digital recreations of the toy versions of those characters). Vignocchi also hopes the game will indoctrinate some young'uns to the original trilogy.
"This allows us to introduce 'Star Wars' to a younger generation of fans," he said. "In many cases, it enables moms and dads to say, 'Well, that's your 'Star Wars' and I had a great time playing with you, but now let me show you my 'Star Wars.' Do you know what an At-AT is? Do you know what a speeder bike is? How about Tauntaun?' These are things that kids that watched 'The Phantom Menace' and 'Attack of the Clones' may not know of."
There are "Star Wars" fans unfamiliar with Tauntauns? Maybe the Dark Side has won.
---