Behind-the-scenes video of 'Rogue One' channels a classic 'Star Wars' feeling, plus character details
Take a good, long look at the next big "Star Wars" film, "Rogue One: A Star Wars Story." The cast and crew from "Rogue One" helped kick off the three-day Star Wars Celebration in London with a massive offering of brand new, never-before-seen images during their official panel. Plus, the cast nervously shared lots of new character details. This new film is finally beginning to take shape!
Host Gwendoline Christie (who previously donned the silver armor of new "Star Wars" character Captain Phasma), started off by welcoming director Gareth Edwards, executive producer John Knoll, head of story Kiri Hart and Lucasfilm chief Kathleen Kennedy to the stage. Very little is known about the next "Star Wars" film apart from the simple plot, which revolves around a group of rebels who are tasked with stealing the plans to the yet-to-be-revealed Death Star. The film is set between "Revenge of the Sith" and "Star Wars: Episode IV -- A New Hope."
On stage the crew chatted about the feel of "Rogue One." Knoll called it a caper and said he was inspired by films such as "Oceans 11" and "The Guns of Navarone." They were looking for that caper-type vibe when a group of people come together to accomplish something larger than life, he said.
Edwards revealed that the beach location previously revealed in an earlier teaser trailer was shot in the Maldives and is supposed to be a planet called Scarif. It was by far his favorite location: "Sometimes you gotta take one for the team," Edwards joked.
The director also said he used the Maldivian army to stock his Stormtrooper legion, and was shocked to find out that very few of the "actors" had actually seen "Star Wars."
The crew was later joined by the full cast of "Rogue One" including: Felicity Jones, Diego Luna, Ben Mendelsohn, Mads Mikkelsen, Alan Tudyk, Riz Ahmed, Jiang Wen, Donnie Yen and Forest Whitaker. Then, the dance of describing this story without revealing too much, began. Here's what we learned.
Felicity Jones (Jyn Erso)
Main character Jyn is allegedly a lot different from the former franchise heroes of Rey and Luke. "She's not a character who is asking, 'Who am I?' and 'Where have I come from?' We know that about her," Jones explained. "We know where she's come from. And that fact propels the story. And that's the beginning is to find out what her reason is and what's her course."
Diego Luna (Captain Cassian Andor)
Luna's character has been seen next to Jyn in most of the earlier released images. That's because he's a part of the rebellion. "He works for the rebellion in intelligence," Luna said. "[As] the team grows, like any team, there's friction and it's Cassian that keeps them together."
And his best friend is an Imperial droid named K-2SO, played by actor Alan Tudyk.
Alan Tudyk (K-2SO)
Before the cast began speaking, a behind-the-scenes video (which you can see above), with Tudyk in a motion-capture suit, was screened. That's because he's playing a 6-foot-tall droid. But he's not your typical droid: In a little clip with K-2SO, someone hands the droid a bag and he just kind of drops it to the floor.
He's not your "go get the bags droid," Tudyk explained. Formerly an Imperial droid, "[when] Cassian reprogrammed him, and he did a data wipe when he reprogrammed him, he's not all there. He speaks his mind and says things that could be very unsettling. If you know any old people, it's like that. He says whatever he thinks."
Riz Ahmed (Bodhi Rook)
Christie pointed out that the character played by Ahmed, who's currently gaining fame on HBO's "The Night Of," is wearing an Imperial patch but that he's a member of the rebel team, What's going on there?
"Bodhi is a pilot and he works for the Empire to make a living," Ahmed said. "People work various organizations and they don't agree with everything they do. You don't have to get judging. He's kind of questioning things. The city that he's from is actually an occupied planet, and it's the actions that he's involved with there that make him question his career counselor."
Donnie Yen (Chirrut Îmwe)
The character has been spotted in stills fighting, outnumbered by a group of Stormtroopers. "I play a blind warrior," Yen said. "I can't see but I can feel with my heart and I believe in the spiritual of the force. We [referencing Jiang Wen] are the baddest fighters. It's character-based, and we are very good friends."
Jiang Wen (Baze Malbus)
Wen didn't have much to say and warned that English wasn't his first language. But what he did say, he made it large. "He has a huge gun," Wen said. "He has a weapon, the weapon's are very huge. I have a gun, a huge gun." Emphasis on "big" and "gun."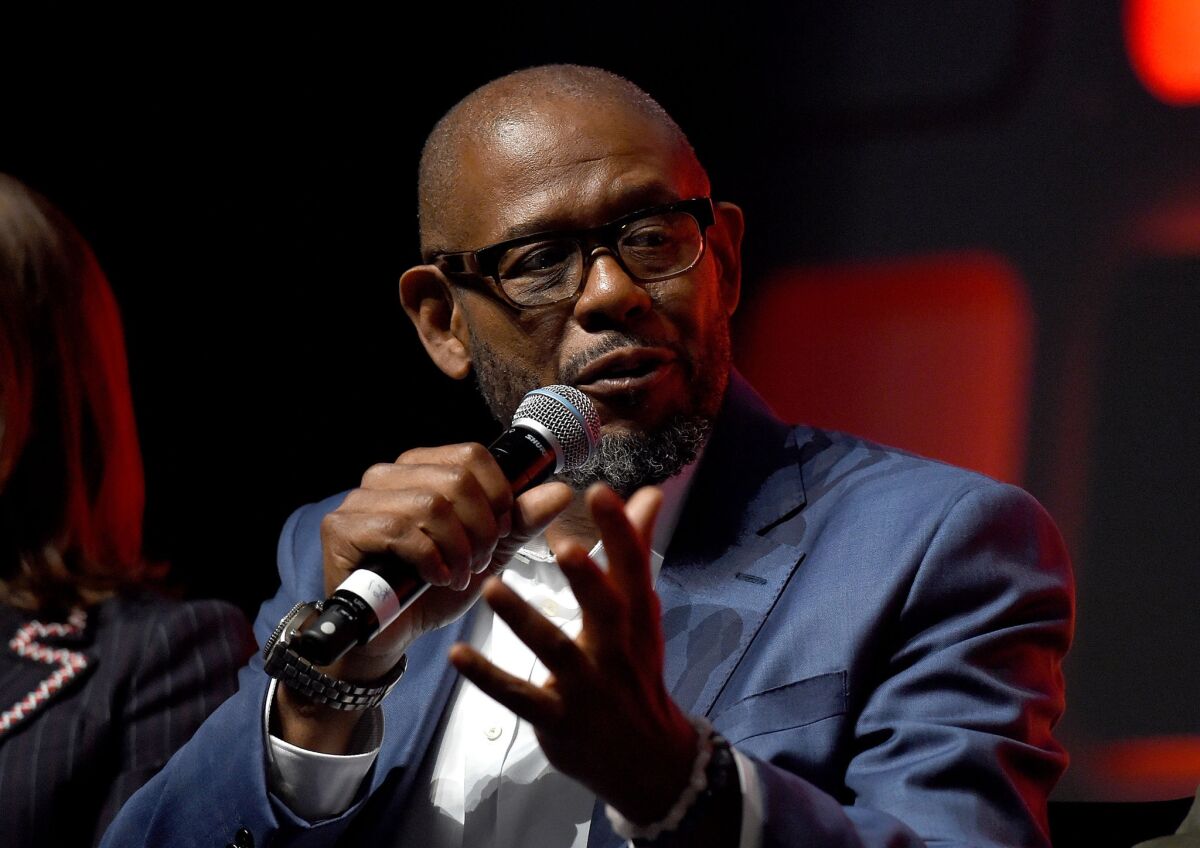 Forest Whitaker (Saw Gerrera)
Whitaker is playing a character that was previously introduced by George Lucas in "Clone Wars." But this is the character's first time as a live-action being.
"He's a guerrilla fighter," Whitaker said. "He's been controlling a group of rebels that are [very] extreme. There are a series of different rebel groups coming together [to form an] alliance." However, Whitaker said his character's group gets things done "by any means necessary."
"He will do what he needs to do to save the world. He was trained by guerrilla fighters and the Jedi as well," Whitaker said.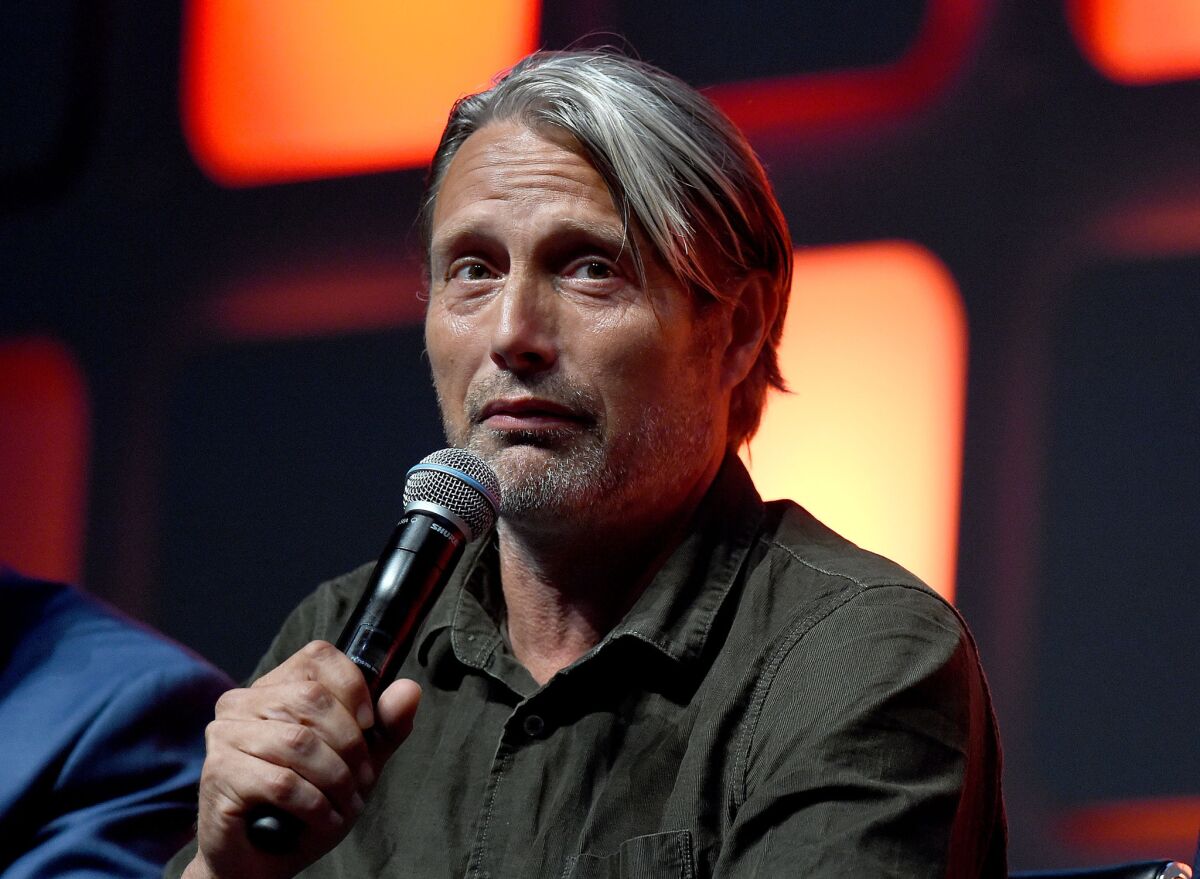 Mads Mikkelsen (Gal Erso)
After much speculation online, Mikkelsen confirmed that his character is Jyn's father. But there's more: "He's a scientist and he, at one point, invented something so beautiful, something so fantastic that it might change the universe." Our guess? The character could be the J. Robert Oppenheimer of the "Star Wars" universe.
Ben Mendelsohn (Director Orson Krennic)
Mendelsohn showed up in character, big white cape and all. But despite the fanfare, he was hesitant to say anything much about this new villain. When asked how his big bad will be different, he said: "He's an Australian kind."
"We do villainy very well. He is smarter, I think, than most of his predecessors. He's more inventive, He's perhaps a little sexier than some of them. Not quite as sexy some of the others." he said.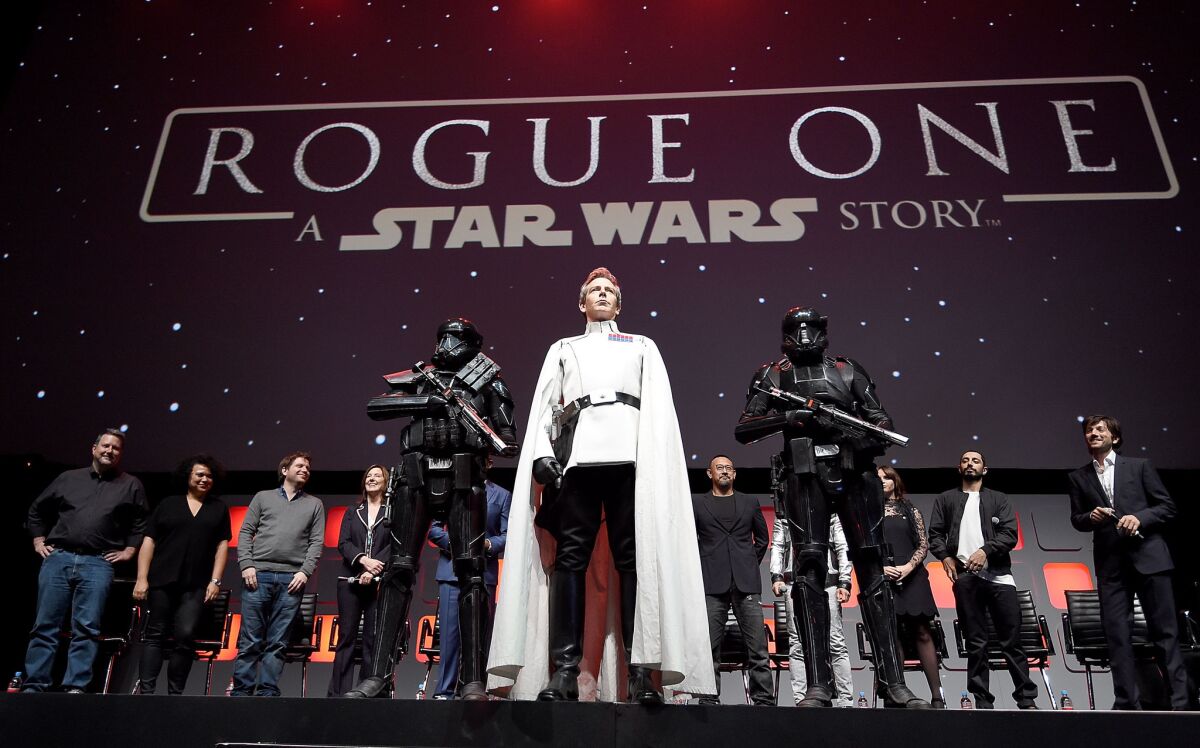 And to top off the new images and character details, the panel also released the first poster for "Rogue One," which shows the assault on paradise Edwards previously described. Voila: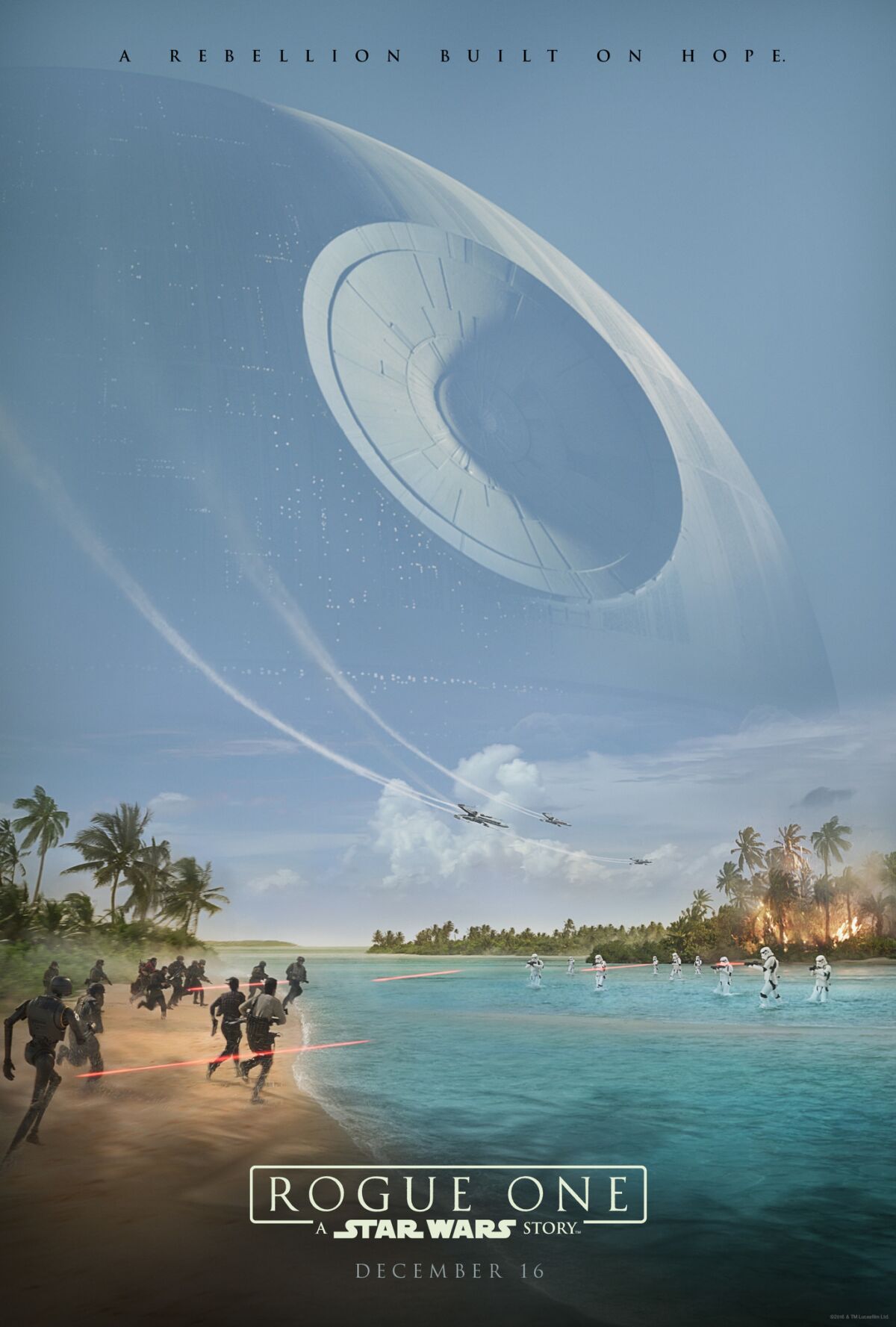 "Rogue One: A Star Wars Story" is set to hit theaters on Dec. 16.
---
Get our daily Entertainment newsletter
Get the day's top stories on Hollywood, film, television, music, arts, culture and more.
You may occasionally receive promotional content from the Los Angeles Times.