Rebecca Sugar and the 'Steven Universe' cast share their feelings through song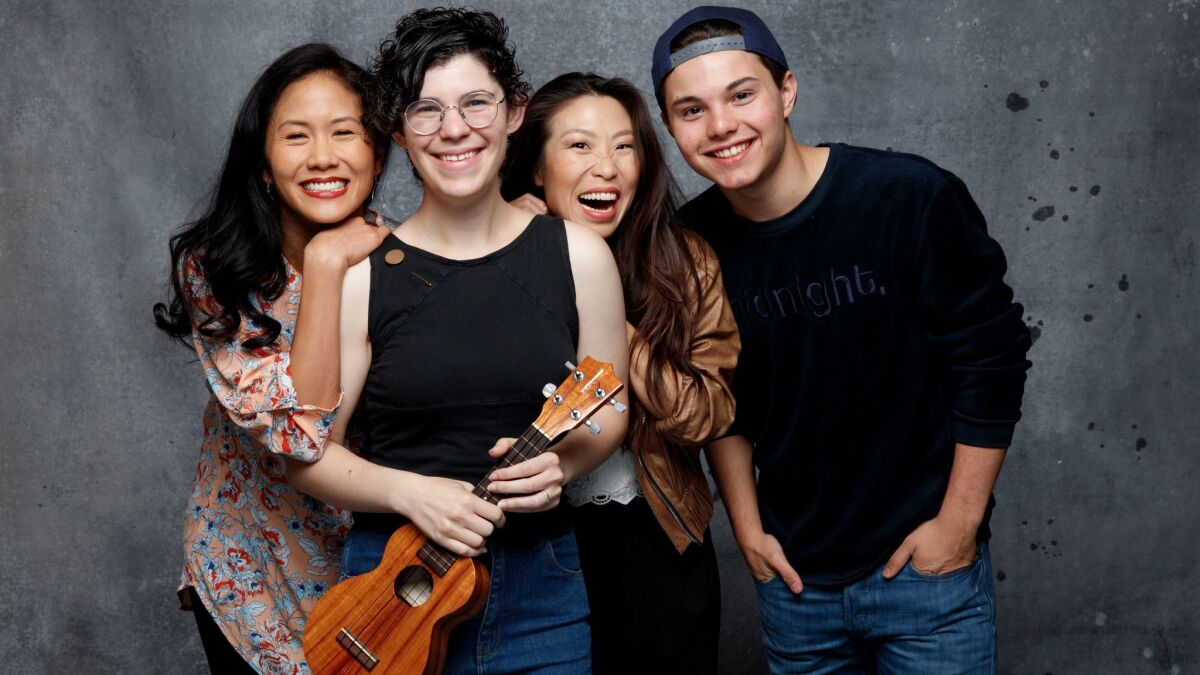 You're not alone: The "Steven Universe" cast gets caught up in "Steven Universe" feelings too.
When you're crafting a sophisticated animated series that explores complex ideas (including gender, identity and love) while maintaining an underlying optimism about humanity, forging an emotional attachment is understandable. So it's no surprise that the actors behind the fan-favorite "Steven Universe" characters are just as invested in the story lines as the show's viewers.
"When we watch the episodes, we often watch them as fans as well, so I'm on the edge of my seat," Michaela Dietz (Amethyst) told the L.A. Times. "I can't wait for the next step. I want to see what happens."
And quite often the cast and crew accomplish the task of narrating heartbreak and joy through song. The "Steven Universe" soundtrack is just one of the may reasons fans have fallen for this Cartoon Network series. From playful ditties about cookie cats to stirring "Victor/Victoria"-inspired ballads, this crew's ability to play the heartstrings not only struck a chord with audiences, it also landed them a 2017 Emmy nomination.
We invited Dietz, along with Zach Callison (titular character Steven Universe), Deedee Magno Hall (Pearl) and series creator Rebecca Sugar to our L.A. Times Comic-Con studio in hopes of getting them to talk about the meaning behind their melodies.
"We only want to use songs when you need a song to advance that character," explained Sugar. "It has to be that big of a deal for them."
"We'll have these moments like Garnet's fusion in 'Jail Break.' That is too big a deal for her for her to just say 'I'm together again.' She has to sing it, she has to dance it," said Sugar.
COMIC-CON 2017: Interviews, news, photos and more »
Take, for instance, the sorrowful — and beautiful— tune from their Emmy-nominated musical episode, "Mr. Greg." The character Pearl is finally expressing long-suppressed feelings in the song "It's Over Isn't It."
"Pearl is exploring something she can't explore just by talking about it," said Sugar. "In fact, she literally cannot talk about it. She feels like she can't talk about it."
"She has no outlet for the way that she's feeling," explained Sugar. "It's not even something she fully understands, so she has to sing about it."
Actress Magno Hall, accompanied by Sugar on her ukulele, performed the tear-inducing, song (which you can watch below — you've been warned about the tears).
The drive behind "Steven Universe's" emotional force is Sugar's desire to recognize and validate the often unspoken feelings experienced by people in the real world. From story lines involving characters bonding over TV programs to the show's representation and celebration of queer love, everything is deliberate and rooted in these real-world experiences.
"The thing that is really exciting to me is to have these characters express their feelings," said Sugar. "I think that might sound ridiculously simple, but it's hugely important to me."
"With 'Mr. Greg,' it's exciting to me to have done something where Pearl can just express those feelings," continued Sugar. "I'm a person that for a long time was never able to express those feelings."
For Sugar, it's important to normalize these feelings and experiences that people, including LGBTQ youth, feel like they cannot voice. "Steven Universe" continues to pave the way for representation because it doesn't treat these expressions of love any differently than any heteronormative experiences are depicted in mainstream media.
Perhaps this is why the cartoon about the adventures of magical space rock aliens has resonated with so many fans.
"It starts to become shocking that you haven't seen that before," said Sugar. "It starts to become more obvious why so many people feel very alone."
"Because you don't know other people are going through that. You don't know how to talk about it and you don't know if there are people that are like you," Sugar continued. "We have seen so so many straight characters sing about love. And it's great, I love it, but it would be exciting to hear other things too."
Watch the full interview below.
The Best Moments of Comic-Con 2017: 'Star Trek: Discovery,' 'Blade Runner' and more
Twitter: @tracycbrown
Get our L.A. Goes Out newsletter, with the week's best events, to help you explore and experience our city.
You may occasionally receive promotional content from the Los Angeles Times.