How 'Vader Immortal' became Lucasfilm's 'Star Wars' bet on the future of VR and memory design
This summer, visitors to Disneyland in Anaheim and Florida's Walt Disney World will be able to enter the universe of "Star Wars" with the opening of Galaxy's Edge, a 14-acre land with ambitions to offer unprecedented levels of play in the theme park space.
Fly the Millennium Falcon, build a droid, construct a lightsaber or even engage in a battle, via your mobile phone, for control of the land itself.

For the record:
2:35 p.m. May 9, 2019An earlier version of this post said "Vader Immortal" was the first of four planned virtual reality episodes. It is the first of three planned episodes.
But there are limits. You won't be able to take the land's fancy new lightsabers into immediate duels. And since Galaxy's Edge is set in the timeline of the current trilogy, don't expect to play alongside Darth Vader, at least until Disney concocts a special event to make that happen.
For now, re-creating certain aspects of the world of "Star Wars" will be left in the digital space. And that doesn't just mean the usual console and mobile video games. Lucasfilm's relatively secretive ILMxLab this month will release "Vader Immortal: A Star Wars VR Series — Episode I" for the new Oculus Quest headset, the Facebook-owned company's latest bid to prove that virtual reality can be a medium for the masses.
ILMxLAB has become something of a corporate outlier after Lucasfilm parent Disney largely shifted to a licensing model for interactive experiences outside the theme parks that can happen inside the home.
The division experiments with interactivity in storytelling and has developed "Star Wars" and "Wreck-It Ralph" experiences for the Void, a Utah-based technology firm whose location-based VR can be found in malls and Anaheim's Downtown Disney. Due later this year is one related to the Marvel franchise.
While VR has been seemingly hyped as the next big thing for what feels like multiple decades now, what draws Lucasfilm to the medium, says Mohen Leo, a visual effects veteran who serves as ILMxLab's director of experience development, is that, when done right, it can be transformative.
Much of what continues to happen in the space is experimental, making it a playground for early adopters but largely a curiosity to the public at large. The hope is that the relative smoothness, and story-focused, nearly hourlong length of "Vader Immortal," could start to change that.
"One of the most sort of unique things about VR is that it can give you personal memories of fictional things," Leo says. "You actually remember being in a place in 'Star Wars.' And I don't think any other medium can do that, that you actually remember something that didn't happen. We get to design memories for other people."
We get to design memories
— ILMxLab's Mohen Leo
Though the very nature of the VR medium means the audience for "Vader Immortal" will be significantly more limited than a "Star Wars" film or theme park attraction, the Oculus Quest, due May 21, could be a major step in making high-end VR more accessible.
Priced at $399 for a 64 GB edition (a larger 128 GB edition sells for $499), the Quest is cord- and computer-free, eliminating a major stumbling block — the need for a top-priced PC — in making VR appealing to the average user. Even Leo admits that while he wanted his extended family to see his work, he wasn't going to spring for pricey, complex gaming PCs for everyone.
"In 2015 and 2016 there was a year's worth of glossy front covers of tech magazines talking, 'Get ready for the world to change!' And then, when this wave of commercial headsets launched and the world didn't completely change, people started to see it as a disappointment," says Oculus executive Colum Slevin.
The "Vader Immortal" experience — don't call it a game, all of its principal creatives insist — will last 45 or so minutes, depending on your skills with a saber. It's pegged to be the first of three episodes written by veteran film, television, comic and game writer David S. Goyer ("Dark City," The "Dark Knight" trilogy), and, at least in the first episode, showcases a more vulnerable side of Vader.
Set between the events of "Revenge of the Sith" and "A New Hope," this can be thought of as a short film with some game-like elements. Players will adopt the role of a smuggler, one who gets intercepted by the evil Imperial Empire and taken to Vader's home planet, the hellish volcanic world of Mustafar, a spot seen in the narratively connected project for the Void, "Star Wars: Secrets of the Empire."
Players will slowly discover their own Force powers and will be joined on the quest by a mostly trusty droid sidekick, the Maya Rudolph-voiced ZO-E3, a legless floater with wires exposed who seems to realize it has escaped death probably a few more times than most. If needed, ZO-E3 will provide some instructional help, but much of the interactivity in "Vader Immortal" — wielding a lightsaber, climbing some stairs — is relatively intuitive.
Left unknown, however, is the true nature of adventure. "Vader Immortal" aims to show a slightly more personal side of the beloved villain. We initially meet him in a prison cell, where we're briefly intimidated by a spherical torture droid.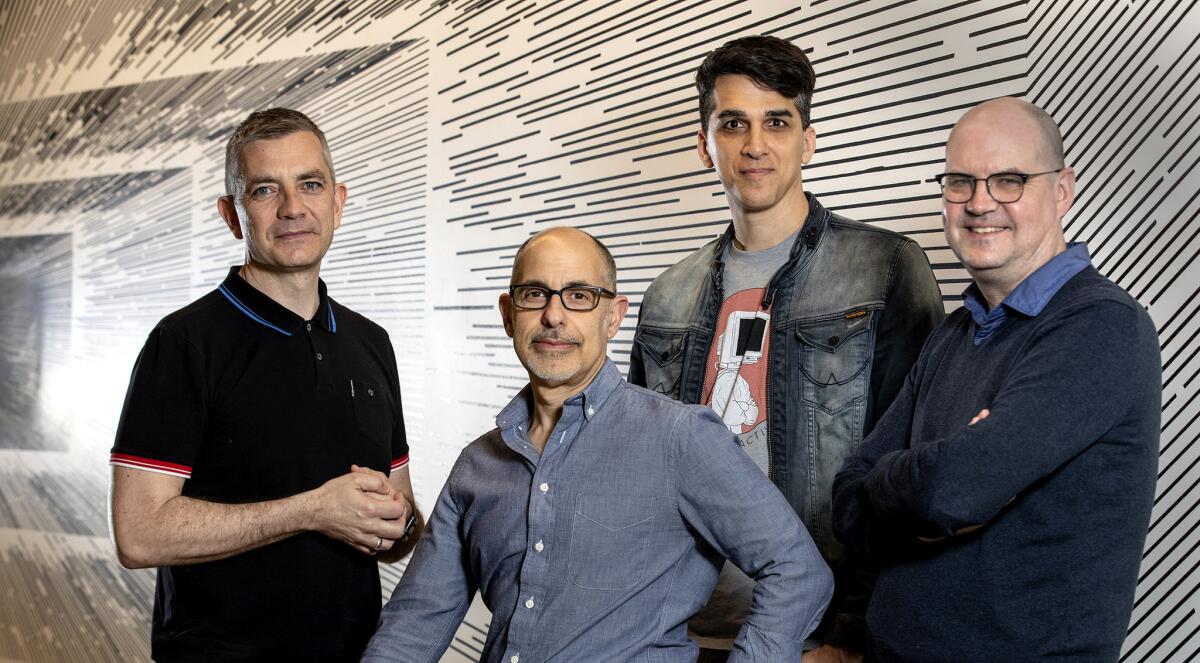 Ultimately, we learn the player's character has a deep connection to Mustafar, which we also discover wasn't always shrouded in lava. There are hints that Vader is after some sort of connection to the humanity that he lost when he was reborn as a mechanically enhanced masked menace.
"Part of the promise" of "Vader Immortal," says Goyer, is to discover what's going on inside Vader's mind. "Most people don't spend their entire waking lives thinking about dominating the galaxy for an abstract reason."
"We expected people would be frightened or intimidated by Vader," he adds. "And they were — I was, the first time we did the tests. But we also thought it would be interesting to see if you would connect with him emotionally and remember that there was a human being behind the mask."
"Vader Immortal" is designed with the knowledge that it will likely be someone's first VR experience. In that sense, says Ben Snow, the director of the project, expect future episodes to experiment with using the Force and other interactive elements.
And with storytelling in VR still a relatively undeveloped area, Snow, who worked on visual effects for "Star Wars" prequel "Attack of the Clones," says now that the company can create digital worlds, it's time to look at how to live inside them.
Whether VR ever fulfills its promise as the future of gaming is perhaps irrelevant. With play starting to enter all forms of mass entertainment, from theme parks at Galaxy's Edge to interactive Netflix specials, projects like "Vader Immortal" provide opportunities to tweak traditional storytelling.
"I started out in film and TV, and the good news/bad news of that is film has been around for over a century," Goyer says. "It's a mature art form, relatively speaking, and on the one hand, that's cool. But on another hand, I think, certainly on the studio sides, people have gotten a little bit lazy.
"There's not as much innovation going in the form of storytelling itself," he continues. "We've settled into a lot of rhythms that it's hard, even with the best of intentions, to break ourselves out of. In VR, none of those rules have been set in stone yet. They haven't even been written in sand."
Follow me on Twitter: @toddmartens
Get our L.A. Goes Out newsletter, with the week's best events, to help you explore and experience our city.
You may occasionally receive promotional content from the Los Angeles Times.