Dodge Lady Gaga. Collect Golden Globes. Find the black Oscar nominee.
Winning an Academy Award, it proves, can be nearly an impossible task, at least according to the lighthearted Web game "Leo's Red Carpet Rampage." The game puts players in control of a mini, vintage-style Leonardo DiCaprio in a quest for an Oscar.
And while the game is pure goofiness when it starts — simply mash a couple of buttons to run the red carpet and dodge photographers — it goes dark, and quickly. Players soon will be frantically hitting the keyboard in an effort to "act harder," or muster their way through a quaalude overdose — a nod, no doubt, to DiCaprio's film "The Wolf of Wall Street."
Then, of course, there's this scene: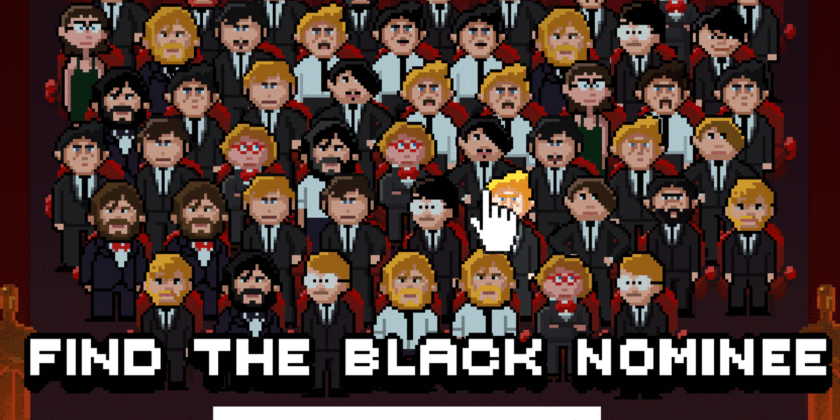 Games rarely delve into of-the-moment political satire, and the tone throughout "Leo's Red Carpet Rampage" is just nutty enough that when the game nods to the #OscarsSoWhite movement, it isn't heavy-handed. In fact, "Leo's Red Carpet Rampage" succeeds at mocking the lack of diversity among the Academy Awards nominees while playing up the ridiculousness of award campaigns in general.
"Collect as many Emmys and Golden Globes as you can along the way, but beware of pushy photographers and watch out for Lady Gaga," reads the game's official description. The game comes from a design group called The Line Animation at Electric Theatre Collective.
Though it probably isn't more than a nice diversion, it does succeed in parodying the absurdity of the Oscar race, which dominates entertainment media for a number of months leading up to the Academy Awards on Feb. 28.
Follow me @toddmartens
MORE:
What might Oscar learn from Grammy?
#OscarsSoWhite? Maybe not in 2017. Here's an early look at promising contenders from upcoming films
David Bowie, a video game pioneer as well
Diversity takes the win at 2016 Grammys with moments that crossed race, age and gender
---