All the burning questions raised in the 'Westworld' premiere
HBO's big sci-fi western "Westworld" has finally premiered. And with the introduction of the new series comes a hefty collection of baffling observations, blazingly apparent clues and ridiculously obscure conversations, which we rounded up into one post for your spoilery enjoyment. Here are the biggest questions we were left asking after the pilot premiere.
Warning, major plot spoilers from the premiere of "Westworld" ahead.
What was the "critical failure" that happened 30 years ago?
After the brief introduction into the park, the series takes the audience behind the scenes of "Westworld," and already there's a problem. A disturbance on "sub-level B83" perks the attention of head honcho Theresa Cullen (Sidse Babett Knudsen). A brief back-and-forth with one of the higher-level engineers, Bernard Lowewith (Jeffrey Wright), reveals that the park hasn't had what Lowewith deems a "critical failure" in over 30 years. Which raises the question, what constitutes a "critical failure" in their terms?
Could the failure also have something to do with the state of "sub-level B83?" After a security team is deployed to the lower levels to check out the disturbance, the audience gets a good look at Westworld's past. A now derelict hall with broken-down escalators and colossal leaks has been converted into a type of "cold storage" for decommissioned hosts. In the middle of this mess is a giant metal globe with the letters DELOS straddling the model's equator. A brief visit to the fake "Westworld" marketing site reveals that this park is actually a "Delos Destination." A parent company? Also what could have happened to what appears to be a very large and elaborate entrance to an old "Delos" office and turn it into a broken freezer?
One person who may know what happened all those years ago is Ed Harris' "the man in black." His character claims that he's been coming to the park (and assaulting the host Dolores Abernathy, played by Evan Rachel Wood) for 30 years. What does he know that we don't? And does his free range in this very expensive park have anything to do with the critical failure?
Also, as someone cleverly pointed out on Twitter, this Harris storyline feels almost like a continuation of his character from the "The Truman Show."
"Here's to the lady in the white shoes."
The long decommissioned bartender "Old Bill" and favorite robot host of Dr. Robert Ford (Anthony Hopkins) has a very odd cheer that he repeats twice: "Here's to the lady in the white shoes, she'll steal all your money, she'll drink all your booze."
This salute (which gets a little dirty when the saying goes longer) is actually an old drinking toast that's been around for decades. Does it have any significance in "Westworld"? It's still too early to say, but we haven't dismissed anything just yet. Especially when a creepy robot repeats it over and over.
Who is requesting Soundgarden's "Black Hole Sun" on the player piano?
Cut to a table full of drunken 30-year-old guys saying, "Make it play 'The Sweater Song' again."
What does it mean to "rotate home" from "Westworld?"
Simon Quarterman playing the "Westworld" head writer Lee Sizemore has a moment with boss lady Cullen. And in this conversation many questions are raised about this wild, wild West pleasure island.
First up, Sizemore asks Cullen when she gets to "rotate home" next. That's a fairly odd way to ask someone when they're taking their next vacation. Perhaps they have to "rotate" because the location of their robot-populated world is fairly remote. The series doesn't set up the actual location of "Westworld," so who's to say where (or when) this near future resides? It could be inside a giant colonized bubble on Mars for all the audience knows.
What demons is Dr. Ford chasing?
Second, Sizemore accuses Ford, the main architect of the hosts, of chasing, "his demons right over the deep end." What demons are these, and how exactly is he chasing them?
Could the newly introduced "reveries" that Ford added to a select number of hosts have anything to do with this obsession? Sizemore urges Ford to make the hosts less lifelike, while Ford appears to be pushing harder to evolve his robot creations. The "reveries" were loosely explained but described as echoes or memories. Why does Ford want the robots to remember their memories if the park's operators are only going to erase their minds every night? Doesn't that complicate the atrocities the owners of this park put each host through? Does Ford care, or does he just want to play God?
What does "Westworld" mean to "management?"
In the same conversation between Sizemore and Cullen, the park's writer tries to feel out his boss for workplace advancement. He says that he knows there's something more to the park they created, and Cullen happily takes his bait saying, "You're right this place is one thing to the guests, another thing to the shareholders, and something completely different to management."
But Sizemore can't figure out what exactly management wants, a fact that Cullen almost gleefully points out before promptly dismissing him. So what are the objectives of the mysterious "management?" Could the hosts be used to build future armies? Bring back the dead? At this point, your guess is as good as mine.
How are the hosts repaired so quickly?
Teddy (James Marsden) takes two bullets, one random host's face is blown off, and yet the next day they're all there and ready to take part in their sad "Groundhog's Day" existence. How do these bots get patched up so swiftly? Are there multiple Teddys just sitting in cold storage? And if so, how much would it cost to get them together to re-create an all-Teddy singalong to the title song from "Oklahoma"? I would pay money for that right now.
Whose job is it to put a map inside the scalp of a robot?
No really, who do they hire to hide clues inside the flesh of the hosts? That just seems like a really odd job.
Who is in the picture that Lowewith was holding?
Of the many scenes in "Westworld" in which an actor looks pensively into nothingness, the moment with Wright's Lowewith was by far most obvious. He sits next to a busted host, stroking a portrait of a young child and says, "Sometimes I envy your forgetfulness."
The whole thing was just shy of lowering giant, flickering neon arrows that flashed "CLUE, CLUE, CLUE, CLUE" over and over. Has Lowewith lost a child? Does he have a host re-creation stashed away somewhere? Is that why he works here? Are there even kid hosts in Westworld?
If the horses are robots, does that mean all the other animals are robots?
Is that even a good use of money?
"Westworld" = "Westeros"?
In Michael Crichton's original film, there were many worlds outside of "Westworld," including a "Medieval World" and "Roman World." In the HBO adaptation, the audience has only seen the frontier-channeling part of "Westworld." But that doesn't mean there was only one world built; the cast and crew have yet to confirm or deny the existence of another adult theme park populated with hosts for guests. What if there's a fantasy world with sword fights, brothels and dragons?
Now THAT would be a good show.
See the most-read stories in Entertainment this hour »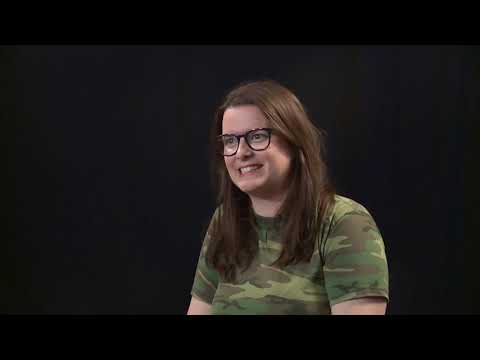 On Now
Cast of 'American Gods' drop divine secrets on the new Starz series
On Now
Liam Cunningham and Isaac Hempstead on finding the humor in 'Game of Thrones'
On Now
Acting opposite a giant Hollywood monster on 'Kong: Skull Island'
On Now
Luc Besson takes us inside his next space odyssey 'Valerian and the City of a Thousand Planets'
On Now
Norman Reedus on the secret Walking Dead' cast Comic-Con ritual
On Now
The cast of 'Orphan Black' reveal what they want to see resolved in the series finale
On Now
'Supergirl' cast on inspiring little girls to pick up a cape of their own
On Now
Video: Comic-Con: Wishing there could be a body swap between Fitz and Mac on 'Agents of S.H.I.E.L.D.'...
On Now
Charlie Hunnam on the hyper-stylized antics of 'King Arthur: Legend of the Sword'
On Now
Comic-Con: Ana Gasteyer and Wyatt Cenac on 'People of Earth'
Twitter: @MdellW
ALSO
'Westworld's' Ed Harris on playing 'the man in black'
Review: HBO's multilayered update of 'Westworld' is TV's next big game-changer
'Luke Cage's' true superpower is showing an alternate vision of black America
Watch Alec Baldwin as Donald Trump on 'Saturday Night Live'
Get our L.A. Goes Out newsletter, with the week's best events, to help you explore and experience our city.
You may occasionally receive promotional content from the Los Angeles Times.