75 years of world-saving: Everything you need to know about 'Wonder Woman'
It has taken over 75 years for Wonder Woman to be the lead in her own live-action movie.
First introduced in a short comic story in 1941, it took less than a year for the Amazonian princess to become the first female superhero to land her own solo comic-book series. Then it took her 35 years until she was the lead in her own TV show.
She doesn't always have superpowers and she isn't always called Wonder Woman. From fighting Nazis to running a clothing boutique and even ascending to become an Olympian god, various incarnations and interpretations of Diana of Themyscira have appeared in comic panels and on television since her debut.
But unlike her male peers, Wonder Woman has never even been seen on the big screen until recently.
That's not to say the character hasn't been keeping busy. Here is a look back at Wonder Woman's journey so far.
---
1941-1942
World debut
Created by William Moulton Marston, Elizabeth Holloway Marston and artist H.G. Peter, Wonder Woman's first comic-book appearance was in the pages of "All Star Comics" No. 8 (cover date Dec. 1941-Jan. 1942). The hero was introduced to readers with the description, "As lovely as Aphrodite — as wise as Athena — with the speed of Mercury and the strength of Hercules — she is known only as Wonder Woman."
Her short origin story centers on Diana's discovery of the injured Steve Trevor, whose plane had crashed on Paradise Island, the home of the Amazons. After quickly falling in love with the unconscious man, the young princess learns the history of her people from her mother, Queen Hippolyte.
Trevor must be returned to the world of men but in order to do so, he'll need an escort. The Amazons create a tournament and the victor will help Trevor back to America. Against her mother's wishes, Diana secretly enters the competition and wins.
Despite being her debut comic, Wonder Woman wasn't the star of the show but rather a short story among a collection of comic-book tales. But that all would soon change ...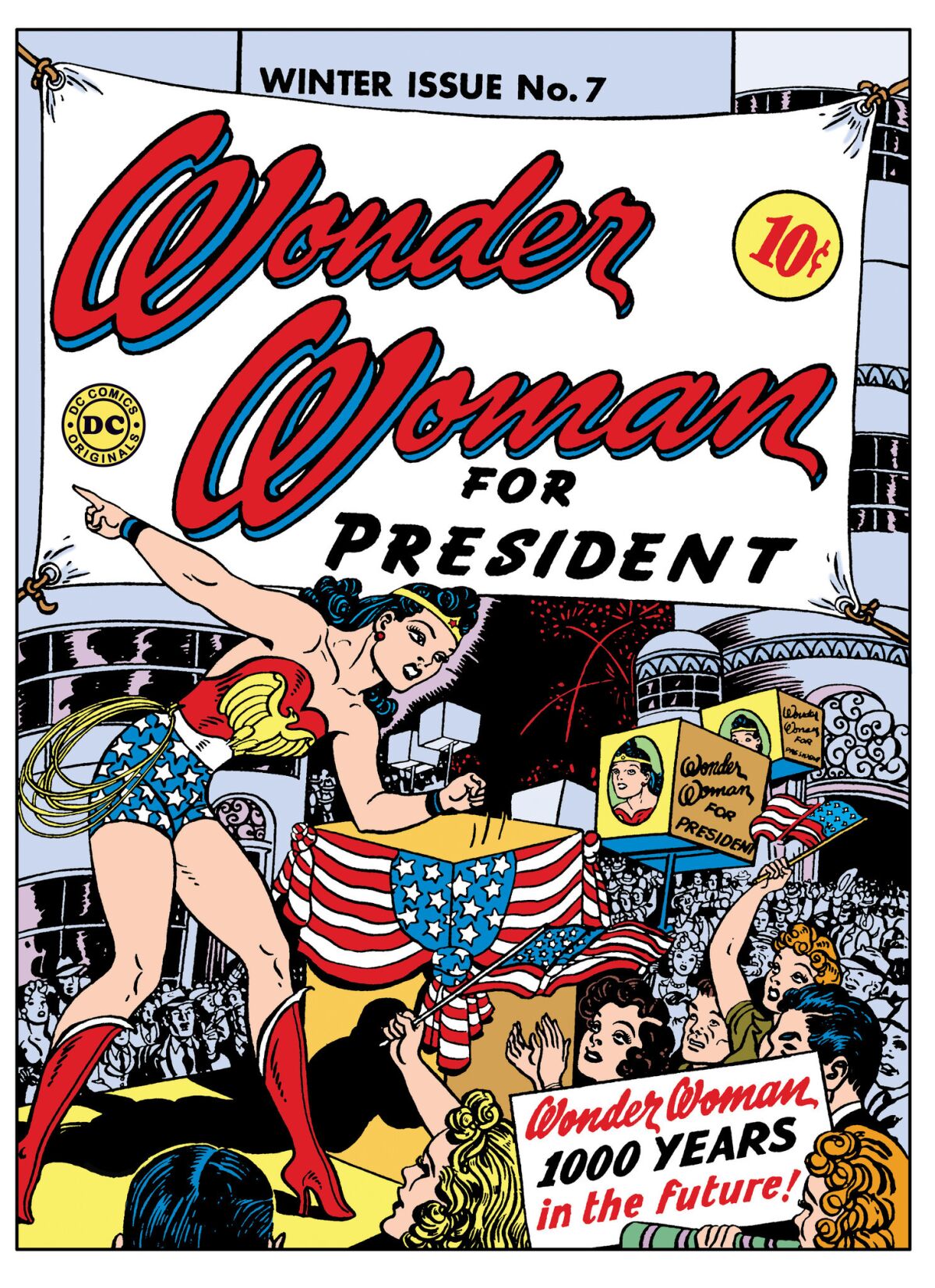 Leading lady
After her introduction, Wonder Woman was featured on every cover as the lead story in her "Sensation Comics" run. Picking up where the readers left off, in "Sensation Comics" No. 1 (Jan. 1942) Wonder Woman leaves Paradise Island with Steve Trevor in her favorite mode of transportation, the invisible jet, a "transparent plane" that she can summon with her telepathic tiara. That jet would continue to get upgrades as the years went on and would even make a few appearances in Lynda Carter's TV series.
Also revealed in the "Sensation Comics" series, the origin of Wonder Woman's American alias. She actually buys the identity of her doppelganger, an Army nurse named Diana Prince. Like her debut story, Wonder Woman's adventures in "Sensation Comics" were credited to author "Charles Moulton," a pseudonym mashing up the name of creator William Moulton Marston and comic-book publisher Maxwell Charles Gaines.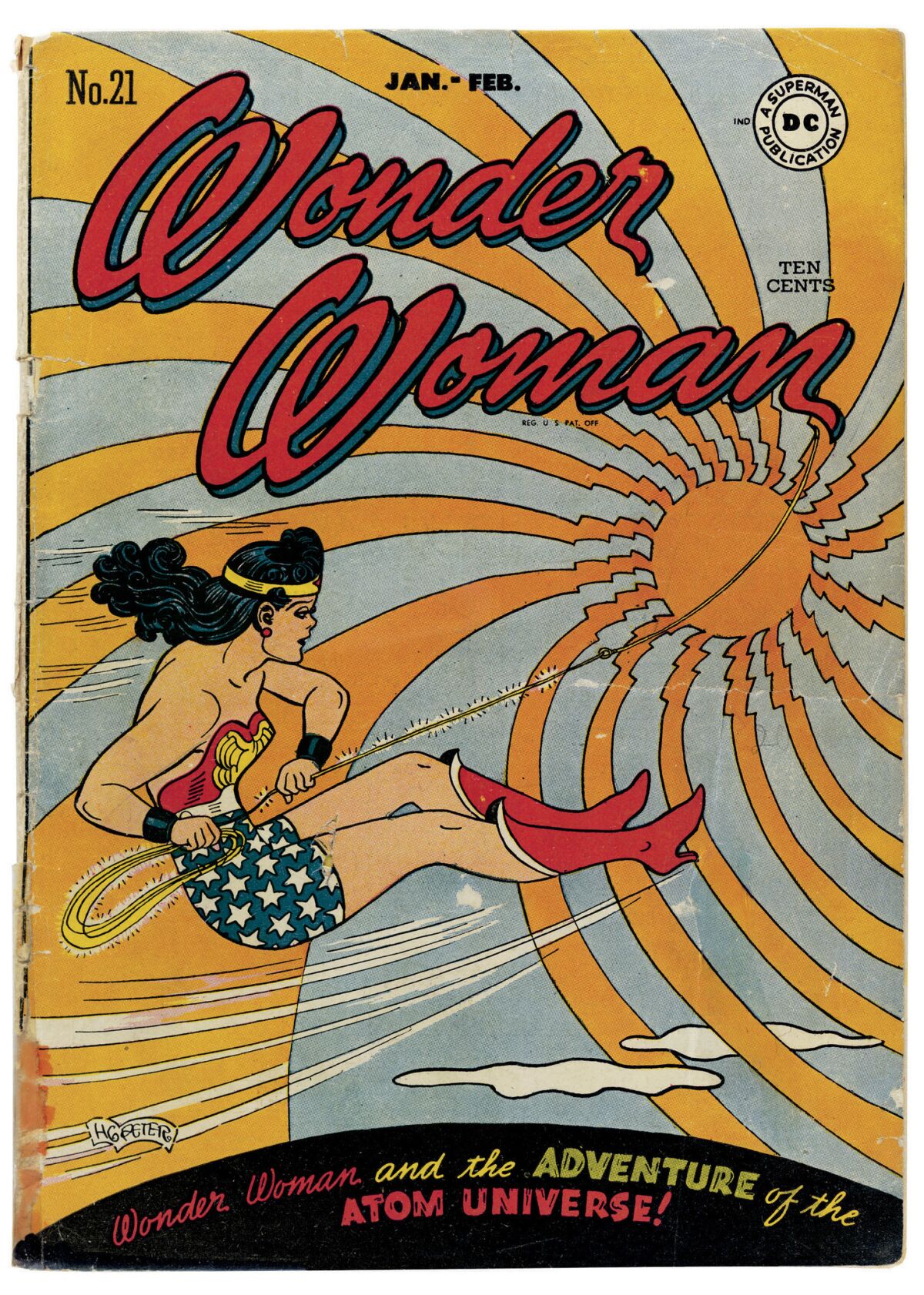 Solo book
Wonder Woman became the first female superhero to have her own solo comic-book magazine in 1942. In a press release that revealed the identity of "Wonder Woman's" author William Moulton Marston, the psychologist explained that Wonder Woman was intended "to set up a standard among children and young people of strong, free, courageous womanhood; and to combat the idea that women are inferior to men." The title has been published almost continuously since.
Wonder Woman "joins" the Justice Society of America
1942 was a busy year for Wonder Woman. In addition to leading her own comic book, the Amazonian warrior princess joined the Justice Society of America in the pages of "All Star Comics" after publisher Gaines conducted a poll asking readers whether Wonder Woman should be allowed to join the group. Pre-dating the Justice League, the Justice Society was an all-male group of heroes who battled Nazis and other baddies. Despite participating in several skirmishes with the society (first as a guest star in "All Star Comics" No. 11), Wonder Woman was invited to be the group's secretary instead of a full-fledged member.
1944
Newspaper life
A syndicated Wonder Woman newspaper comic strip debuted in 1944, but the series lasted less than a year. During this time Marston hired his student, Joye Hummel, as an assistant to help him write Wonder Woman comic-book scripts between 1944-77. All of the stories remained credited to "Charles Moulton."
1947
William Moulton Marston dies
"Wonder Woman" co-creator and writer William Moulton Marston dies, and Robert Kanigher takes over as writer of the series.
1954
Comics Code Authority
In response to allegations of "indecent" themes and concerns about how comic books contributed to juvenile delinquency, the Comics Magazine Assn. of America created a Comics Code Authority for publishers to police their own content. The industry's self-censorship, in addition to Marston's death, saw Wonder Woman stories change to being less vocal in her feminism and more focused on her romances with Steve Trevor, Merman and Birdman.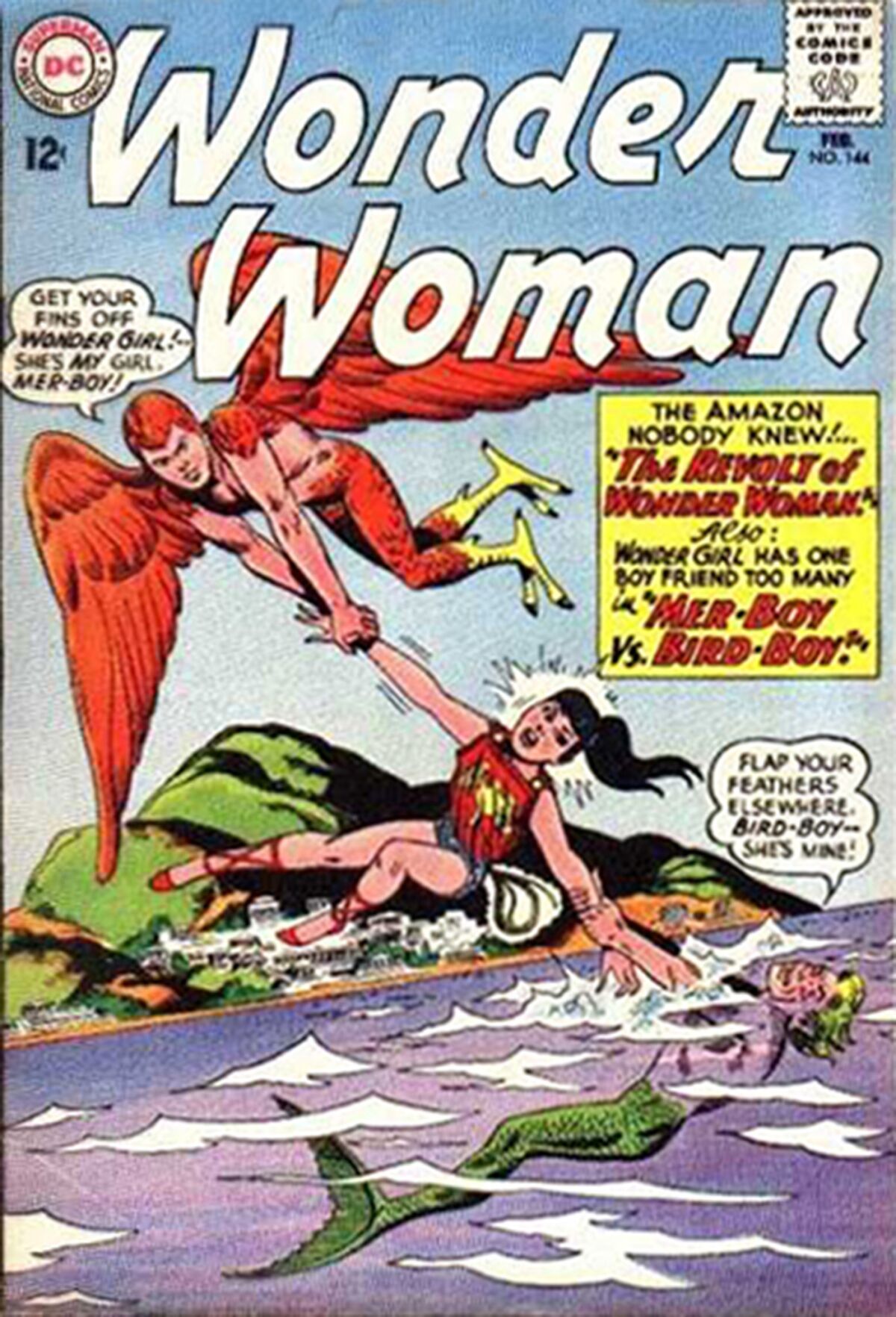 1956
The dawning of a new comic-book era
While "Wonder Woman" was introduced during the Golden Age of comic books, the popularity of superhero comics waned after World War II and the market shifted to include more horror, crime and romance stories. The creation of the Comics Code Authority, however, saw publishers once again pushing more comics with revamped superheroes in this era that came to be known as the Silver Age of comics.
In the midst of this overhaul, co-creator and original Wonder Woman artist H.G. Peter was removed from the series in 1958, severing her ties completely from her Golden Age roots.
Diana's Silver Age updates include a rebooted origin story (her powers were now gifts from Olympian gods), new powers (including flight) and the removal of all WWII references. The Silver Age also introduced story lines with younger versions of Diana known as Wonder Girl and Wonder Tot. The increased focus on her romantic life also involved a story in which Diana almost got married to an alien monster.
1967
First attempt at a TV show
The popularity of Adam West's Batusi-dancing '60s "Batman" series led to a commission of a script for a series focusing on Wonder Woman. The abandoned project, titled "Who's Afraid of Diana Prince?," focused on a non-Amazonian Diana Prince who lived close to an Air Force base with her mother (who is upset Diana is unmarried).
1968
Goodbye Wonder Woman powers, hello Bronze Age
Under the new creative team consisting of writer Denny O'Neil and artist Mike Sekowsky, Diana Prince gave up her Wonder Woman superpowers (and costume) to stay on Earth with Steve Trevor while the Amazons on Paradise Island left for another dimension to renew their powers. The newly mortal Diana takes up as a boutique owner (now that she has bills to pay), learns martial arts (from a Chinese mentor) and fights crime.
January 1972
Feminist cover girl
Wonder Woman reclaimed her feminist roots when Gloria Steinem decided to place the superhero (in costume) on the cover of the very first issue of Ms. The issue also contained an appreciative essay about the Amazonian warrior. This spotlight helped put the character on a path to reclaim her powers (and her costume). Wonder Woman was also featured on the cover of the magazine's 35th and 40th anniversary issues.
Dec. 2, 1972
Wonder Woman's TV debut
The Amazonian princess made her first animated TV appearance on an episode of "The Brady Kids" called "It's all Greek to Me," where she joins the kids on a trip to ancient Greece and meets Euclid. Wonder Woman was voiced by Jane Webb.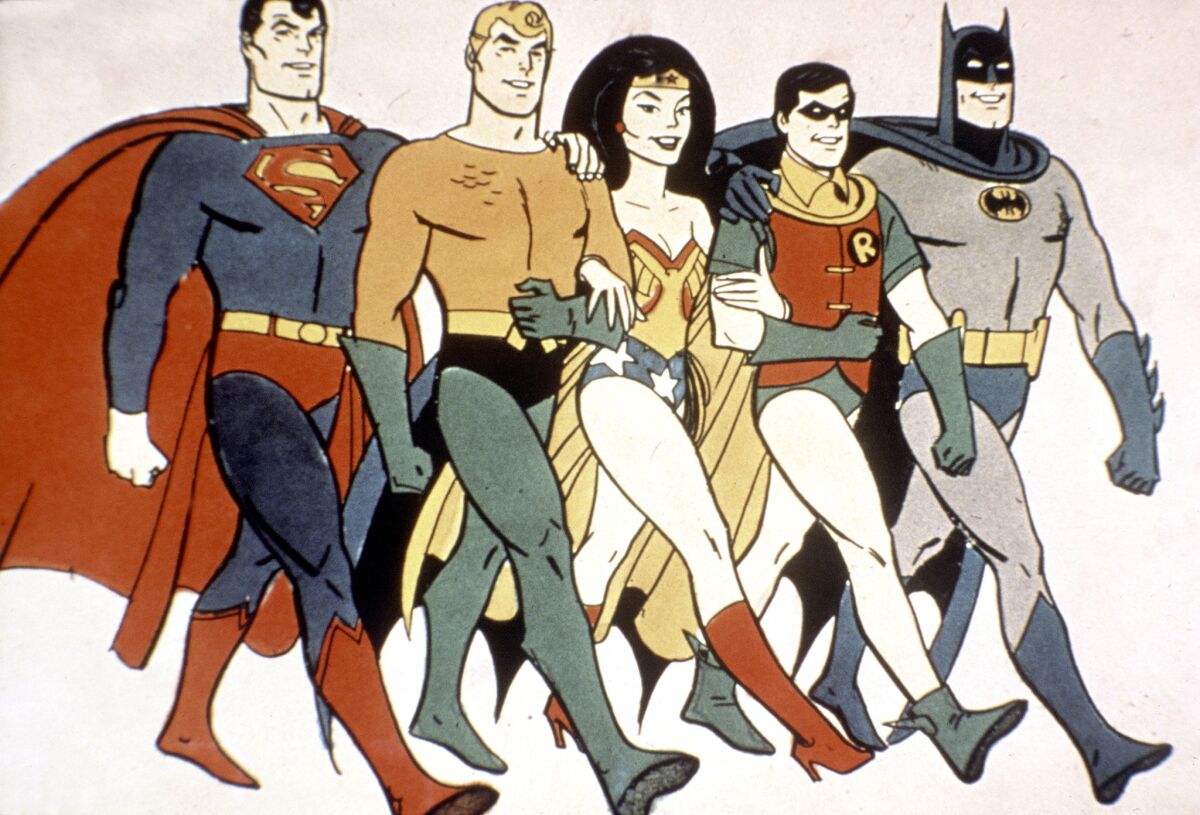 Sept. 8, 1973
Let's be "Super Friends"
Unlike her initial stint with the Justice Society, Wonder Woman was one of the original members of the Justice League. So when the comic-book superhero team was adapted into a Saturday morning cartoon series, of course Wonder Woman was among its stars. Joining her on the show? Superman, Aquaman, Batman and Robin, plus some sidekicks created just for the show.
While the new characters failed to become a permanent staple, various incarnations of the show ran through 1986. And unlike the scrapped sidekicks, Wonder Woman was a part of every series.
Wonder Woman was initially voiced by Shannon Farnon and in later series Connie Caulfield and B.J. Ward took over the role.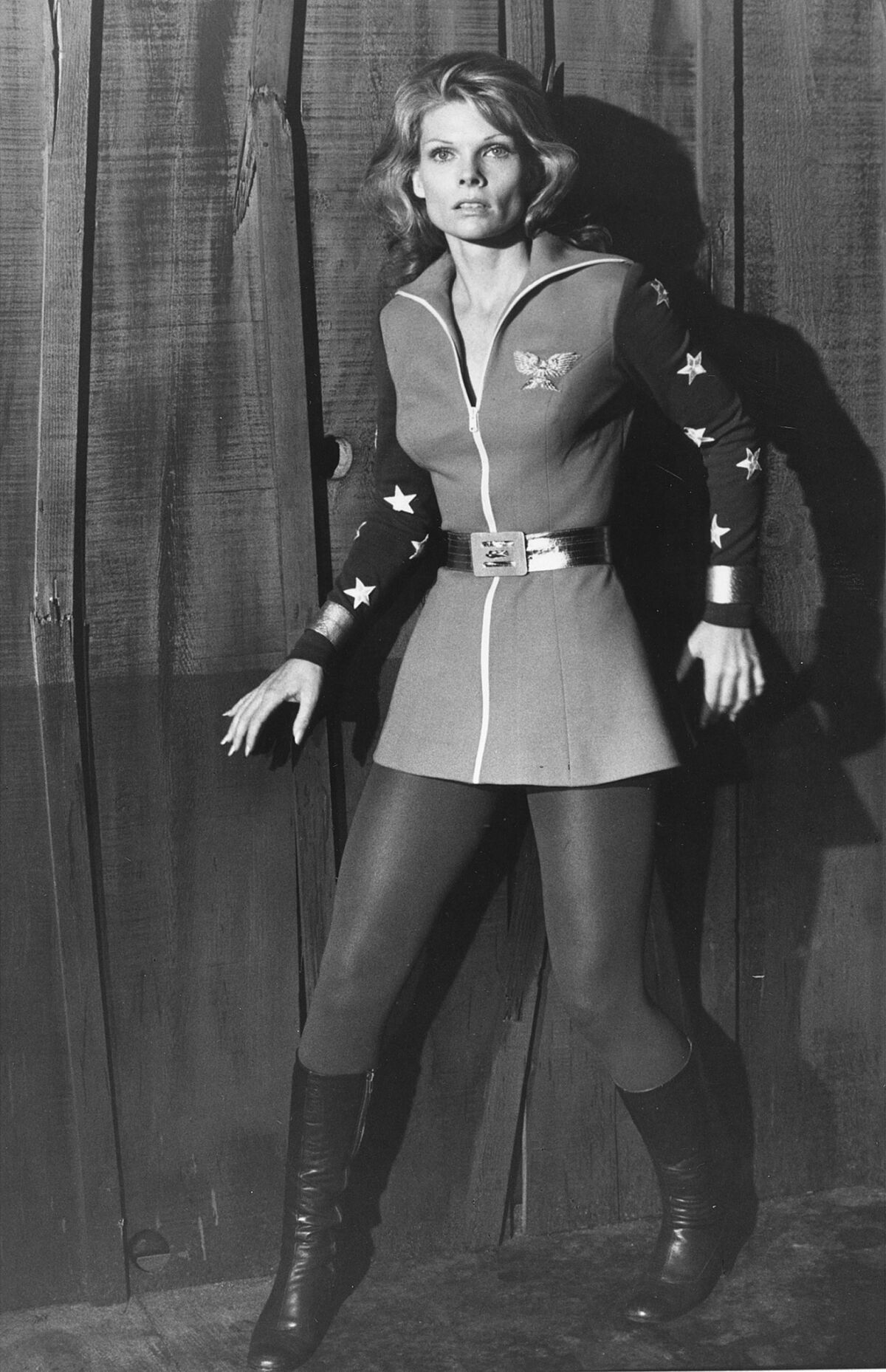 March 12, 1974
Ready for live-action
The first live-action Wonder Woman was not Lynda Carter. The first "Wonder Woman" television movie actually starred Cathy Lee Crosby as Diana Prince, and it was intended to serve as a pilot for a series that never materialized.
This version of the hero was based on the powerless Bronze Age incarnation of Wonder Woman, which meant this Diana did not wear her iconic costume and was more a superspy government agent than a warrior princess. But not everything was completely different. Steve Trevor was still a part of her life.
Nov. 7, 1975
An icon is born
Lynda Carter made her first appearance as Wonder Woman in the made-for-TV film "The New Original Wonder Woman." The confusing title points to the fact that this "new" Wonder Woman took more cues from Marston's original comic-book story. Like the comic, this story is set in World War II, with Princess Diana winning the Amazonian contest to be able to deliver Steve Trevor back to America following his plane crash. The film led to the TV series, which premiered on April 21, 1976.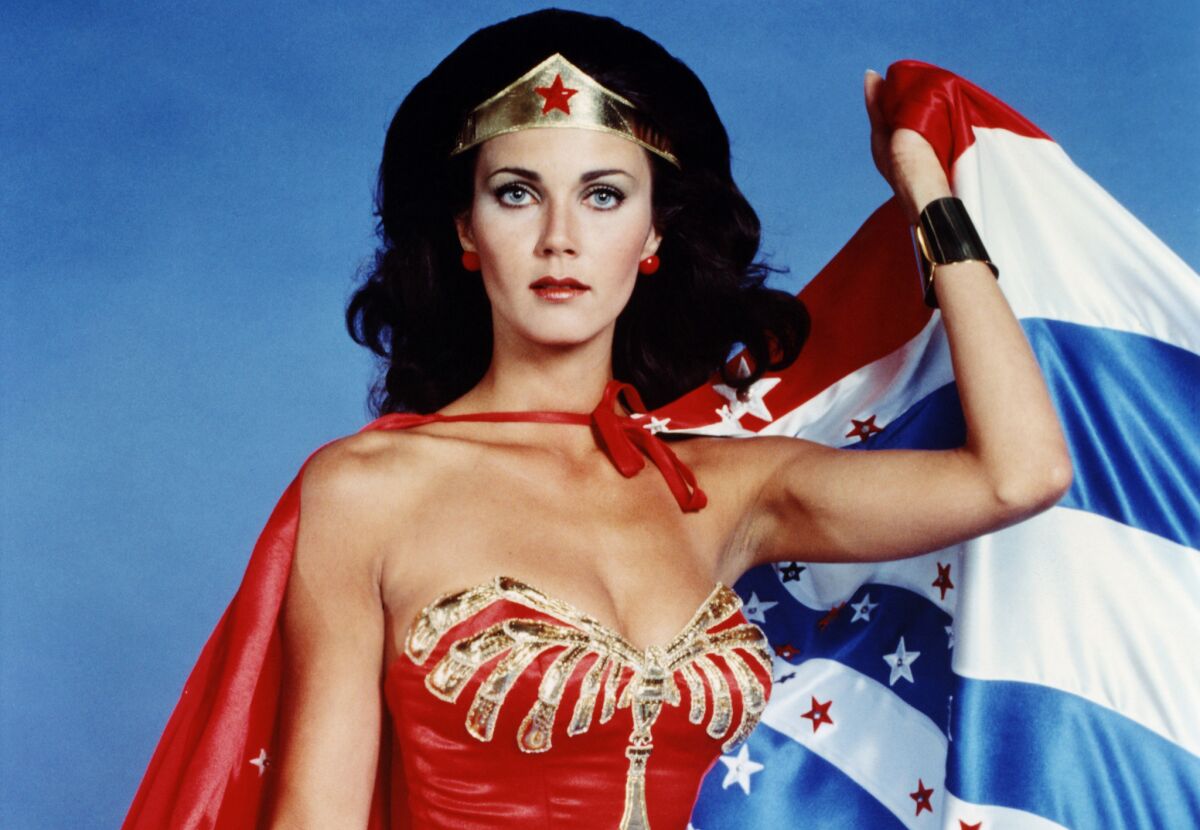 Sept. 16, 1977
New season, new network
The "Wonder Woman" TV show moved from ABC to CBS for its second season. In addition to changing networks, the series also changed its title and shifted to be set in the '70s. The final episode aired Sept. 11, 1979. The TV series spawned Wonder Woman dolls and play sets at the time. DC revisited the fan-favorite era with the recent "Wonder Woman '77" comic-book series that takes place in the same universe as the TV show, written by Marc Andreyko.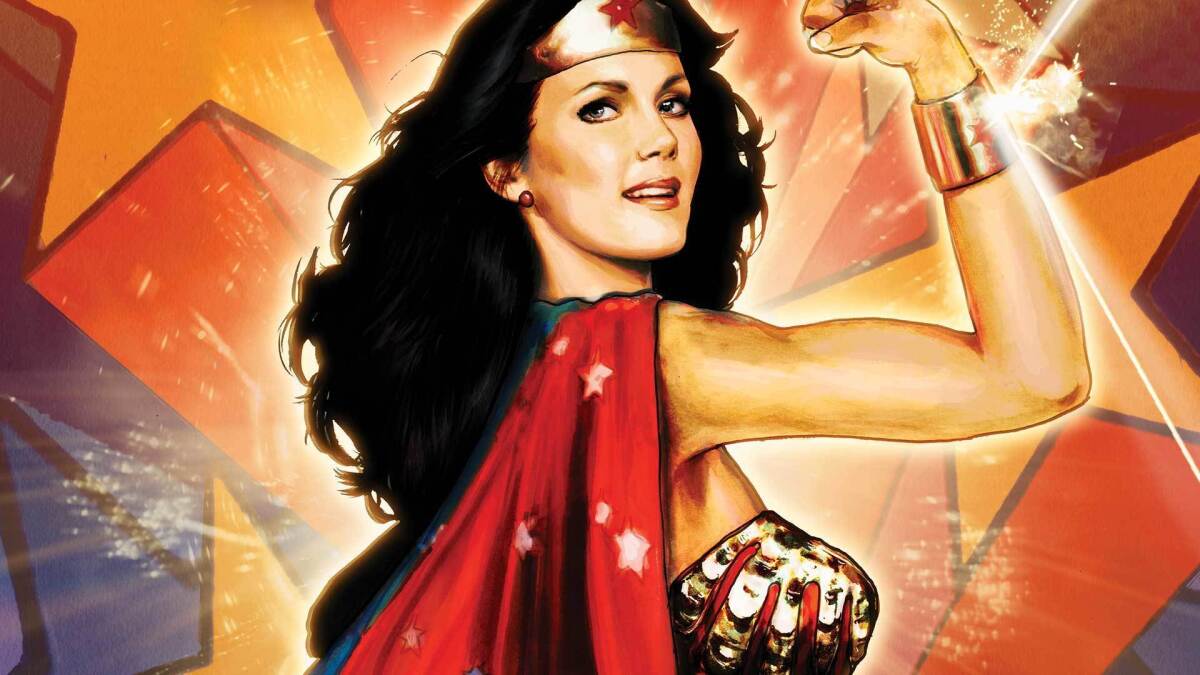 1987
Let's start over
After DC's "Crisis on Infinite Earths" crossover event, Wonder Woman's history was wiped clean and the character was ready for a reboot. George Pérez helped infuse Diana and Themyscira's back story with Greek gods and mythology. Although portrayed as a bit wide-eyed and naive about the world outside her island, this updated Diana is still very much an Amazonian warrior and princess but also an ambassador.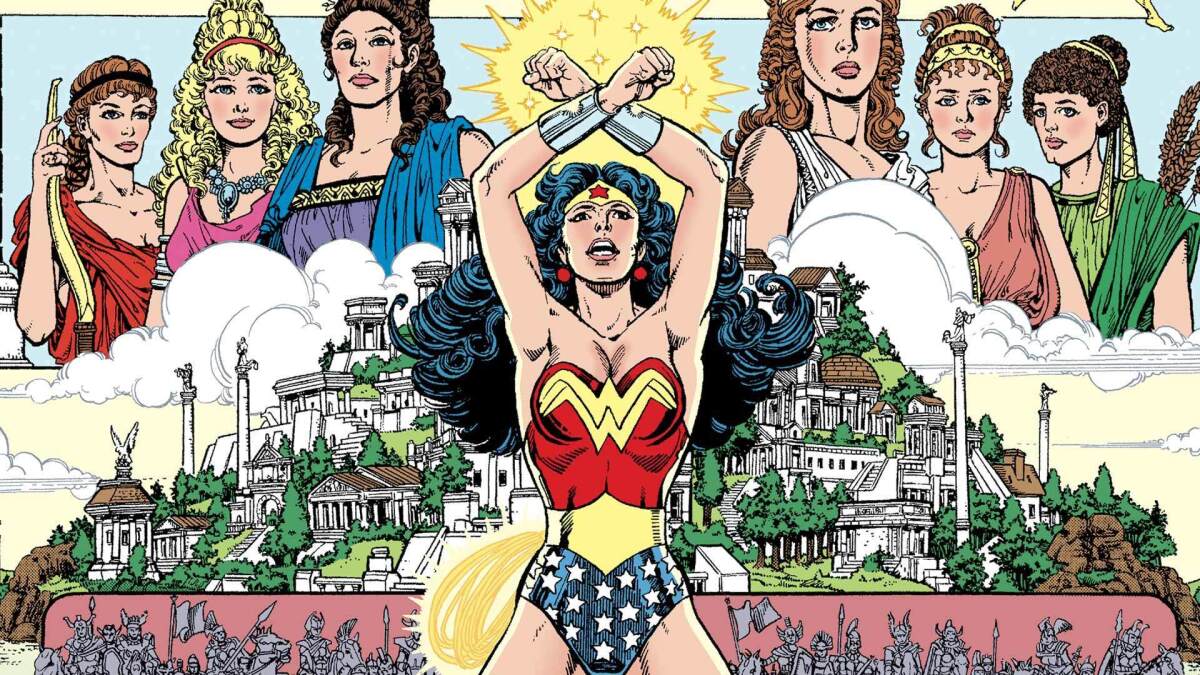 1995
Wonder Woman no more
Diana of Themyscira has not spent her entire comics existence as Wonder Woman. During the '90s, Diana lost the title to her rival Artemis when Queen Hippolyta sets up a contest to determine who should fill the role of emissary to the world outside the island. Diana refused to give up her life as a superhero, however, and just donned a new costume and continued her adventures.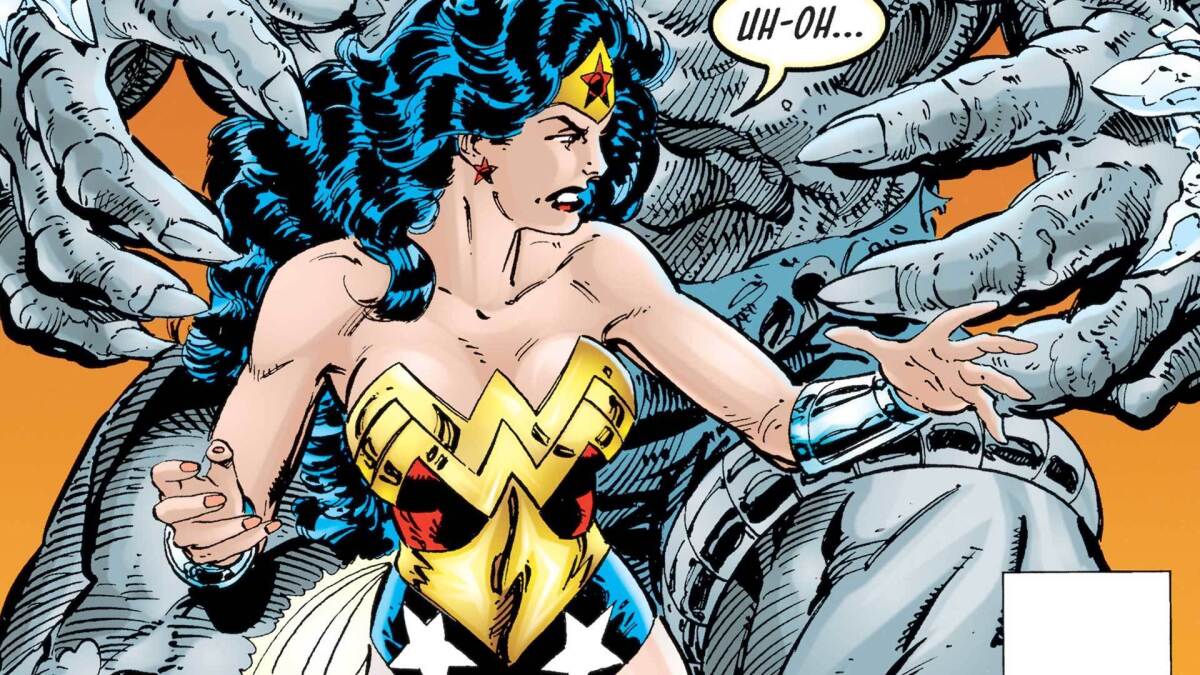 Nov. 17, 2001
Diana joins the DC Animated Universe
Wonder Woman returned to the animated TV world in "Justice League," which was part of the DC Animated Universe that launched with 1992's "Batman: The Animated Series." Helmed by Bruce Timm, "Justice League" focused on the team consisting of Wonder Woman, Batman, Superman, Green Lantern, the Flash, Martian Manhunter and Hawkgirl. Wonder Woman was voiced by Susan Eisenberg. The show was succeeded by "Justice League Unlimited."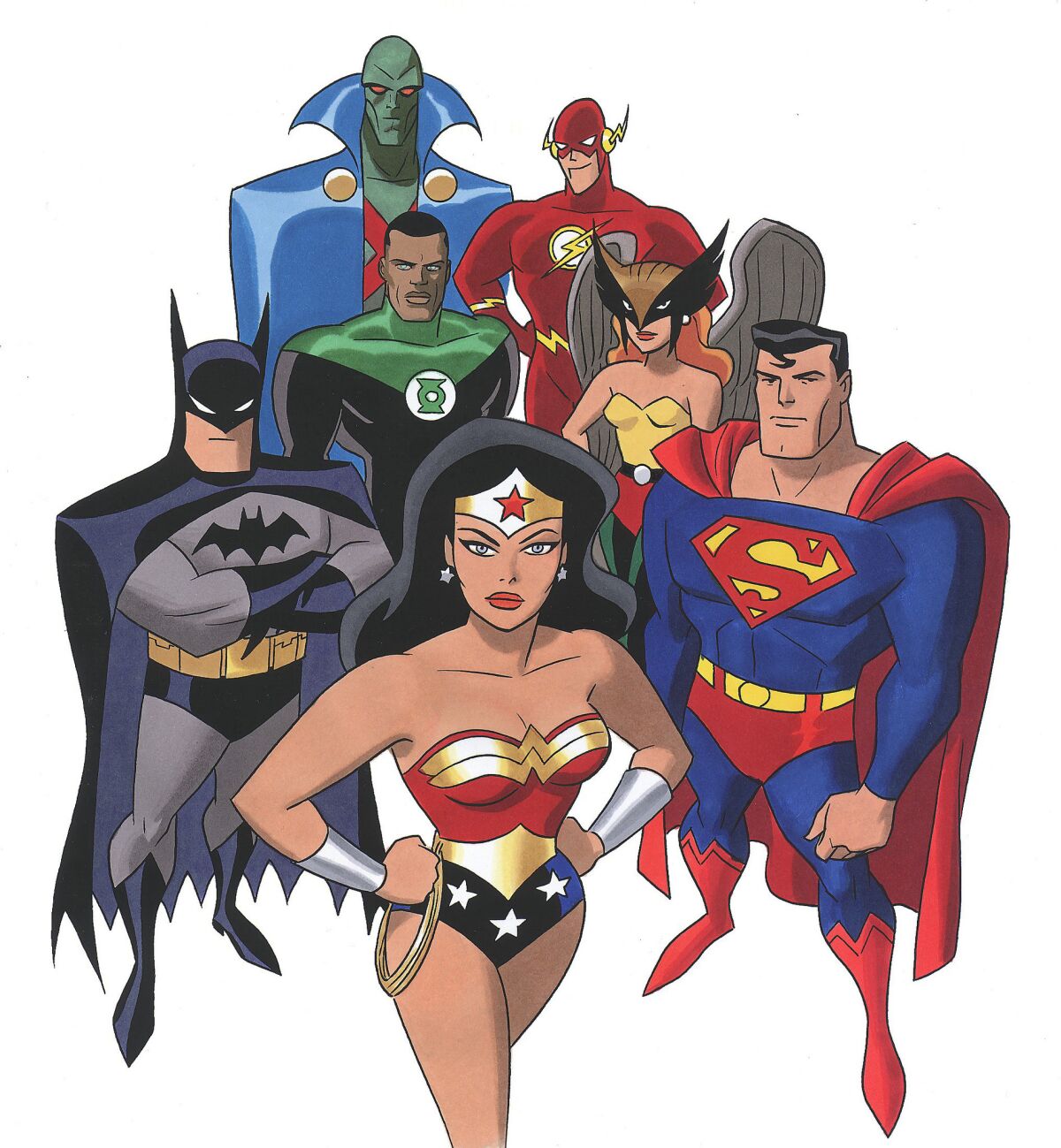 March 3, 2009
Another "Wonder Woman" movie
Another animated incarnation of Wonder Woman was introduced in "Wonder Woman," a direct-to-video title based on the 1987 George Pérez version of the character. Steeped in Greek mythology, this Diana is a noble princess from an ancient tribe who is unimpressed with American and the world of man.
"She was the strong female among all these male heroes, and for little girls she was an important symbol, so I do take it seriously," said Keri Russell, who voiced Wonder Woman in the movie, in a 2009 interview with The Times.
Although a cartoon, like the rest of the DC Universe Animated Original Movies, this "Wonder Woman" film was definitely not for kids.
2010
The great pants debate
Redesigns and reboots are just a part of the circle of life for comic-book characters, and Wondy has gone through a fair share of costume tweaks over the year. In 2010, when the "Wonder Woman" series returned to its original numbering, the character also debuted a new look featuring pants and a jacket. Fans were pretty vocal.
2011
Wiping the slate clean (again)
"Wonder Woman" is rebooted along with all of DC's monthly comic-book series in the publisher's New 52 event. Diana's new origins attribute her powers to being the biological child of Queen Hippolyta and Zeus (rather than a girl born from clay). Diana's main romantic interest during this era was also changed from Steve Trevor to Superman.
Another "Wonder Woman" that never was
Among the multiple attempts to bring a new Wonder Woman television series or film into existence was NBC's attempt. The pilot, written by David E. Kelley and directed by Jeffrey Reiner, starred Adrianne Palicki as Wonder Woman. This incarnation of the superhero saw Wonder Woman as a vigilante crime fighter juggling her life as the CEO of Themyscira Industries. The stress of these dual identities made Diana Prince a woman who enjoys decompressing in her private life by watching TV with her cat. The project was not picked up.
February 7, 2014
Wonder Woman gets her big-screen debut (in Lego form)
Wonder Woman finally makes her theatrical debut in "The Lego Movie." The superhero master builder is voiced by Cobie Smulders.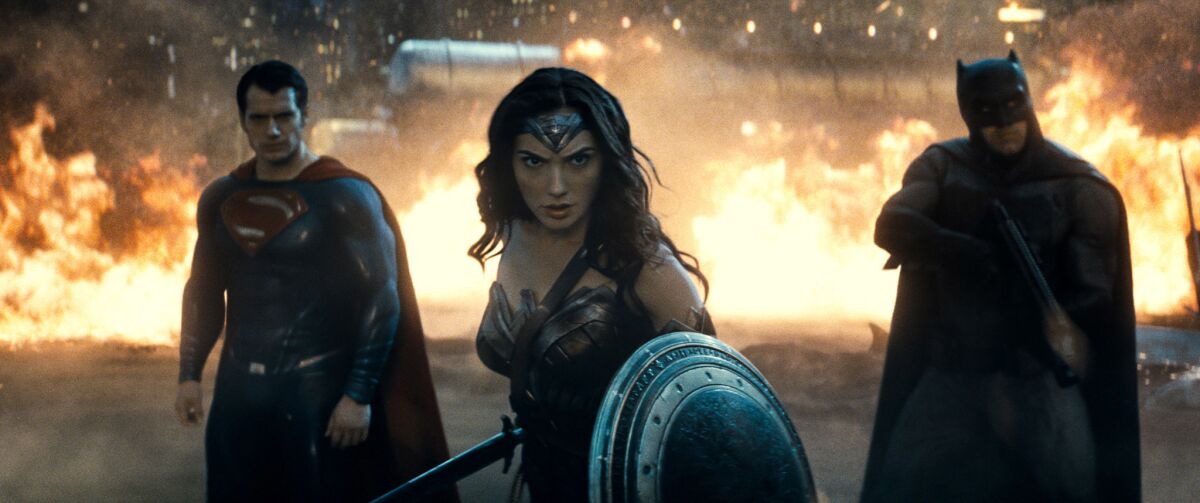 March 20, 2016
"Dawn of Justice"? More like "Dawn of Wonder Woman"
The DC Extended Universe finally welcomes Gal Gadot as its live-action Wonder Woman into the mix in "Batman v Superman: Dawn of Justice." It was a long wait. Gadot's casting was first announced in 2013.
While the film grossed over $873 million worldwide, critics and fans alike gave it mixed reviews. Times film critic Kenneth Turan said the film "does go on too long and lingers more than it should … on its climactic action set pieces."
What doesn't go on too long is the introduction of Gadot's Diana Prince. Compared with the movie, the reception of Wonder Woman was much more positive and left people hopeful for the character's future.
In addition to this first look at the DCEU's Wonder Woman, "Dawn of Justice" also gave fans a first listen of her new theme song.
September 2016
Wonder Woman is officially, canonically queer
As an Amazonian princess and ambassador of love hailing from an island inhabited solely by women, Wonder Woman has long been an LGBTQ icon (even though she falls in love with the first man she ever encounters just pages into her comic book debut). But "Wonder Woman" writer Greg Rucka was the first to unequivocally state that "Diana has been in love and had relationships with other women" and that a denial of her queer identity "would hurt the character and take away her heroism."
Oct. 21, 2016
Honorary U.N. ambassador
Wonder Women Lynda Carter, Gal Gadot and Patty Jenkins were among those in attendance when the U.N. designated the superhero the honorary ambassador for the empowerment of women and girls at a ceremony held at the U.N. headquarters in New York. The designation coincided with the launch of a global campaign supporting the U.N.'s Sustainable Development Goal No. 5 to "achieve gender equality and empower all women and girls."
While plenty of fans applauded the occasion, the decision to recognize a fictional hero over a real-life woman was met with pushback, with some U.N. staff members staging a silent protest during the ceremony.
Wonder Woman's tenure as honorary ambassador was seemingly cut short when it ended in December 2016.
June 2, 2017
"Wonder Woman" hits theaters
The Patty Jenkins-helmed "Wonder Woman" hits theaters, becoming the first female-led film in the modern superhero movie renaissance.
Get our L.A. Goes Out newsletter, with the week's best events, to help you explore and experience our city.
You may occasionally receive promotional content from the Los Angeles Times.