Phil Bourassa, art director at Warner Bros. Animation, was often confronted with the same question at conventions and public gatherings promoting animated movies and TV shows for DC Entertainment: When is "Young Justice" coming back?
That question won't be asked at the pop culture fan gathering WonderCon this weekend. Because like "Brooklyn Nine-Nine," "Lucifer," "Nashville," "The Expanse," "Designated Survivor" and other saved television shows, "Young Justice" found new life after cancellation — albeit six years after Cartoon Network shut down the show. And it happened on the most logical of streaming services for the comic-book-adapted series: DC Universe.
"I always had a feeling that it was coming back," says Bourassa, who was the lead character designer on the show, "because I never stopped hearing from the fans about it." A petition to save the series attracted nearly 25,000 backers; fan art was created; and even instructional videos on how to support the show were made. One reason for the devotion is that it puts a spotlight on the sidekicks or mentees of more famous DC heroes, including Green Arrow, Superman and the Flash.
When DC Comics co-publishers Dan Didio and Jim Lee scored a coup by persuading longtime Marvel Comics creator Brian Michael Bendis to switch sides, "Young Justice" was one of the projects they encouraged him to take on.
"Day One, the minute I announced I was coming to DC," says Bendis, who created the characters Jessica Jones and, with artist Sara Pichelli, Miles Morales, the teen superhero at the heart of this year's Oscar-winner "Spider-man: Into the Spider-Verse," "I was getting hammered with #bringbackconnorkent — pummeled by the Connor Kent [Superboy] people who were desperately trying to get it done. Little did they know that — and I've now discussed this on Twitter — the entire time you guys were hitting me with 'bring back Connor Kent,' we were already doing it. It was a done deal at my signing at DC last year."
In January, "Young Justice," which started its two-season run on Cartoon Network in 2010, relaunched on DC Universe with a third season under the name "Young Justice:Outsiders."
DC Universe, the streaming service launched last fall, has so far looked toward the future of its superheroes in its original programming, carefully stepping away from more established icons like Superman, Batman, Wonder Woman and the newly re-popular Aquaman.
Starting with "Titans" in October and "Young Justice: Outsiders" in January, DC Universe shows so far focus on protégés and younger heroes, while occasionally bringing in the big guns for what could be considered secondary roles. DC Universe's third original show, the live-action "Doom Patrol," which debuted last month, brings an R-rated irreverence to television screens and has garnered positive reviews for its "Jessica Jones"-style edginess. A live-action "Swamp Thing" is also in the works.
REVIEW: 'Umbrella Academy' vs DC Universe's 'Doom Patrol': A battle of misfit shows »
"Titans" and "Doom Patrol" have already received the go-ahead for second seasons. "Young Justice," halfway through its current run, is still awaiting its onscreen fate. Some fans are hoping that the streaming service will signal a new season for "Young Justice" at WonderCon on Friday, when DC Universe insiders appear at a panel discussion about its current lineup, including "Doom Patrol" and "Swamp Thing."
The original show followed the exploits of a few core team members: Atlantean youngster Aqualad (Kaldur'ahm), Batman sidekick Robin (Dick Grayson), Flash protégé Kid Flash (Wally West) and Superman clone Superboy (Connor Kent), with more characters added before the show ended its first run. In the reboot, many of the original members have grown both in age and in their roles as superheroes.
"Time doesn't stand still on our show, particularly because we have time skips between each season. We started with Dick Grayson as Robin at age 13, and now he's in his early 20s [as Nightwing]," producer Greg Weisman says. "Batman's gonna get older. Superman is going to get older, and some of these other characters will be coming into their prime and we would love to show all that."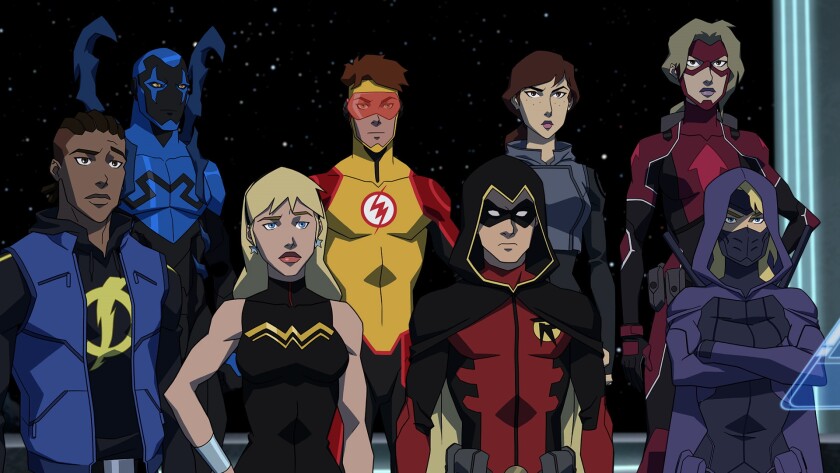 RELATED: Superheroes are thriving in movies and on TV — but comic books lag behind »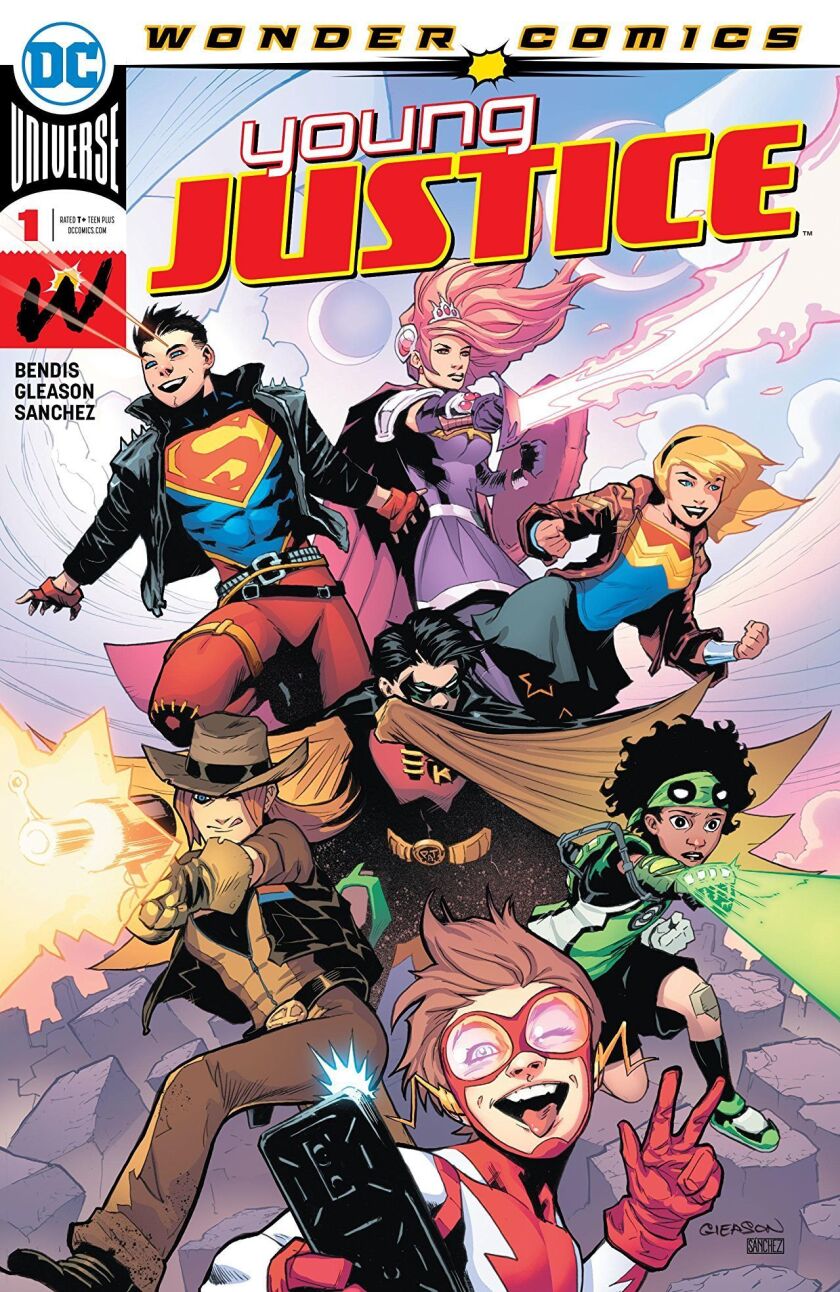 Bendis is not only relaunching the comic title with the familiar core group, he is adding his own spin, including the new characters Jinny Hex, great-great-granddaughter of Wild West hero Jonah Hex, and Teen Lantern, a girl who hacks into a Green Lantern power battery. The ongoing title hit comic book stores Jan. 9 under Bendis' new DC imprint Wonder Comics.
"We're going to bring in the old characters, and they've done a lot and have a history together," Bendis says, "but they also haven't seen each other in a long time, and the DC universe has completely changed since they've been together."
Separately, DC Universe introduced a digital comic book component to its streaming site; "Young Justice" took advantage of the feature by becoming the first digital comic created for the platform. It's a two-issue prequel comic book written by Weisman, with art by Christopher Jones that ties in with the show.
Not only has the DC Universe changed, but so has the landscape of superheroes. More and more, readers seem to want to see their heroes through a prism of societal representation. Whether human, alien, mutant or tech-enhanced, a different breed of hero is in demand.
But Bendis has been there all along.
"I'm the co-creator of Miles Morales, Riri Williams and Jessica Jones," Bendis says. "I don't know a world that doesn't have that representation in it."
Movies like "Captain Marvel," "Black Panther," "Aquaman" and "Spider-Man: Into the Spider-Verse," and shows like "Black Lightning" and "Jessica Jones," have helped change the perception of who a hero can be, adding diverse voices and faces to the superhero community and attracting fans who may never pick up a comic book. "Young Justice," and its roster once led by the dark-skinned Aqualad, has also been at the forefront.
"Diversity has always been important to us on the show," Weisman says.
"We want you to forget that it's a cartoon when you're watching and feel that this is a real world around you," Vietti says. "Diversity is a key factor in connecting with the show and the characters in it."
In the vein of that representation, the show prominently features characters from the once-popular minority-led line of heroes called Milestone Comics. Static, once a character in a self-titled TV show, is a member of one of the Young Justice teams. Other characters from that world who will appear include Icon and Rocket, who have been on the show before; Hardware, who had not; and a cameo by the villain Holocaust..
Troy Baker, who voices GeoForce, a new character who is a prince of an Eastern European-like nation called Markovia with geothermal powers, has seen the shift.
"Our culture has changed, and especially the age that we're kind of depicting, which is the young adult. Sometimes those [older] superheroes don't really speak to these people," Baker says. "The thing I love about what Greg and Brandon have done is that they never try to build a character off of a platform. They create a character that gives a voice to as many people as possible and it becomes as relatable as possible."
For fans to have pushed for the show through their petitions, hashtags, DVD purchases and messages urging one another to stream older shows, the characters were already relatable. New characters, which also include the mysterious Halo (who wears a hijab and is from a fictional Middle Eastern country) and the alien bug-like Forager, are a focus for the new season because they, unlike the others, didn't start out to be heroes. It's something Weisman and Vietti explored this season and one of many ideas they'd like to expand on if given a subsequent season.
"Subsequent season? We could do this forever! Every time we come up with a story, it leads to two or three other ideas. I have sooo many index cards," Weisman says. "We have enough to last us another five seasons!"
If fans have anything to say about it — and they'll most likely make their voices heard at WonderCon — the duo will be around to produce more. Until then, new episodes from the second half of "Young Justice Outsiders'" new season will be coming to DC Universe in June.
Updates on "Young Justice Outsiders" will be presented in Anaheim at WonderCon this Friday at 5:30 p.m. in North 200B as part of a panel called "This Is Your DC Universe."
Follow me on Twitter: @Storiz
---