How the new 'Beauty and the Beast' empowers Belle's inner feminist with books, not boys
Emma Watson, Dan Stevens and Luke Evans star in the live-action movie "Beauty and the Beast."
One of the most cherished musical numbers in a Disney movie centers on a young woman ostracized from her community because she likes to read.
"Look there she goes, that girl is strange no question. Dazed and distracted, can't you tell?"
This is how we meet one of Disney's most progressive princesses: Belle, the girl who dared to read. She's the nonconformist, the outsider, the nerd.
"Never part of any crowd. 'Cause her head's up on some cloud. No denying she's a funny girl, that Belle!"
Life in Belle's poor provincial town, as described in the classic song by the late lyricist Howard Ashman and composer Alan Menken, sounds quite cruel for the bookish heroine.
Not only is Belle labeled a "funny girl," her inability to fit in is called a "sin." But despite societal pressure, she reads on. And that passion for education was one of the emotional cornerstones director Bill Condon used to build new plot points and broaden the characters inside the retelling of Disney's "Beauty and the Beast" as a live-action film.
"[Reading] defined Belle in the original movie," Condon says the day after the film's Hollywood premiere.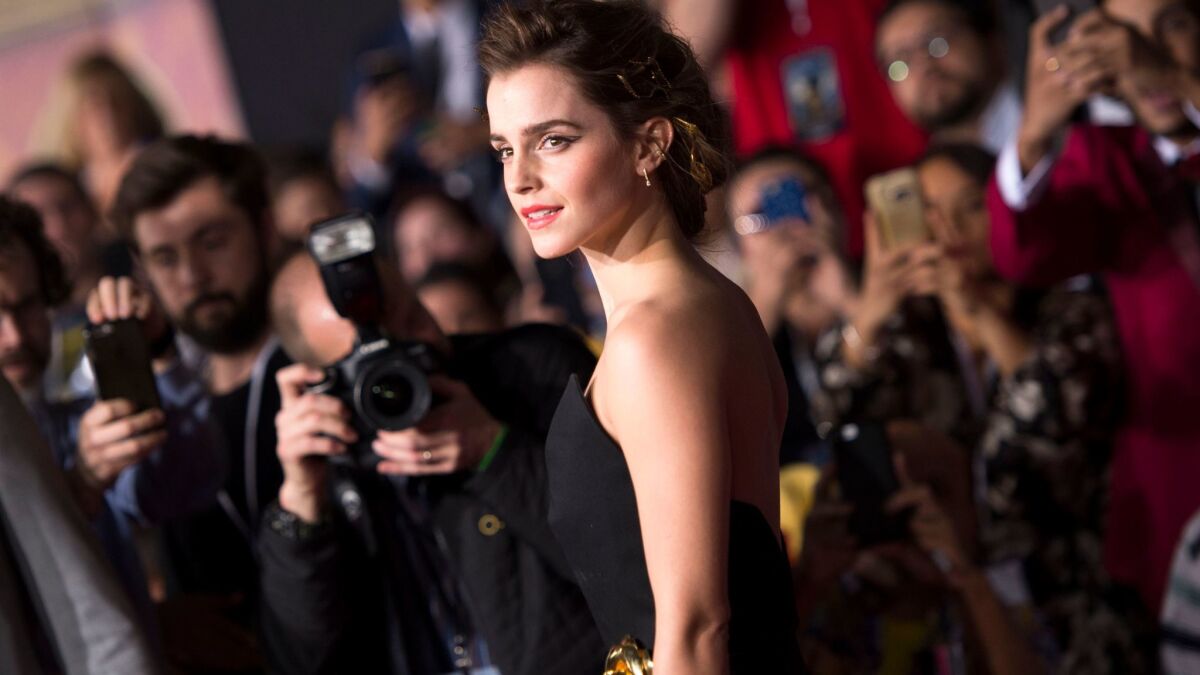 Having Emma Watson as a partner, as a collaborator, was so crucial.
— "Beauty and the Beast" director Bill Condon
Still energized from the positive audience response at the El Capitan Theatre, the director breaks down how he turned animated fantasy into live action reality.
"Books, not boys. And everything that books represent," he says. "It's a double thing for her. There's an escape into the adventure of books, but it's also just feeding her imagination, and the zeal for knowledge. That's something that, I think, is important to a lot of us."
While the animated film's townsfolk chided Belle's interest in education as foolish, the new movie (opening in theaters Thursday) goes one step further — they punish her for it. One particularly harrowing scene shows the locals outraged at the sight of Belle (played by Emma Watson) teaching another girl how to read. They are so enraged by this act that they destroy Belle's clever clothes washing contraption (in this movie, her father, Maurice, isn't the only inventor).
"What I'm proud of in our movie is that [Belle's] also become an activist 25 years later," Condon says. "That she not only has a private interest in [reading], but she wants to share it and figure out how to help other little girls discover books too."
No longer does Belle sit solitarily reading to disinterested sheep — "Oh isn't this amazing" — she's actively trying to get young women involved.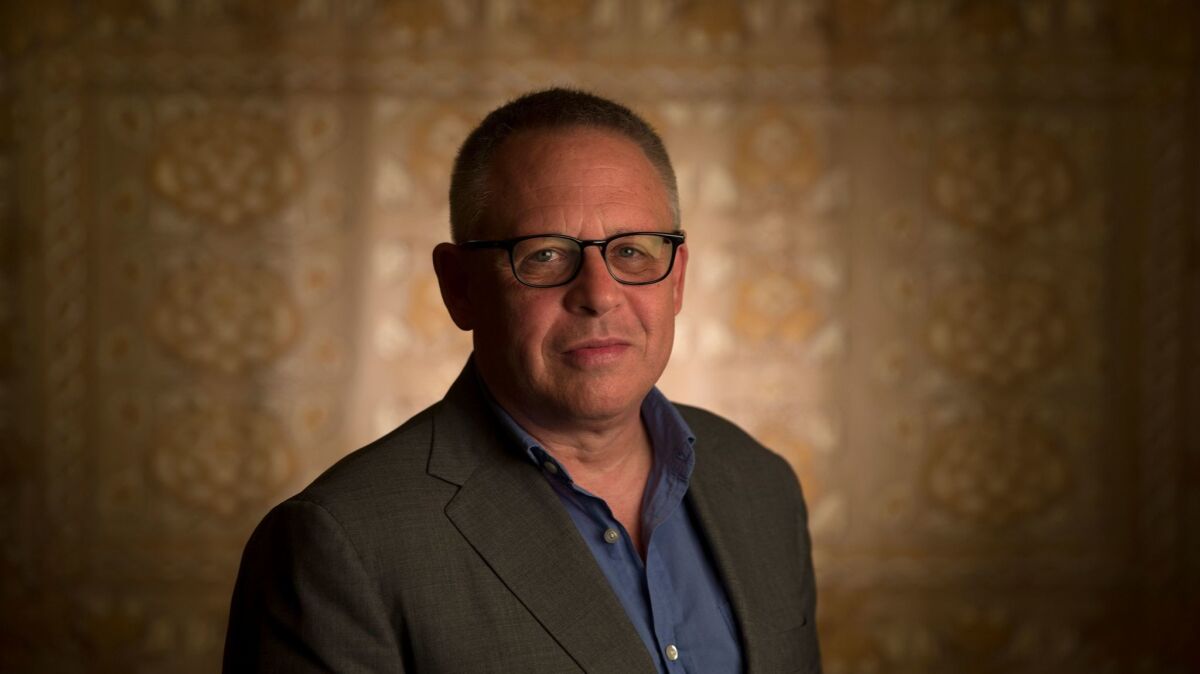 This movie is for everybody, and on the screen you'll see everybody. That was important to me, I think, to all of us.
— "Beauty and the Beast" director Bill Condon
The ramifications of reading are threaded throughout Condon's feature. The heavily stocked bookshop that the original Belle frequented in her cartoon town has been swapped out for a more realistic representation of the times. New Belle picks from a minuscule collection of reading material housed in the local church.
"There weren't bookstores in 1740," Condon says. "It's as simple as that. The church would have been the center for learning, and she's found one priest who connects to her. Everyone else thinks it's just an absolutely crazy thing that a woman would be interested." This makes the eventual reveal of the Beast's expansive castle library even more impressive.
Even LeFou, the lackey to the villainous Gaston, gets an illiteracy gag in his climactic solo during the rowdy tavern performance of "Gaston." It's a moment not lost on Josh Gad, the actor behind the joke and father of two little girls.
"Right now, my daughter is learning how to read," Gad says. "To have this character whose superpower is essentially that she devours books and is an inventor is a great thing to hold up and share with them. She is the hero of the movie. I think that now more than ever we need amazing female role models like that, and I'm thrilled to be a part of a movie that has one at its core."
"Beauty and the Beast" isn't Condon's first musical movie adaptation — he spearheaded the two-time Oscar-winning "Dreamgirls" in 2006. Nor is this his first brush with a devout fan base. He put the "Twilight" saga to bed in "Breaking Dawn" Parts 1 and 2. However, this is the first movie that combines massive fandom with an internationally adored songbook. The director is aware he's playing with a powerful brand of nostalgia.
Full Coverage 'Beauty and the Beast' news, interviews, videos, reviews »
Still, Belle's rebellious reading wasn't the only part of Disney's tale as old as time that was due for a little dusting. With a running time 45 minutes longer than the original, Condon hoped that his "Beauty and the Beast" expansion would answer questions fans may have been carrying with them for years. Some new investigations are arguably easier to answer than others, thanks to a little movie magic.
For example, how were the townsfolk seemingly unaware of the existence of a multistory, magical castle in the woods that (presumably) used to house their governing system? Simple: a magical memory wiping incantation directly tied to the Beast's curse.
Granted, the larger questions Condon attempts to answer (how did Belle and her father wind up living in a village where they're complete outsiders, and what happened to Belle's mother?) are clearly more complicated and will forever change the back story to this Disney staple. But most pressing, according to the director, was expanding the relationship between Belle and the Beast (played by Dan Stevens).
"You're asking an audience to believe that Emma Watson is falling in love with this big hunk of fur," Condon says. "So you want to make it absolutely recognizable in human terms."
It's only when he actually does free her, and long after that, that she kind of lets herself open up to her feelings for him.
— "Beauty and the Beast" director Bill Condon
That also meant addressing the Stockholm syndrome issues with the classic story's prisoner/princess relationship. When questioned about the problematic nature of the duo's courtship, the director immediately lists his leading lady as a champion for this change.
"That's where having Emma Watson as a partner, as a collaborator, was so crucial," Condon says. "Because she'll always know more than I do about this, because she's leading the life of a strong role model for women in the 21st century."
In fact, both Stevens and Watson worked with Condon on their dialogue in hopes of refining and reshaping their complicated affair in an attempt to steer it away from victim and kidnapper.
"To me, the crucial line is when they finally connect, and [Beast] says, 'Could you ever be happy here?' [Belle] thinks about it and says, 'Could anybody be happy when they're not free?' "
"She's not falling in love with him. She understands the terms of what he's done, she reminds him of it, and he feels ashamed of it," Condon says. "She very clearly sets up those boundaries. And it's only when he actually does free her, and long after that, that she kind of lets herself open up to her feelings for him. That scene, which probably has only 10 lines, it's sort of like haiku. We kept refining, word by word, to make sure that moment, that line, packed a real punch."
Whether the evolution of Belle and the Beast will alleviate modern minds troubled by the questionable romance remains to be seen, but one thing that took most by surprise was the outing and subsequent backlash at the sexuality of the aforementioned LeFou. After it was announced that LeFou would be Disney's first gay character, a Henagar, Ala., drive-in theater said it wouldn't screen the film — specifically citing LeFou's sexual orientation. Overseas, Disney has decided to pull its Malaysian distribution of the film rather than censor the few minutes of content the country's film censorship board regarded as unsuitable.
Condon spoke vaguely about the reaction at a press conference in Beverly Hills last week, noting that this too is another expansion of a character for the modern age, "What has this story always been about for 300 years?" he asked. "It's about looking closer, going deeper, accepting people for who they really are. And in a very Disney way, we are including everybody. I think this movie is for everybody, and on the screen you'll see everybody. That was important to me, I think, to all of us."
The backlash has already received plenty of backlash from the rest of the cast. Ian McKellen (who plays Cogsworth) labeled the controversy "rubbish" in an interview with CNN at the New York premiere. And Ewan McGregor (Lumière), at first joking that "there is a lot of gay sex in this cartoon" on "The Late Show With Stephen Colbert," turned serious when he told Colbert, "He's a gay character. It's 2017, for ... sake."
It's only too perfect that one of the many themes in this timeless fairy tale that doesn't need updating is the proverbial sentiment: "Don't judge a book by its cover."
Condon encourages his audience to look beyond Beast's intimidating horns or the beautiful filigree of the castle's magical inhabitants and take in the big picture.
Only then will you realize in the live action opening number that the only children marching into the school are the boys, while the girls are stuck doing the laundry.
More about "Beauty and the Beast" . . .
What happens when you put 'Beauty and the Beast' stars at a piano with composer Alan Menken? Disney magic
Review: 'Beauty and the Beast' remake is a gilded monument to the more-is-more principle
'Beauty and the Beast' won't be shown in Malaysia after Disney refuses to cut gay scene
Why 'Beauty and the Beast' will be the biggest box-office hit of the year so far
From the archives: A 'Beast' With Heart — Kenneth Turan's review of the 1991 animated 'Beauty and the Beast'
'Beauty and the Beast's' Alan Menken takes pride in carrying the vision of his songwriting partner Howard Ashman
See the most-read stories in Entertainment this hour »
On Now
Cast of 'American Gods' drop divine secrets on the new Starz series
On Now
Liam Cunningham and Isaac Hempstead on finding the humor in 'Game of Thrones'
On Now
Acting opposite a giant Hollywood monster on 'Kong: Skull Island'
On Now
Luc Besson takes us inside his next space odyssey 'Valerian and the City of a Thousand Planets'
On Now
Norman Reedus on the secret Walking Dead' cast Comic-Con ritual
On Now
The cast of 'Orphan Black' reveal what they want to see resolved in the series finale
On Now
'Supergirl' cast on inspiring little girls to pick up a cape of their own
On Now
Video: Comic-Con: Wishing there could be a body swap between Fitz and Mac on 'Agents of S.H.I.E.L.D.'...
On Now
Charlie Hunnam on the hyper-stylized antics of 'King Arthur: Legend of the Sword'
On Now
Comic-Con: Ana Gasteyer and Wyatt Cenac on 'People of Earth'
Twitter: @MdellW
Get our L.A. Goes Out newsletter, with the week's best events, to help you explore and experience our city.
You may occasionally receive promotional content from the Los Angeles Times.