Insomniac Games celebrates the underdog with optimism, from 'Ratchet and Clank' to 'Spider-Man'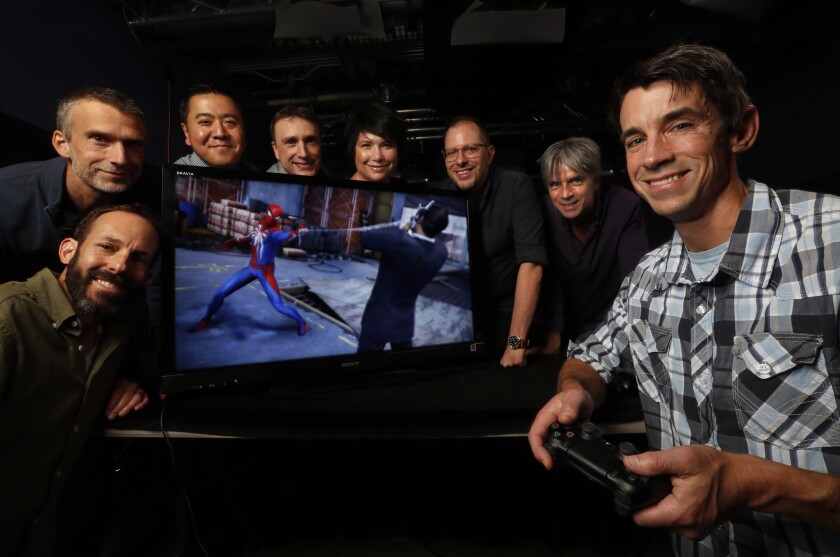 About 25 years ago, long before Insomniac Games took part in bringing the hotter-than-ever Marvel Universe back to video game consoles, founder Ted Price had a vision for changing interactive entertainment. Sort of.
"We didn't really know what we were doing," Price, 49, said of the studio's beginnings earlier this month in his company's Burbank headquarters.
But at least Insomniac's first game had a mission: "Think fast. Shoot fast. And kick ass."
That was the phrase heard early in 1996's "Disruptor," Insomniac's initial offering and an ambitious effort that tried, sometimes awkwardly, to capitalize on two trends — one that would remain dominant and another that would soon disappear — shooting and full-motion video.
Yet despite being generally well-received for a debut game, the "Doom"-inspired "Disruptor" failed to revolutionize either the industry or the company.
That's changed.
Though Price in the early 1990s was smitten with the hellish violence of the genre-defining first-person shooter "Doom," Insomniac would keep challenging itself to develop beyond the "think fast" and "shoot first" mode of gameplay. The company rose to prominence thanks to the lively, cartoonish and colorful worlds of the lovable "Spyro the Dragon" and the buddy action series "Ratchet & Clank."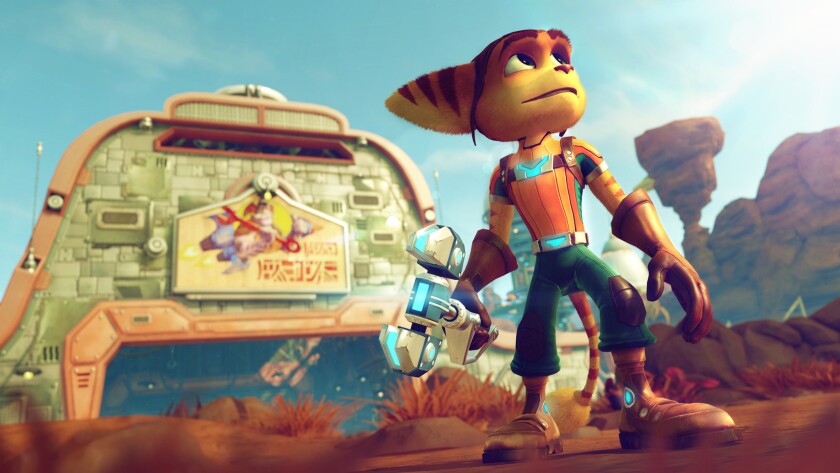 On Sept. 7, however, Insomniac will release its biggest game yet: "Marvel's Spider-Man" for Sony's PlayStation 4. The stakes are high.
"Spider-Man" is the first Insomniac game based on a concept and characters that weren't originally developed at the still-independent and generally outspoken firm — last year, for instance, Insomniac released a video that slammed some of President Trump's immigration policies as "deplorable" and "discriminatory."
Then there's the matter of whether or not the sometimes fickle fan community will take to Insomniac's vision. Past Spider-Man games have received mixed reviews at best. If Insomniac is successful, it could reboot the franchise in the gaming sphere and inspire the same sort of shared universe that Marvel characters enjoy on film.
Sony is clearly counting on big things. "Spider-Man" was a centerpiece of its press conference Monday night on the eve of the Electronic Entertainment Expo, which brought more than 69,000 to the Los Angeles Convention Center this past week. The gaming giant even constructed a fake Chinatown not far from the real Chinatown, complete with theme park-like projections creating mock building facades and areas made to look like New York City subways.
Price isn't sweating. In fact, he seems ready to embrace any skepticism. "He's a character that sort of reflects the way we see ourselves, as somewhat of an underdog," Price said of "Spider-Man."
That's no surprise, since Insomniac began as something of a long-shot: with $30,000 from Price's savings and a partnership with brothers Alex and Brian Hastings, who happened to have backgrounds in programming. Price had been working for his uncle's medical services business, building databases for market research. He met the Hastings via his mother, who had been telling her friends that his son was starting a video game company.
"I was 23, and I was at the point in my life where I could make some bad choices," said Brian Hastings, whose slightly younger brother had asked him to join him and Price in making video games, this despite Brian being a rising star in the medical field developing pacemaker technology. "We never made a game before. Al's out of college. I was a year out of college … We didn't do risk assessment. It was just like, 'Hey, we're making a game!' It was a kind of a miracle we managed to emerge from that."
In recent years, Insomniac, which employs about 300 people, has been on an experimental streak, diving heavily into virtual reality and in 2016 releasing the retro-styled "Song of the Deep," a thoughtful, family-focused game that at times felt like a children's storybook.
And while the company has at times returned to the more adult-oriented shooter genre — see the "Resistance" series or 2013's sci-fi effort "Fuse" — one of its biggest and most aggressive games was also its most absurd. "Sunset Overdrive" put a bubblegum-like spin on the overused post-apocalyptic setting. There were plenty of guns, but sometimes instead of bullets they shot stuffed kittens and Teddy Bears.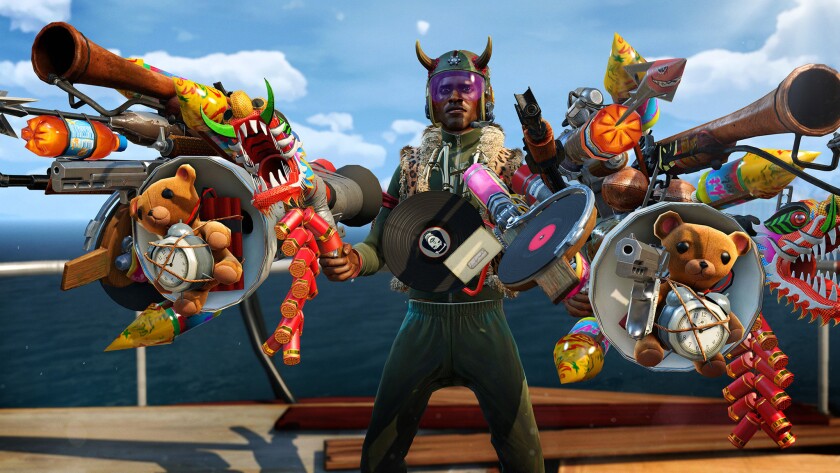 With "Sunset Overdrive," Insomniac was fully embracing its legacy as a creator of boldly colorful and often absurd universes. It's a lesson the company would return to repeatedly, and one that dates back to its first "Spyro the Dragon" game in 1998: maybe not be so serious. Maybe sometimes the world needs a goofy purple dragon who flies around a brightly pastoral universe.
Of course, when it came to "Spyro," there were business motivations as well. Mark Cerny, a longtime supporter and recently the architect of the PlayStation 4, at the time led Universal Interactive and prompted Insomniac to take advantage of the lack of family-friendly games on the first PlayStation.
"Nearing the end of production [on 'Disruptor'], I started asking everyone at Insomniac — and there weren't that many of us — what people wanted to do. And the answer wasn't, 'Let's do another shooter.' The answer," said Price, "was let's do something different.
"There were very few titles on the PlayStation that spoke to a broader audience," he continued. "Most of them were targeted at older players. Having just done a dark game — even though 'Disruptor' was kind of campy and unintentionally funny — it had a somewhat darker tone. What if we did try and make something that was more appealing to a family-friendly audience? I think for a lot of us, too, we are naturally drawn to the lighter side of gaming."
When "Spyro" hit, said Insomniac Chief Operating Officer John Fiorito, a nearly 20-year veteran who started as an artist at the company, games were increasingly going after a more gritty, realistic look to take advantage of graphical enhancements. That encouraged the studio to go brighter and prettier in its tone for "Spyro," and "that sort of opened a door for us that we stepped into."
Insomniac has innovated in other ways as well, and helped take a cultural lead with 2014's Xbox One title "Sunset Overdrive." At a time when conversations regarding representation and diversity in games were just gaining momentum, Insomniac made the decision to let players create a character of any gender and mix and match as many looks as possible.
The player begins the game as a deadbeat janitor already burned out with the daily grind. But once the Armageddon hits "Sunset Overdrive" turns into a title about embracing one's inner weirdness. The chaos of the game is definitely destructive, but it carried a slightly political message, arguing that for anyone living paycheck-to-paycheck in modern America, a zombie-like apocalypse would likely be an improvement in quality of life.
It's a game, said Price, that "celebrated being different," which instantly set it apart from the bevy of blockbuster titles that largely championed being male. "We definitely throughout the game didn't hold back in terms of what we allowed players to do and how we allowed them to express themselves — as a guy you can wear girls clothes, as a girl you can wear guy's clothes," he said. "In general, it adheres to our vision as a company, which is to make a positive and lasting impact on players' lives."
The company didn't shy away from going political, and made a statement last year against Trump's proposed controversial travel ban from predominantly Muslim countries. "A lot of people throughout the studio were shocked at what was happening in our government," Price said. "It affected — and we believe it would affect — many of our Insomniacs and people throughout the industry. We felt it was important to take a stand."
Though Insomniac was deep into making what will be its highest-profile game in "Spider-Man," Price didn't consider it a risk to stick his neck out in such a divisive political and social climate. "There is no question that in today's society you are going to get feedback one way or another — it's going to be positive and negative," he said. "That's OK. I would much rather get feedback than not have people saying anything."
Insomniac also broke from what might be expected of a "Spider-Man" game by presenting a slightly older Peter Parker, rather than the teenage superhero shown in the recent films. In playable bits shown at E3, Parker in his 20s is still dorky and carefree — he needs to be since New Yorkers in the game readily make comments mocking his suit for making him look like he has a "skin condition."
There's much to still be revealed about Insomniac's plot for the game, but "Spider-Man" already appears to be a title in which the main character is constantly in motion, effortlessly hopping from building to building and easily bursting into a vertical trot up a skyscraper. Indeed one of the developer's challenges was to create a hero who seamlessly glides among buildings.
"To get in the door," said the game's creative director Bryan Intihar, "the swinging had to be awesome."
The game also channels the effervescent art design Insomniac has become known for — even the evening fight scenes are full of color and luminous shading. New York doesn't quite feel lifted from the comic books, but also isn't hyper-real, lending the game the inviting feel of a classic cartoon.
By placing Parker in his 20s, the game will have a "more adult sensibility," Price said, complete with love interest Mary Jane Watson. "He's somebody who's going through the hardships of being in his early 20s, struggling in his personal life, struggling with his job and having to balance something else. Most of us don't have to balance being a superhero, but I think we can all relate to the difficult decisions he has to make everyday."
And while Insomniac is keeping details of the story under wraps for now, Price emphasized that the game will have a heavy focus on what is hoped to be an emotional narrative, one laced, of course, with humor. Marvel, for its part, praised Insomniac's passion via a statement for "developing rich narratives."
But even when Insomniac makes a lighthearted game, the studio takes irreverence seriously. More important, Insomniac views games as high art — and a force for change.
"This sounds sort of corny, but we do believe in trying to make the world a better place," Price said. "There's so much negativity out there — it's insane — and if we can help in some way turn the conversation through the things that we're saying or the games that we're making, that's fantastic. It's easy to forget that we have this amazing platform. Games reach everybody.
"We don't have to plaster a political message all over our games," Price added, "but through stories and characters we can make a difference."
ALSO
In a divisive political climate, E3 shows that maybe video games had it right all along
'Cuphead' gives new life to hand-drawn animation and big band jazz
Themed entertainment designers from Disney, Knott's, Efteling and more preach the importance of play over technology
Follow me on Twitter: @toddmartens
---
The complete guide to home viewing
Get Screen Gab for weekly recommendations, analysis, interviews and irreverent discussion of the TV and streaming movies everyone's talking about.
You may occasionally receive promotional content from the Los Angeles Times.