For Erica Ash, stepping out on faith has worked wonders
Erica Ash is an actress, comedian, singer and model. She stars as Mary Charles "M-Chuck" Calloway on the Starz series "Survivor's Remorse."
Erica Ash has done it all, quite successfully: Broadway, backup singing, modeling, acting and even ringside announcing. Stand-up, however, isn't her thing.
"A lot of people ask me why I don't do stand-up because I'm so funny," Ash said. "I thought about it, but there are a lot of writers who are asked why they don't go in front of the camera — it's because they're writers and they do that really well. I'm an onstage and on-camera actress. Stand-up just isn't my blessing."
But it's not like she didn't try.
Two years ago, the "Survivor's Remorse" star stepped up to the mike stand at the J Spot Comedy Club in Inglewood. Owned and operated by comedian J. Anthony Brown, it's where all the seasoned funny folk go to make sure they've still got it and the newcomers go to prove they have what it takes. Ash received a standing ovation.
"I'm one of those people who you shouldn't challenge or draw a line for because I'm going to back up and leap over that sucker," she laughed. "I'm going to do it. And then probably never do it again."
"Even though I had an overall good reception, I just didn't like the way that it felt. It was a little too dark for me, emotionally. It felt dark, being onstage having an hour-long audition. I dipped my toe in the water and was like, 'Oop, too cold!'"
---
How did you get into acting?
A break. I went to Emory University for medicine. I was good at it, but wasn't fulfilled. So, I took a break and left my friends and family to figure it out for myself. I went to Japan and fell into a background singing gig my first week there. From that, someone saw me and said, "You should model." So I started modeling. Then my modeling team was doing a show for the royal family of Japan at this hotel and the ringside announcer thought I should ringside announce. Literally, one thing led to another, so I tell people I'm the Forrest Gump of my field. I just blindly, by faith, walked through life and said "yes" to things that were presented to me, and it led me here.
My first film was over in Japan and I liked it. I was making good money and paid off my student loans.
You didn't start onstage as a comedian, but have settled into comedic roles.
Which is why it's taken a little longer for my career to take off. The first role I did that took off was Bridgette Hart on "Real Husbands of Hollywood." The first year of that show, that's all people wanted me to play. But I was saying "no" and decided I was just going to figure it out [financially]. Luckily, I'm really good with money. That afforded me the opportunity to say "no" and wait to see what else came along. My agents would stress that I would be out of the loop, but I was like, "I don't want to be in the loop and be pigeonholed." When another role came along, M-Chuck on "Survivor's' Remorse," it was perfect.
After that, for awhile, all I got was lesbian roles, but I wanted to do something different. Then came Erica on "Shades of Blue," which was different than both of those [other] characters. Once people started seeing I could play different roles, I started to get every role. That's what I was going for, a well-rounded career.
I want to make choices based on what I want to read about myself when I'm older.

— Erica Ash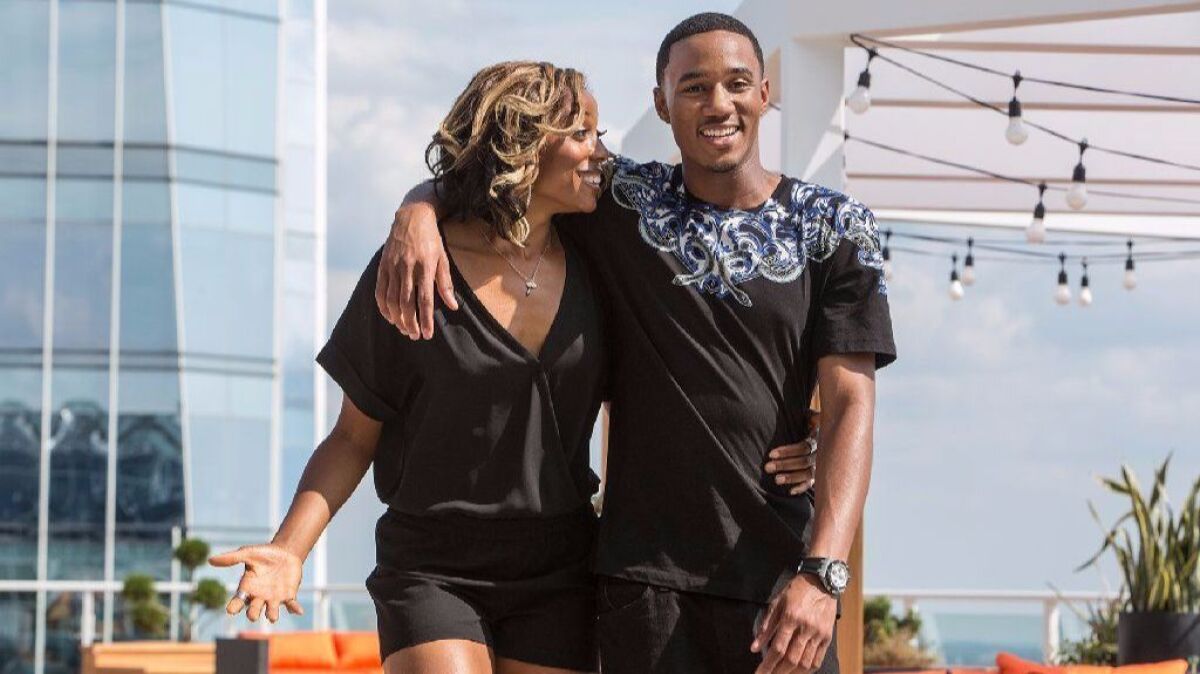 Was it hard to say 'no' to some of those roles?
Yes, because you're turning down money and opportunity. You think to yourself, "What if something [else] doesn't come along?" You want to step out on faith, but on the human side, there is fear. But I had established enough of a pattern of stepping out on faith and having my needs met that I was able to just go for it.
And I'm not saying the ground appeared immediately every time I stepped out on faith, but it was worth it for me to take a chance on me.
Having had a varied career thus far, what is the goal?
I live my life like I'm writing a book, because at the end of the day, when I'm in some old folks home and nobody feels like visiting me, I'm going to have the stories of my life to entertain me. I want to make choices based on what I want to read about myself when I'm older. For me, it's just about growing and moving forward.
I don't like to concretely say what it is that I want, because I don't know what God has for me.
What advice do you have for black women coming behind you?
Nobody controls your destiny but you and the higher power you believe in. There's a lot of noise outside of your head that we sometimes allow to keep us from our dharma, our life purpose. For any black woman coming behind me, if you don't know what your dharma is, just try stuff. Do stuff. I didn't know what mine was, but I knew what didn't feel right and I knew I wanted to feel right. Take chances and risks. Don't be afraid and don't let the chattering of others outside of you keep you from doing what's in your heart, especially the thing that seems scary.
Get your life! Follow me on Twitter (@TrevellAnderson) or email me: trevell.anderson@latimes.com.
---
Get our L.A. Goes Out newsletter, with the week's best events, to help you explore and experience our city.
You may occasionally receive promotional content from the Los Angeles Times.