Critic's Notebook: Cutting-edge jazz is missing at the Hollywood Bowl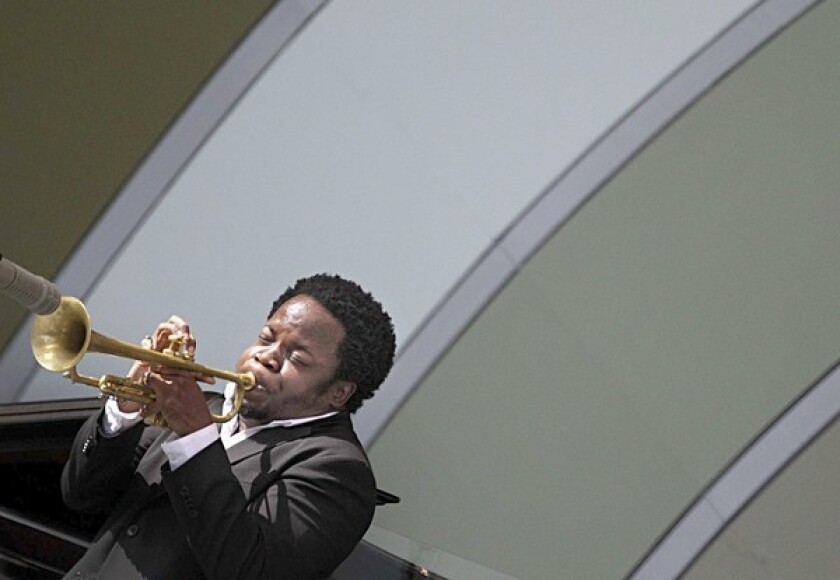 Living in Los Angeles, one of the early joys of summer is running down the schedule at the Hollywood Bowl. Probably the most famed venue on the West Coast, the Bowl's sprawling, woodsy confines and nearly 18,000-person capacity can transform mere concerts into events and bleacher-mates into neighbors during performances that can feel like a summer block party in a city that has its share of challenges in fostering a consistent feeling of community.
And while this year's popular music lineup predominantly booked by the Los Angeles Philharmonic's Johanna Rees is marked by its usual genre-hopping blend of crowd-pleasers (Sarah McLachlan, a "Totally '80s" pop smorgasbord) and compelling, fringe-adjacent bills such as an all-star salute to Serge Gainsbourg and an evening with anthemically glum indie rockers the National, the jazz segment of the Bowl's programming fails to carry the same kind of balance.
With an opening-night performance last month of big-band torchbearers the Jazz at Lincoln Center Orchestra led by Wynton Marsalis, the Bowl's summer program hit an early peak in terms of showcasing a headliner at the front edge of the music in 2011, and this is by a band whose stock-in-trade is the jazz songbook before the timeline of TV's "Mad Men."
The Bowl typically offers a diverse menu of performers from the jazz world, and certainly this summer's selections aren't without merit. Seeing the L.A. Phil's chair for jazz Herbie Hancock continue his exploration of the Joni Mitchell songbook next month with top-flight guests including Wayne Shorter, Brian Blade and Aimee Mann should offer plenty of intrigue, particularly in its planned reworking of Mitchell's "The Hissing of Summer Lawns." And Cuban jazz fans certainly shouldn't miss Ninety Miles with young trumpeter Christian Scott teamed with vibraphonist Stefon Harris and saxophonist David Sánchez opening a bill led by Omara Portuondo's extension of the Buena Vista Social Club.
But from there things get more problematic. Forgiving the general tendency to group blues in the jazz category, we'll set aside the night with usual suspects Keb' Mo' and Robert Cray, and Gladys Knight and James Ingram will offer plenty of swoony romantic ballads, but only using the most general application of word could it be called an evening dedicated to jazz.
Which leaves the schedule's confoundingly heavy reliance on smooth jazz, which includes chart favorites Chris Botti, Dave Koz and even the great George Benson teamed with an R&B-leaning supergroup of sorts featuring Marcus Miller, George Duke and David Sanborn. Without question these nights will offer flashes of technical excellence, neatly applied touches of pop and funk and generally safe and agreeable music that will float along the Bowl's summer breezes and pair well with a decent Chardonnay.
This isn't to denigrate the artistic significance of smooth jazz. Its longtime standing as a pariah among so-called serious fans of the music is well established, fairly or otherwise. An announcement that jazz's traditional punching bag Kenny G earned his own show on KKJZ was a lightning rod for discussion among the jazz community this spring, with reader comments on an L.A. Times story ranging from bemusement to abject horror before the saxophonist had spun a single record.
But to echo a repeated refrain from pop music, someone is buying it. Koz and Botti are regular fixtures on the album charts, and based on the principle of giving people what they want there's a great case to be made for the Bowl's programming choices. But is a formula as simple as that all we want from an institution like the L.A. Phil or, more perplexing, a chairman as forward-thinking as Herbie Hancock?
For all of his historically contentious detours into pop and funk, and ambitious if uneven albums like "The Imagine Project," Hancock's credentials as someone who views jazz as a free, ever-changing medium are beyond reproach. In a fiery and unfettered appearance with Wayne Shorter at Disney Hall this winter, Hancock showed he still has no problem following his muse beyond anywhere safe, which is exactly the word best applied to most of this year's menu of jazz at the Bowl.
Consider what becomes of the Bowl's lineup across the other musical genres this year if popular tastes are the guiding force. Do those aforementioned bills with the National and the music of Serge Gainsbourg compare as favorably with the raw sales potential of dates with, say, Nickelback, Katy Perry or the "Glee" cast? Probably not, but the L.A. Phil obviously wants to be part of the cultural conversation as much as it wants to sell tickets.
So why can't jazz benefit from the same creative thinking? It's good and even necessary to offer evenings dedicated to the pop pleasures of smooth jazz, but there's a way to serve the whole genre. This year's Playboy Jazz Festival did a fine job balancing its longtime pop-jazz leanings with such of-the-moment acts as Ambrose Akinmusire and the SFJAZZ Collective, and jazz organizations in cities such as St. Louis and San Francisco book pop-oriented artists as well as those from the front edge of the form (though admittedly neither is tasked with filling a room as large as the Hollywood Bowl).
In considering how this could work here, look at the Bowl's season-closing concert that will be led by the genre-splicing rock band TV on the Radio. With a lineup of bands ranging from the up-and-coming to the cultish with Warpaint, Arctic Monkeys, Smith Westerns and Panda Bear, there's no way of arguing this bill came together with broad, mainstream success in mind. But as a survey of some of the most talked-about acts in indie rock today, it's a pretty remarkable effort.
Think of the same principle applied to modern jazz. By this model you'd need a marquee headliner who can draw theater-size crowds, which could include larger names such as Terence Blanchard, Branford Marsalis or Brad Mehldau, and from there flesh out the bill with a few acts from a similar sphere in contemporary jazz — Vijay Iyer, Bill Frisell or Jason Moran. But using these guidelines, imagine if an entire show could be dedicated to the leading edge of the jazz conversation. Wouldn't Esperanza Spalding have made for a compelling choice at the top?
From there, geographic themes could develop with Robert Glasper or the Bad Plus from New York, the Exploding Star Orchestra from Chicago and locally aligned artists from the Angel City Jazz Festival's stable such as the Nels Cline Singers or Kneebody. There's a galaxy of artists to choose from that lie outside the Bowl's vision of jazz this summer.
Jazz may draw a niche audience as compared to rock, but there's terrific potential here to showcase the music as every bit the same vibrant, still-evolving organism as any other genre, to say nothing for the potential of drawing new fans. (As a side note, imagine if one of the above jazz acts were daringly paired with a complementary rock band, such as TV on the Radio — would the Earth simply spin off its axis if a bill mirrored today's genre-blind tastes?)
Still, the question remains if the L.A. Phil is willing to take the chance in offering bills that emphasize discovery and the sharpest edge of the art form as much as serving audience demands. Granted, given the tough economic climate, it's a difficult time to advocate risk in concert bookings. But if it's going to continue to try to program an outdoor jazz season, we as music fans are worthy of the effort, and a venue as stellar as the Bowl practically demands it.
---
The complete guide to home viewing
Get Screen Gab for weekly recommendations, analysis, interviews and irreverent discussion of the TV and streaming movies everyone's talking about.
You may occasionally receive promotional content from the Los Angeles Times.