No sibling rivalry for Elizabeth Olsen
The Olsen twins grew up in the spotlight, but Ashley, left, and Mary-Kate, right, aren't the only talent in the family. Now, little sister Elizabeth is launching her own film career with the new indie flick
"Martha Marcy May Marlene,"
about a young girl who escapes from a cult. The fest favorite is already generating major buzz for the budding star. The twins, of course, have been on screen since they were in diapers on the set of "Full House" and went on to star in numerous films and TV movies. They even have their own Dualstar production company and a lucrative fashion line.
The Olsens, who have an older brother, Trent, aren't the first siblings to share the spotlight. Here's a closer look at some of Hollywood's most famous brothers and sisters.
RELATED:
--
No sibling rivalry for Elizabeth Olsen
(Jamie McCarthy / WireImage / Getty Images)
Jessica and
Ashlee Simpson
hit the spotlight as singers. Jessica was the all-American blond bombshell who married 98 Degrees frontman Nick Lachey, and Ashlee was her younger, grungier rocker sister. The Texas girls, four years apart, had stints on their respective reality shows soon after, which launched them even further in the spotlight. Two failed marriages came soon after; Jessica and Lachey divorced in 2006, and Ashlee and former
Fall Out Boy
rocker
Pete Wentz
divorced in early 2011.
(Bryan Bedder / Getty Images)
Owen, left, Andrew and
Luke Wilson
have collaborated on quirky comedies like "Bottle Rocket" in 1996 and "The Wendell Baker Story" in 2005. Andrew, the lesser-known eldest brother, was born in 1964, Owen was born in 1968, and Luke was born in 1971. The latter brothers have earned their celebrity status with screwball and raunchy comedies. Owen has starred in "Wedding Crashers,"
"Midnight in Paris,"
"Marley and Me," "Night at the Museum" and the "Cars" franchise. Luke has starred in "Legally Blonde," "Alex & Emma," "Old School," "3:10 to Yuma" and "Anchorman." They appeared together in "The Royal Tenenbaums" and "Around the World in 80 Days" and have made small appearances in each other's films.
(Ringo H.W. Chiu / For The Times)
Maggie was born in 1977 to director Stephen Gyllenhaal ("Numb3rs") and writer-producer Naomi Foner ("Bee Season"). Little brother Jake came along in 1980. Jake broke out on the big screen playing
Billy Crystal
's character's son in "City Slickers" in 1991, soon followed by Maggie in 1992, in "Waterland," which their father directed. The A-list sibs racked up leading roles in successful films, including "Secretary," "SherryBaby" and "The Dark Knight" for Maggie and "Jarhead,"
"Brothers"
and
"Love and Other Drugs"
for Jake. Both are Oscar-nominated actors, Maggie for "Crazy Heart" and Jake for "Brokeback Mountain." The pair have acted in three movies together: "A Dangerous Woman" and "Homegrown," both directed by their father, and
"Donnie Darko,"
in which they were on-screen siblings as well. Jake is good friends with Maggie's husband of two years, fellow "Jarhead" actor
Peter Sarsgaard
.
(Lucy Nicholson / Agence France-Presse)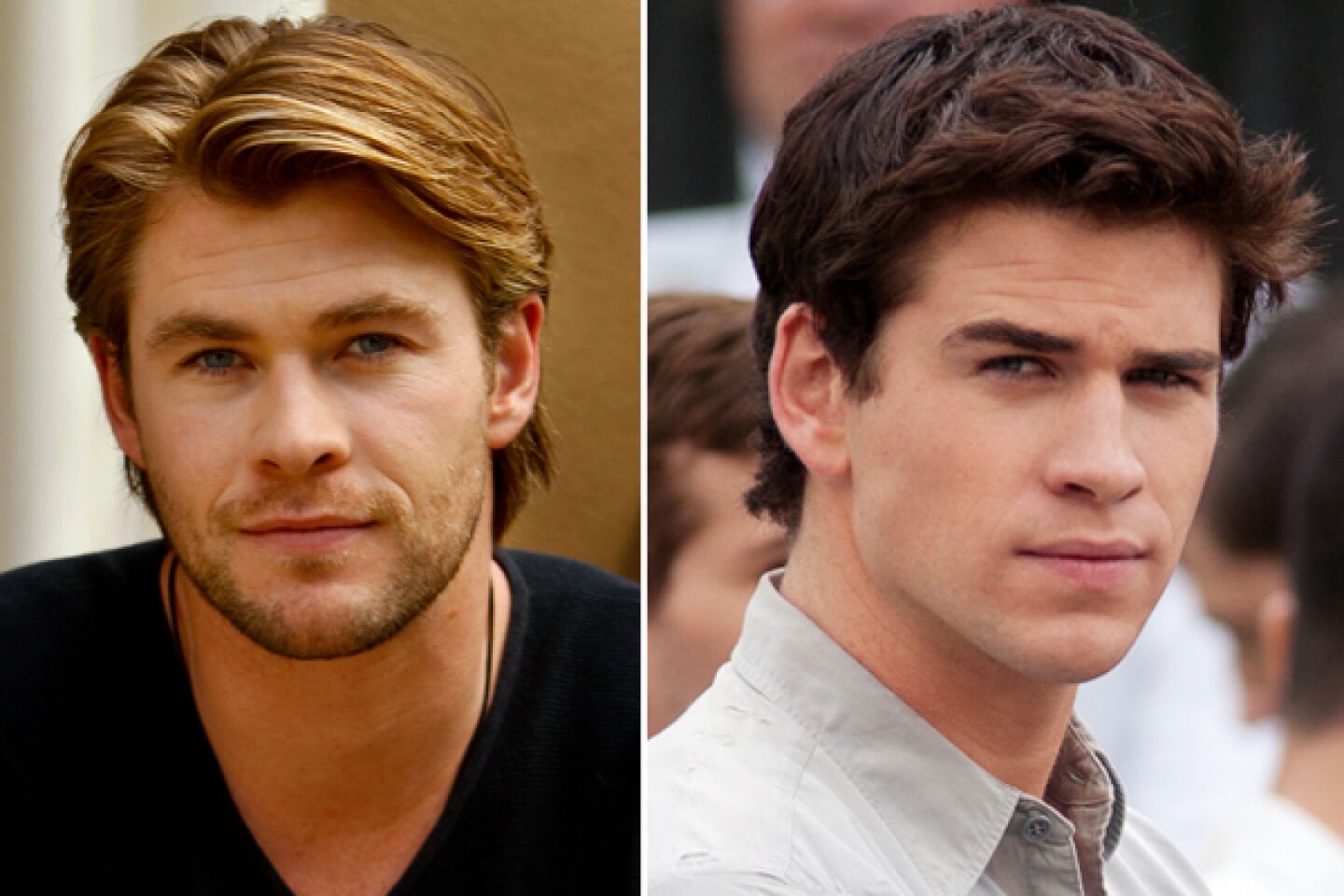 Luke Hemsworth, not pictured, is the eldest of the three Aussie brothers. He achieved small-screen success on the Australian soap opera "Neighbours," in which his younger brothers — 28-year-old Chris, left, and Liam, 21 — also acted. While Luke continued to act in a handful of television shows, Chris and Liam landed big-screen roles. Chris played George Kirk in 2009's
"Star Trek"
reboot. Soon after, he nabbed the title role in
"Thor,"
bulking up
to wield the superhero's hammer. He'll reprise the role in next year's
"The Avengers"
and will act opposite
"Twilight"
star
Kristen Stewart
in "
Snow White
and the Huntsman." Meanwhile, baby brother Liam found fame in the
Nicholas Sparks
movie
"The Last Song,"
acting opposite
Miley Cyrus
. Liam has roles in the upcoming films
"The Hunger Games"
and "The Expendables 2."
(Anne Cusack / Los Angeles Times and Murray Close / Lionsgate)
The now-17-year-old Hannah
Dakota Fanning
became famous as the darling young actress starring with
Sean Penn
in "I Am Sam." She has since grown into a teen star with recent major roles in
"The Runaways"
and in "The Twilight Saga" series.
Her little (though now taller than Dakota) 13-year-old sister, Elle, was also in "I Am Sam" — though at the time she was only 3. Since then, she's had roles in numerous films, including in the festival fave "Phoebe in Wonderland" and most recently in
J.J. Abrams
' "Super 8."
(Charles Eshelman / Getty Images)
They might be football royalty, but the Mara sisters are all about acting these days. Kate, left, got the acting bug first, launching her career in 1999 with "Random Hearts." She went on to win roles in film's like "Brokeback Mountain" (as
Heath Ledger
's character's daughter), "The Shooter" with
Mark Wahlberg
and
"127 Hours"
with
James Franco
. Rooney (real name Patricia), two years younger, teamed with her sister for the horror movie "Urban Legend: Bloody Mary." From there she took small roles until landing a part in "A Nightmare on Elm Street." However, she didn't reach star status until she met director
David Fincher
, who hired her to play
Mark Zuckerberg
's girlfriend in
"The Social Network"
and later gave her the coveted role of Lisbeth Salander in "The Girl With the Dragon Tattoo."
Aside from their acting credits, the sisters, who have an older brother, Daniel, and younger brother, Conor, can boast an impressive football family history. The Mara family owns the
New York Giants
and the
Pittsburgh Steelers
, and the actresses are also the great-granddaughters of the teams' founders
Tim Mara
(Giants) and
Art Rooney
(Steelers).
(From left: Alberto E. Rodriguez / Getty Images and Mark Mainz / Associated Press)
Emilio Estevez
and
Charlie Sheen
followed in their father
Martin Sheen
's footsteps when they launched acting careers in the 1980s. Emilio, born in 1962, found fame in the Hollywood brat pack with films like "The Outsiders," "Breakfast Club" and "St. Elmo's Fire." Charlie, born in 1965, was busy with "Red Dawn,"
"Platoon,"
"Wall Street" and later comedies like "Major League" and "Hot Shots."
They met up as outlaws in "Young Guns" and "Young Guns II" and later flopped together with 1990's "Men at Work" and 2000's "Rated X." Charlie's star continued to rise on television with roles on "Spin City" and
"Two and a Half Men"
(until he pulled one too many Sheenanigans). Emilio, who played to the kiddie crowd with "Mighty Ducks," eventually found secure footing directing films like "The Way," starring his own father. The famous brothers have two more siblings, Renee and Ramon Estevez.
(From left: Dan Krauss / Associated Press and Carlos Chavez / Los Angeles Times)
Actresses Zooey, left, and
Emily Deschanel
are each on network TV shows. Older sister Emily (35) has been starring in "Bones" with
David Boreanaz
since the show's 2005 premiere, while younger sister Zooey (31) is in the sitcom "New Girl." They are the daughters of cinematographer Caleb Deschanel and actress Mary Jo Deschanel. Each are known for playing quirky characters — maybe Zooey moreso than Emily — but Emily was camera-shy. She's since broken out of that affliction.
(Michael Buckner / Getty Images)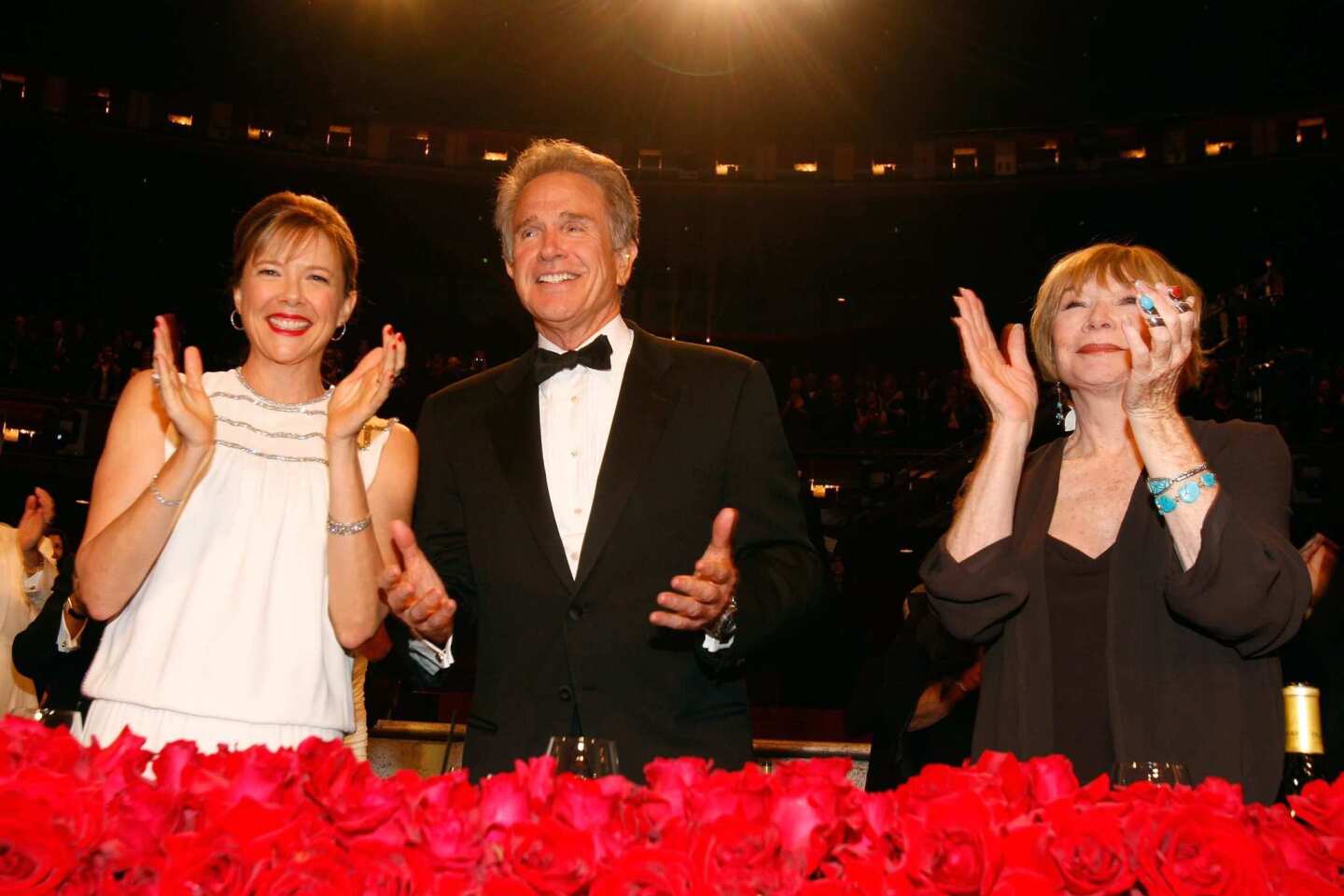 The Oscar-winning siblings (Beatty as director for "Reds" in 1981 and MacLaine as actress for 1983's "Terms of Endearment") studied acting as youths. MacLaine began as a dancer, then transitioned to acting, while Beatty — three years her junior — studied under
Stella Adler
, then became an actor and director. They share another honor, since MacLaine has just been announced as an AFI Life Achievement honoree. Beatty received the honor in 2008.
(Frazer Harrison / Getty Images)
Reporting from New York —
Elizabeth Olsen recently experienced something that had never happened to her: She was recognized by a stranger.
"It was really weird. I was walking in Tribeca and a guy just came up to me and said, 'I just saw the trailer for your movie, and I'm really looking forward to it,' and then he kept on walking," the young actress recalled.
Then she added uncertainly, "I hope he wasn't confusing me with someone else."
That she would find this exchange exciting might seem, well, really weird in its own right. Olsen is the younger sister of those Olsens, the tabloid fixtures Mary-Kate and Ashley. She's spent a lifetime watching her sisters hounded by TMZ, pursued by autograph-seekers, roasted by late-night hosts. But she's avoided the limelight.
Walking around Greenwich Village, the outgoing 22-year-old might as well be just another NYU acting student, albeit one who happens to have spent parts of the past year shooting films. She has some of the same facial features as her famous sisters, but like so much in her life to this point, nothing about her suggests that she's related to the entertainment world's most famous twins.
"'You mean, there's another one?'" actress Sarah Paulson said, laughing, as she recalled her reaction upon hearing about the third Olsen sister for the first time, before the pair began shooting their movie "Martha Marcy May Marlene." "Where have they been hiding her?"
With her starring turn in Sean Durkin's challenging indie, Olsen's anonymity won't last much longer. Anchoring a drama that has drawn acclaim at the Sundance and Cannes film festivals, Olsen plays Martha — the other monikers are given to her by John Hawkes' rough-hewn cult leader, Patrick — a complex, vulnerable young woman grappling with a traumatic past. She delivers a remarkable performance, the sort that gets your attention for a lot more than her last name.
As the film, which Fox Searchlight opens Friday in Los Angeles, quietly begins, Martha can be seen wandering disoriented into a small-town diner from the compound where she'd been living with Patrick and his other followers. She's soon retrieved by her tightly wound sister Lucy (Paulson) and whisked to the upscale lake house Lucy shares with her Wall Street husband, Ted ( Hugh Dancy). While Martha is ostensibly safe with them, it's not long before the effects of her cult stay — which Durkin depicts in carefully modulated flashbacks — begin to surface.
Olsen's job isn't easy: She's portraying someone strong enough to walk away from the group yet sufficiently weak to be drawn in by it.
"Even though the part called for someone who's been through a lot, I didn't want it just to be a victim," said the soft-spoken Durkin, 29, a first-time feature filmmaker who on a late-summer day accompanied Olsen, who goes by Lizzie, and a reporter on a walk around downtown Manhattan and then to the Museum of the Moving Image in Astoria, Queens. "What I wanted was someone who had a lot of autonomy but just sort of had it repressed."
Durkin recalls how Olsen arrived at her audition with four giant suitcases — the accouterments of a frazzled college junior more than Hollywood royalty. "I think I had my detergent with me," Olsen said. She had had to move out of her apartment the same day, and though she'd stashed some things with Mary-Kate, she was heading to a film set and was essentially homeless.
"When the audition was over, I was expecting some big dude to come in and carry her stuff," Durkin said. "But when I asked her, she's like 'Nope,' and threw some bags over her shoulder. There was something very vibrant and determined about her."
He gave her the part.
Olsen has been trying to go her own way for a while. Growing up with famous siblings made it clear to her early, she said, that she wanted a different career. "They were trying to build a whole [fashion and brand] enterprise. And I was trying to be an actor," Olsen said.
Mary-Kate and Ashley Olsen declined to comment.
Even though she grew up watching her sisters on sets — and moved in a circle that had her going to Halloween parties at the home of Hollywood makeup artist Rick Baker — it was trips to Broadway that gave her the acting bug. One or both of her parents (the Olsens divorced just before Lizzie started grade school) would take the three girls and their older brother, Trent (yes, there's a fourth Olsen sibling) from Los Angeles to New York, where they would frequently see plays.
It didn't hurt, ether, that Lizzie Olsen has a natural craving for attention. Upon seeing a clip from "Meet Me in St. Louis" at the museum, she ran up to the screen, belted out a verse from the musical and curtsied. "The irony is that I was always the performer in the family," she told a reporter.
But she didn't want to take roles "in small things, like direct-to-VHS movies" (something her sisters, incidentally, had no problem doing, in twin-tastic movies such as "It Takes Two" and "Passport to Paris"). When producers asked if she wanted in — and it happened regularly, Olsen said — she often turned them down.
"She could have piggybacked on her sisters' success, maybe gotten a producer to cast her in a movie with them," Paulson said. "But she didn't. You couldn't even find a picture of her on the Internet until recently."
Added Hawkes: "I think the word is 'grounded.'"
Instead, Olsen would understudy Broadway shows and even went to Moscow on a theater exchange program. It wasn't until she was an upperclassman at NYU that she began auditioning for films.
She has since made up for that restraint by shooting five independent films, including a comedy directed by actor-filmmaker Josh Radnor and a Bruce Beresford film, "Peace, Love & Misunderstanding," which was coolly received at the Toronto Film Festival.
She's also tried to avoid the route taken by Selena Gomez and other contemporaries — she's stayed off Twitter ("your personal space is your personal space"), and she auditioned for the Disney movie "Prom" and found herself laughing about it. "I just couldn't take it seriously," she said.
Olsen says she's annoyed by most of the roles written for young women. "They're supposed to be either as perfect as how they're portrayed on Disney or as mean as they're portrayed in high school movies. And in real life it's neither of those."
Hawkes, nominated for an Oscar for his supporting role in the gritty 2010 drama "Winter's Bone," called Olsen "tireless" in toggling at one point between the "Martha" and "Peace" sets. "I worked with Jennifer Lawrence [on 'Winter's Bone'] not that long ago and saw her phenomenal performance — and it felt like it was happening again: a young, unknown woman was carrying a movie."
Durkin took a "Winter's Bone"-like approach in crafting "Martha Marcy May Marlene." In writing the script, he wanted to break from stereotypes surrounding cults (he was careful not to even use the word); he shot some of the cult scenes on a farm belonging to an uncle of one of the filmmakers. The location fit with the film's micro-budget.
With its meditative tone and ambiguous ending, the movie isn't an obvious blockbuster, and Olsen has been doing her part to help promote its release. But a life spent watching her friends and sisters has given Olsen a lukewarm attitude about publicity.
"I used to think publicists were just a wall between you and the public," she said. "What I'm now realizing is that you need to put yourself out there, and people are going to want to know about your movie, but they're also going to ask you about fashion and about your life and your family.
"When I was in high school I started to get a little insecure about [questions about the Olsen twins]," she said. "And if I started acting professionally [then] I might have been scared or gone about it differently. But now I feel like I'm a realized person," sounding, like many in her generation, 22 going on 40.
She's also changing in another way, showing an actor's penchant for letting public expectation translate into private pressure.
"I am a little worried that if the first movie that's coming out is so [well regarded] then people expect everything to be good," she said.
"It's a good problem to have," Durkin reassured her.
"I guess," Olsen replied. "But you can only go downhill."
Get our L.A. Goes Out newsletter, with the week's best events, to help you explore and experience our city.
You may occasionally receive promotional content from the Los Angeles Times.