How Esa-Pekka Salonen and L.A. Phil grew together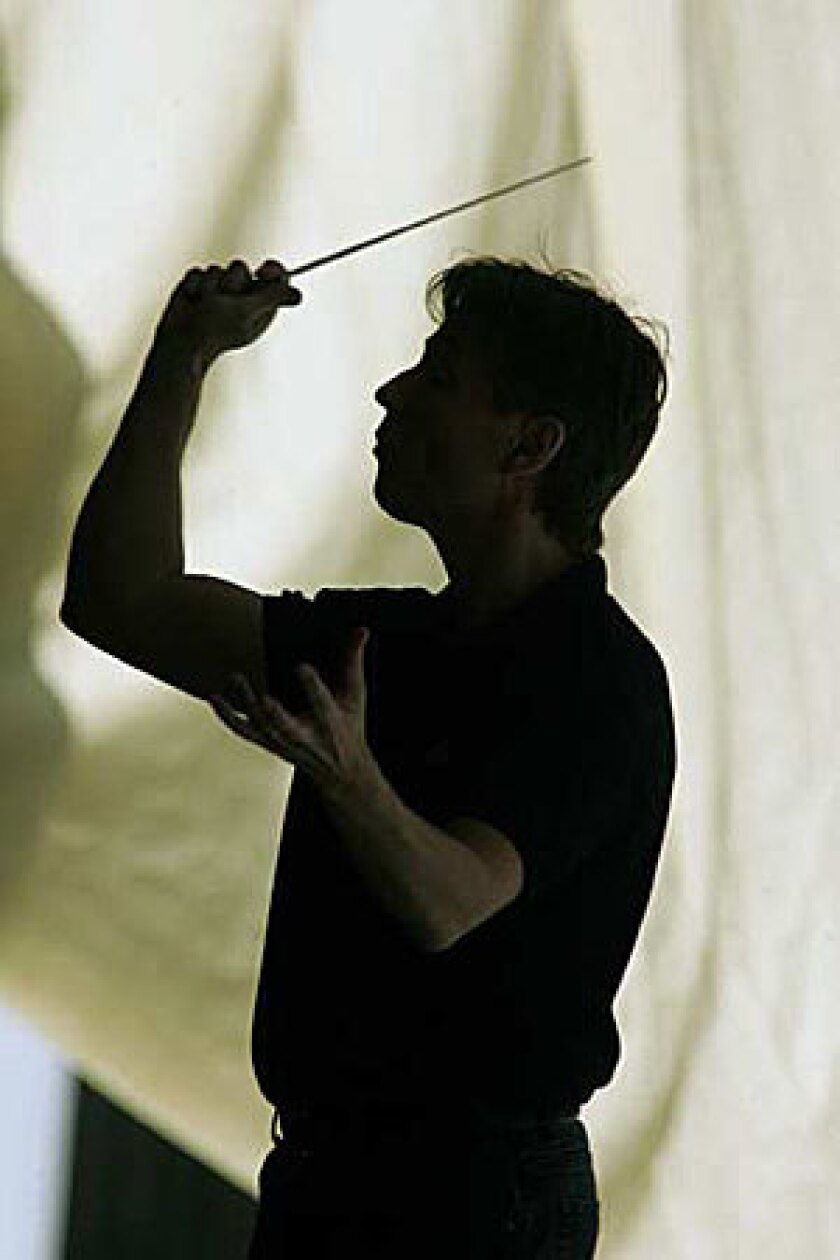 Los Angeles Times Music Critic
Immediately after conducting the last Los Angeles Philharmonic concert of the 2007-08 season in June, music director Esa-Pekka Salonen took off for Stockholm, where the Swedish Radio Orchestra celebrated his 50th birthday with an affectionately screwball gala. Next he visited his country home in his native Finland, where he composes and recharges. In August, he went to the Finnish capital to conduct at the Helsinki Festival, which he once headed, and then back to Stockholm to do the same at the Baltic Sea Festival, which he started six years ago to increase awareness of environmental issues through music. That was followed by his Vienna Philharmonic debut at the Salzburg Festival in Austria.
A major figure in Scandinavia, a conductor and composer in demand throughout the world who keeps places in London, Finland and Brentwood, Salonen greeted me at a casual cafe on San Vicente Boulevard early this month by saying that it was good to be home. Dressed in T-shirt, cargo shorts, sandals and sunglasses, he was eager to sit outside and soak up some sun.
"From the point of view of language," he said in his accented but sophisticated English, "Finland is home. But in every other way, L.A. is. Two of my kids were born here, and I have to say we have had a very good life here."
But come April, Salonen will relinquish one of his L.A. residences. He's staying in Brentwood, where he lives with his English-born wife and three children, but he is giving up his artistic home at Walt Disney Concert Hall. His 17th season as Philharmonic music director, which begins Thursday, will be his last. For all the anticipation over the young Venezuelan superstar Gustavo Dudamel, who will be taking over a year from now, this will be a bittersweet season at the symphony.
Salonen has altered Los Angeles. Los Angeles has altered him. But the equation is complex. "It is very hard to say what exactly has occurred," he said after a pause, "because the goal posts all have changed. I have changed. The orchestra has changed. The world has changed. And all of this has happened on several levels."
There can be little doubt that Salonen, who has made the Philharmonic an international model for the modern symphony orchestra, has grown artistically, as well as in prominence, in ways no one would have predicted. Not least himself. But in fact, one man did predict that Salonen was fated for L.A.
In 1983, an unknown, boyish-looking 25-year-old composer with long hair (who took up conducting because somebody had to perform his and his friends' music) was called to London at the last minute to replace an indisposed Michael Tilson Thomas in Mahler's Third Symphony with the Philharmonia Orchestra. Salonen learned the score practically overnight and proved a sensation.
Ernest Fleischmann, then executive director of the Los Angeles Philharmonic, was there and immediately signed him to make his U.S. debut at the Music Center the following year.
"More or less the first thing he said was, 'You know, I have a feeling that you would be a very good match with this orchestra in L.A. Shall we pursue that?' " Salonen recalled. "And I said, 'What do you mean exactly?' "
Initial intrigue
Carlo Maria Giulini, the orchestra's beloved Italian music director, was retiring, and Fleischmann told Salonen that he was engaged in a music director search.
"I thought, 'This is the most ridiculous thing I've heard in my life,' " Salonen continued. " 'What does he smoke? You know he's from California, so he must be on something.' "
But Salonen was intrigued. He had never been to America. His first concert with the Philharmonic was in the Dorothy Chandler Pavilion on Nov. 29, 1984. By then, André Previn was music director-designate.
"I had no idea what to expect," Salonen said. "But the one thing that I didn't expect was when an older player came to talk to me after the first concert and said, 'Consider this your future home.'
"Something was going on, because I felt the same. I sensed with an absolute certainty that this orchestra, in whatever way, was going to be a very important part of my life. Always."
Salonen returned yearly after that. Meanwhile, relations between Previn and the management cooled, and Fleischmann clearly began to feel that he had been right about Salonen. At one point, he offered to appoint him principal guest conductor and invited him to take the Philharmonic on a European tour. Not consulted in either decision, Previn balked.
"André was very civil," Salonen said of the meeting they had when Salonen came to town for a news conference. "But under the circumstances, he told me he couldn't accept the appointment."
It was Salonen who had inadvertently blurted out news of the tour to Previn. "So that was that," Salonen said. "I completely understood and went back to Finland straightaway." A few months later, a letter came from the Philharmonic inviting Salonen to be the orchestra's next music director. Previn had resigned.
Salonen does not think that his attitude when he took over the orchestra was arrogant, but it was European. "I was searching for a cohesive identity to the orchestra and wanted to create a modern concept for an institution that was already on a very high level -- on most days," he explained.
"And it took me a couple of years, to be honest, to actually figure out that I was not in Europe, that this really is a different country, a different culture, and L.A., especially, is a different place.
"I think for me the moment of enlightenment happened when I finally understood that what I have to do is to create an identity for the orchestra that is typical of this place and this time rather than try to import a concept from somewhere else."
'A little too severe'
THE appointment of Salonen was a gamble. He was seen by some critics as flashy, cold, analytical, inexperienced in the standard repertory. The traditional Philharmonic audience fretted about the amount of new music suddenly on the programs at subscription concerts. And once the Hollywood celebrity machine got wind of a sexy young conductor, there was no telling where that could lead.
"I thought that the biggest risk for me would be to be sucked into this celebrity culture," Salonen admitted, "so I might have been a little too severe in the beginning.
"But there were some really annoying moments, like when 'The Tonight Show' sent a talent scout to my concerts. She had never been to a classical music concert in her life and looked it. So I never appeared on Johnny Carson." Nor would he entertain a request from People magazine to be included on its list of the 50 sexiest people on the planet.
As things turned out, a good deal of Salonen's West Coast education was as a composer. When he arrived in Los Angeles, he still liked to consider himself a composer-conductor, but the truth was that he had stopped writing music.
"The obvious and easy explanation for me to give to people when they were asking why there hadn't been any new pieces for a while was that I had been conducting so much, I had no time," he said. "But that was only half the explanation."
As a European Modernist, Salonen said, he had been inculcated with negatives, such as to avoid melody, harmonic identity and rhythmic pulse. Secretly, though, he was attracted to John Adams, who was then dismissed overseas as being simplistic.
"Only after a couple of years here did I begin to see that the European canon I blindly accepted was not the only truth," he said. "Over here, I was able to think about this rule that forbids melody. It's madness. Madness!"
Without a European musical elite looking over his shoulder, Salonen began to feel that it was fine to have his own ideas. "My focus moved from an ideological principle to a pleasure principle" is how he described the composition of his breakthrough piece, "LA Variations," which the Philharmonic premiered in 1997.
Although a work of great intricacy and virtuosity that doesn't ignore Salonen's Modernist training, "LA Variations" builds on rhythmic innovations closer to Adams. The piece proved an immediate hit, so much so that Salonen was stunned by the reaction and then by the score's continuing success -- it has been taken up by several other conductors and had more than 80 performances worldwide.
" 'LA Variations' was meant as a completely local thing," he explained. "A local guy -- a new local guy but a local guy nevertheless -- writing a piece for the local band for the local audience. That was the deal."
Salonen's legacy is large. The orchestra was very good when he arrived and sometimes great. It is now regularly great. He has hired more than half its current roster of players.
But closest to his heart are the big projects that have helped define the institution as a world leader. A festival of the modern Hungarian composer György Ligeti's works proved that the orchestra could attract enthusiastic crowds for vital new music. A riveting performance of Stravinsky's "Rite of Spring" played in an acoustically lively concert hall in Paris during a Philharmonic tour in 1996 stimulated board members and donors to finally get serious about making Disney Hall -- which few thought would actually get built after more than a decade of stalling -- a reality.
Bold inspiration
His greatest satisfaction, Salonen said, has come from the orchestra's Stravinsky, Schoenberg and Beethoven festivals and its collaboration with video artist Bill Viola and director Peter Sellars on the groundbreaking presentation of Wagner's "Tristan and Isolde" known as "The Tristan Project." "When there's a very clear focus, then you can dig deeper and deeper," he noted.
Frank Gehry's landmark, 5-year-old Disney Hall has also inspired Salonen to take chances, to make his boldest attempts to create that cohesive unity within a modern orchestra that he set out to achieve, serving both tradition and the present.
He called Green Umbrella, the Philharmonic's new music series, one of its "great victories." The series, which began before he arrived, had never made any money. For a couple of seasons, Salonen, Fleischmann and current Philharmonic President Deborah Borda had to finance the concerts out of their own pockets, but Salonen persisted in cultivating an audience. Now, in Disney, new music is so popular that 1,500 people or more are not unusual for a program even of composers few in the audience may have heard of.
Salonen won't be around in November 2009 to celebrate the 25th anniversary of his Philharmonic debut. "I'm going to give it a short break. I think that it's important for Gustavo to get going without the old guy hanging around too much and all that."
Still, he said he is already in discussions with Borda about projects he might undertake in Los Angeles. He said he would love to collaborate on something with Gehry. Opera too will play a larger role in his career, now that he will have more time for it. Next season, he will conduct Janácek's "House of the Dead" at the Metropolitan Opera and La Scala. This month he began a new post in London as music director of the Philharmonia, but his responsibilities will not be nearly so great as they've been in Los Angeles. He will concentrate on special events and festivals.
Perhaps it's a gloomy Scandinavian thing -- turning 50 is known in the region as "the little death" -- but Salonen, who still looks younger than his age and conducts with the energy of a young man, talks a lot about getting old. He mentions wanting to conduct Wagner's "Parsifal" and write his long-planned opera based on Peter Hoeg's novel "The Woman and the Ape" while he still has time. He said he turned down a tempting offer to conduct Wagner's "Ring" cycle at the composer's theater in Bayreuth, Germany, because life is too short for such a commitment.
He's even become amusingly self-deprecatory about his supposed lost youth. "I have to say that if today People magazine wanted to include me as one the 50 most beautiful people on the planet," he said with a laugh, "I would have a totally different point of view at 50 than I had at 32. I'd be totally willing to negotiate."
---
Inside the business of entertainment
The Wide Shot brings you news, analysis and insights on everything from streaming wars to production — and what it all means for the future.
You may occasionally receive promotional content from the Los Angeles Times.