Animation: Chris Miller, 'Puss in Boots'
A grocery bagger going nowhere in a small town discovers that his strait-laced parents used to be adult-film stars and heads to Los Angeles to follow in their footsteps. With Nick Swardson,
Christina Ricci
,
Don Johnson
and
Stephen Dorff
. Written by Swardson,
Adam Sandler
and Allen Covert. Directed by Tom Brady. Columbia Pictures
(John Ales / Columbia TriStar)
When a lethal airborne virus causes a pandemic, the medical community races to find a cure as ordinary people struggle to survive in an unraveling society. With
Marion Cotillard
,
Matt Damon
,
Laurence Fishburne
and
Jude Law
. Written by Scott Z. Burns. Directed by
Steven Soderbergh
. In Imax.
Warner Bros. Pictures
(Claudette Barius / Claudette Barius)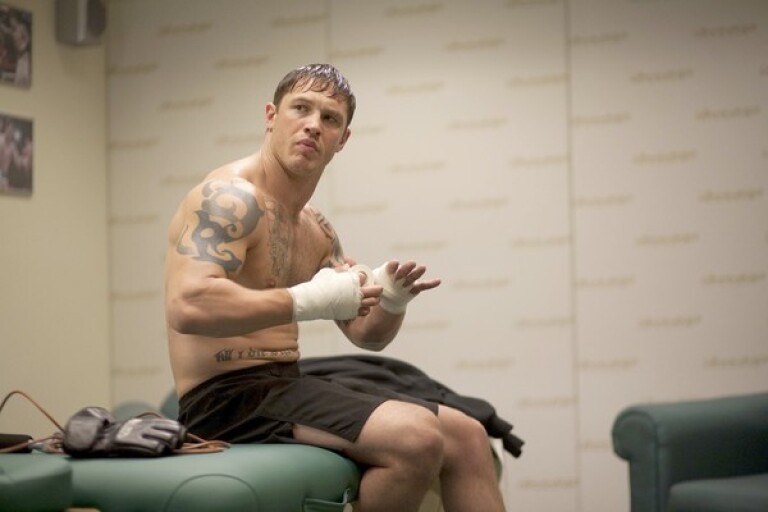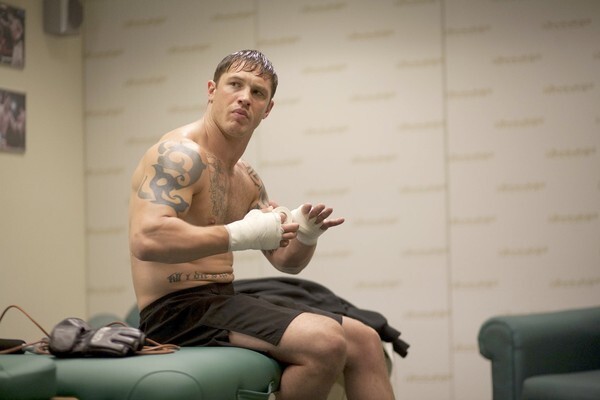 Warrior Two estranged brothers — a Marine with a tragic past and a physics teacher struggling to support his family — meet in the ring at a mixed martial arts tournament. With Joel Edgerton, Tom Hardy, Jennifer Morrison and
Nick Nolte
. Written by Gavin O'Connor, Anthony Tambakis and Cliff Dorfman. Directed by O'Connor. Lionsgate
(Chuck Zlotnick / Lionsgate)
With their 20th anniversary approaching, a Berlin couple meet and fall for the same young man. With Sophie Rois, Sebastian Schipper and Devid Striesow. Written and directed by Tom Tykwer. In German with English subtitles. Strand Releasing
(Strand Releasing)
A stunt driver for Hollywood movies who moonlights as a wheelman for robberies must use his skills behind the wheel to protect the woman he loves. With
Ryan Gosling
,
Carey Mulligan
, Bryan Cranston and Christina Hendricks. Written by Hossein Amini. Directed by Nicolas Winding Refn. FilmDistrict
(Richard Foreman / FilmDistrict and OddLot Entertainment)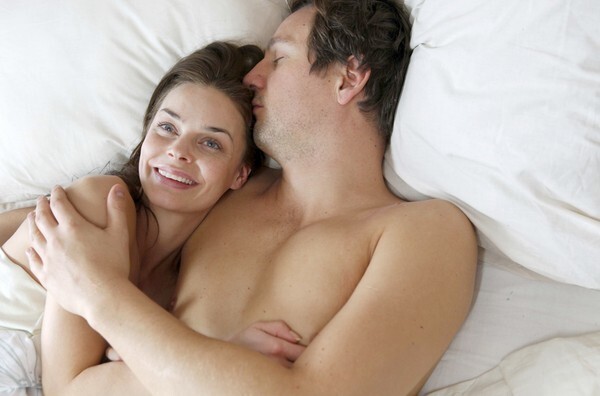 A tirelessly optimistic housewife in a frigid marriage tries to keep her emotions in check when a seemingly perfect couple move in next door. With Agnes Kittelsen, Joachim Rafaelsen and Maibritt Saerens. Written by Ragnhild Tronvoll. Directed by Anne Sewitsky. In Norwegian with English subtitles. Magnolia Pictures
(Magnolia Pictures)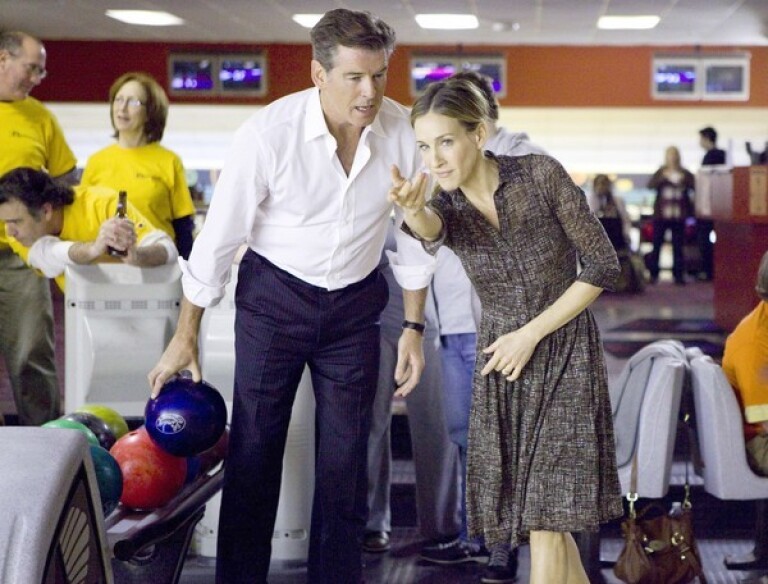 A financial executive tries to balance her marriage to a recently laid-off architect, her two young children and her high-stress job. With
Sarah Jessica Parker
,
Pierce Brosnan
,
Olivia Munn
and
Greg Kinnear
. Written by Aline Brosh McKenna. Directed by Douglas McGrath. Weinstein Co.
(Craig Blankenhorn / The Weinstein Company)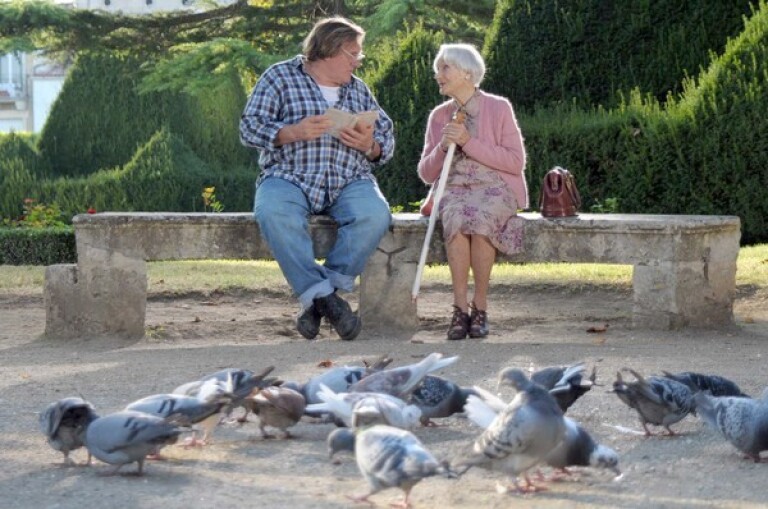 A semiliterate 50-something in a provincial French village strikes up an improbable friendship with an elderly woman with a passion for literature. With
Gerard Depardieu
and Gisele Casadesus. Written by Jean Becker and Jean-Loup Dabadie. Directed by Becker. In French with English subtitles. Cohen Media Group
(Cohen Media Group)
A somber young man who has recently lost his parents in an accident meets and falls for a charming young woman with terminal cancer. With Henry Hopper,
Mia Wasikowska
, Ryo Kase and Schuyler Fisk. Written by Jason Lew. Directed by
Gus Van Sant
.
Sony Pictures
Classics
(Scott Green / Sony Pictures Classics)
When a Hollywood screenwriter and his actress wife return to her small hometown in the South to prepare the family home for sale after her father's death, tensions build in their marriage and old conflicts with the locals reemerge. With James Marsden,
Kate Bosworth
,
Alexander Skarsgård
and Dominic Purcell. Written and directed by Rod Lurie. Screen Gems
(Steve Dietl / Screen Gems)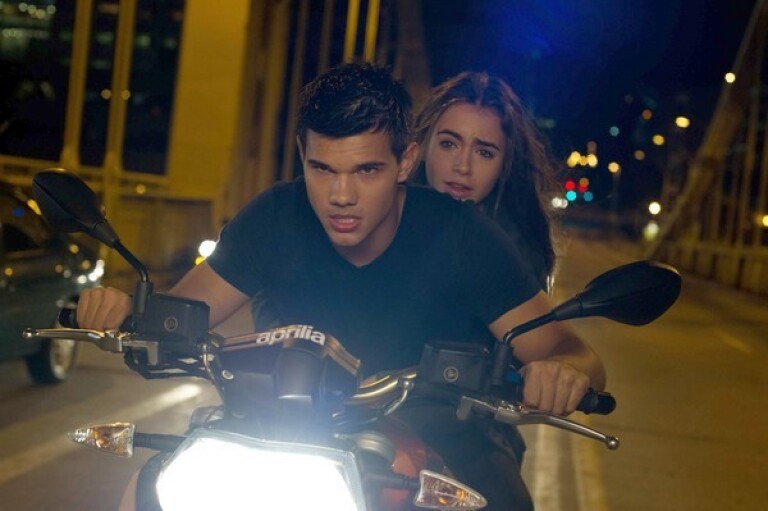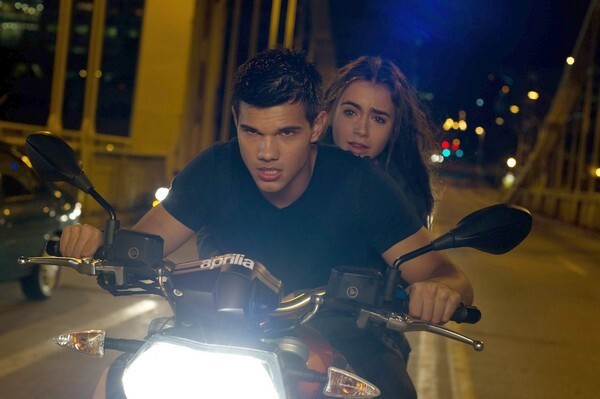 A young man who has always felt disconnected from his life begins to piece together his true identity, but he is soon targeted by assassins and must fight to survive. With
Taylor Lautner
, Lily Collins,
Alfred Molina
and
Jason Isaacs
. Written by Shawn Christensen. Directed by
John Singleton
. Lionsgate.
(Bruce Talamon / Lionsgate)
This
documentary
about the black-power movement in the U.S. combines archival footage shot by Swedish journalists in the 1960s and '70s with audio interviews of contemporary black artists and activists. With
Stokely Carmichael
, Bobby Seale and Angela Davis. Directed by Goran Hugo Olsson.
Sundance
Selects.
(Sundance Selects)
A dolphin whose tail is damaged in a crab trap is rescued and rehabilitated by a marine biologist, a prosthetics doctor and a young boy. With
Morgan Freeman
,
Harry Connick Jr.
,
Ashley Judd
and
Kris Kristofferson
. Written by Karen Janszen and Noam Dromi. Directed by Charles Martin Smith. In 3-D.
Warner Bros. Pictures
.
(Warner Bros.)
An ex-special-ops agent is lured out of retirement to rescue his mentor, which will require him to take on a group of assassins. With Jason Statham, Clive Owen,
Robert De Niro
and Yvonne Strahovski. Written by Gary McKendry and Mett Sherring. Directed by McKendry. Open Road Films.
(Dan Smith)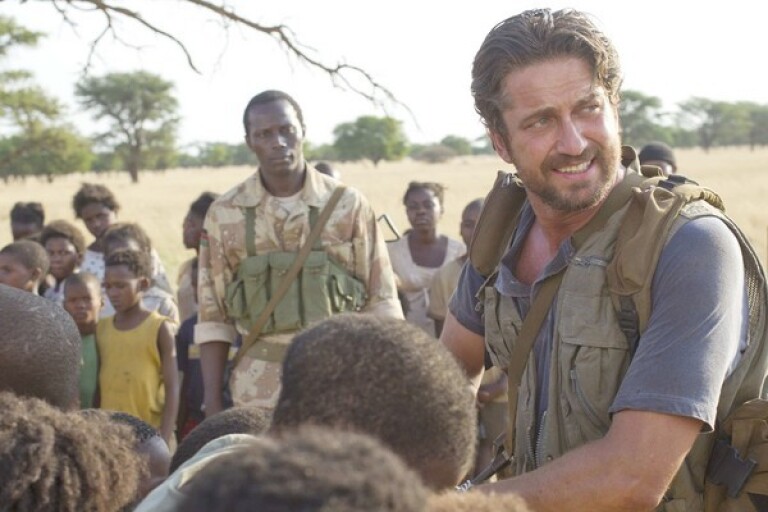 A former drug dealer becomes a minister and establishes an orphanage for refugee child soldiers in Sudan. With
Gerard Butler
, Michelle Monaghan, Kathy Baker and
Michael Shannon
. Written by Jason Keller. Directed by Marc Forster. Relativity Media.
(Phil Bray)
The general manager of a cash-strapped professional baseball team uses advanced new statistical tools to try to field a competitive squad on a budget, but his nontraditional approach doesn't always go over well with the old guard. With
Brad Pitt
,
Jonah Hill
and
Philip Seymour Hoffman
. Written by Steven Zaillian and Aaron Sorkin. Directed by
Bennett Miller
. Columbia Pictures.
(Melinda Sue Gordon)
This
documentary
portrait of the alternative-rock band
Pearl Jam
marks the group's 20th anniversary and includes archival footage, interviews and recent concert material. With Jeff Ament,
Stone Gossard
, Mike McCready and Eddie Vedder. Directed by
Cameron Crowe
. Abramorama.
(Abramorama)
Two small-time lawyers — a functioning drug addict and his by-the-book partner — take on a case that has them challenging the pharmaceutical industry. With Chris Evans, Mark Kassen, Vinessa Shaw and Jesse L. Martin. Written by Chris Lopata. Directed by Adam Kassen and Mark Kassen. Millennium Entertainment.
(Millennium Entertainment)
A high-powered New York publisher quits his job and moves his family to a quaint New England town, only to discover their new home was once a grisly murder scene, and they might be the killer's next targets. With Daniel Craig, Naomi Watts, Rachel Weisz and Marton Csokas. Written by David Loucka. Directed by Jim Sheridan. Universal Pictures.
(George Kraychyk / Universal Studios)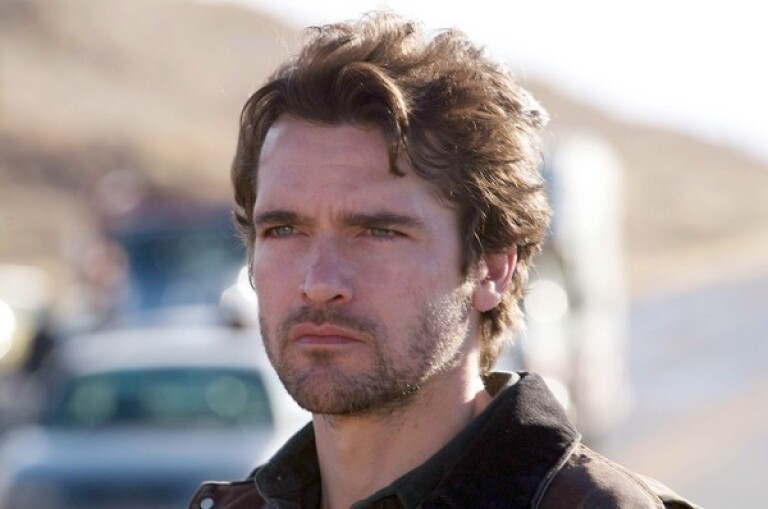 A Bird of the Air A loner working the graveyard shift for the courtesy patrol tries to track down the owner of a stray parrot and crosses paths with a free-spirited librarian. With Rachel Nichols and Jackson Hurst. Written by Roger Towne. Directed by Margaret Whitton. Paladin
(Richard Foreman, Jr. / Paladin)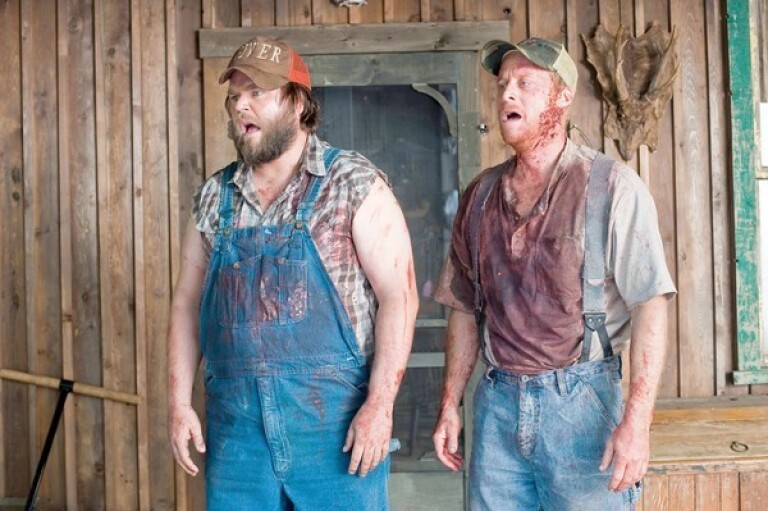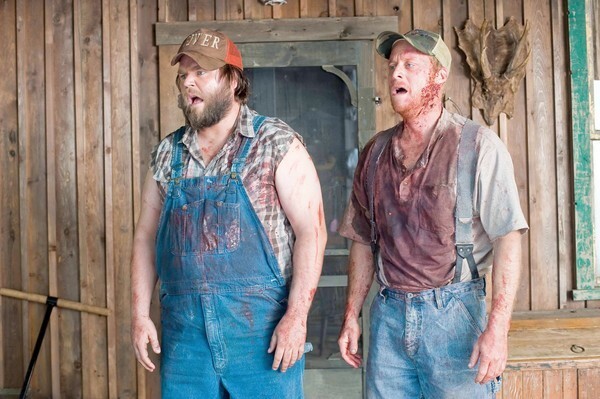 Two pals on vacation in the woods are mistaken for murderous hillbillies by a group of preppy college kids, with unfortunate results. With Alan Tudyk, Tyler Labine and Katrina Bowden. Written by Morgan Jurgenson and Eli Craig. Directed by Craig. Magnet Releasing
(Dan Power / Magnet Releasing)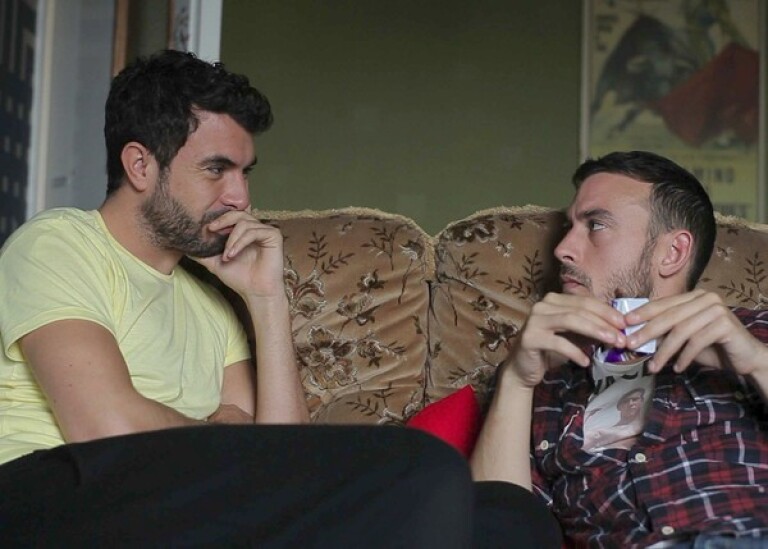 A presumed one-night stand between two men who meet in a nightclub turns into something more as they spend a weekend together. With Tom Cullen and Chris New. Written and directed by Andrew Haigh.
Sundance
Selects
(Quinnford & Scout / Sundance Selects)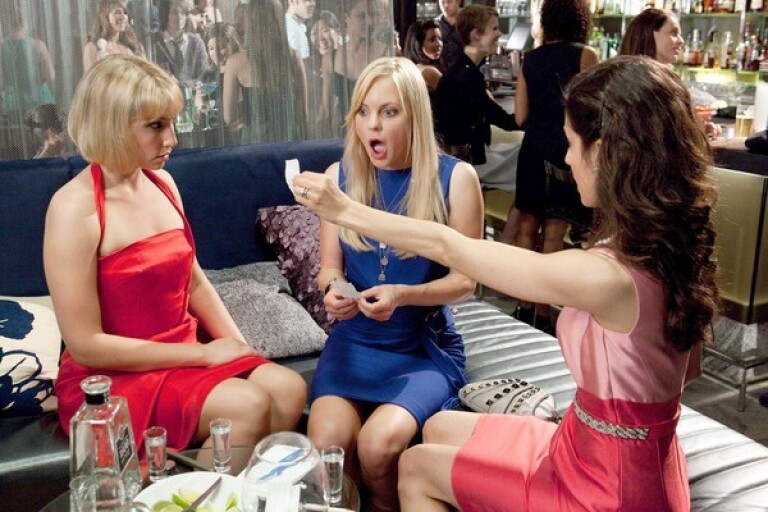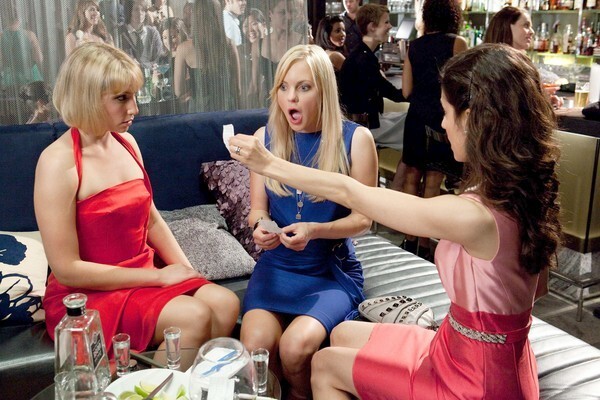 Fearing that she might have passed over her one true love, a woman looks back at the last 20 men with whom she's had relationships. With
Anna Faris
, Chris Evans, Zachary Quinto and Andy Samberg. Written by Gabrielle Allan and Jennifer Crittenden. Directed by Mark Mylod.
20th Century Fox
(Claire Folger / 20th Century Fox)
A father in a small
Ohio
town begins having nightmares about a violent storm and channels his anxiety into building a tornado shelter, but the strain begins affecting his marriage and his standing in the community. With
Michael Shannon
, Jessica Chastain,
Shea Whigham
and Katy Mixon. Written and directed by Jeff Nichols.
Sony Pictures
Classics
(Neil Moore and Adam Stone / Sony Pictures Classics)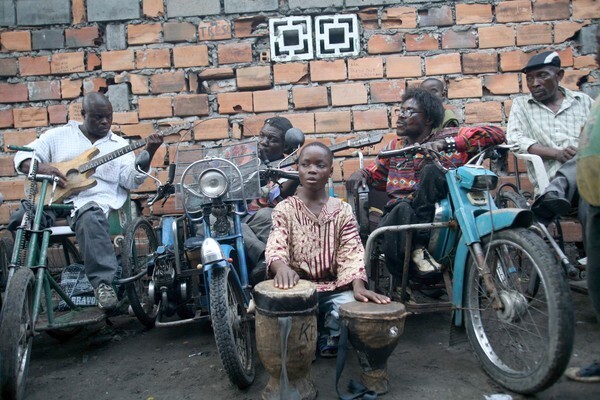 This
documentary
follows Staff Benda Bilili, a unique group of street musicians in Kinshasa, the capital of the turbulent Democratic Republic of Congo. Directed by Renaud Barret and Florent de La Tullaye. National Geographic Entertainment
(Enrico Dagnino / National Geographic Entertainment)
The notorious outlaw
Butch Cassidy
, having quietly survived a standoff with the Bolivian military years before, hopes to return home to the U.S. to see his family but gets caught up with an ambitious young criminal. With
Sam Shepard
, Eduardo Noriega,
Stephen Rea
and Magaly Solier. Written by Miguel Barros. Directed by Mateo Gil. Magnolia Pictures
(Magnolia Pictures)
Two high school misfits from troubled homes — a promiscuous girl with an absentee father and a closeted boy with a homophobic one — become friends and head west on a road trip. With Juno Temple, Jeremy Dozier,
Milla Jovovich
and
William H. Macy
. Written and directed by Abe Sylvia. Weinstein Co.
(David Moir / The Weinstein Company)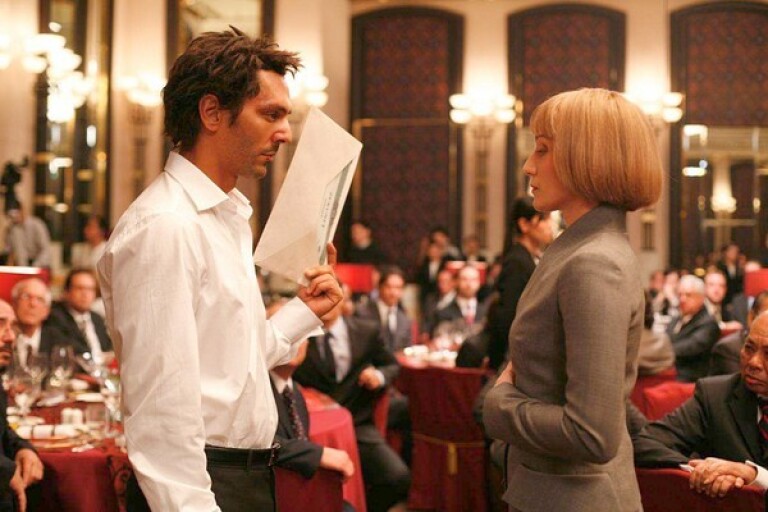 The adopted heir to an international corporation is set to take the reins after his father is murdered, but first he must deal with criminals and schemers. With Tomer Sisley,
Kristin Scott Thomas
and Miki Manojlovic. Written by Jerome Salle and Julien Rappeneau. Directed by Salle. In French, English and Serbo-Croatian, with English subtitles. Music Box Films
(Music Box Films)
In the hectic days before a tight Ohio presidential primary, an up-and-coming campaign press secretary becomes embroiled in a political scandal that threatens his candidate's shot at the presidency. With
Ryan Gosling
,
Philip Seymour Hoffman
,
Marisa Tomei
and
George Clooney
. Written by Clooney, Grant Heslov and Beau Willimon. Directed by Clooney. Columbia Pictures
(Saeed Adyani / Columbia Pictures)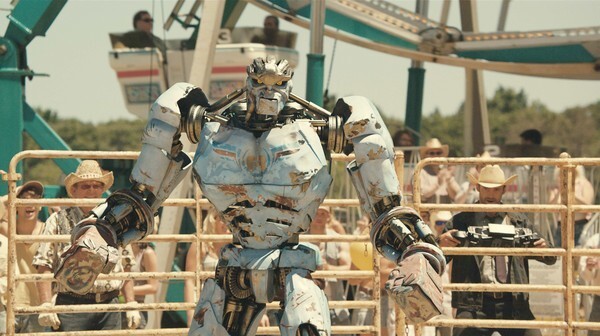 A washed-up ex-fighter gets one last shot at glory when he teams with his estranged son to build and train a contender in the new high-tech sport of robot boxing. With
Hugh Jackman
, Evangeline Lilly, Dakota Goyo and Anthony Mackie. Written by John Gatins. Directed by Shawn Levy. In Imax.
DreamWorks
Pictures
(DreamWorks)
This
documentary
tells the story of the Kashmere Stage Band, a high school funk group in Houston that gained national attention in the 1970s, and its reunion 35 years later. Directed by Mark Landsman. Roadside Attractions
(Kashmere Stage Band Archive)
An American doctor travels to France to collect the remains of his adult son, who died while making a pilgrimage along the Camino de Santiago, and then takes up the journey himself. With
Martin Sheen
,
Emilio Estevez
, Deborah Kara Unger and Yorick Van Wageningen. Written and directed by Estevez. Producers Distribution Agency/Arc Entertainment
(David Alexanian)
In 1960s Paris, a bourgeois stockbroker befriends the lively Spanish maids who work in his building and broaden his horizons. With Fabrice Luchini, Sandrine Kiberlain and Natalia Verbeke. Written by Jean-Philippe Le Guay and Jerome Tonerre. Directed by Le Guay. In French and Spanish, with English subtitles. Strand Releasing
(Strand Releasing)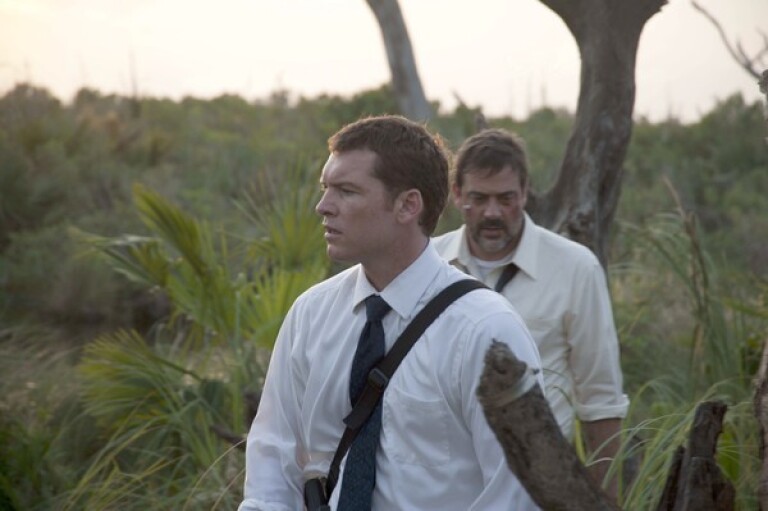 In a small
Texas
town, a local homicide detective and his partner, a transplanted cop from
New York
, track a sadistic serial killer who begins taunting them. With
Chloe Moretz
,
Sam Worthington
and
Jeffrey Dean Morgan
. Written by Donald F. Ferrarone. Directed by Ami Canaan Mann. Anchor Bay Films
(Gusmano Cesaretti / Anchor Bay Films)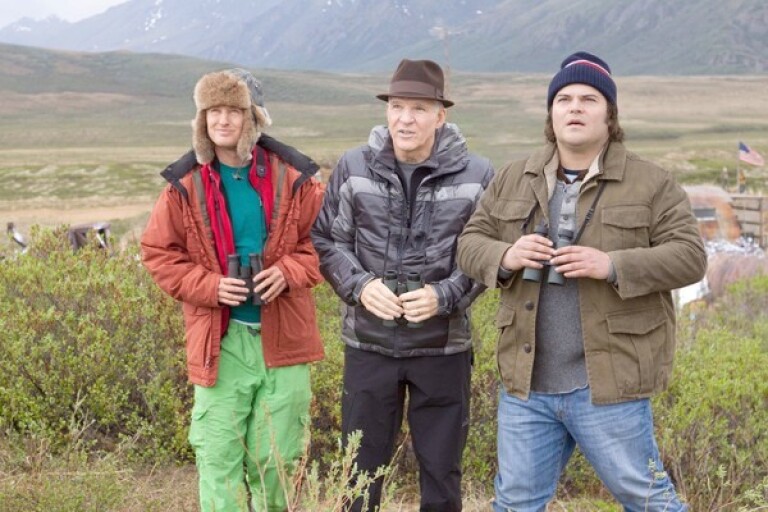 Three bird watchers engage in a fierce competition to see who can spot the most specimens. With
Steve Martin
,
Jack Black
and Owen Wilson. Written by Howard Franklin. Directed by David Frankel.
20th Century Fox
(Murray Close)
An infomercial guru who has lost everything and served eight years in prison because of a malfunctioning product tries to reinvent himself and reconcile with his estranged daughter. With
Kevin Spacey
, Virginia Madsen, Craig Robinson and Camilla Belle. Written by Jonathan D. Krane and Trent Cooper. Directed by Cooper. Anchor Bay Films
(Patti Perfect / Anchor Bay Films)
When a seemingly ordinary, happy Midwestern family suffers a tragic loss, its members try to cope and must confront long-simmering tensions. With
Julia Roberts
,
Ryan Reynolds
,
Willem Dafoe
and Emily Watson. Written and directed by Dennis Lee.
(Van Redin / Senator Entertainment)
A city boy shakes up an uptight Southern town that has banned dancing and rock music in this remake of the 1984 film of the same name. With Kenny Wormald, Julianne Hough,
Andie MacDowell
and
Dennis Quaid
. Written by Dean Pitchford and Craig Brewer. Directed by Brewer. Paramount Pictures
(K.C. Bailey / Paramount Pictures)
Twelve years after his wife was severely burned in a car crash, a prestigious plastic surgeon has taken obsessive and unscrupulous measures to cultivate a resilient artificial skin. With
Antonio Banderas
, Elena Anaya, Marisa Paredes and Jan Cornet. Written and directed by
Pedro Almodovar
. In Spanish with English subtitles.
Sony Pictures
Classics
(Jos· Haro / El Deseo / Sony Pictures Classics.)
This
documentary
follows a company of U.S. Marines as they battle the Taliban in Afghanistan and then focuses on a 25-year-old sergeant as he returns home after being wounded and tries to readjust to civilian life. Directed by Danfung Dennis. In English and Pashtu with English subtitles. Docurama Films
(Docuweeks LA)
An alien creature thought to be deceased is excavated in an isolated outpost on Antarctica, where it awakens and begins killing off the researchers stationed there. With Mary Elizabeth Winstead, Joel Edgerton, Adewale Akinnuoye-Agbaje and Ulrich Thomsen. Written by Eric Heisserer. Directed by Matthijs van Heijningen. Universal Pictures
(Kerry Hayes / Universal Pictures)
A
documentary exploring the career
of the Los Angeles-based black punk band Fishbone. With Angelo Moore and Norwood Fisher. Narrated by
Laurence Fishburne
. Directed by Lev Anderson and Chris Metzler. Pale Griot Film
(Ann Summa / Los Angeles Film Festival)
In the early stages of the 2008 financial crisis, a low-level analyst discovers information that could lead to his firm's downfall and sets off a tense chain reaction. With
Kevin Spacey
,
Paul Bettany
,
Jeremy Irons
and Zachary Quinto, above. Written and directed by J.C. Chandor. Lionsgate/Roadside Attractions
(Jojo Whilden / Roadside Attractions)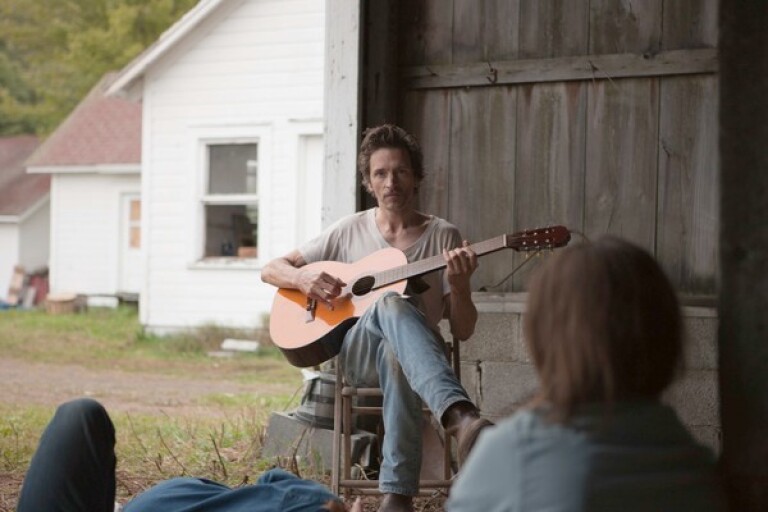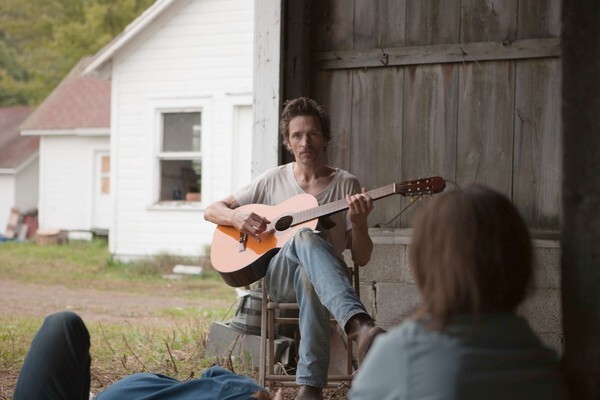 A young woman who has recently fled an abusive cult struggles to re-integrate with her family. With Elizabeth Olsen,
John Hawkes
, above, Hugh Dancy and Sarah Paulson. Written and directed by Sean Durkin. Fox Searchlight Pictures
(Jody Lee Lipes / 20th Century Fox)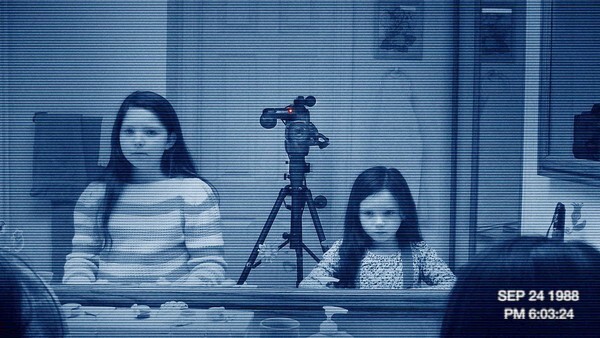 A mysterious evil presence haunts a family. Written by Christopher B. Landon. Directed by Ariel Schulman and Henry Joost. Paramount Pictures
(Paramount Pictures)
A headstrong young warrior joins three veteran musketeers to thwart an evil cardinal who is plotting to seize the French throne. With Ray Stevenson, Matthew MacFadyen, Luke Evans and
Logan Lerman
, pictured from left to right. Written by Andrew Davies and Alex Litvak. Directed by Paul W.S. Anderson. In 3-D. Summit Entertainment
(Rolf Konow / Summit Entertainment)
A failed thoroughbred horse trainer's last, best shot at success involves hiring his erratic ex-girlfriend as his jockey. With
Sean Astin
, pictured right, Cheri Oteri, left, Mark Moses and Gigi Rice. Written by Alan Grossbard. Directed by Rob Schiller. Kinobild Releasing
(Kinobild Releasing)
In Elizabethan England, intrigue swirls around Edward de Vere, the Earl of Oxford, who in this film is the true author of Shakespeare's oeuvre. With
Rhys Ifans
, pictured right,
Vanessa Redgrave
, left, Joely Richardson and David Thewlis. Written by John Orloff. Directed by
Roland Emmerich
. Columbia Pictures
(Reiner Bajo / Columbia TriStar)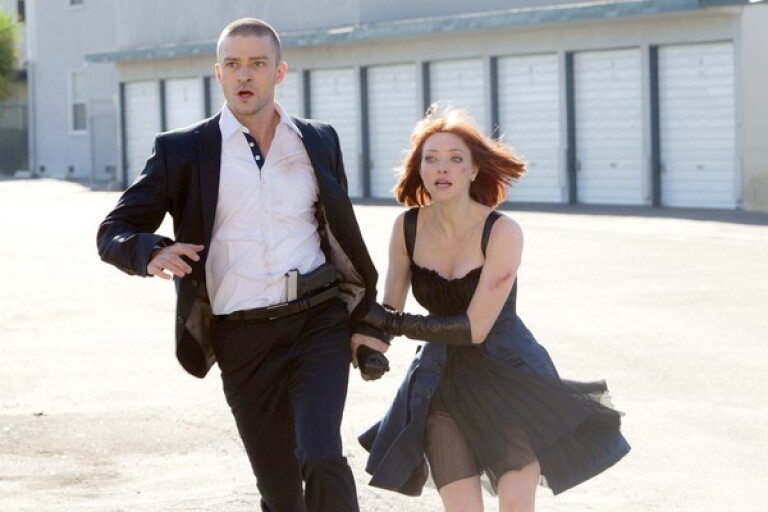 In a future in which time is the universal currency and the wealthy live forever, a poor young man stumbles into a fortune but is falsely accused of murder and tries to bring down the system. With
Justin Timberlake
,
Amanda Seyfried
, Cillian Murphy and Vincent Kartheiser. Written and directed by Andrew Niccol.
20th Century Fox
(Stephen Vaughan / 20th Century Fox)
A struggling rock musician is surprised by the sudden appearance of the 13-year-old daughter he never knew he had. With
Abigail Breslin
, pictured left, Alessandro Nivola, right, Elizabeth Shue and Brittany Snow. Written and directed by David M. Rosenthal.
Tribeca
Film
(Dean Williams / Tribeca Film)
A bumbling British secret agent is called on to stop international assassins from taking out a world leader. With
Rowan Atkinson
,
Gillian Anderson
,
Dominic West
and Rosamund Pike. Written by Hamish McColl and William Davies. Directed by Oliver Parker. Universal Pictures
(Giles Keyte / Universal Pictures)
A British college student and her American classmate fall in love, only to be separated when her student visa expires. With Anton Yelchin, Felicity Jones, Jennifer Lawrence and Charlie Bewley. Written by Drake Doremus and Ben York Jones. Directed by Doremus. Paramount Pictures
(Fred Hayes / Paramount Pictures)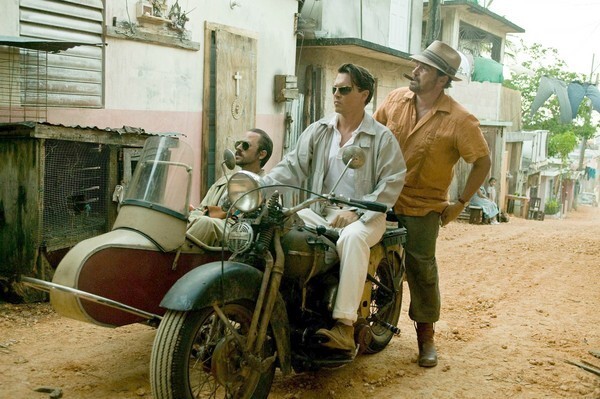 In "The Rum Diary," based on Hunter S. Thompson's novel, Johnny Depp (above, driving, with Giovanni Ribisi and Michael Rispoli) plays an itinerant journalist who leaves New York to write for a newspaper in Puerto Rico, where he drinks heavily and gets mixed up with a beautiful woman.
(Peter Mountain / Film District)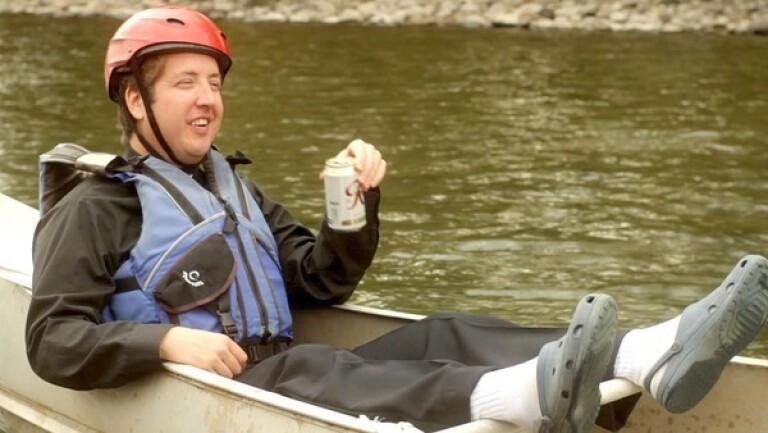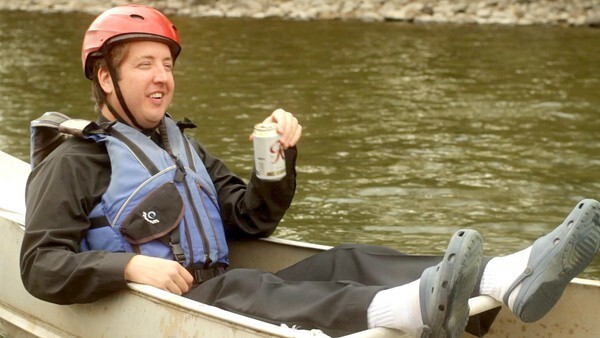 An eccentric young priest forced to take a sabbatical by his superiors persuades his high school idol to go on a canoe trip with him. With Steve Little and Robert Longstreet. Written and directed by Todd Rohal. IFC Midnight
(IFC Midnight)
This
documentary
tells the story of the man behind Elmo, the beloved red monster on "Sesame Street." With Kevin Clash. Narrated by
Whoopi Goldberg
. Directed by Constance Marks. Submarine Deluxe
(Constance Marks Productions)
During the filming of "The Prince and the Showgirl" in 1956, a young British assistant introduces the actress
Marilyn Monroe
to some of the charms of British life and helps her escape the pressures of Hollywood. With
Michelle Williams
, Eddie Redmayne,
Kenneth Branagh
and
Judi Dench
. Written by Adrian Hodges. Directed by Simon Curtis. Weinstein Co.
(Laurence Cendrowic / The Weinstein Company)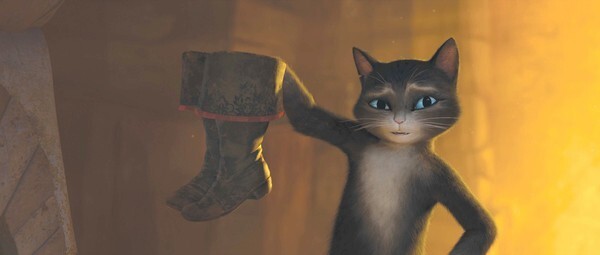 The eponymous swashbuckling cat embarks on adventures with Humpty Dumpty in this spinoff prequel to the "
Shrek
" series of animated films. With the voices of
Antonio Banderas
,
Salma Hayek
,
Zach Galifianakis
and
Billy Bob Thornton
. Written by Tom Wheeler. Directed by Chris Miller. In Imax 3-D. Paramount Pictures
(DreamWorks Animation)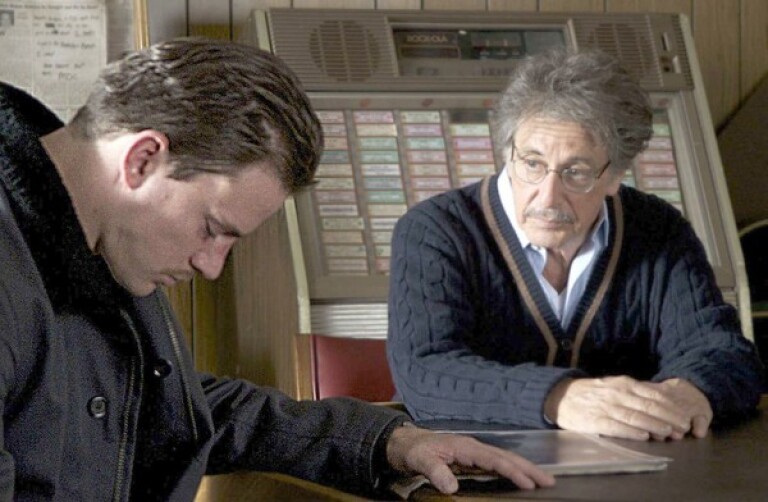 A young police officer in
Queens
, N.Y., works hard to provide for his wife and ailing daughter, but a dark secret from his past threatens their fragile existence. With
Channing Tatum
,
Katie Holmes
,
Al Pacino
and Ray Liotta. Written and directed by Dito Montiel. Anchor Bay Films
(Phil Caruso / Anchor Bay Films)
After the staff at an upscale
Central Park
condo discover that the billionaire in the penthouse has stolen their retirement money, they conspire to take back what's theirs. With
Ben Stiller
, Eddie Murphy,
Casey Affleck
and Téa Leoni. Written by Ted Griffin and Jeff Nathanson. Directed by
Brett Ratner
. Universal Pictures.
(David Lee / Universal Pictures)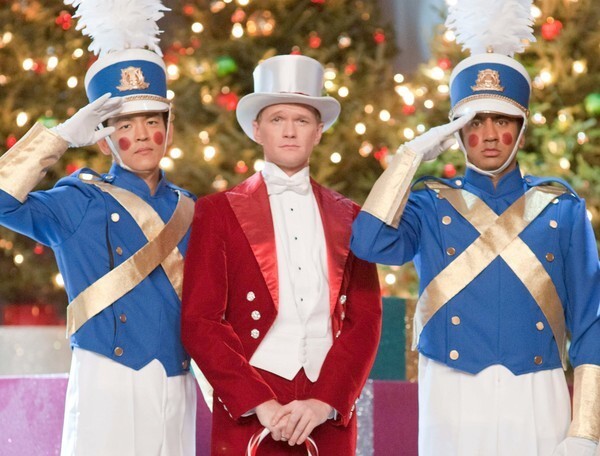 The arrival of a mysterious package on Christmas Eve leads to stoner pals Harold and Kumar reuniting six years after their last misadventure to embark on an ill-advised journey through
New York City
. With John Cho,
Kal Penn
, Paula Garces and Danneel Harris. Written by Jon Hurwitz and Hayden Schlossberg. Directed by Todd Strauss-Schulson. In 3-D. New Line Cinema
(Darren Michaels / Warner Bros.)
Puss in Boots, that suavest of swashbuckling cats, surely had a life of adventure before hooking up with Shrek and Donkey and the gang. DreamWorks Animation and director Chris Miller certainly thought so.
With that premise in mind, "Puss in Boots," a "Shrek" prequel with Antonio Banderas returning as the voice of the sexy but manipulative tabby, hits theaters Nov. 4.
In this adventure, Puss reunites with his old friend Humpty Dumpty and joins a feisty young feline named Kitty Softpaws to save the world from the murderous outlaws Jack and Jill.
"It is not a send-up of fairy tales," says Miller, who wrote and co-directed "Shrek the Third." "Our approach was, you thought you knew how all of those fairy stories went, but they went this way. Then from there, let's make sure the characters are driving the comedy and story, steer away from the popular culture references and make it a real character piece."
But even with those guidelines, the "Puss" team got a little stumped in shaping the movie — until Guillermo del Toro ("Pan's Labyrinth," "Hellboy") joined the team as an executive producer. "Guillermo was a gift to us," Miller says. "The film had been coming together in this great way, but we had hit that point where in a weird way we had taken it as far as we could. We needed someone to liberate us creatively and sort of shake the tree. He expanded the way we saw the film at the perfect time in the process. He's been just a gift for us."
---
Inside the business of entertainment
The Wide Shot brings you news, analysis and insights on everything from streaming wars to production — and what it all means for the future.
You may occasionally receive promotional content from the Los Angeles Times.