Bike Night at the Hammer Museum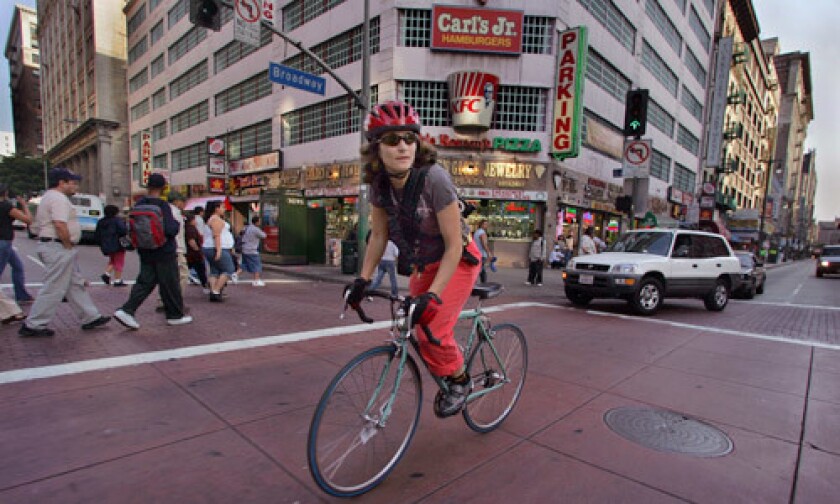 It takes a certain kind of courage to hop on a bike and traverse a city teeming with SUVs. It takes a different kind to wear a sweater, of your own design, bearing images of fetuses, the number 8 and the phrase "Marriage for ALL/Octuplets for NONE." Welcome to the life of Lisa Anne Auerbach.
The textile artist, photographer and bicycle advocate is one of nine Angelenos on the roster of the Hammer Museum's current show "Nine Lives: Visionary Artists From L.A." She shares the bill with contemporary luminaries such as Charlie White, Kaari Upson and Victoria Reynolds.
Auerbach's contributions to the show include what she jokingly refers to as a "forest of knitwear": a room full of her intricately woven art sweaters, each delivering a social or political statement, such as her 9-11 sweaterfest or a pullover woven with the words "Thank God I'm an atheist."
As part of her inclusion in the "Nine Lives" exhibit, the artist teamed up with the Hammer to create a bike-centric night this Thursday. The evening event features a screening of the 1979 Peter Yates film "Breaking Away," which Auerbach had seen as a child. Though she admits that the coming-of-age classic, starring Dennis Christopher as a Midwestern teen obsessed with cycling, is "super cheesy and kooky" she also credits it as "the film that spawned a hundred thousand bike-people."
Although bikes and art sweaters seem to inhabit two disparate areas of the universe, Auerbach's own L.A. narrative ties the threads together. Among her recent creations is a green and white number emblazoned with the phrase, "This lane is your lane/This lane is my lane," the sweater's chest latticed with a road map and dotted with cars and bicycles.
Auerbach, who earned an M.F.A. at Pasadena's Art Center College of Design, took up riding her bicycle at the start of the Iraq war to abstain from the oil dependency that she saw as the root of Middle Eastern conflicts. She soon discovered that she was "addicted" to riding.
"Getting off the freeway is a different experience. I started feeling like I actually lived in a city," she says, adding that "smells and sounds become markers for the parts of town you're in."
For Bike Night, the Hammer Museum will screen the film in the Billy Wilder Theater and via projection in the outdoor courtyard. Auerbach and a herd of cyclists are meeting up at 5 p.m. at the corner of Heliotrope Drive and Melrose Avenue -- in an area, because of its bicycle shops and vegan restaurants, that Auerbach affirms as a "nexus of the bike community." They'll be pedaling the 9 1/2 miles to the Hammer Museum, where Los Angeles County Bicycle Coalition volunteers will valet-park cyclists' rides.
The evening's programming also includes a musical performance by experimental violin/cello duo Telematique, plenty of hobnobbing with bike geeks and vegetarian snacks.
The courtyard will also feature a cash bar, and the Hammer's galleries will stay open until 9 p.m., giving museum-goers a chance to wander through the "Nine Lives" exhibit before pedaling off into the sunset, or rather, onto Sunset Boulevard.
---
The complete guide to home viewing
Get Screen Gab for weekly recommendations, analysis, interviews and irreverent discussion of the TV and streaming movies everyone's talking about.
You may occasionally receive promotional content from the Los Angeles Times.