10 Images
Jonas Brothers: Life in pictures
Family matters
The Jonas family is as tight knit as they come. Not only are the three Jonas brothers in a band together, but they are often seen shopping with their mother and their father is their manager.
(Dave Hogan, Getty Images)
School days
Nick, Joe and Kevin Jonas may be worldwide sensations today, but once upon a time they were just three normal siblings, attending the private Eastern Christian High School in New Jersey.
(Jorge Rios, Associated Press)
Nick Jonas takes the stage
Nick was the first Jonas brother to explore show business. Among his credits: "Beauty and the Beast" and "Les Misérables" on Broadway!
(Dave Hogan, Getty Images)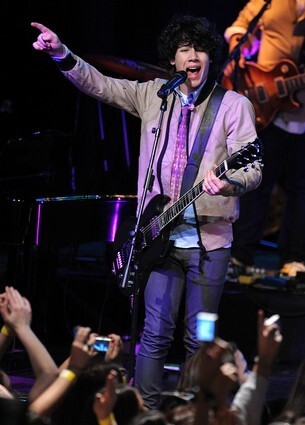 Nick's solo career
Nick first hit the airwaves when his single, "Joy to the World (A Christmas Prayer)" was played on Christian radio. Backing him was the "Beauty and the Beast" cast.
(Peter Kramer, Associated Press)
Keep it in the family
After a brief foray as a solo artist, Nick apparently worked better with others, and was paired with his two siblings to form the band the Jonas Brothers. Released in 2006, the act's first album, "It's About Time," contained the hit single, "Mandy."
(johnny buzzerio, xx)
Sophomore effort
On its self-titled second album, Nick, Joe and Kevin had a greater hand in writing the songs than they did the first time around. This was the act's first for Disney-owned Hollywood Records, which led to …
(Dave Hogan, Getty Images)
In good company
The Jonas Brothers toured with mega-star Miley Cyrus and appeared on her hit series "Hannah Montana." They also performed in the 3-D concert film, "Hannah Montana/Miley Cyrus: Best of Both Worlds Concert Tour."
(Matt Sayles, Associated Press)
Jo Bros get a series
Disney even created a series around the pop-rocking threesome: "J.O.N.A.S!" The acronym is said to stand for "Junior Operatives Networking as Spies." On the series, which has yet to debut, the brothers supposedly play in a band, but also work as spies. They have to keep their identities secret, all the while navigating the trials and tribulations of high school life.
(Chris Pizzello, Associated Press)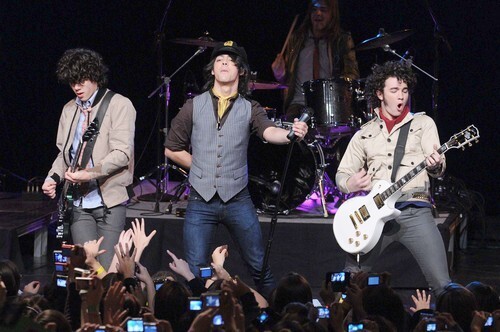 Wait, there's more!
The Jonas boys have yet another Disney Channel Original Series: "Jonas Brothers: Living the Dream." The series documents their "Look Me in the Eyes" tour, and is expected to debut this spring. And then there's the act's Disney movie, "Camp Rock," which will debut on June 20.
(Bryan Bedder, Getty Images)
Spare Jonas
Don't worry. Should anything happen to Kevin, Nick or Joe Jonas (like a movie career), there is a backup! Franklin Jonas, the youngest of the brood, isn't part of the band yet, but give him time. Look for him on "J.O.N.A.S.!"
(Kevin Winter, xx)