Marines invade Hollywood for 'Generation Kill'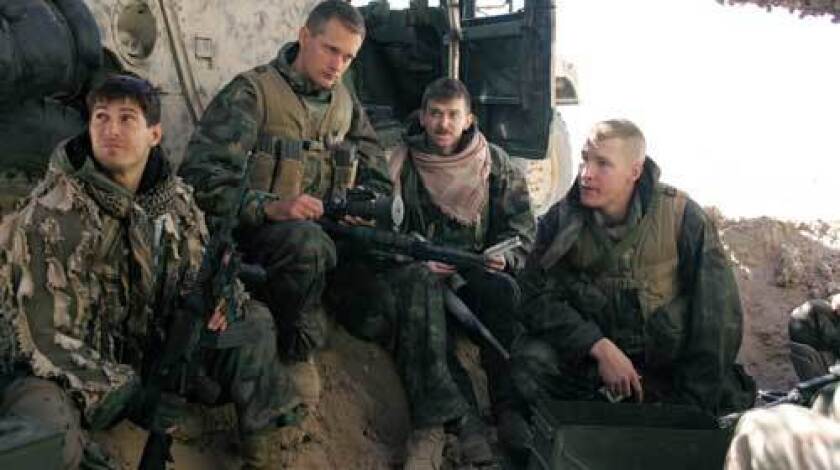 Los Angeles Times Staff Writer
It's a long way from Baghdad to one of Hollywood's most exclusive film viewing venues -- the lushly appointed screening theater at Paramount Studios -- but Marine Sgt. Rudy Reyes has made the journey across the physical and cultural divide.
Reyes, who stood out in the Marine Corps for his colorful eccentricities, managed to score the role playing himself in HBO's "Generation Kill" about the First Reconnaissance Battalion Marines who led in the drive to Baghdad in 2003.
For Reyes, the war was frightening. But so too was acting. He required a lot of coaching to play himself, and in the end, he was surprised at how much personal introspection he needed to get the part right.
"Anything that's scary, I have to try," Reyes said. "I've done tours in Afghanistan and twice in Iraq. But acting? It was terrifying. You feel naked. That's the challenge."
On Tuesday evening at the series premiere at Paramount, Reyes -- donning his full Marine dress uniform -- mingled with industry big wigs, cast members and buddies from the elite First Recon's Bravo Company, including Staff Sgt. Eric Kocher (who served as the head technical advisor on the series) and Cpl. Jeff Carisalez, (a Marine mechanic who fixed the Humvees on the set and later stepped in as an actor.)
The series' producers brought in the three Marines because they wanted assistance in making sure the portrayals on film seemed authentic. (The series is not a documentary, co-creator and executive producer David Simon noted at the screening, but it had to be true to life. Real events are depicted. Real names are used.)
In helping tell the story of Bravo Company's first weeks in Iraq, all three Marines have found second acts in Hollywood. Reyes is busily working on a fitness video. (He also hopes to secure the leading role in a boxing movie.) Carisalez recently had a part in director Paul Greengrass' "Green Zone." And Kocher has been talking with Reyes about doing a screenplay.
"I don't want to give it away, but we're thinking about something built around 7th century samurai," Reyes said.
---
The complete guide to home viewing
Get Screen Gab for weekly recommendations, analysis, interviews and irreverent discussion of the TV and streaming movies everyone's talking about.
You may occasionally receive promotional content from the Los Angeles Times.