Classic Hollywood: Marge Champion still has the dance moves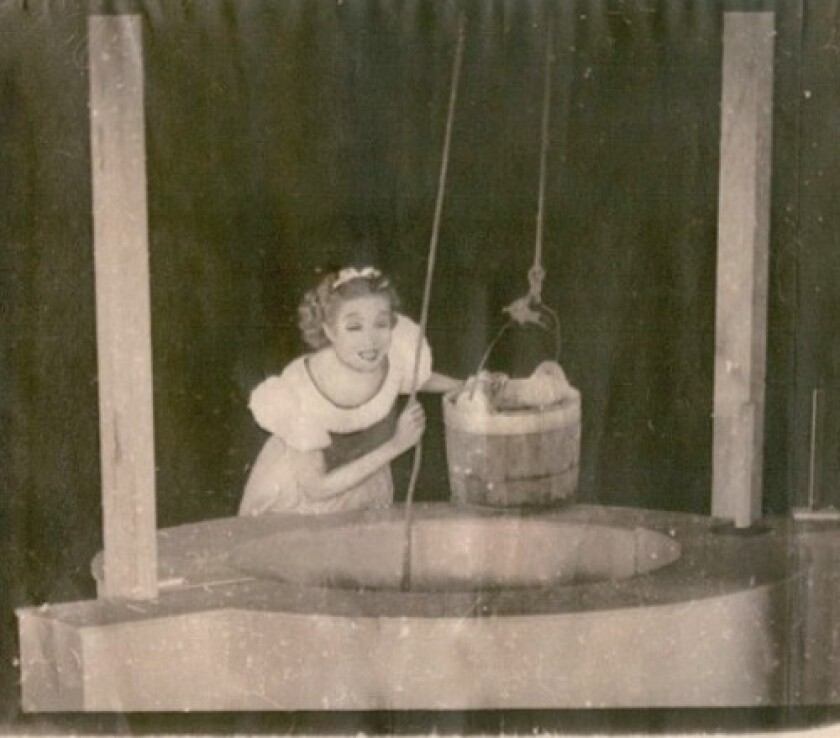 During the late 1940s and throughout the '50s, there was no hotter dance team than Marge Champion and her second husband, Gower Champion.
The diminutive Marge and the tall, lanky Gower waltzed across the stages of nightclubs and theaters and starred on TV and in several MGM movie musicals, including "Show Boat" and "Lovely to Look At." The graceful performers not only were superb craftsmen, they also wove a story with each of their impeccable routines.
(The duo divorced in 1973; Gower Champion, who became an award-winning theater director and choreographer, died in 1980).
The vivacious Champion is still dancing at 90. She and her dance partner, Tony-winning choreographer and veteran dancer Donald Saddler, are the subject of an upcoming documentary, "Keep Dancing." The title, she says, "is a euphemism for keeping your passion alive."
Champion got her first taste of blending dance and acting as a teenager, when she was the model for Snow White in Walt Disney's 1937 "Snow White and the Seven Dwarfs," the groundbreaking full-length animated film. The classic, which features such beloved tunes as "Whistle While You Work" and "Some Day My Prince Will Come," arrives Tuesday on Blu-ray in a newly restored edition. A standard-definition DVD of the restored version follows on Nov. 24.
Champion's father, Ernest Belcher, was a well-known ballet star who operated the Celeste School of Dance in Los Angeles and directed dance sequences for films.
"He worked with Charlie Chaplin and Mack Sennett," recalls Champion, relaxing in a dressing room at a Hollywood dance studio during a recent visit from her home in the Berkshires. "He did the opening shows at the Hollywood Bowl."
Champion made her debut at the Bowl at age 11 in one of his ballets, "Carnival in Venice." Two years later, she was one of three girls who caught the attention of a Disney scout and was asked to audition at Walt Disney's old studio on Hyperion Avenue.
"He told me to call him Uncle Walt because I was too young to call him Walt," Champion recalls. From the age of 14, Champion performed scenes as Snow White for the animators. "It was maybe one or two or three days a month," she says. "They shot me on 16-millimeter film, and I could do enough in a day's work to keep them busy for two weeks."
She says the process of playing Snow White was simple. "When Snow White was running through the forest and scared to death, they had ropes hanging from a clothesline so I would be pushing them aside," recalls Champion. "If there was a bed where Show White had to go pray, they had a cot there so I could kneel beside it. It was always very rudimentary and very hot lights, because they wanted as strong a contrast as possible."
Every frame of her footage was rotoscoped -- traced -- by the animators. "They didn't use every frame, but they couldn't get the movement or my moves or my eyes without it."
Champion also went on to model for the Blue Fairy in 1940's "Pinocchio" and the Dancing Hippo in "Fantasia." And she even married one of the Disney animators, Art Babbitt, one month shy of her 18th birthday. "I was married to him for a very short time. When I went to New York with the Three Stooges in a vaudeville show in 1939, he said come back to Los Angeles and have babies. But that wasn't what I had studied 15 years for."
"Snow White" had an "extraordinary" influence on her life "as well as giving me a chance to be part of animated history. Having that over-the-top training by the time I was 18, I wanted to take real theater training. I went to Maria Ouspenskaya (who starred in "The Wolf Man"), who was on Vine Street. I studied with her for a year. We had a rather interesting group of people."
Including one woman who was a stripper. "She had her own reasons for wanting to be an actress," Champion says, laughing. "I had mine. I would have done anything to become an actress."
And she did. "It all came out in my dancing. Gower and I always told stories. I could never have done leading dance scenes unless I had studied acting."
She had known Gower Champion since they were at Bancroft Junior High in L.A. Before the war, Gower Champion had a successful dance team with Jeanne Tyler. But when he returned from service in World War II, Tyler had married and Champion was more interested in choreography and directing. "My father wrote me a letter saying he was back," Marge Champion said. "He came to New York and we started going out."
Gower Champion was called back to Hollywood, where he spent a dismal year under contract to MGM. The two began dating when he returned to the Big Apple in 1946, when she was appearing on Broadway in "Beggar's Holiday," featuring music by Duke Ellington.
At that time, all the top New York hotels were booking dance teams for their nightclubs. Her partner in "Beggar's Holiday," Paul Godkin, suggested they become a dance team so they could earn extra money as an act.
"I told Gower about that and he said, 'Well, if you are going to dance with anybody you are going to dance with me.' We started rehearsing the next day."
---
The complete guide to home viewing
Get Screen Gab for weekly recommendations, analysis, interviews and irreverent discussion of the TV and streaming movies everyone's talking about.
You may occasionally receive promotional content from the Los Angeles Times.