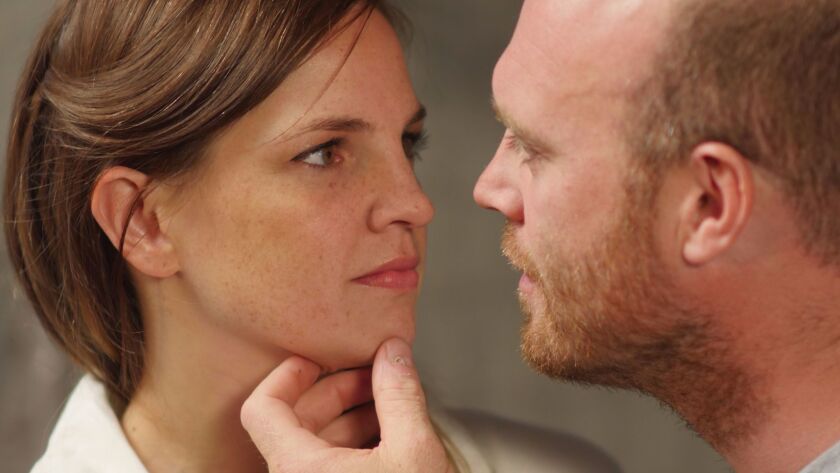 What better way to emphasize the atmosphere of a nightmare than to make one's female protagonist a sleepwalker who fears that, in her twilight state, she will hurt herself or kill another?
This is the conceit at the heart of the Los Angeles premiere of "Any Night," co-written by Daniel Arnold and Medina Hahn. Originally staged in Austin, Texas, "Any Night," a rental production at Sacred Fools, has traveled well. Elizabeth V. Newman's authoritative staging incorporates the bizarre and the quotidian into a seamless dreamscape with riveting performances by Zac Thomas and Marie Fahlgren.
However, whether this two-hander sustains its own fever-dream tone is questionable. Arnold and Hahn tend to encumber what seems a relatively straightforward thriller with surrealistic elements at odds with their Hitchcockian plot.
Granted, Hitchcock himself could venture into the realm of the Dali-esque, but always organically. That's not quite the case with "Night," as is particularly evident in a strained denouement that seems tacked on for the sake of pure disorientation.
And yet actors Thomas and Fahlgren strike no false notes in Newman's sterling production, which enhances the play's strong points while largely mitigating its weaknesses.
Anna (Fahlgren), a dedicated dancer, has just moved to the basement apartment of a building managed by Patrick (Thomas), a retiring and seemingly sincere young man who apparently wants nothing more than to protect Anna from her own particular pathology. As the play progresses, a sweet romance evolves between these new neighbors — until unforeseen twists skew their relationship into a lethally dark direction.
Or does it? Left in limbo, we can only conjecture about what actually transpired, or what the playwrights intended.
Still, Arnold and Hahn fascinate through much of the action — until they gussy up the proceedings to the point of the unfathomable. Choreographer Erica Gionfriddo contributes masterly dance sequences, enacted with lissome skill by the agile actors, while Eliot Gray Fisher's virtuosic sound design keeps the mood appropriately fraught.
Note to the playwrights: While "Night" may have its faults as a play, it could soar on the big screen. Stripped of a few dubious embellishments, it has enough creepiness and suspense to make some latter-day Hitchcock drool to direct.
-----------------
"Any Night"
Running time: 1 hour, 20 minutes
When: Ends July 30. 8 p.m. Thursdays-Saturdays; 5 p.m. Sundays
Where: Sacred Fools Theatre Company, 1076 Lillian Way, Hollywood
Tickets: $30
Info: (512) 496-5208, www.anynightaustin.com
Sign up for our weekly Essential Arts & Culture newsletter »
ALSO
Review: Music trumps storytelling in 'Born for This,' the BeBe and CeCe Winans story
London calling: 'Angels in America' as fresh as ever at the National Theatre
Critic's Notebook: Oh, the dreaded intermission: Long plays at a time when shorter is sweeter
---