'A Royal Wedding: The Duke and Duchess of Sussex' gives an inside look at Prince Harry and Meghan Markle's lavish ceremony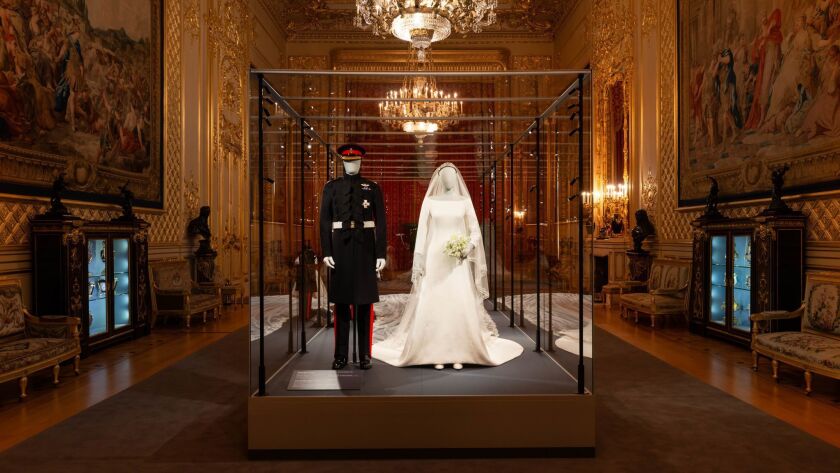 While you may not have been invited to Prince Harry's wedding to Meghan Markle, which was watched by 29.9 million Americans, fans of the couple can find themselves immersed in the ceremony during a special exhibition in Windsor Castle which opened Oct. 26. Integrated into four rooms in the Castle as part of the larger site tour, "A Royal Wedding: The Duke and Duchess of Sussex" reveals the duchess' Clare Waight Keller-designed wedding gown, as well as the Duke's "Blues and Royals" ensemble.
Caroline de Guitaut, senior curator of decorative arts at the Royal Collection Trust, began planning the exhibit in January, months ahead of the royal wedding. It spans several rooms, from the Green Drawing Room, where Alexi Lubomiriski snapped the official wedding party photos, to the ornate, gold-adorned Grand Reception Room, where queen hosted the couple in their post-wedding reception. The focal point is Markle's dress, which is displayed along with its five-meter-long custom veil.
"There's a quite strong tradition of displaying royal wedding dresses after the royal wedding, which stretches back centuries," de Guitaut says. "To be able to display the dress here at Windsor Castle and have all the other pieces in the surroundings in which they were actually worn originally is a special thing to do. It's a fantastic display for the Royal Collection to mount on behalf of the duke and duchess and for them to share these things and allow visitors to see them up close."
Much detail is revealed about the big day in an audio and video guide narrated by the duke and duchess of Sussex themselves, who sat down for an interview with de Guitaut. This marks the first time a couple has offered audio narration for a royal wedding exhibition. In the audio, Markle explains her desire to work with Waight Keller, who is the artistic director at French fashion house Givenchy.
"I wanted a female designer," the duchess says in the audio narration. "That was very important. I wanted a British designer, because I wanted to embrace my home in that way, and also someone who was working for a brand that had global, international impact in a way that didn't feel completely isolated to just one territory. Because I'm American, I wanted something that was reflective of the world, in a way."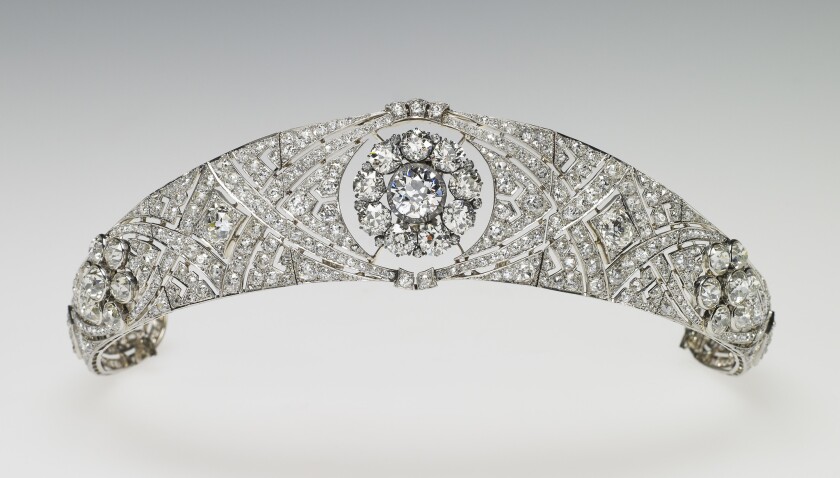 "I wanted something very sculptural, that looked very modern and pristine, and gave the idea of almost it floating," Waight Keller says in the guide. "This is something that's actually quite a Givenchy signature in the history of the house and was something I wanted to interpret in a very modern way."
In a smaller room, the exhibition uncovers the evolution of the dress' design, as well as the creation of the veil. The gown, which has only six seams, as well as the floating hemline, was created from bespoke double silk cady fabric that Waight Keller had made in Italy. The veil, crafted by French couture embroidery house Maison Lesage, is a thin silk tulle covered in floral designs that represent 53 Commonwealth countries, as well as Markle's home state of California and her new home of Kensington Palace.
"Having established the shape and feel and look of the dress, attention was then turned to the veil and how that would play a part in the ensemble," de Guitaut says. "The duchess, in discussion with Clare, decided that she would like to reference the Commonwealth, especially in view of Prince Harry's role as a Commonwealth ambassador, to which he'd recently been appointed by queen. They began discussing ideas of how they could reference this in the ensemble in some way and the veil was the obvious choice. Clare began looking at the idea of flags, but she realized that probably wouldn't work. And then they started looking at flowers. But instead of using national flowers as emblems they looked to the wild flowers of the different Commonwealth countries."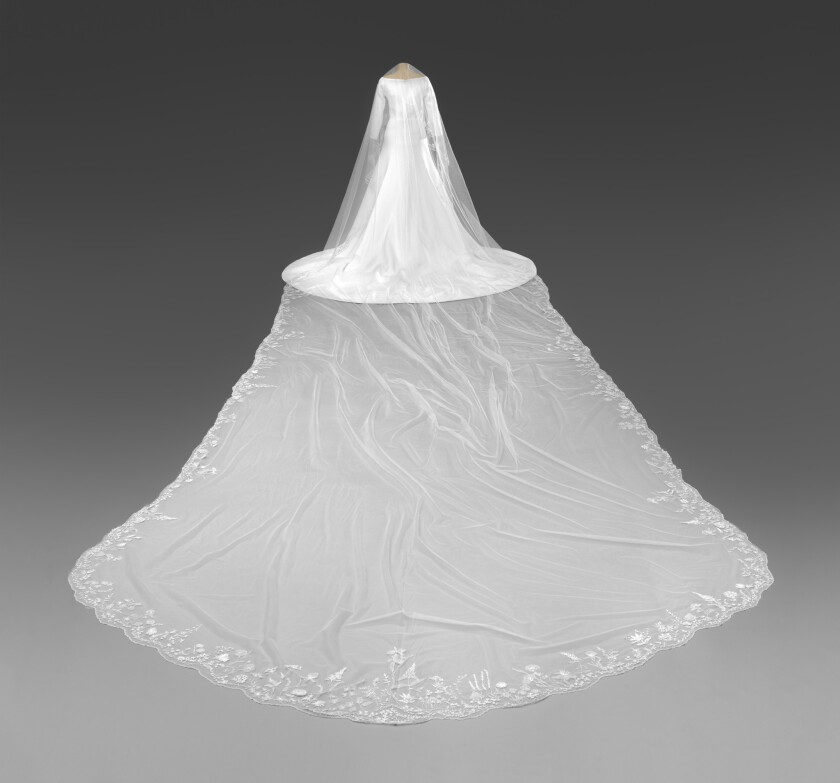 Overall, the gown and veil took 3,900 hours to make and 50 people to do so. Both remain the private property of the duchess, although the Royal Collection Trust has been looking after the ensemble since the royal wedding in preparation for the exhibition. It's displayed side-by-side with Prince Harry's wool frock coat uniform of the Household Cavalry, which was made by British tailors Dege & Skinner.
"I chose the frock coat as a uniform, with permission from my grandmother, because I think it's one of the smartest Household Cavalry uniforms," the duke says in his audio guide narration. He adds, "It can be incredibly warm inside, which no doubt some people probably saw. But it is one of my favorites."
Also on display are the pageboy uniform worn by Prince George and the bridesmaid's dress worn by Princess Charlotte, which was also designed specially by Waight Keller. A replica of Markle's bouquet was made in silk by florist Philippa Craddock, who provided the floral arrangements for the royal wedding. Visitors can also marvel at the tiara that sparkled atop Markle's head on her special day. The diamond and platinum bandeau tiara is on loan in the exhibition from the queen.
"When it came to the tiara on the day I was very fortunate to be able to choose this gorgeous Art Deco style bandeau tiara," Markle says in the audio guide. "Harry and I had gone to Buckingham Palace to meet with her majesty the queen to select one of the options that were there, which was an incredibly surreal day, as you can imagine. That one, as we tried them on, stood out."
She continues: "I think it was just perfect because it was so clean and simple. And I think also, to that point, an extension of what Clare and I had been trying to do with the dress, which was having something that could be so incredibly timeless but still feel modern."
Since the royal wedding in May, Windsor Castle, which is open to the public most days of the year and typically attracts 1.3 million visitors annually, has seen a rise in its guests. "Any major royal event will, of course, further traffic and interest visiting and finding out about the residence where it happens to have taken place," de Guitaut says. "There have definitely been more visitors coming to the castle this summer."
"A Royal Wedding" will be on display in Windsor Castle through Jan. 6 and then will move to the Palace of Holyroodhouse in Scotland on June 14, 2019. There are no further plans to exhibit the Duke and Duchess' wedding collection, and de Guitaut notes that it's up to Markle where the dress goes next. And ultimately, the gown will live on as inspiration to future brides.
"This dress was created to be worn — as all royal wedding dresses are — in a very specific environment," de Guitaut says. "Each one reflects the personal choice of the bride. [But] the fact that this dress is so elegant, it's so timeless, and it has this modern feel, it is a style that would be fairly easy to replicate. That's something that never goes out of fashion. Although a bride wants to look unique, there's something about the timeless quality that I think is appealing to everyone."
"A Royal Wedding: The Duke and Duchess of Sussex"
Where: Windsor Castle, Windsor, Berkshire, SL4 1NJ
When: Through Jan. 6, 2019
Info: windsor.gov.uk
---
The complete guide to home viewing
Get Screen Gab for weekly recommendations, analysis, interviews and irreverent discussion of the TV and streaming movies everyone's talking about.
You may occasionally receive promotional content from the Los Angeles Times.