Video: 'I met Beyonce': Tears, cheers and hummus as YOLA returns from playing the Super Bowl with Coldplay
Teresa Caceres got off the bus in pigtails and started to cry.
It had been an exhausting and exhilarating week for her and dozens of other musicians in Youth Orchestra Los Angeles who returned home Monday evening to banners, bouquets and cheering families after performing a day earlier with Beyonce, Bruno Mars and Coldplay at Super Bowl 50.
"I never thought I'd be on a stage that big with such amazing people. I learned a lot about music and life," said Teresa, a 16-year-old cellist who stepped into the arms of her parents and sister outside the Walt Disney Concert Hall. "I was nervous, but the moment you walk on that stage the nervousness breaks and you feel free. I was in awe and shock that it was going to happen, and then it did."
Plus, she said, "I met Beyonce."
WATCH: Youth Orchestra L.A. returns home after the Super Bowl performance with Beyonce and Coldplay.
YOLA and Los Angeles Philharmonic conductor Gustavo Dudamel performed before a TV audience of about 112 million during the halftime show at Levi's Stadium in Santa Clara. Dressed in red and pale blue zip-up tops, the musicians swayed with rainbow colored instruments in a spectacle where the classical played alongside — and not as loudly as — the mega-pop world of divas and glitter.
It was a stirring moment for an orchestra whose members come from working class and poor families. Inspired by Dudamel, who grew up in his native Venezuela attending a similar music program, YOLA is one of the L.A. Phil's most concentrated attempts to reach immigrant audiences in a county that is about 50% Latino. That it made its way to the Super Bowl is a testament to its diversity and appeal at a time of changing U.S. demographics.
"YOLA gives them great experience. We don't pay for any of this," said Teresa's father, Edgar, a construction worker, who lifted a welcome home sign as his daughter's bus rolled toward Disney Hall in a clear dusk. "It will change her life."
"One of my favorite moments," said YOLA member Bianca Tinoco, "was when we were at one of the rehearsals. It was during my birthday and Coldplay sang 'Happy Birthday.' That was just amazing."
Fellow YOLA musician Karla Melgar said that Coldplay lead singer Chris Martin and all of the band members, as well as Bruno Mars and Beyonce, treated the orchestra members as colleagues, not kids. "We all worked really hard. And like Chris said, we were part of their band. We were part of the royal family."
After a group photo on the steps of the concert hall, Dudamel told the musicians, including 41 string players and six who played brass instruments: "It's difficult to put into words what I'm feeling. To be proud of you," he said. "I feel like a father. My heart wants to explode right now." He added that in a few years "you'll say, 'Yes, I was there.'"
In the week before the Super Bowl, the musicians had three rehearsals on the stadium's main stage. They had costume fittings and received drama tips on how to express themselves before an international audience. They danced beside Beyonce, shuffled to Coldplay. The young musicians "tried to calm down backstage," said Diana Romay, 16, a violinist. "People were praying and crying. We all got to bond."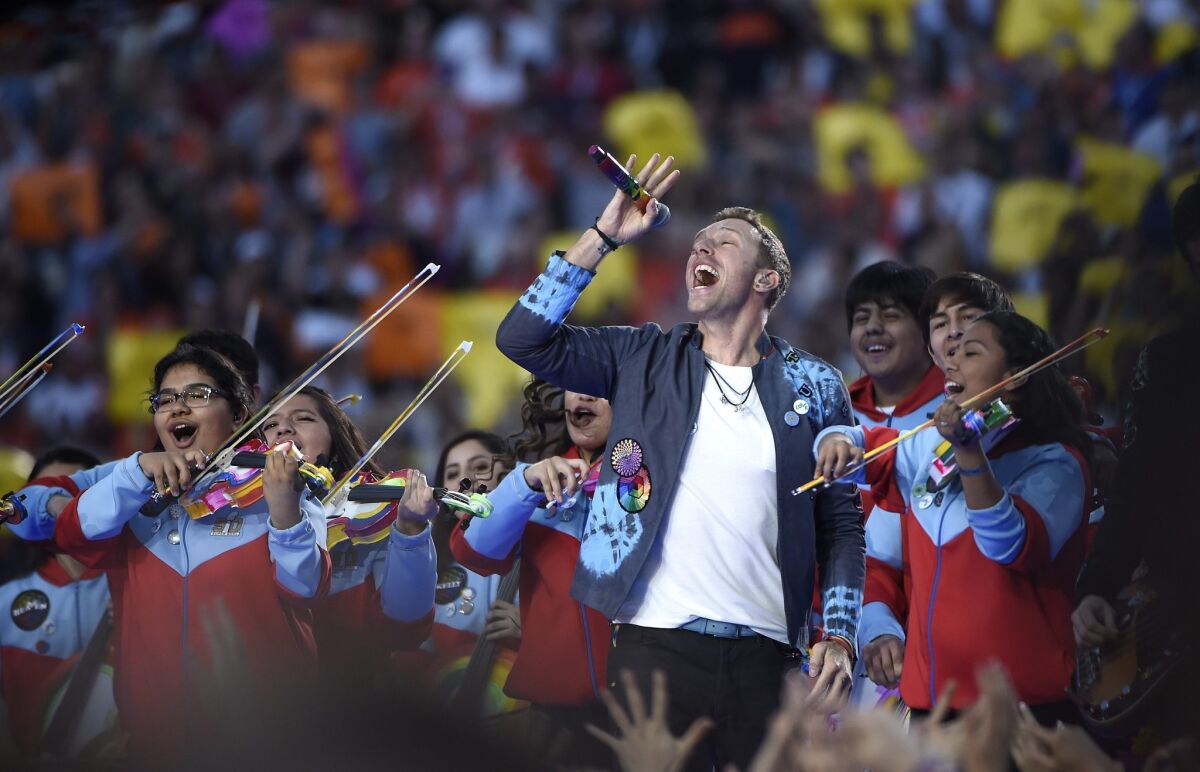 Their homecoming played on into the evening as the musicians and their relatives ate grilled cheese, hummus, artichoke dip and cookies inside the concert hall. Dudamel posed with families and Phil CEO Deborah Borda, who credited YOLA partner the Harmony Project, and told the crowd, "This was an opportunity we couldn't have dreamed of."
Teresa Caceres dried her tears and posed for her mother's cellphone. "I want to study forensic anthropology when I go to college," she said. "But I'll minor in music. I'll never leave music."
She and the other musicians weren't in the stadium when the seconds ticked down and the Denver Broncos beat the Carolina Panthers 24 to 10. They had left after halftime to go bowling and unwind.
Photographer Ricardo DeAratanha contributed to this report.
ALSO
Gustavo Dudamel and YOLA at the Super Bowl: Too brief, but still a win
Beyoncé draws outrage and praise for Super Bowl set
Beyoncé's Super Bowl halftime show: A primer for those who went for beer
The Super Bowl proves to be a huge platform for almost anyone with a message
---
Get our daily Entertainment newsletter
Get the day's top stories on Hollywood, film, television, music, arts, culture and more.
You may occasionally receive promotional content from the Los Angeles Times.