Walter Cronkite: And that's the way it was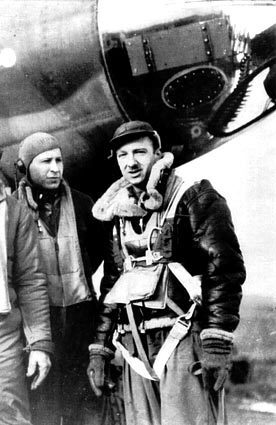 A 1943 photo shows Walter Cronkite with members of the 303 Bomber Group before a raid over Germany in February. He was a United Press correspondent in London when the Allies invaded France on D-day. He was chosen to fly with the bomber group, which was supporting the invasion forces on D-Day, June 6, 1944.
(CBS)
Walter Cronkite is shown at CBS offices in Washington on July 1,1952. Cronkite went to CBS in 1950 because the network promised that he could cover the Korean War. He was so adept at explaining the war without news footage that executives quickly decided to keep him at home.
(CBS)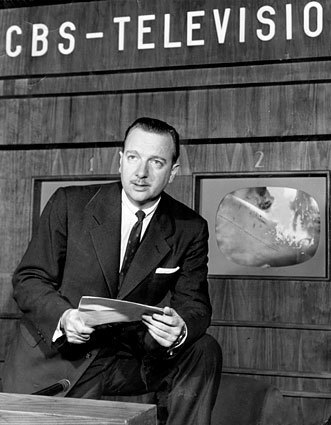 As anchor and managing editor of the "CBS Evening News" from 1962 to 1981, Cronkite demonstrated masterful, disciplinied stewardship that helped television news come of age.
(CBS)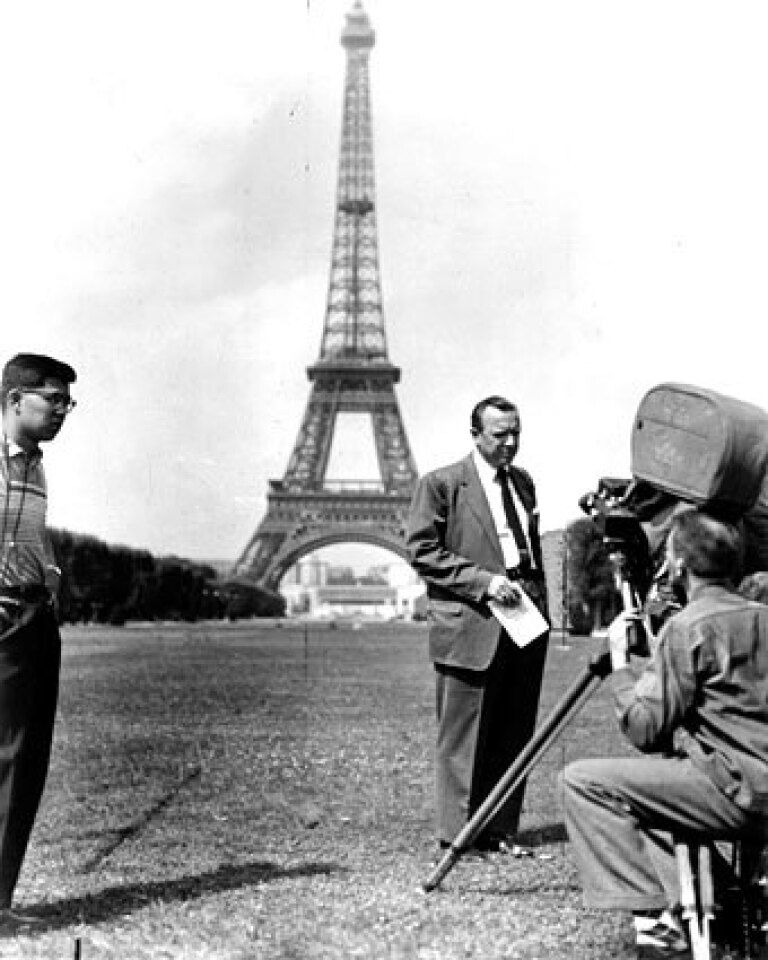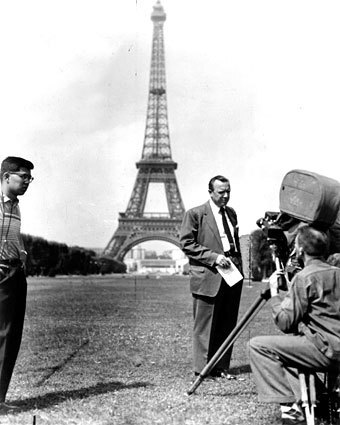 Cronkite reported in 1957 from the spot in Paris where Hitler once stood.
()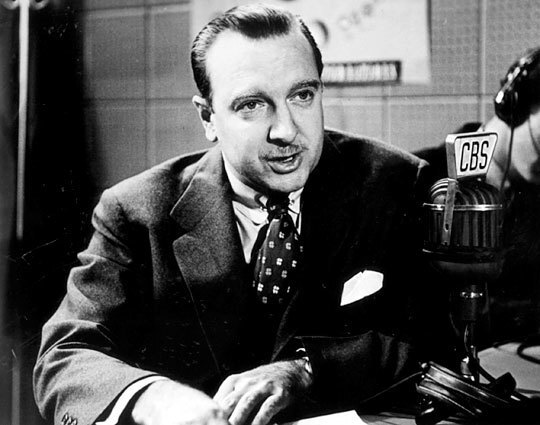 The "CBS Evening News" standard-bearer guided a nation through times of turmoil and great achievement. He was long considered "the most trusted man in America." He died July 17 at age 92. |
Full obituary
()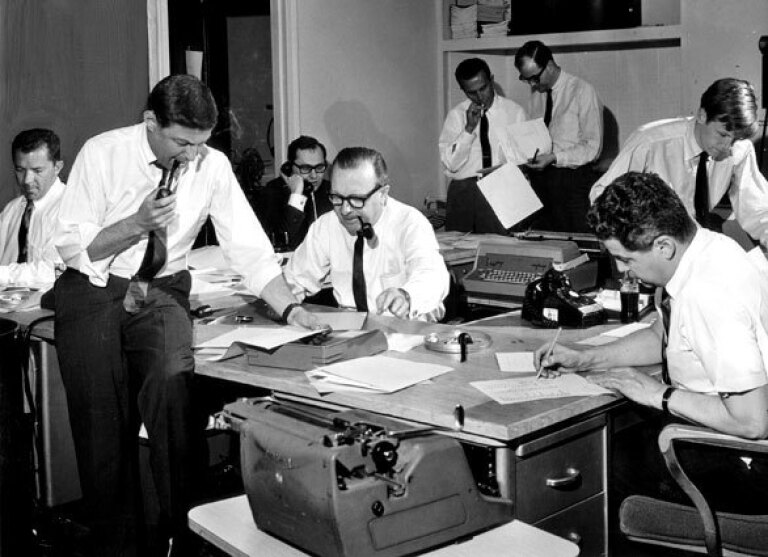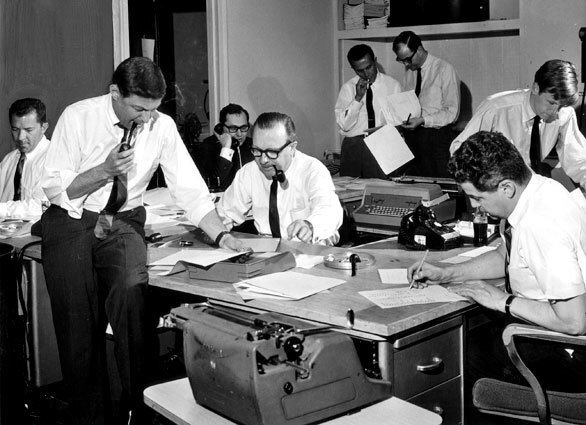 Don Hewitt, left, and Walter Cronkite in 1958 participate in one of many informal meetings held in preparation for evening newscasts. Cronkite was nicknamed Old Ironpants by colleagues for his ability to sit in the anchor chair for hours at a time.
()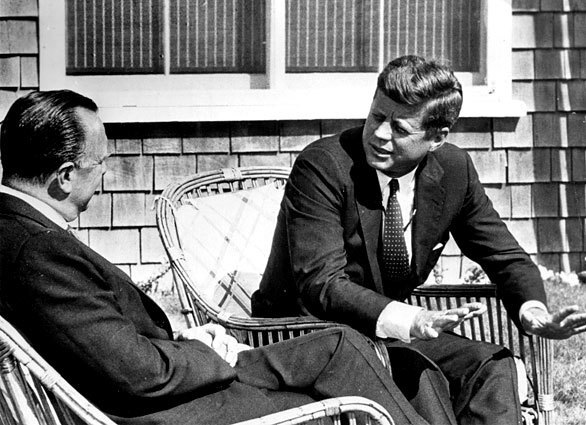 Walter Cronkite interviews President Kennedy in 1963. Cronkite announced the news of Kennedy's assassination on live television.
(CBS)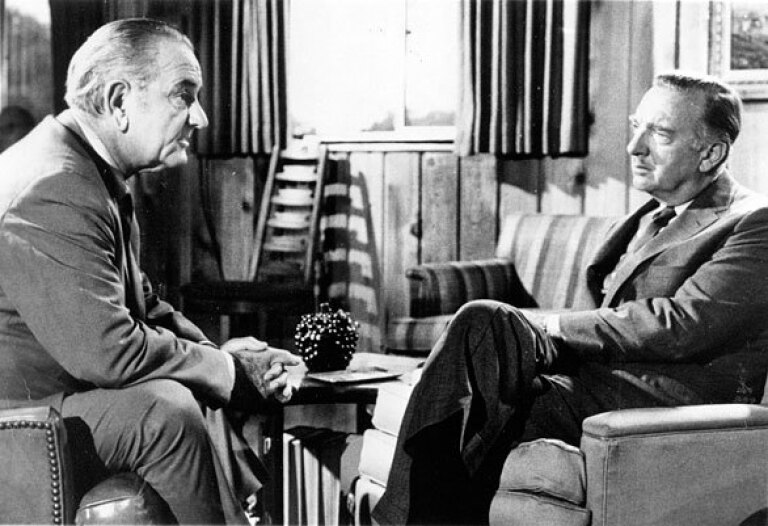 Cronkite interviews President Lyndon B. Johnson. After assuming his duties as anchorman of "CBS Evening News" in April 1962, Cronkite conducted exclusive news-making interviews with every U.S. president from John F. Kennedy through Jimmy Carter.
(CBS)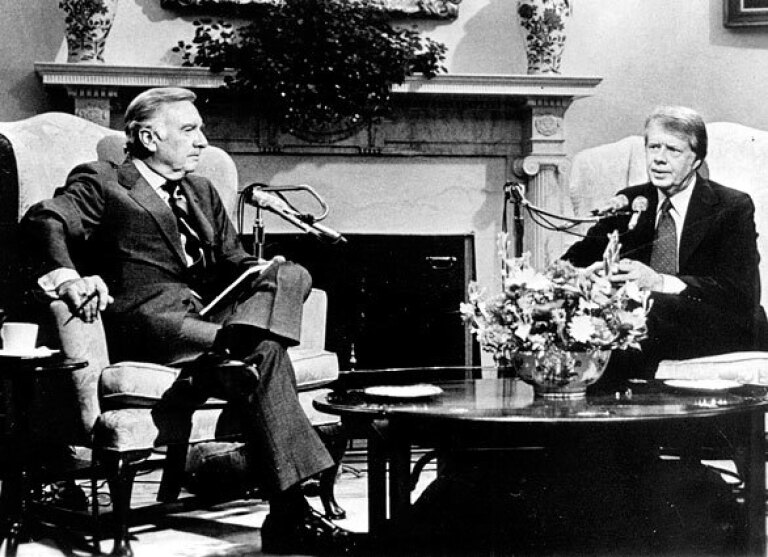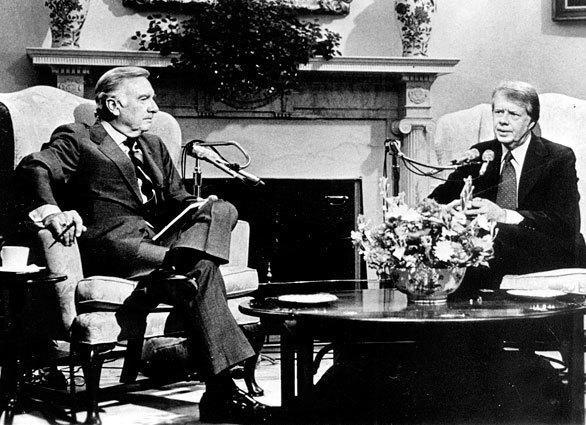 Cronkite interviews President Carter.
(CBS)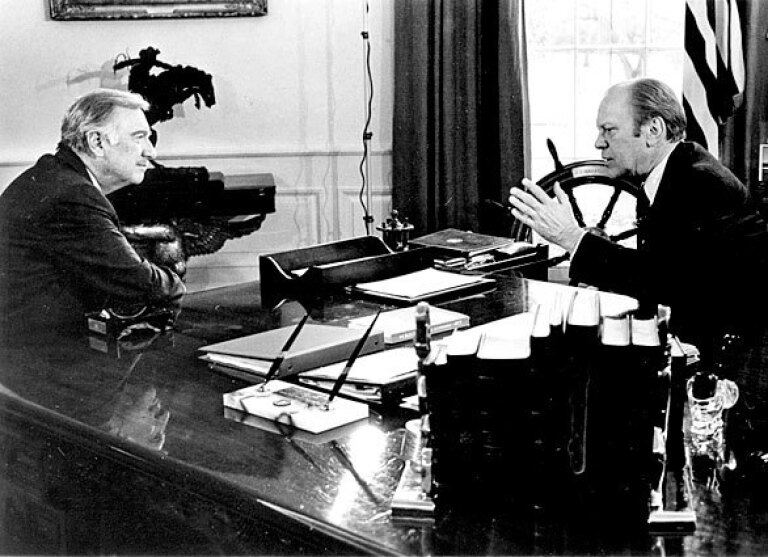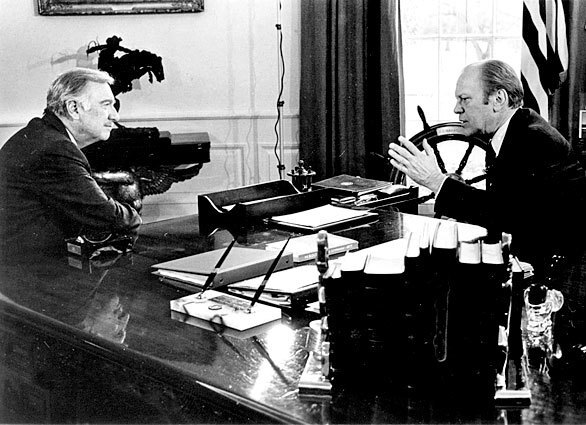 Cronkite interviews President Ford in the Oval Office. In 1966, Time magazine called the anchor "the single most convincing and authoritative figure in TV news."
(CBS)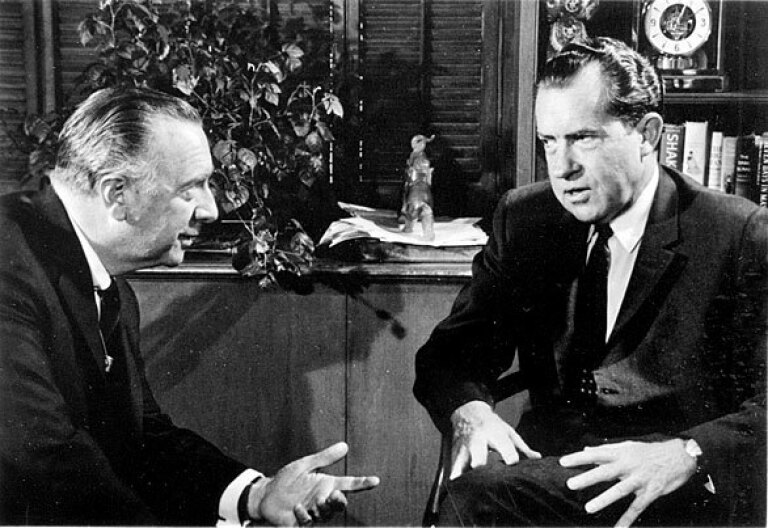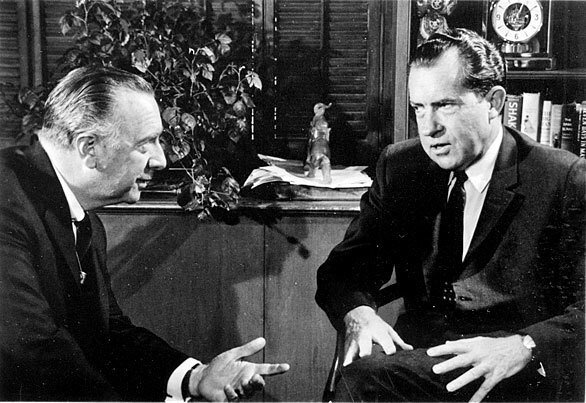 Walter Cronkite interviews President Nixon. On Oct. 27, 1972, Cronkite devoted 14 minutes of his newscast to "the Watergate caper," making it "a real national story," according to historian David Halberstam.
(CBS)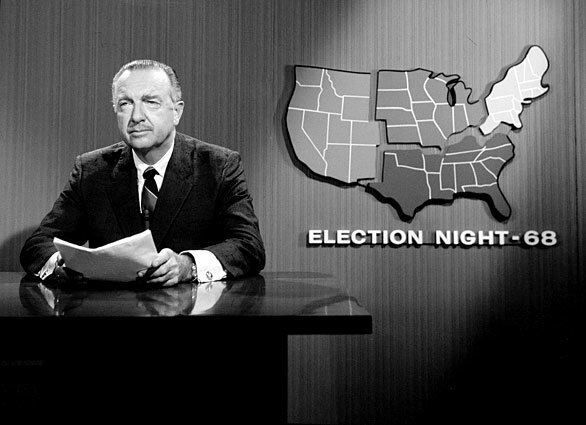 Cronkite covers the election in 1968. He anchored more than a dozen political conventions and the elections that followed. When he saw CBS floor correspondent Dan Rather punched in the stomach at the 1968 Democratic convention, Cronkite's voice shook with rage as he said, "I think we've got a bunch of thugs here, Dan."
(CBS)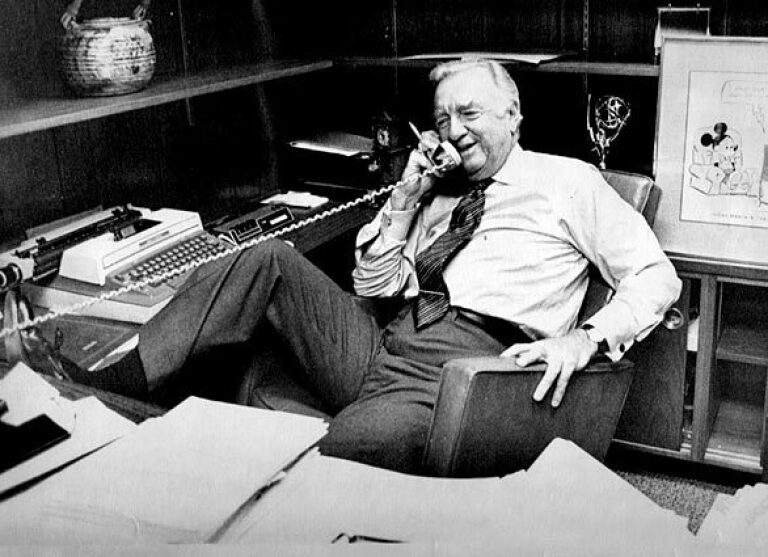 Cronkite, in 1981, works in his office in New York City on his final newscast as CBS anchorman. Behind him is a Mickey Mouse cartoon, sent to him by Walt Disney Productions, showing the cartoon character watching a TV set from which come the words "And that's the way it is," Cronkite's signature sign-off.
(Associated Press)
Cronkite prepares for his farewell interview with President Reagan in1981.
(Associated Press)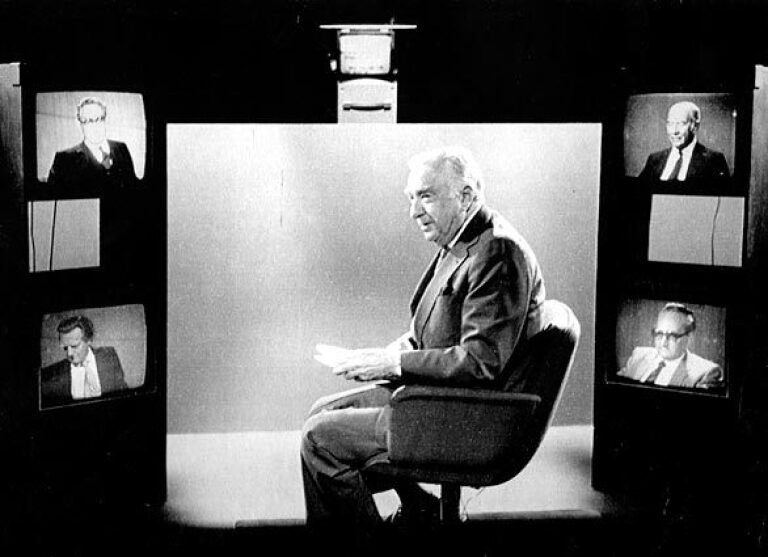 Cronkite, center, moderates the "Great Nuclear Arms Debate" at the CBS studios in New York in1983. The debate featured Henry Kissinger, top left, from New York City; Michael Haseltine, bottom left, British defense minister speaking from London; Paul Warnke, top right, former chief U.S. arms negotiator speaking from Florence; and Egon Bahr, bottom right, German opposition leader from Bonn.
(Associated Press)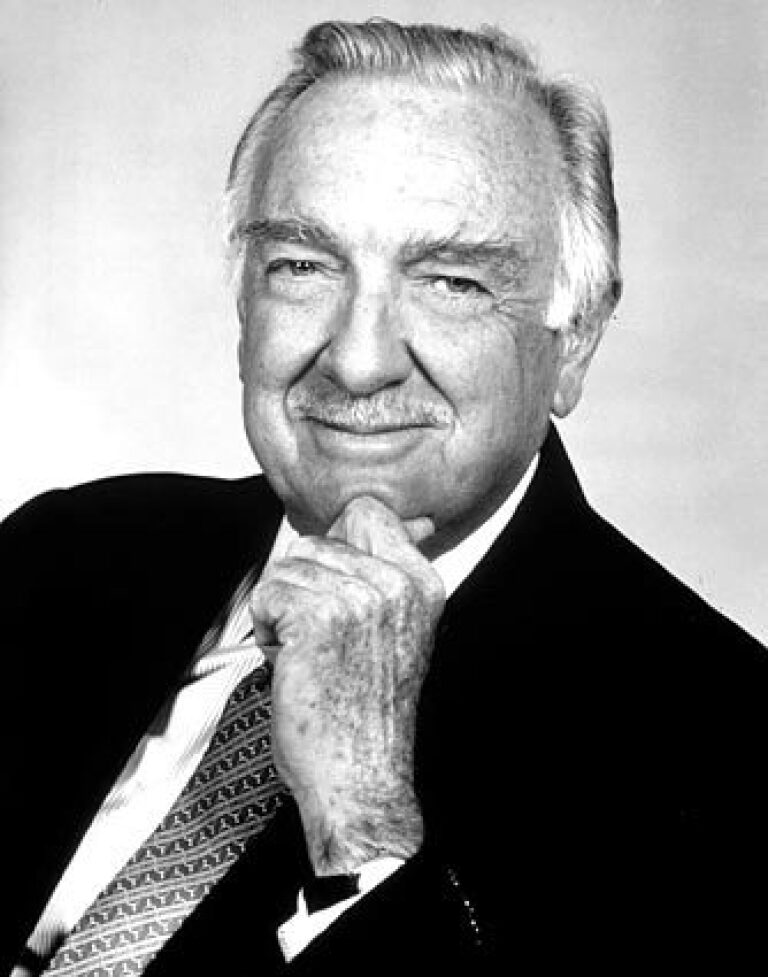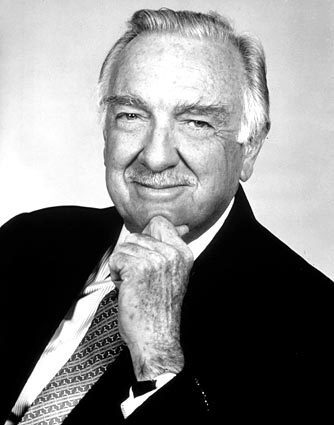 Walter Cronkite, anchor and managing editor of the "CBS Evening News" from 1962 to 1981, was both a witness to history and a newsman who helped shape perceptions of it. More than a decade after Cronkite retired, a survey named him the "most trusted man in television news."
()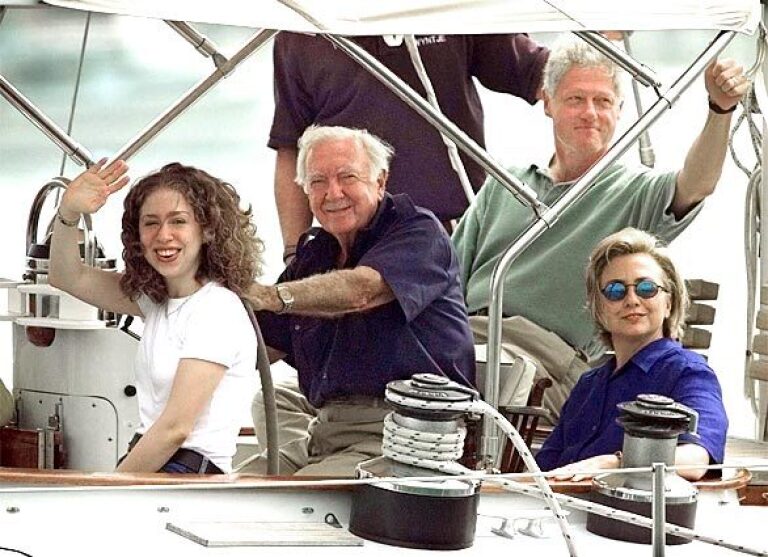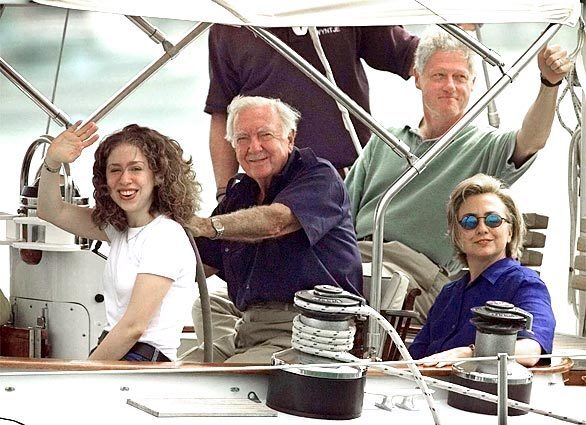 Cronkite skippers a sailboat during a trip with then-President Clinton and his family off Martha's Vineyard in 1998.
(Charlie Krupa / Associated Press)
Walter Cronkite answers questions from reporters in August 1998 before an appearance at Cal State Fullerton.
(Glenn Koenig / Los Angeles Times)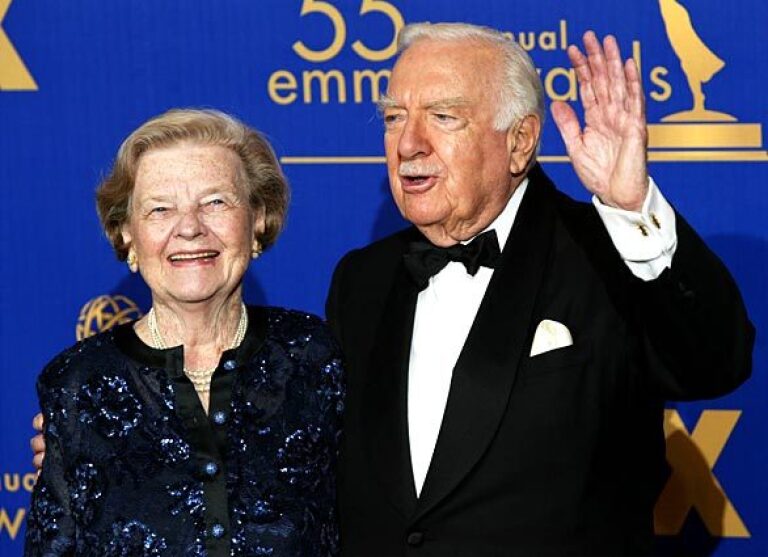 Cronkite and his wife, Mary Elizabeth "Betsy" Cronkite, pose backstage during the 55th annual Emmy Awards in 2003. Betsy Cronkite died in 2005.
(Carlo Allegri / Getty Images)
The spaceflight revolution captivated many in the news media; including Cronkite. During a 1968 visit to
Langley Air Force Base
, he tried out the reduced gravity walking simulator, a series of cable-supported slings hanging from the lunar landing research facility designed to approximate lunar locomotion. Astronauts used it to prepare for walking on the moon.
(NASA)
Cronkite testifies on freedom of the press before a Senate subcommittee in Washington, D.C., on Sept. 30, 1971.
(Associated Press)
Cronkite holds his 8-month-old grandson Buck. He was one of four famous grandfathers interviewed for a special feature in McCalls' magazine.
(McCall's)
In 1958, Cronkite and Sandra Nemser broadcast the show "Answer Please!" for CBS Radio.
(Associated Press)
Cronkite receives an honorary Doctor of Humane Letters degree from the University of Massachusetts in Amherst, Mass., on May 31, 1969. With him at left is the university president, John William Lederle.
(Associated Press)
Cronkite, right, meets with actors Ted Baxter and Mary Tyler Moore. He appeared with them on "The Mary Tyler Moore Show" on Feb. 4, 1974.
(Associated Press)
Cronkite appeared on New York City Mayor John V. Lindsay's weekly TV show on Dec. 20, 1970.
(Associated Press)
Dwight D. Eisenhower, left, recounts memories of D-day for Cronkite in the 1964 CBS special: "D-Day Plus 20 Years: Eisenhower Returns to Normandy." Eisenhower points to a hedgerow on a French farm as he tells Cronkite about the problems hedgerows presented to the invading forces in Normandy.
(CBS)
Television Critic
For many who grew up in the 1960s and '70s, Walter Cronkite was the voice of unfolding history. On the "CBS Evening News" and on the spot, his eloquent mediation of the great events of an age almost pathologically overflowing with them was essential to the way those events were understood. Even when he was temporarily at a loss for words -- his tears at the death of John F. Kennedy, his inarticulate glee at the moon landing ("Whew, boy!") -- he somehow spoke for the nation he spoke to.
Cronkite was not just a newsman; he was -- like Edward R. Murrow, who brought him to CBS and television -- as close a thing to the idea of a newsman as his age imagined. Except perhaps for Chet Huntley and David Brinkley, his high-powered NBC competition, all TV news anchors, news readers and news reporters, even the most august of them, seemed like variations on his theme, shadows of his Platonic ideal. A decade after his retirement from the anchor's chair, he was still being named the most trusted man in network news.
How to account for this? It was more than just intelligence and talent. The news that Cronkite reported was barely distinct from the news his colleague-competitors reported. (And to the extent it was, it was not the source of his regard.) It must have been something more basic to his bearing and manner of being. He was serious, but good-humored; he had a common touch without being folksy; he was impartial but not amoral, disinterested but not detached, above the fray but not without a point of view, though he never made himself the story.
He later expressed regret at his momentary display of emotion reporting the Kennedy assassination as behavior not befitting an anchor, but it was exactly that mix of feeling and restraint that defined him.
And he was paternal. As a child, I conflated him in my mind with Captain Kangaroo, another graying man with a mustache who ordered the world in a voice of quiet authority, and with that other grand-paternal Uncle Walter, Disney -- men who gave you the feeling that things would be all right, in the near future and the far.
We have come to understand news as show business, and are inclined to consume it as such, as part of the many-channeled entertainment package our broadcasters and cable companies provide, and not as a break from it -- as a sacred space in which facts matter more than opinions, but in which opinions, when rarely and carefully expressed, matter.
When Cronkite spoke, it was with a thoughtfulness that the 24-hour news cycle does not encourage; and when there was no time for reflection, he avoided melodrama, frenzy and guesswork. His reports on the deaths of Lyndon B. Johnson and the Rev. Martin Luther King Jr. are online to hear, and they are marvelously straightforward, and all the more moving for it. And his famous editorial that Vietnam was most likely not a winnable war came from his own, on-the-ground observations; he went there looking for answers after the Viet Cong's Tet Offensive made him question the official reports of American military progress and superiority.
The rolling rise and fall of his voice and the rhythms and pauses he built into his prose gave his reporting the subtle weight of blank verse. Cronkite cut his teeth telling stories in print and over the radio; he knew how to make pictures from words. Similarly trained reporters dominated TV news for the medium's first decades; it was an oratorical era. But as they aged and retired, the networks turned to more telegenic models, to prettier people and -- reasonably enough -- a more visual approach to the news.
Network news anchors still aim for that mix of eloquence and authority that Cronkite embodied, but they compete, at a disadvantage, with the noise of an ascendant punditocracy and the mountain-from-molehill nattering of cable news organizations that live on crises -- it's not the old voice of reassuring honesty that they cultivate, but one of perpetual anxiety. There are many more rooms in the mansion that is television news nowadays, but they have grown proportionately smaller; they are no longer fit for giants.
---
Inside the business of entertainment
The Wide Shot brings you news, analysis and insights on everything from streaming wars to production — and what it all means for the future.
You may occasionally receive promotional content from the Los Angeles Times.