'The Hobbit: The Desolation of Smaug' is king of the box office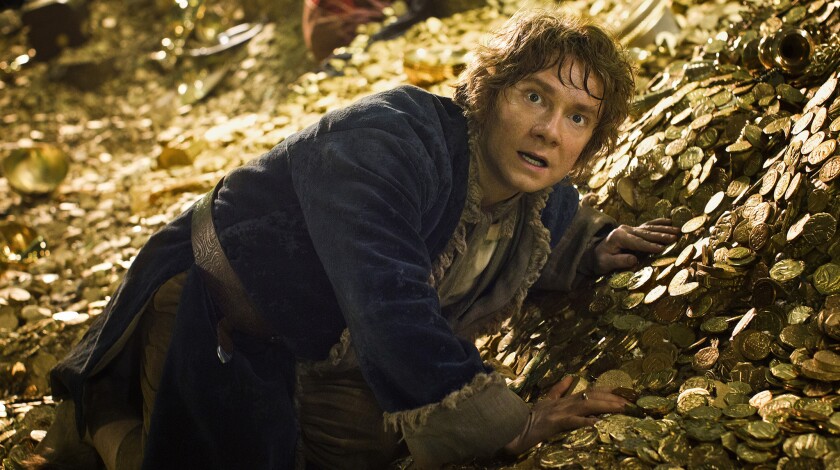 Movie theaters breathed fire this weekend as "The Hobbit: The Desolation of Smaug" struck box-office gold. The Peter Jackson-directed sequel to last year's "The Hobbit: An Unexpected journey," raked in a studio-estimated $73.7 million.
It was a solid opening, but the New Line Cinema, Metro-Goldwyn-Mayer and Warner Bros. production came in about $6 million shy of its projected take going into the weekend, according to numbers indicated by prerelease audience surveys.
The original "Hobbit" opened almost a year ago to the day and enjoyed an $84.6-million weekend, making it the best December opening ever. It went on to earn $1 billion worldwide.
VIDEO: Ian McKellen talks 'scruffy' Gandalf in 'The Hobbit'
Nonetheless, the sequel to the J.R.R. Tolkien fantasy juggernaut, which cost about $225 million to make, was more favorably received by critics than its predecessor. It scored a 74% "fresh" rating on Rotten Tomatoes and earned an average grade of A-minus from moviegoers according to market research firm CinemaScore.
"An Unexpected Journey" got only a 65% "fresh" rating on Rotten Tomatoes, although moviegoers went easier on it—giving it an average grade of A through CinemaScore.
"The Desolation of Smaug" is the second in a 3-D trilogy that is a prequel to "The Lord of the Rings" trilogy, which was also directed by Peter Jackson and earned nearly $3 billion worldwide from 2001 to 2003.
"The Hobbit" films (the third of which, "There and Back Again" will be released next year) are based on Tolkien's 1937 adventure-fantasy novel "The Hobbit." They star Martin Freeman as the famous hobbit Bilbo Baggins and Ian McKellen as the sage wizard Gandalf.
The Smaug in the current release is a wicked fire-breathing dragon voiced by in-demand British actor and "Sherlock Holmes" veteran Benedict Cumberbatch.
PHOTOS: 'The Hobbit: Desolation of Smaug' - 60 images from Middle-earth
The weekend box office's second-place spot went to Disney's animated family adventure, "Frozen," which earned a solid $22.2 million, pushing its total cumulative gross to $164.4 million.
Coming in at No. 3 was "Tyler Perry's A Madea Christmas," which took in a studio-estimated $16 million. Like "Desolation of Smaug," that number was somewhat less than early projections expected. Still, the film's budget was about $25 million, so it should do just fine in the long run.
The Lionsgate film, which again stars Perry in the title role of an eccentric African American matriarch, is the eighth film in the "Madea" franchise and also stars Larry the Cable Guy.
The biggest opening in the "Madea" series happened in 2009 when "Tyler Perry's Madea Goes to Jail" grossed $41 million.
In limited-release land, "American Hustle" and "Saving Mr. Banks" were both received with much fanfare. "Hustle" took in a particularly impressive $690,000 in six theaters in New York and Los Angeles. That's a per-location average of $115,000.
The Sony Pictures period piece takes place in the 1970s and relates the story of a con man forced to work with the FBI. It was directed by David O. Russell and stars Christian Bale, Bradley Cooper, Jennifer Lawrence, Jeremy Renner and Amy Adams. It already has a solid Oscar buzz and was nominated for seven Golden Globe awards including best picture.
Walt Disney's "Saving Mr. Banks," which stars Tom Hanks and Emma Thompson in a story about the quest to make the classic film "Mary Poppins," debuted in 15 theaters and grossed $421,000 for a per-location average of about $28,000.
ALSO:
'Hobbit' sequel 'Desolation of Smaug' to take box office gold
'Hobbit' star Luke Evans talks 'Smaug': 'It's better than the first one
Review: Lively 'The Hobbit: The Desolation of Smaug' has welcome ring
---
Inside the business of entertainment
The Wide Shot brings you news, analysis and insights on everything from streaming wars to production — and what it all means for the future.
You may occasionally receive promotional content from the Los Angeles Times.