11 Images
Female TV ensembles
By Stephanie Lysaght, Los Angeles Times Staff Writer
From "Sex and the City" to
"The Golden Girls,"
American viewers have always had a soft spot for shows about tight-knit groups of women.
(ABC)
'The Golden Girls'
A timeless favorite of women and gay men alike, "The Golden Girls" chronicles the adventures of four women, living together in Miami, as they enjoy their sunset years.
(NBC)
'Designing Women'
Take one beauty queen, one feminist, one divorced mom and one innocent country girl. Cram them all together in Atlanta, give them a business to run, and watch the magic unfold.
(Lifetime)
'Sex and the City'
"Sex and the City" follows yet another fearsome foursome -- Samantha, Carrie, Miranda and Charlotte -- as they fumble through single life in New York City. This show has elicited the deepest allegiance in recent memory, with every fan insisting that her friends resemble its characters (and insisting, of course, that she herself resembles Carrie).
(Mark Liddell / HBO)
'Girlfriends'
On since 2000, "Girlfriends" follows a group of friends, living in Los Angeles, as they balance the demands of work, romance and family. The long-running series even spawned a spin-off called "The Game."
(The CW)
'Desperate Housewives'
On this breakout hit, the housewives show that suburbia is anything but dull. Suicide and infidelity rage behind the cheerful façade of Wisteria Lane.
(ABC)
'Army Wives'
We've seen numerous accounts of soldiers' lives, but what about the women they leave behind? "Army Wives" tells the untold story of women married to soldiers.
(Lifetime)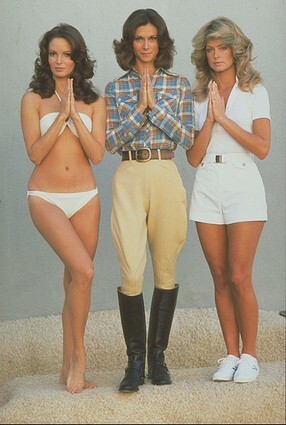 'Charlie's Angels'
On this historic series, three smoking-hot private eyes solve cases together. The show was off the air by 1981, but Farrah Fawcett's feathered hair will never be forgotten.
()
'Related'
"Related" followed four close-knit sisters as they fumbled through life in New York City. Despite the presence of star writers from "Sex and the City" and "Friends," the series did not last.
(WB)
'Clueless'
After "Clueless" the film became a mega-hit, the television show was born. On TV, a posse of superficial women, living the good life in L.A., learn about the things that really matter … with plenty of shopping along the way.
(ABC)