David Gordon Green, mainstream director?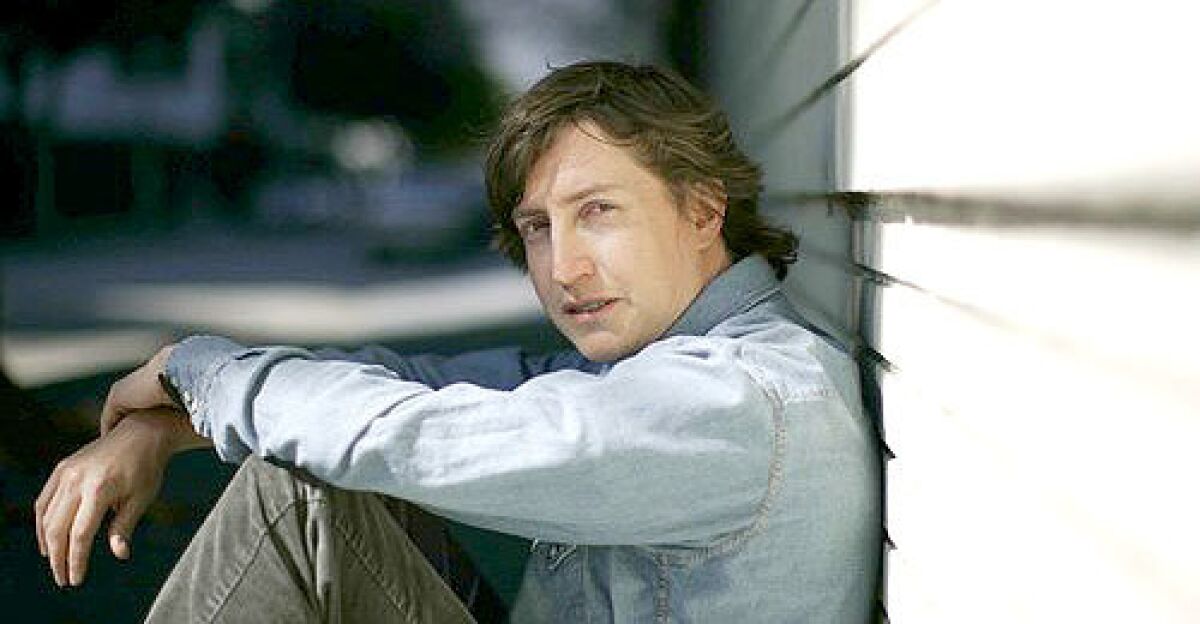 Special to The Times
AFTER years of cutting his teeth in independent film, David Gordon Green is one of the big boys now. The youthful 32-year-old writer and director, who still happens to wear braces, says he no longer gets carded at bars. But his newfound maturity pales in comparison to the thrill of being invited to host his own three-night film retrospective this week at American Cinematheque's Egyptian Theatre in HollywoodEgyptian Theatre in Hollywood.
"My reaction? I would use the word 'flabbergasted,' " says Green, adding that the tribute "seems a little bizarre and backward, but it's quite an honor."
Audiences might not immediately recognize the wispy, shaggy-haired Southerner as the budding film legend they've come to see, when his latest effort, "Snow Angels," a bleak small-town drama featuring Kate Beckinsale and Sam Rockwell, premieres Thursday night. Beckinsale, who plays a single mother struggling to keep her life on track after her daughter disappears, recalls that before she met Green, "I was warned that I might think he was the production assistant because he looks 13 years old."
Despite his unassuming air, Green has carved out a niche for himself in Hollywood as a master raconteur with an ear for lyrical dialogue and an eye for authentically American milieus. "If you can categorize filmmakers in a music way, David is a folk director," says Beckinsale, one of his biggest fans. "He's a magpie, but he doesn't go for the shiny things -- he goes for the busted tin can and the three-legged dog. I describe him as being like one of those Simon and Garfunkel songs that has all these little odd, interesting, quirky objects and details set to this amazing tune."
Green made his debut in 2000 with " George Washington," a critically hailed coming-of-age story about a black boy in the rural South who dreams of greatness while trying to blot out the stain of a summer tragedy. Next came 2003's "All the Real Girls," a naturalistic high-school love story. Green's idol Terrence Malick produced his third directorial effort, 2004's "Undertow," a backwoods thriller with hints of Huckleberry Finn.
Shot in Canada, "Snow Angels" marks a departure for the director, who also adapted the screenplay from Stewart O'Nan's novel of the same name. In addition to a bigger budget (twice that of the bare-bones "Undertow"), it features marquee names. Time will tell if the critically hailed movie, which played at the 2007 Sundance Film Festival, will find an audience. By the director's own admission, none of his films has earned more than half a million dollars domestically.
"I guess I've been blessed with a lack of success in financial terms; I've been lucky to maintain an appetite," Green says, with a slight Texan twang. "I think that once a filmmaker or an artist or anyone who's building something doesn't have a hunger -- they're doing it for a paycheck -- they might as well go back to the factory."
Odd jobs
Green should know, having done his fair share of factory work and other odd jobs to help collect the $50,000 he needed to direct his first feature. In addition to working at a doorknob factory, the Arkansas native has been a janitor at a mental institution, a concierge at a casino and a clown at a children's hospital. "I'm a sucker for experience," he says.
According to his family, Green first fell in love with movies at 2 weeks old when his parents brought him to a showing of "Young Frankenstein" and he watched the screen without crying. Growing up outside Dallas, Texas, he dabbled in different pursuits, playing soccer (well, he was benched most of the time) and making art. To this day, he begins his writing process by drawing exploding brains and screaming faces in his sketchbook.
Despite his early efforts, Green always came away feeling like he was "half-assed at everything," he says. In high school, he was the guy at the senior talent show who decided to make peanut-butter sandwiches and throw them into the crowd, while his friends played in a band. "That was a transitional moment," Green recalls. "I thought, 'What a cool opportunity to either make my own strange, absurd artistic statement or get the attention of the pretty girl who I had a crush on.' " He laughs. "I got my midlife crisis out of the way when I was 16."
Eventually, the director realized that his greatest gift might be his ability to surround himself with other talented people. He relies on a tightly knit creative team including producer Lisa Muskat and cinematographer Tim Orr, whom he met while studying film at the North Carolina School of the Arts in Winston-Salem.
He also gets a thrill out of discovering talent. For "George Washington," Green handpicked a cast of mostly first-time actors from churches and YMCA casting calls around North Carolina. In terms of acting experience, he says he looks for "people who are either full-grown or have just been born." It's the recent acting school graduates who have just learned how to eliminate their regional accents that he tries to avoid.
Even with her real-life experience as a single mother of a little girl, Beckinsale initially worried that Green might not want her for "Snow Angels." "I was pretty sensitive: 'Oh, he's going to think I'm just this action chick,' " she recalls. But after a brief meeting, the director became convinced of her ability to inhabit the role of a mother who would do anything to protect her young daughter.
The scenes she shared with Rockwell, who plays her disturbed husband, were "some of the most exciting, interesting, risky moments I've ever had in my career," says Beckinsale, who appreciated it when her director provided some much-needed levity. "He was always threatening to take a picture wearing just his underpants and moon boots in the snow, meanwhile creating the most beautiful, profoundly emotional movie."
Stoners and witches
Audiences will get to see a lot more of Green's silly streak in "The Pineapple Express," his much-anticipated stoner comedy starring Seth Rogen and James Franco, produced by Judd Apatow, that hits theaters this summer. "Don't read anything about it. Just go see it. It's weird," says Green, who first read the script while visiting friends on the set of Apatow's "Knocked Up."
Having lived with "Snow Angels" for so long, "I was looking to add a little sunshine to my day and use some comedic and action sensibilities I had," he continues. "Nobody had opened the door or considered me for any comedic project, and now hopefully with some good word of mouth, I can have more options and career moves that I can still keep my fingerprints on."
Currently, Green is working on a slew of projects, including an adaptation of the John Grisham novel "The Innocent Man," for which he visited death row in an Oklahoma prison. He's also remaking Dario Argento's "Suspiria," a horror film about a coven of witches at a ballet school in Germany. It's all part of Green's plan to branch out into new territory.
But he's also heeding some sage advice from Malick. "He said to have a healthy film life, you need a real life, and you need to be protective of that," says Green, who lives in New Orleans when he's not traveling around the world with his films or mountain climbing in Colorado. "The way I've taken it to heart is to make sure your stories are coming from a true place."
---
Get our L.A. Goes Out newsletter, with the week's best events, to help you explore and experience our city.
You may occasionally receive promotional content from the Los Angeles Times.