The 'American Horror Story' cast gets a taste of its own medicine at Roanoke maze at Universal's Halloween Horror Nights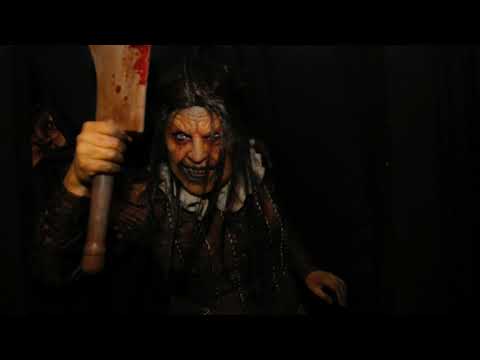 Universal Studios pulls out the knives, axes and pig heads to scare you silly
"This seems like an odd choice, to spend Rosh Hashanah here," a smirking Billy Eichner said to his "American Horror Story: Cult" costar Leslie Grossman just outside a large, darkened tent as the sun set over Universal Studios recently.
The two of them, along with Billie Lourd, Colton Haynes and a number of other cast mates, were just beginning to settle down after a harried walk through American Horror Story: Roanoke, a new attraction dedicated to the sixth season of the show that's part of the theme park's annual Halloween Horror Nights.
"This is my first L.A. haunted house," said Alison Pill, who plays Ivy, Sarah Paulson's wife, in the current, seventh season, subtitled "Cult." (Paulson, perhaps sensibly, was not on hand to experience her show's scares in real life). "I was impressed. Production values, thumbs up," she added as the cast gathered to laugh and compare notes after the roughly five minutes it took to complete the maze. "Leslie's not OK at all."
"Kathy Bates tried to take out my knee," an incredulous Grossman began, referencing Bates' Season 6 character, Agnes Mary Winstead (or "The Butcher"), who is portrayed by an actor in the maze and pops out from dead-end hallways and picture frames to swing a blade while accompanied by a shrill tone and flashing lights for maximum nerve-fraying impact.
"First of all," she continued, "I should have medicated myself before I came here." A moment later, a black-clad ringmaster in showrunner Ryan Murphy (who was not available to speak that night) collected his cast for one more venture through a world he helped create.
A smorgasbord of jump-scares involving elaborately rendered (if purposely confusing) sets and actors dressed as familiar characters spring from the shadows to startle horror fans into one another's arms in this year's installment of Halloween Horror Nights. The fright fest opened Sept. 15 and brings "American Horror Story" into its portfolio of pop culture scares for the second consecutive year (the attraction runs through Nov. 4).
For a price — and the patience to wait in long, somewhat introductory sets of mazes that form the line, snaking above and below the park, that were said to last upwards of two and a half hours — fans can revisit Roanoke alongside numerous other haunted halls dedicated to the likes of "Ash vs. The Evil Dead," "Saw" and "The Shining."
At the maze's entrance, as visitors pass through curtains, the most prominent feature is darkness, which eventually parts to show a man roasted on a spit here, a woman whose leg is being slowly filleted there. Snippets of the season's dialogue pepper the maze's disorienting atmosphere, and at one point you pass through a dining room where the word "murder" has been inhospitably scrawled in red across the wall.
Among those populating the attraction are somewhere between four and fourteen shirtless, cleaver-bearing "Pig Men" in oversized porcine masks who jump out to swing something threateningly in visitors' direction before retreating behind a curtain. At the end of a hallway, one of the many homicidal Roanoke characters scowls with a sly mania as attendees cling to each other to hustle past her. (A tip, for those apprehensive about these attractions — maybe don't be first in your group.)
"It was dark, and they're not afraid to try to take your leg out with an axe," said former "Teen Wolf" star Haynes, who portrays a detective this season. "I think it's fun because you really feel like you might have to go into surgery."
"I felt singled out," Pill said after her trip through the maze ended. "I feel like the pig was after me."
"Did Jessica Lange ever walk through this?" Eichner asked of the star of several previous seasons of the show. "Something tells me no."
"Are you kidding?" a grinning Pill countered, "She designed the ... thing."
Later, speculation began for what such an attraction might look like for the current season, which springs out of the 2016 election with the same gleeful, over-the-top mayhem fans have come to expect out of "American Horror Story."
"That'll be fun. It'll be horrifying," Grossman said. Later, Eichner was overheard speculating about the possibilities for an in-maze presence of Hillary Clinton or Jill Stein.
"It should just be Donald Trump, that's all it should be," Grossman offered. "Him and Steve Bannon. Oh, my God, that would be really funny.
"I'm available," she added with a laugh.
See the most-read stories in Entertainment this hour »
Follow me over here @chrisbarton.
ALSO:
Seth MacFarlane's 'Star Trek' homage 'The Orville' has a mixed-up mission
'Me, Myself, and I' finds Bobby Moynihan in a new place
Overrated/Underrated: Don't sell your DVDs, and do we actually enjoy Darren Aronofsky movies?
Get our L.A. Goes Out newsletter, with the week's best events, to help you explore and experience our city.
You may occasionally receive promotional content from the Los Angeles Times.