How the movies transformed theme park haunted mazes into blockbusters
A thousand "scare-actors" a night wend through an assembly line of gore, where they are transformed into terrifying characters for Universal Studio's Halloween Horror Nights.
Six years ago, director Eli Roth pulled on a costume from his film "Hostel" and staged an impromptu performance inside the film's maze at Universal Studios' Halloween Horror Nights.
"He showed up, he had the costume from the movie, and he acted in every single scene in the maze for over an hour," recalled John Murdy, creative director at Universal Studios Hollywood and executive producer of Halloween Horror Nights. "When I came down, he had gone backstage afterwards and hung out with the cast, took a million selfies, thanked everybody and as he was coming out he gave me a big bro hug."

For the record:
2:20 p.m. Oct. 14, 2017
A previous version of this article incorrectly stated that Warner Bros. owns Six Flags Magic Mountain. It does not. The theme park uses characters from Warner Bros. movies through a licensing agreement.
Of course, Roth was still drenched in fake blood from the performance.
"I've never been able to get [the blood] off so now it's just the Eli Roth memorial jacket," Murdy said with a laugh.
Horror fans and filmmakers alike flock to Universal Studios for the Halloween-themed seasonal attractions, which compete with the longer-running Knott's Scary Farm by taking full advantage of licensing opportunities to bring thrill seekers' favorite movies and TV shows to frightening life.
"Because we're in the most competitive market in the world for this, I focus specifically on branded horror," Murdy said. "It's a lot like doing movies except we're doing multiple movies at the same time."
Other parks are getting into brand-name scares, but Universal has established itself as the leader in the field. This year, during 29 nights from September through November, Universal Studios Hollywood has scared up mazes based on Stanley Kubrick's "The Shining," TV's "American Horror Story: Roanoke" and "Ash vs Evil Dead," the "Saw" and "Insidious" franchises, plus "The Horrors of Blumhouse," featuring elements from the studio's films "The Purge," "Sinister" and the just-released "Happy Death Day" as well as "Titans of Terror," featuring Leatherface from "The Texas Chainsaw Massacre," Jason from "Friday the 13th" and "A Nightmare on Elm Street's" Freddy Krueger. That's on top of the park's popular "The Walking Dead" attraction and the "terror" tram ride is hosted by Chucky of "Child's Play."
"Universal most definitely is associated with the horror movie, going all the way back to the birth of the studio," said Murdy.
Soon after its inception in 1915, Universal Studios originated modern-day horror on screen with films like "The Hunchback of Notre Dame" (1923) and "The Phantom of the Opera" (1925) before producing monster franchises like "Dracula" (1931), "Frankenstein" (1931), "The Mummy" (1932), "The Invisible Man" (1933), "The Wolf Man" (1941) and "The Creature From the Black Lagoon" (1954), films the studio seeks to capitalize on with its ongoing Dark Universe series of reboots. And in the 1960s, after he shot "Psycho" for Paramount on the Universal lot, Alfred Hitchcock set up shop at Universal.
Halloween Horror Nights, which originated at Universal's Florida park, began in Hollywood during the 1990s before being rebooted with Murdy at the helm in 2006. His vision is to evoke the studio's history by creating "living horror movies" in collaboration with popular filmmakers, movies and TV shows in the horror genre. "That just wasn't being done anywhere," Murdy said. "And that's really what put us on the map."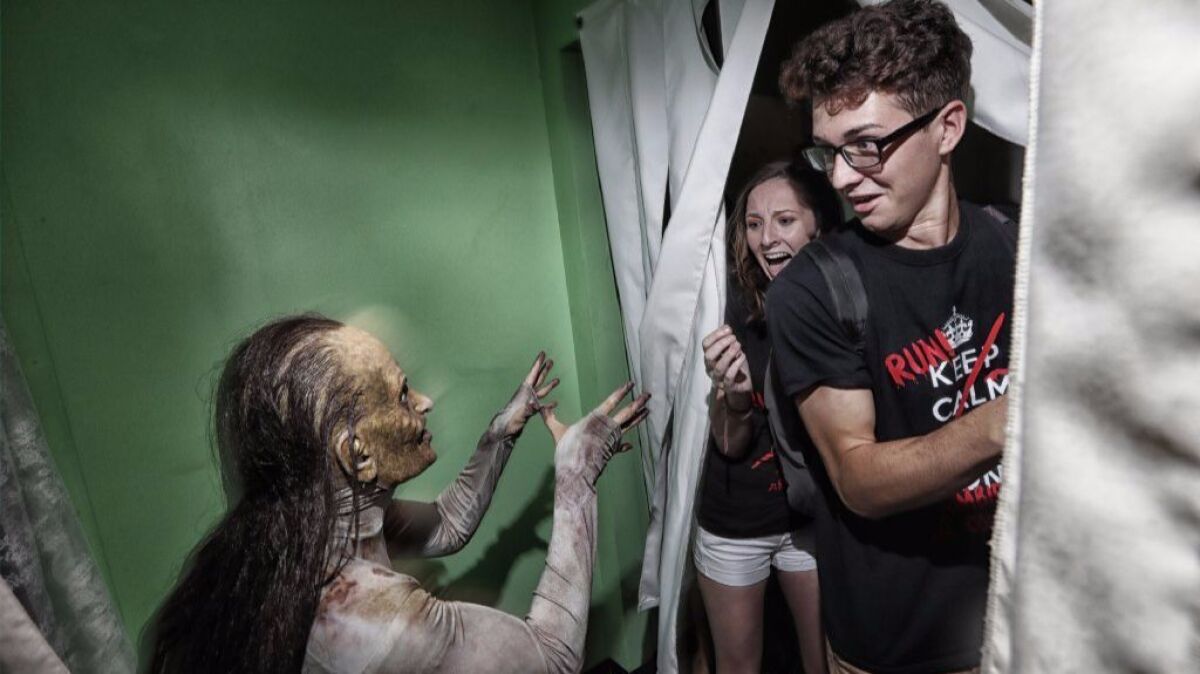 One of the keys was bringing in characters and environments from current movies and TV shows.
"I think the best example is what we're doing with Jason Blum and Blumhouse films," Murdy said, "because they're on the cutting edge of modern horror."
Blum, who has produced "Insidious," "The Purge," "Paranormal Activity," "Sinister" and their sequels, is widely considered to be the fresh face of horror, thanks to his ability to produce low-budget films that earn high returns.
"I really think Stephen King deserves the title, but I'll take the runner-up face of horror," Blum joked.
Before partnering on the mazes with Universal, Blum staged his own "Blumhouse of Horrors" in downtown L.A.'s 93-year-old Variety Arts Theater (rumored to be haunted). It was a hit indie movie version of the blockbuster Universal Studios events. In 2013, the producer, 48, joined forces with Universal to stage a maze based on "Insidious."
"I met John [Murdy] at the opening of 'Paranormal Activity 2' and since then, we've just worked more and more closely together," said Blum. Where once Murdy was tasked with creating an experience based solely on a finished film, today he's privy to the script and plans with Blum far in advance. "He's super respectful of our ideas but ultimately he has the final say," Blum added. "Over the years, I've come to really trust him."
That trust is how this year's "The Horrors of Blumhouse" maze came to have moments not only from "The Purge" and "Sinister" franchises, but the upcoming "Happy Death Day," which premieres on Oct. 13 (Friday the 13th, naturally).
"One of the things I was really hoping to do that we'd never done before is to do a maze which encapsulates a handful of our movies as opposed to just one movie," said Blum. "And that's what's new this year with the Horrors of Blumhouse."
Though some of the props sprinkled throughout the mazes are actual set dressings from the film (for example, the baby masks worn in the "Happy Death Day" portion of the Horrors of Blumhouse maze), many are convincing replicas. "The Shining" maze, for example, evokes several sets from the classic film.
"That's a heck of a challenging movie to turn into a seasonal haunted attraction," Murdy said. "Sets, everything, they look straight out of the movie."
In addition to familiar props, guests should also be on the lookout for famous faces scattered among the Horror Nights crowds: Lebron James, Ariana Grande, Pharrell Williams, Leonardo DiCaprio, the Kardashians and even the cast of "American Horror Story" have all been known to drop by for a scare.
"It's fun for our cast particularly when 'American Horror Story' is here, because my performers are scaring the very people from the show," said Murdy. "That's one of the things I do to psych them up every year. Like, 'Hey, guess what? You're going to get to scare the very people whose role you're playing."
Take a look inside the newest maze at Universal Studios' Halloween Horror Nights, one based on Stanley Kubrick's movie adaptation of Stephen King's psychological thriller "The Shining."
Universal's biggest corporate contender in the movie-branded scares is Warner Bros.
With the recent release of the record-breaking "It," made by the studio's New Line Cinema unit, and a theme park at its disposal through a licensing agreement, Warner Bros. is making the most of this year's Halloween season with attractions at its studio lot in Burbank and at Six Flags Magic Mountain.
Anyone walking past Hollywood and Vine in August may have noticed a 5,000-square-foot, two-story re-creation of "It's" terrifying Neibolt Street house, the home to Pennywise the Clown. An immersive marketing experience in the style of a haunted house, the Neibolt house quickly became a must-visit pre-Halloween haunt and a social media phenomenon before the operation was moved to the Warner Bros. Studio Tour for a six-night, block party-style "Horror Made Here" experience through Oct. 28.
Executive chef Eric Kopelow creates twisted tasty treats for Universal Studio's Halloween Horror Nights.
"The [Vine Street] idea was that there would be tremendous foot traffic there because it was right as 'Hamilton' was opening at the Pantages down the street and there's an enormous amount of tourism there for summer," said Blair Rich, president of worldwide marketing at Warner Bros. "So we knew that it could be an incredibly well-attended attraction."
What they didn't expect was for lines to wrap around the block and for tickets for the entire run to sell out within seven hours, especially considering the house was promoted only on social media and fan sites.
"When we started the project we expected to get 7,000 people through it in its entire run," said Rich. "By the time we finished, 38,000 people had gone through it and we had a waiting list of 85,000 people that we had to shut down."
"It" director Andy Muschietti, who brought the town of Derry to life on-screen for the film, was part of the planning for the Neibolt house.
"We worked hand-in-hand with the filmmaking team and with Andy to make the design of the inside as close to the film as possible," said Rich. "He was extremely involved in making sure the design was authentic, the rooms were the right amount of scary and that it was true to the experience of the film."
"They even had the dead grass and dead trees," Rich added. "It's about conjuring what people imagine the experience to be."
In addition to the "It" house, a replica of the fictional town of Derry, Maine, will take over the lot's Midwest Street, and there will be mazes surrounding the "Annabelle," "The Conjuring" and "Nightmare on Elm Street" franchises.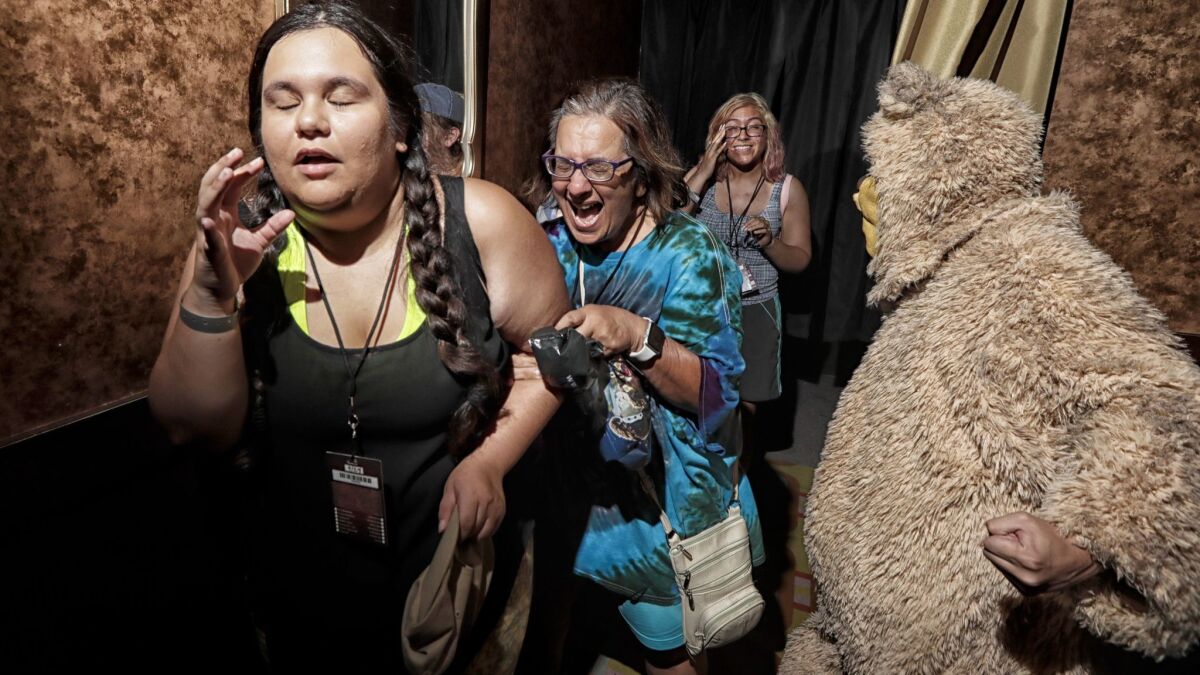 "We're also going to be conducting mini tours of the back lot, which we've never done at night before," said Jon Gilbert, president of worldwide studio facilities at Warner Bros.
Six Flags Magic Mountain, which licenses intellectual properties from Warner Bros., is jumping on the branded horror wagon with Suicide Squad: The Six Flags Fright Fest Experience.
The walk-through attraction riffs on the 2016 movie, using the art directors' drawings, new props and the rock-infused soundtrack to create an entirely new experience based on the film.
"In essence, we're trying to create the same tone that the movie did," said Scott Sterner, producer for live experiences at Six Flags Magic Mountain. "We tried to make it so guests get the sense that they're walking through Midway City."
Sterner and his team met with the producers of the film to plan out an experience that would be true to both brands.
"There's a very high awareness of the 'Suicide Squad' brand," said Sterner. "We share a lot of the same demographics between the movie and our visitors here. It is so right for who our audience is and what they appreciate."
The attraction offers photo ops with some of the villains of "Suicide Squad" including Harley Quinn, the Joker, Katana and Killer Croc, whose likenesses are based on the filmmakers' 3-D models rather than the actors themselves.
"We also took the soundtrack from the movie and embellished it," said Sterner. "We took songs that were similar to the classic rock kind of sound in the soundtrack and developed more songs."
In the same vein as the Suicide Squad Experience, the latest season of Creep LA, one of the city's most admired immersive haunted house experiences, aims to put its own flair on an already established entertainment property — in this case, the Amazon Prime Exclusive series "Lore."
"We really fabricated everything and built [it all] from scratch using the episode for aesthetic, tone, mood and style," said Justin Fix, creator, producer and director of Just Fix It Productions, which is staging the Creep LA: Lore multi-sensory maze. "But then over the last five weeks we've really been able to build an entire world from scratch."
Based on Aaron Mahnke's popular podcast of the same name, Amazon's "Lore" is a six-episode anthology series that presents the real-life events and stories that have led to our modern day myths and legends about traditional horror fare like vampires, changelings, werewolves, seances and possessed dolls.
Creep LA: Lore, which will take place at the Reef in downtown L.A. through Nov. 12, heavily evokes the spirit of the show, guiding a group of eight through an hour-long walk through featuring moody rooms and scary scenarios. Mahnke himself served as creative director for the experience.
"We basically listened to what he did," Fix said, "and thickened it up."
In the same way that Creep LA: Lore aims to reinvigorate traditional horror fixtures, Universal Studios seeks to breathe new life into already established properties year after year.
"Sometimes we'll bring back popular properties but we always change it," said Murdy. "We always make it different and new because that's what our fans want out of us. It gets more challenging when you've done it several times."
For example, after holding a Freddy v. Jason maze last year, Murdy had to up the stakes with this year's Titans of Terror maze, which features Freddy, Jason and "The Texas Chain Saw Massacre" baddie Leatherface. And horror fans can't get enough.
"Horror fans are very passionate," said Murdy. "They're very, very into the properties that they love and it's really the only place where they can see those properties brought to life like this."
Universal Studios pulls out the knives, axes and pig heads to scare you silly
follow me on twitter @sonaiyak
ALSO
Q&A: Finn Wolfhard shares his texts from the 'It' and 'Stranger Things' gang
Why this film critic won't see any more horror movies
TV horror vs. movie horror: Guillermo del Toro on telling scary stories across different mediums
The 'American Horror Story' cast gets a taste of its own medicine at Roanoke maze at Universal's Halloween Horror Nights
Knott's returns to the fog with a stronger Halloween Haunt line-up
Universal's Horror Nights 2017 delivers a greatest hits line-up of movie and TV terror
See what's killing haunted houses and other independent Halloween attractions
---
Get the Indie Focus newsletter, Mark Olsen's weekly guide to the world of cinema.
You may occasionally receive promotional content from the Los Angeles Times.