Live: Jon Brion
MAINSTAY:
Jon Brion resumes his Friday night gig at Largo's new home, making full use of the larger stage.
(Ken Hively / Los Angeles Times)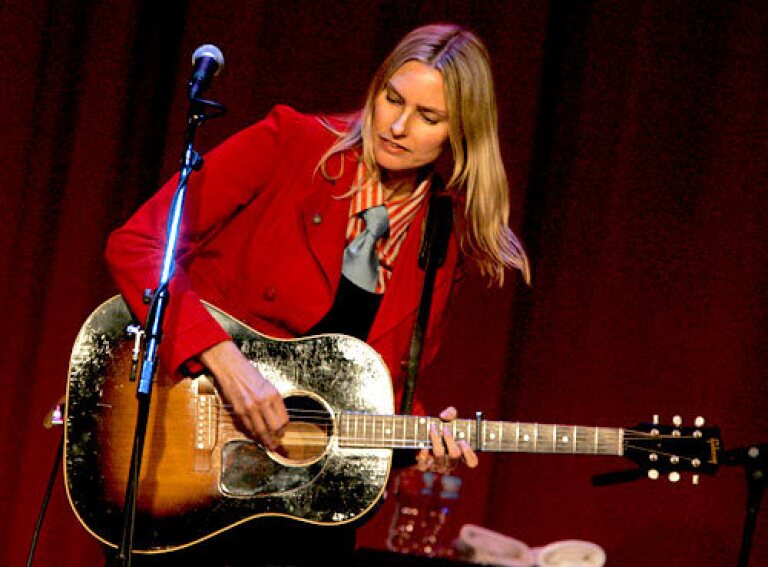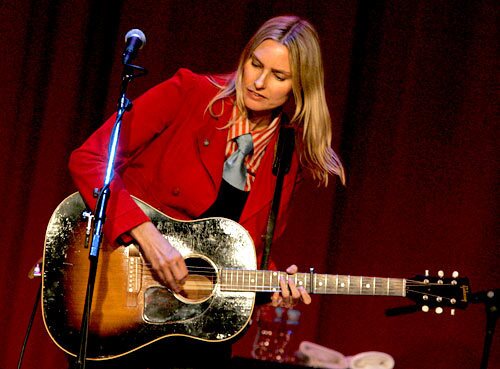 INAUGURAL BALL
:
Aimee Mann
headlines the first Largo show at the Coronet Theatre.
(Lawrence K. Ho / Los Angeles Times)
Los Angeles Times Staff Writer
One big difference between the Largo nightclub's new location on La Cienega Boulevard and its longtime home on Fairfax was illustrated during Jon Brion's late show on Friday. In the middle of a lively, tango-style instrumental, the guitar-wielding Brion and mandolinist Chris Thile faced each other from opposite ends of the stage and charged past each other in a playful display of rock showmanship.
At the old Largo, two musicians could hardly stand 6 feet apart without backing into a wall or falling into the tables.
But a more crucial distinction emerged a little later when Fiona Apple, winding down to the end of an old pop standard, sang the final words in a voice that seemed impossibly hushed. She stood far from the microphone, but the notes were clear, pure and natural throughout the room. There wasn't a trace of distraction -- no clinking glasses, no blender at a bar, no audience chatter.
That rare, precious moment crowned the new setting's opening week, and it must have come as a relief to Largo fans and owner Mark Flanagan. You don't monkey with an institution without taking risks, and there was no guarantee that the Largo sensibility would survive the transition.
Like New York's CBGB and Living Room and L.A.'s old Ash Grove, to name a few, the Largo became the core of a music-centric community during its 12 years on Fairfax. With a capacity of just over 100 and a prominent position in the city's cultural fabric, it was part clubhouse and part laboratory, a homey retreat for a group of literate singer-songwriters that included Aimee Mann, Grant-Lee Phillips, Nellie McKay, David Garza and more.
Its move to the old Coronet Theatre, up the street from the Beverly Center, basically entailed an exchange of circulation for concentration. Some Largo regulars will probably miss the supper-club environment, the option to eat and drink and move around a bit while experiencing the music. The new format forgoes amenities to fulfill the Largo's mission statement: Serve the music above everything.
There's no food or beverage in the 280-capacity theater, whose permanent seats keep you planted in one spot. And the familiar Largo rules -- no talking during the show, no cellphones or electronics -- still prevail. (For those in need of socializing, a small showroom at the theater with a beer and wine bar is scheduled to open this week.)
Mann's opening-night performance a week ago showed that the right blend of focus and informality can quickly loosen up the atmosphere. Accompanied by bassist Paul Bryan and keyboardist Jamie Edwards, she played lots of songs from her new album, "@#%&! Smilers," immediately revealing the theater's warm sound quality. When she started taking requests and bantering with the audience, it felt a lot like the old Largo.
If Mann's performance was the birth of the new Largo, Brion's show was its baptism. The multifaceted musician's Friday residency was the centerpiece of the Fairfax location for more than a decade, and by transferring it intact to its new stage, he put the seal on the deal.
Brion is the quintessential Largo artist, a pop-music polymath who could have probably forged a high profile as a hit maker but instead followed his instincts into a rewarding array of projects and collaborations, working with such artists as Apple, Mann, Rufus Wainwright, Kanye West, Eleni Mandell and director Paul Thomas Anderson, to name just a few.
His first Friday at the new spot was typically familiar yet unpredictable. In his 90-minute early set, the boyish host was like a musical mad scientist, forming full-band backdrops by playing and looping piano, drums and guitars, choosing instruments and songs as he went. He honored a request for "Baba O'Riley," played the Kinks' "This Is Where I Belong," turned the standard "Someone to Watch Over Me" into an anguished shower of distortion, and showcased some of his own material, including "Why Do You Do This to Yourself," which he wrote with Evan Dando, and "Knock Yourself Out" from the "I [Heart] Huckabees" soundtrack. For the chops freaks, he closed with a dazzling display of guitar virtuosity on Bob Dylan's "Don't Think Twice, It's All Right."
About half of the audience stuck around for the late show, which showcased Largo's community aspect. Brion was joined from the start by Thile and soon after by fiddler Sara Watkins and her brother, guitarist Sean Watkins, the mandolinist's bandmates from the on-hiatus bluegrass band Nickel Creek.
Apple sang some standards and the country staple "I Forgot More Than You'll Ever Know," actor John C. Reilly did a couple of bluegrass tunes, "Rank Stranger" and "Angel Band" ("Um, there's one more verse," he told the musicians after they had brought the latter to a sweet conclusion), and singer-songwriter Garza added ecstatic energy with his rapid guitar strumming and transported singing.
As Thile closed the evening alone playing Bach's violin partita in D Minor on his mandolin, the thought occurred: If Disney Hall is L.A.'s cathedral of sound, the city now has its true chapel.
richard.cromelin@latimes .com
---
Get our daily Entertainment newsletter
Get the day's top stories on Hollywood, film, television, music, arts, culture and more.
You may occasionally receive promotional content from the Los Angeles Times.