Makers conference launches with a call to arms: 'We can do anything, but we can't do everything'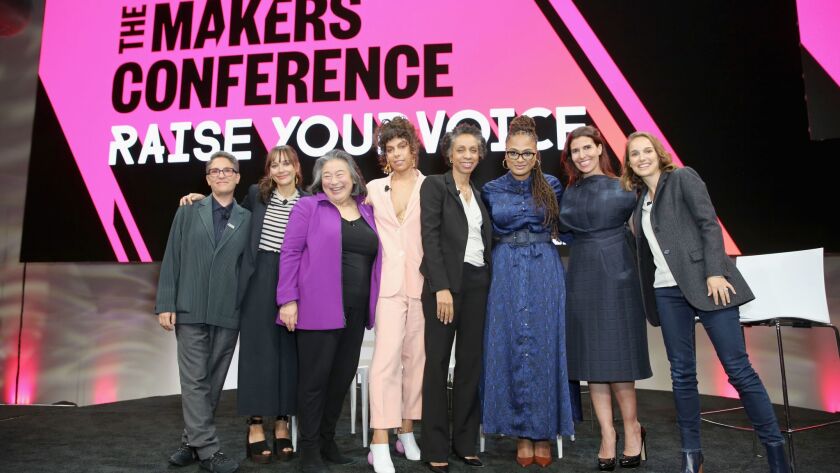 With a focus on addressing sexual harassment, pay equality and representation, the 2018 Makers Conference kicked off Monday night with a Time's Up panel discussion featuring eight powerful Hollywood women.
First on the agenda was a 30-minute panel discussion on the future of the movement and the power of creating a collective group.
The moderator, movie director Ava DuVernay, was joined in conversation by actresses Natalie Portman and Rashida Jones, writer-producer Jill Soloway, talent agent Maha Dakhil, Grammy-winning music video director Melina Matsoukas, entertainment lawyer Nina Shaw and Michelle Obama's former chief of staff, Tina Tchen.
"This is basically the Avengers," DuVernay said shortly after introducing the panel.
The Time's Up movement, which Dakhil said "began when Donald Trump was elected," originated in Hollywood to address gender inequality and sexual harassment in the workplace.
Shaw summed up their mission simply: "It's equity and safety in the workplace… We can do anything, but we can't do everything."
On the intersection of #MeToo and Time's Up, Soloway played it short and sweet.
"I think about it simply as, 'Me too, so time's up,' " she said. "It's all of us, so no more."
The Time's Up movement also strives for "intersectionality," hoping to include people of all races and backgrounds as well as professions outside the entertainment industry.
"Me as a black woman, I can't completely get tunnel vision on the issues of black people and women," said DuVernay. "I also have to think of Native people, of Latino people, I also have to think of trans people, I have to think of other people who are not me but who need to be included in this conversation."
"Everybody in the movement acknowledges that there is no change unless you bring every single person along who has spent time being marginalized, harassed, assaulted," said Jones.
According to Tchen, Time's Up has raised $20 million in the span of a month from 20,000 donors across the country from people who've donated anywhere from $5 to millions. The money goes toward the Legal Defense Fund, which provides aid to those who lack the means to defend themselves from workplace abuses.
"We've had over 1,000 requests for help in a month," she said. "So the need is clearly there."
Portman said that one of the key ways to empower women in the workforce would be to bring them together.
"We're as silenced by the shadows as we are by the limelight," she said.
"There's this kind of secondary thing about being the only woman at the table that is very isolating and endangering," she said. "How empowering it is to be in a room, to be on the same team, to say, 'We refuse to be pitted against each other.' There is not only one spot, we're going to make room for all of us."
The feminist media brand's annual conference, employing the hashtag #RaiseYourVoice, continues through Wednesday at Hollywood's NeueHouse. The conference is invitation-only but is streaming live on the Makers' website and Facebook page. Among the highlights for Wednesday is an appearance by Hillary Clinton.
follow me on twitter @sonaiyak
---
Inside the business of entertainment
The Wide Shot brings you news, analysis and insights on everything from streaming wars to production — and what it all means for the future.
You may occasionally receive promotional content from the Los Angeles Times.