Barry Jenkins says it's about time Hollywood pays attention to black novels. 'Beale Street' is just a start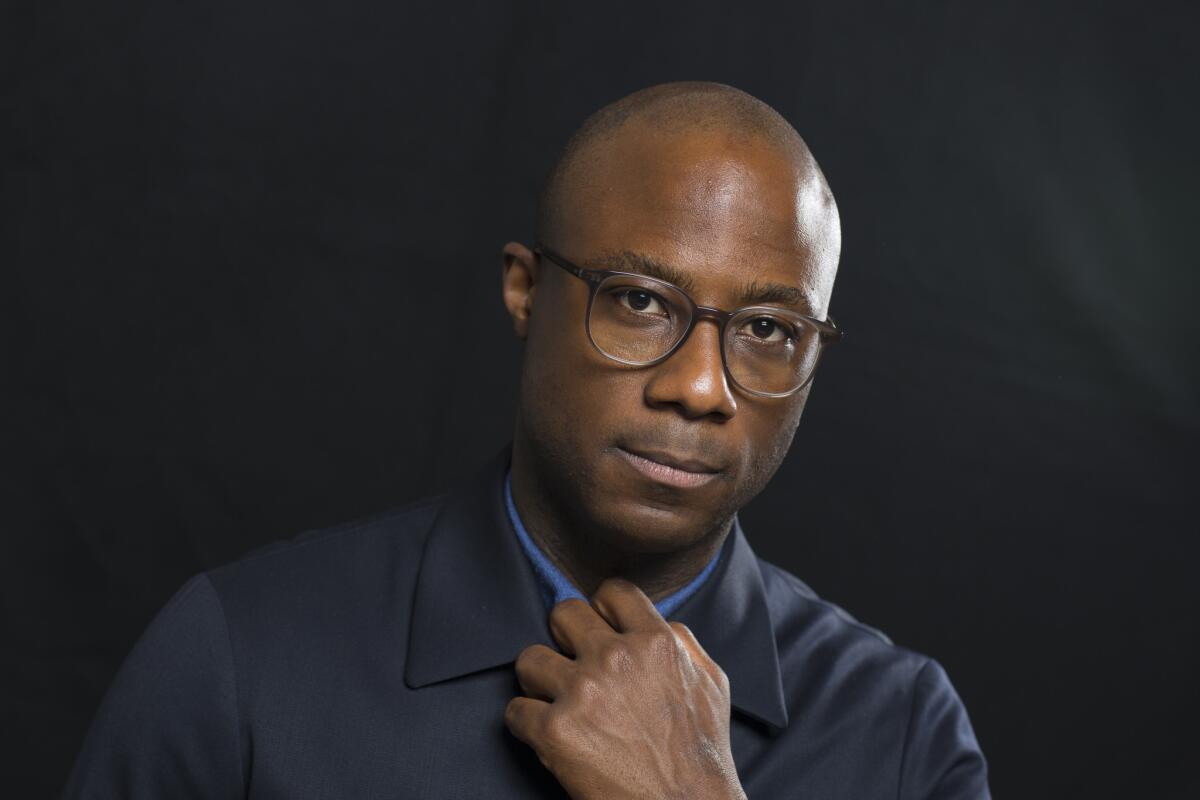 When Barry Jenkins decided in 2013 that he absolutely needed to adapt James Baldwin's novel "If Beale Street Could Talk," the director had made just one ultra-low-budget feature, and he certainly didn't have the book rights from Baldwin's estate.
More to the point, Hollywood wasn't exactly searching out African American literature — despite the success as far back as 1985 for "The Color Purple," the Steven Spielberg-directed film from Alice Walker's novel, which earned 11 Academy Award nominations and more than $94 million at the U.S. box office.
Before 2016, when Denzel Washington turned "Fences" into a film with four Oscar nominations, including a supporting actress win for Viola Davis, just one August Wilson play, "The Piano Lesson," had been adapted by Hollywood — as a Hallmark Hall of Fame TV movie. Author Zora Neale Hurston was adapted twice, in 2001 by Showtime from the 1933 short story "The Gilded Six-Bits" and in 2005 for an ABC TV movie, "Their Eyes Were Watching God," starring Halle Barry. Even Toni Morrison has been adapted just once (1998's "Beloved"), "which is craaaazy," says Jenkins, repeating himself for emphasis, "which is craaaaazy."
READ MORE: These are the black authors Barry Jenkins, Terry McMillan and others say Hollywood shouldn't ignore »
Hollywood has always depended on source material from novels, stories and plays. "The Godfather," "Jaws," "Jurassic Park," "Lord of the Rings" and Harry Potter are obvious ones. But the list also includes "The Birds," "Amadeus," "Brokeback Mountain" and countless other stories by white writers. Sure there have been high-profile films with major stars or smaller projects that earned acclaim from African American stories, including "A Raisin in the Sun" with Sidney Poitier from Lorraine Hansberry's play, "A Soldier's Story" from Charles Fuller's "A Soldier's Play," Spike Lee's "Malcolm X" from the autobiography of the Nation of Islam leader and the Lee Daniels-directed "Precious: Based on the Novel 'Push' by Sapphire," with the lengthy subtitle added almost as an admonition to remember the existence of black literature.
Even after Terry McMillan's novels "Waiting to Exhale" and "How Stella Got Her Groove Back" found big-screen success in the 1990s, the next two adaptations of her work were stuck on basic cable. And since 1995's "Devil in a Blue Dress" and a 1998 HBO adaptation of the novel "Always Outnumbered, Always Outgunned," at least eight Walter Mosley projects have been announced without ever reaching any screen in the last 20 years.
"There haven't been enough of these and they were few and far between," Jenkins says of films made from black literature. "I don't want to sound as though every novel by a black author should be translated to the screen, but damn sure many more of them should be."
Certainly many of Baldwin's stories seem ready-made for film. Yet before Jenkins got to the point where he could finally make "If Beale Street Could Talk," opening in theaters Dec. 14, Baldwin's books had never been adapted for a feature film in English — "Go Tell It on the Mountain" was made into a 1985 TV movie for PBS' American Playhouse series, and French director Robert Guédiguian adapted "Beale Street" in 1998, switching the setting from Harlem to Marseilles and using a white actress for one of the key black characters. Last year, Baldwin's unfinished memoir "Remember This House" was used as source material for the Oscar-nominated documentary "I Am Not Your Negro."
Jacqueline Woodson, whose books have won a National Book Award and the Newbery Honor says, "I remember being in L.A. and all my white male contemporaries were having meetings for any halfway decent book, but people of color were not getting any meetings. It was pretty blatant."
For Jenkins, it took belief in his script by the Baldwin family to get the rights to "Beale Street." Then, of course, he got sidetracked, adapting a play by Tarell Alvin McCraney, a small feature called "Moonlight."
By the time Jenkins started collecting Oscars, the tide was shifting — in both best picture and adapted screenplay. "Moonlight" beat out Washington's version of Wilson's "Fences" and an adaptation of a nonfiction work about African Americans, "Hidden Figures," by Margot Lee Shetterly.
"Denzel Washington put all his muscle into the film of 'Fences' and Paramount Pictures really treated it like it was hallowed ground, and that showed there is an audience there," says Wilson's widow, Constanza Romero. "That probably opened other doors for adaptations."
Now this new momentum has gathered force: Besides "Beale Street," "The Hate U Give," based on Angie Thomas' popular 2017 novel, opened in October, and a feature film of Richard Wright's "Native Son," adapted by Suzan-Lori Parks and directed by artist Rashid Johnson, arrives next year.
Other possible films from black novels include McMillan's "I Almost Forgot About You," which has been in development since last year with Viola Davis attached to produce and star. James McBride's "The Good Lord Bird," about a young slave who joins up with abolition leader John Brown, has been in the development cycle for years (at one point with Liev Schreiber and Jaden Smith in the starring roles); it's now reportedly being adapted for TV by Ethan Hawke and Jason Blum.
Washington has promised more Wilson adaptations — at one point he said he would produce 10 Wilson plays for HBO. Danai Gurira and Lupita Nyong'o are developing a limited series of Chimamanda Ngozi Adichie's "Americanah," which won the National Book Critics Circle Award in 2013. And after decades of science fiction fans wondering why Octavia Butler's many vivid stories have never been adapted for film or television, reports emerged last year that director Ava DuVernay is adapting "Dawn," the first in Butler's "Lilith's Brood" trilogy, into a TV series.
Television is also where Jenkins plans to bring another never-adapted black author when he transforms Colson Whitehead's Pultizer-winning novel "The Underground Railroad" into a limited series for Amazon,
"I don't think this is a fad," says Stephen McKinley Henderson, who costarred in "Fences" and appears in "Native Son." "Segregation hid a lot of classic material, and now the lid is open and people are searching for wonderful material that is artistically sound and financially viable."
Segregation hid a lot of material, and now the lid is open and people are searching for wonderful material that is artistically sound and financially viable.
— Stephen McKinley Henderson
These adaptations are not happening in a vacuum, of course: a diverse array of films including "Selma," "Twelve Years a Slave" (a nonfiction adaptation), "Creed" and "Creed 2," "Straight Outta Compton" and "Get Out" all helped change the conversation about audiences for African American stories.
The need to push for change is on everyone in the industry — studios, distributors, producers and filmmakers — says Dede Gardner, co-president at Plan B, the production company behind "Selma," "Twelve Years," "Moonlight," "Beale Street," "Underground Railroad" and "Americanah." "You commit yourself to telling underrepresented stories or you don't."
"You can't isolate the adaptations, this is part of an overall change," adds co-president Jeremy Kleiner, who says the myths about what is commercial have been challenged and demolished.
"Fifteen years ago if you wanted to do a movie with a decent budget, you were told you have to get A-list actors, which meant only Denzel and Chris Tucker," says "Hate U Give" director George Tillman. "Either would cost more than the movie, but also these white executives thought that just because you were African American you could call them up. Now they know actors from this TV talent pool can help a movie work, so you are not in an impossible situation anymore."
"Denzel can't be in everything, but he doesn't have to be," Jenkins says. "'Get Out' made $200 million without Denzel, with actors who, to be honest, nobody really knew."
The next giant leap forward was a certain comic book adaptation. "And then 'Black Panther' happened," Henderson says of the blockbuster — this year's No. 1 movie.
Jenkins says it wasn't so much that Hollywood was suddenly woke as it was that "people are standing at the theaters, saying, 'Show us us.'" This is finally starting to happen for other groups as well, he says, pointing to the success of "Crazy Rich Asians."
Jenkins says the industry is also finally recognizing specifically that there is an audience for black literary adaptations: "It's not only very clear there is an audience for this work, but to take it even further, there are people who are familiar with this work in its literary form — the same way people are familiar with work of non-black artists."
"Everywhere you turn, there are characters of color," Woodson says.
Henderson adds that prestige TV helped change the equation, with endless growth in platforms like Hulu, Amazon and Netflix creating a quest for more quality stories to adapt. Tillman says television shows like "The Wire" proved there was an audience for African American-themed stories and showed off a broader talent pool, while more recent shows like "Atlanta," "black-ish," "Empire" and the Shonda Rhimes oeuvre also gave opportunities to producers, writers and directors. This has opened Hollywood's eyes about talent in front of and behind the camera.
Jenkins says directors like DuVernay, Ryan Coogler and Jordan Peele are "taking the power they've earned and spreading it behind the camera." But also there are people of color in power to greenlight films and they are making sure these literary works get made.
"This feels huge and it feels intentional," Woodson says, adding that there's suddenly interest in her novel "Another Brooklyn" and her young adult backlist, including "Beneath a Meth Moon." "It's about time.
"People are making films, saying, 'Look at us, we exist and we are wholly human,' and they are not writing it for white folks either," Woodson says. "They are not excluding people; they're saying, 'This is a party at my house but you're invited.'"
Tillman says that with "Hate," "the studio allowed us to make the film we wanted because they knew the book was popular — because it was honest, authentic and unapologetically black."
Tillman and Jenkins strove to remain faithful to the original stories they were adapting while putting their own personal stamp on their movies. For Tillman, that meant using "my experience of dealing with police officers and also making the funeral scene like the funeral of Michael Brown," the unarmed teenage boy shot dead by police in the streets of Ferguson, Missouri.
Although Jenkins had to trim parts of Baldwin's novel, he remained remarkably faithful to the story, with the exception of two plot changes. He also added directorial flourishes, including two heart-rending photo essays of black life that add the power of universality to this intimate tale. Most notable is the way Jenkins frames his shots and lingers on the characters' faces in a way that slows time and makes the love between the two protagonists feel visceral in a way that even Baldwin could not convey on the page.
"This is why adaptations are so vital," Jenkins says. "It's one thing to read a book and intellectually picture and imagine what these characters feel, but to see these actors give it full body is different."
Jenkins also used those images for another reason. "For many white audience members this might be the first time they've met the unbroken gaze of an African American — even when you read a book you can't feel that connection, but here it becomes unbreakable."
Get our L.A. Goes Out newsletter, with the week's best events, to help you explore and experience our city.
You may occasionally receive promotional content from the Los Angeles Times.