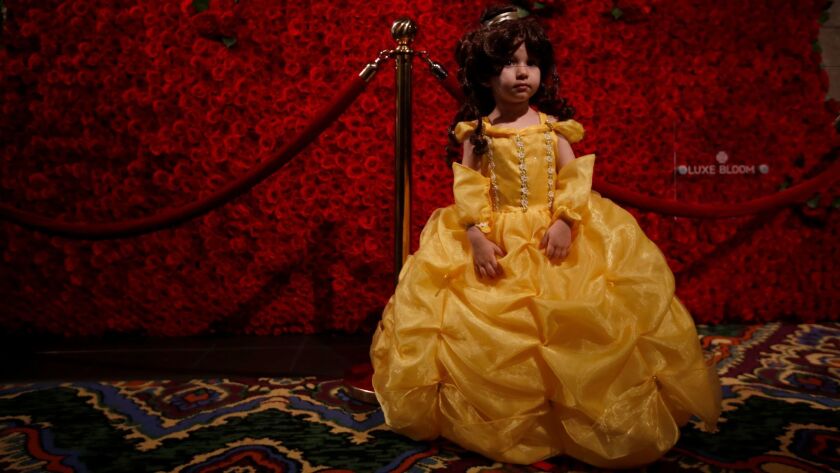 A pint-sized Princess Belle shuffled along Hollywood Boulevard into El Capitan Theatre, carefully lifting the hem of her voluminous yellow skirt to keep it from dragging along the Walk of Fame. She was quickly lost in a sea of identical mini-princesses and their parents (with a few Beasts peppered in) at the Disney-owned theater Thursday night.
Not long after, movie theaters across the city would fill with people bent on catching the "Beauty and the Beast" live-action remake on opening night. But at El Capitan, superfans crowded into the special 6 p.m. show, which (at $36 a ticket for a reserved seat, refreshments and film poster) has been sold out for months.
Mike and Sarah Kaczorowski, both 29, flew to Hollywood for the show from Erie, Pa.
"When we first started dating, we talked about it being our favorite movie," Mike said. "So we're pretty excited about it."
The couple started dating 13 years ago when they were 16 and even dressed up as Beauty and Beast for their senior prom. They married eight years ago and have two children, Ella, 4, and Jacob, 2, who were dressed up as Belle and Beast, respectively.
"Our first night we hung out, we discovered that we both loved the movie and we talked for hours about it," added Sarah. "Now 13 years later, here we are."
The theater went all out for the opening, with props and costumes from the film on display, including the spectacular yellow ball gown worn by Emma Watson in the film and a replica of the story's enchanted rose, sheathed in Swarovski glass, by the auditorium entrance.
Downstairs by the costume displays, mini-Belle Skylar Gordon, 7, admitted that her favorite princess is actually "The Princess and the Frog's" Tiana. But "since the movie is out," she said, "I wanted to look just like [Belle]."
When asked why she didn't want to dress up as Beast, she shook her head vehemently and said, "I didn't want to look like a boy."
Kids weren't the only ones in the cosplay spirit at the fan screening. Nataly Santos, 26, who opted for Belle's blue dress and white apron look from early in the film, admitted that "Beauty and the Beast" was a "really bad obsession" she had growing up.
"When I first saw the trailer, I couldn't stop crying," she said. "It's just everything to me."
So much so that she made an entire business out of it: Belle's Enchantment, a princess party company based out of Downey.
"I have my entire family here watching it with me," she said.
Matt Garrett, 30, opted to see the film alone after his friends couldn't get tickets. "It's a tale of female empowerment and overcoming obstacles and difficulties," he said. "It's a timeless classic, really."
Garrett admitted that his favorite character is "the little tea cup," Chip Potts. "It's that feeling of being just a little off, you know?" he said. "Also this optimism that's really kind of cool.
"[Also], the hairy one," he said of Beast. "Everyone wants to do the right thing and he really had a sense of what was right. He just couldn't bring himself, because of his beastly nature, to be a regular human being."
"For me, 'Beauty and the Beast' takes me back to when I was a child myself and going to see the movie with my mom," said the theater's director of special operations, James Wood. "It's still her favorite movie to this day. I think about the joy I had then and seeing other people come in and get to experience that for the first time with their kids … it just brings joy to me."
At 20 minutes to 6, guests began filing into the theater to see a live organist perform music from the film's familiar score. A light-and-projection show also took place, featuring an ornate Swarovski crystal curtain. As the music stopped and the organ disappeared, a seat-number-based raffle took place with guests winning merchandise from the film, including autographed posters, books, journals, phone cases and shirts. Then a big surprise was revealed.
Audience member Emely Saracay, dressed in a Belle-yellow dress, was called to the front of the theater under the guise of having won a raffle prize. The curtain was raised, revealing her boyfriend, Osvaldo Velazio, dressed as Beast.
"There's something I'm not and that's perfect, but there's something that I am and that's in love with you," he said, getting choked up as the audience recorded the proposal on their phones.
"Will you be the Beauty to this Beast?" he asked, dropping to one knee. The audience erupted into cheers.
follow me on twitter @sonaiyak
ALSO
Review: 'Beauty and the Beast' remake is a gilded monument to the more-is-more principle
How the new 'Beauty and the Beast' empowers Belle's inner feminist with books, not boys
What happens when you put 'Beauty and the Beast' stars at a piano with composer Alan Menken? Disney magic
---