Kevin Hart steps down as 2019 Oscars host after backlash over past homophobic comments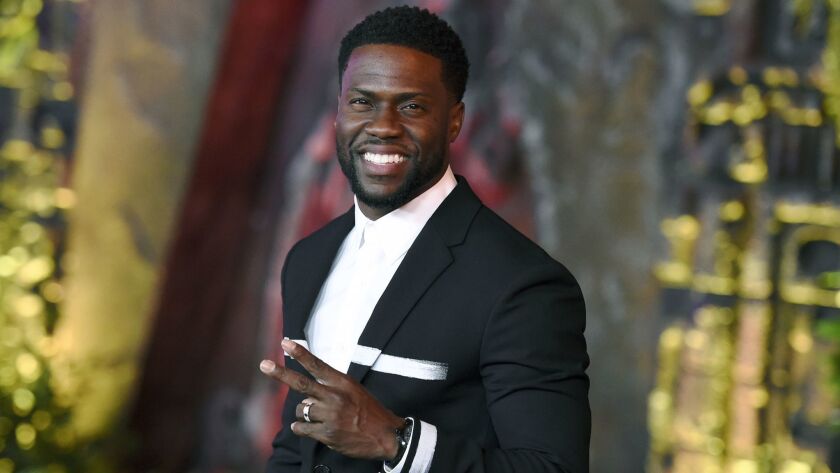 Kevin Hart has stepped down as host of the 2019 Oscars.
After he claimed he was pressured by the Academy of Motion Picture Arts and Sciences to apologize for past homophobic comments, the comedian announced on Thursday night his decision to step away from hosting this year's ceremony.
"I have made the choice to step down from hosting this year's Oscar's," said Hart on Twitter. "This is because I do not want to be a distraction on a night that should be celebrated by so many amazing talented artists. I sincerely apologize to the LGBTQ community for my insensitive words from my past."
Hart had previously revealed on Instagram that the Academy was demanding he apologize for tweets that had resurfaced after it was announced earlier this week that he would host the ceremony. Critics pointed out that the comedian had a history of making homophobic remarks (which he reportedly started deleting after the Oscars announcement).
"I just got a call from the Academy and that call basically said, 'Kevin, apologize for your tweets of old or we're going to have to move on and find another host,'" Hart said in a video posted on Instagram. "I chose to pass. I passed on the apology."
In that same post, Hart insisted that he had already "addressed this several times" and that he had "moved on." He added that he was refusing to bow to any "internet trolls."
"I'm not going to do it, man. I'm going to be me. I'm going to stand my ground," said Hart. "Regardless, Academy, I'm thankful and appreciative of the opportunity. If it goes away, no harm, no foul."
Hart had urged people to "stop searching for reasons to be angry" in an even earlier post on Thursday.
"Our world is becoming beyond crazy. I'm not going to let the craziness frustrate me or anger me especially when I worked hard to get to the mental space that I'm at now," Hart said in the earlier Instagram video. "I'm almost 40 years old. If you don't believe that people change, grow, evolve as they get older, I don't know what to tell you."
He added in the caption: "If you want to search my history or past and anger yourselves with what you find that is fine with me."
In addition to the comments made on Twitter, Hart was getting backlash for a joke featured in a 2010 stand-up comedy special.
"One of my biggest fears is my son growing up and being gay," Hart said in the special. "I'm not homophobic, I have nothing against gay people … But me, being a heterosexual male, if I can prevent my son from being gay, I will."
When asked about the segment by Rolling Stone in 2015, Hart explained that the joke was supposed to be about his worries as a dad. He admitted it was not a joke he would make anymore, but not necessarily because he considered the joke or his attitude problematic.
"I wouldn't tell that joke today, because when I said it, the times weren't as sensitive as they are now," said Hart.
More recently, GLAAD specifically called out Hart by name in its 2016 "studio responsibility index," which examined LGBTQ representation in films released by the major studios the year prior.
"This year, there was a noticeable resurgence of outright offensive depictions of LGBT people, which relied on gay panic and defamatory stereotypes for cheap laughs," said the LGBTQ media advocacy group in its study. "Among the worst were the Kevin Hart-starring films 'Get Hard' and 'The Wedding Ringer,' which contain more blatant and incessant gay panic humor than we have seen in a Hollywood film in years."
In one of his Thursday statements, Hart emphasized how people "live" and "learn" and "grow" and "mature" over the years rather than directly address any of his past comments.
"I'm in a great place," said Hart. "A great mature place where all I do is spread positivity."
Twitter: @tracycbrown
---
The complete guide to home viewing
Get Screen Gab for weekly recommendations, analysis, interviews and irreverent discussion of the TV and streaming movies everyone's talking about.
You may occasionally receive promotional content from the Los Angeles Times.