An incomparable evening with Rose Hartman, pioneer of a photographic style
At 9 o'clock on a breezy July evening in Santa Monica, Rose Hartman was on her best behavior. It was, after all, a special occasion.
Hartman is the acid-tongued, self-made celebrity portraitist whose works — including an iconic photograph of Bianca Jagger looking particularly beguiling atop a white horse amid the lusty clamor of Studio 54 — and personal endeavors are explored in director Otis Mass' debut documentary, "The Incomparable Rose Hartman."
It's "a character study," as Mass put it, of the woman who built a career documenting New York's high society and pioneered a new kind of paparazzi-portraitist style of photography.
In conjunction with the movie's West Coast premiere and a pop-up exhibition of Hartman's images at the Laemmle Monica Film Center (on display through Sept. 7), the 80-year-old photographer had made the trek from New York to L.A. — something she hadn't done in 35 or 40 years; she can't quite remember — to attend the exhibit's inaugural eve.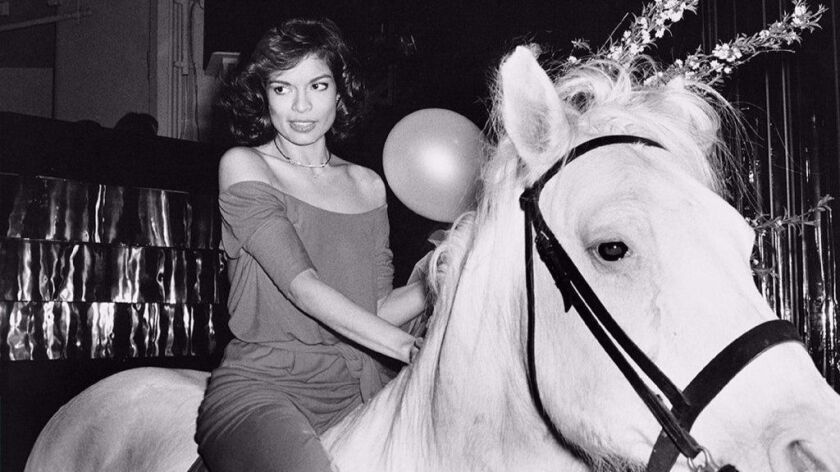 That was no small feat for the hot-tempered Hartman, who was still miffed about her particularly intolerable cross-country voyage in the economy section of a Virgin America flight (the scanty headrest was her primary grievance) during dinner with Mass at the Huntley Hotel's modish penthouse restaurant.
It didn't help that the restaurant was a bit on the raucous side and, by Hartman's standards, unsuitable for dinner conversation. Midway through the meal she demanded to switch tables.
"I mean, we're not at McDonald's," she'd quipped once the panicked, twentysomething waiter was out of earshot. Hartman and Mass were swiftly relocated from one lace-canopied dining alcove to another, the latter of which boasted a comparably exquisite — "lovely," as Hartman might say — panoramic view of the sunset over the Pacific.
Wearing a neatly lacquered face of makeup, a peroxide-blond pixie cut and an elegant, seafoam-green, buttoned-up jacket — whose brand, she pointedly mentions, is "Donna Karan, darling" — Hartman seemingly has a fascination with the word "lovely."
Infatuated with beauty, class and esteem, Hartman attempted to capture the essence of the celebrities and fashion moguls whose poise she admired and whose socialite status she longed for herself. Her photos — which most famously showcase the likes of Jerry Hall, Linda Evangelista, Andy Warhol and Lauren Hutton — reveal an obsession with authenticity and poke holes in the polished facade of glamour, catching these supposedly flawless figures in fleeting moments of humanity.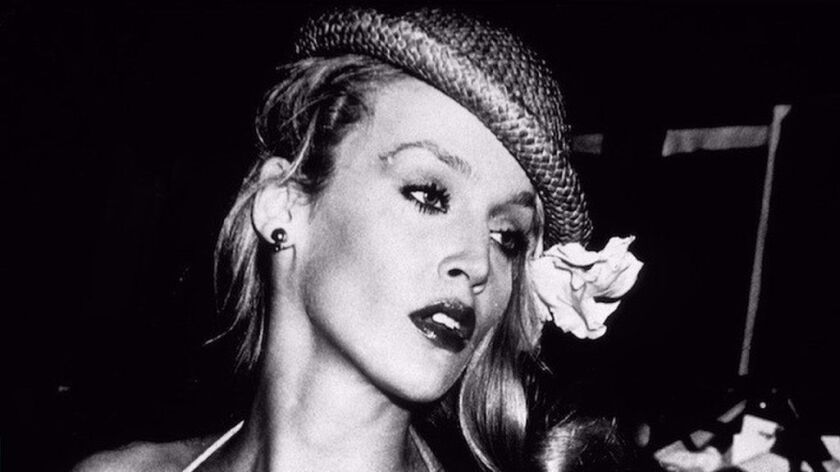 "I want to see Jerry Hall's soul," Hartman said during one of her interviews for the documentary. Her motives for this are never explicitly revealed, though the film suggests that envy is at the heart of her work — Hartman was not only entranced by the women in her photographs; she wanted to be like them.
The Laemmle is a leisurely five-minute stroll from the Huntley, but after leaving the restaurant, Hartman bolted some 20 paces ahead of Mass on her way to the exhibit, dragging the film's publicist along with her by the crook of his arm.
Much like Hartman's famously irascible disposition, her relationship with Mass can be prickly at times.
At dinner, the two had engaged in what felt like a thinly veiled rhetorical joust. When the focus of conversation skewed toward Mass, Hartman couldn't help but patently ignore her dinner companion (although she made sure — with a bout of enthusiastic whispers and grandiose hand gestures to the photographer sitting next to her — that she was impossible to overlook). She reentered the discussion only when the photographer framed a solo shot of Mass (at which point, Hartman slid closer to her director in the wraparound booth), or at the mention of her own name, delivering an almost impeccably crafted impression of a sugary-sweet mealtime conversationalist.
For his part, Mass, nearly 40 years her junior and a steadfastly quirky lover of art (he arrived to dinner wearing a '70s-inspired, electric-blue suit and spent at least 10 minutes recounting a hallucinogen-fueled cinematic revelation at Burning Man, circa 2001), regards Hartman as something of a legend. And after spending the better part of five years working on the film, there's an almost familial closeness between the two.
"She's like, Aunt Rose," Mass said — the clincher to an offhand explanation for his dramatic weight loss while working on the documentary, which he attributed to "The Rose Hartman Diet."
"I don't want it to sound like I've tortured you!" she said to Mass, then turned away. "But, really, he does look so … different now."
There's some semblance of a parent-child dynamic to their banter, though, as Hartman deadpans with her Katharine Hepburn-esque accent, "I just can't bear children."
Just as distasteful, she declared, are dogs, people with "no style" (to this point, she gave a brazen shout-out to the residents of Santa Monica) and especially boredom. Or, rather, as explored in the film, dissatisfaction masqueraded as boredom.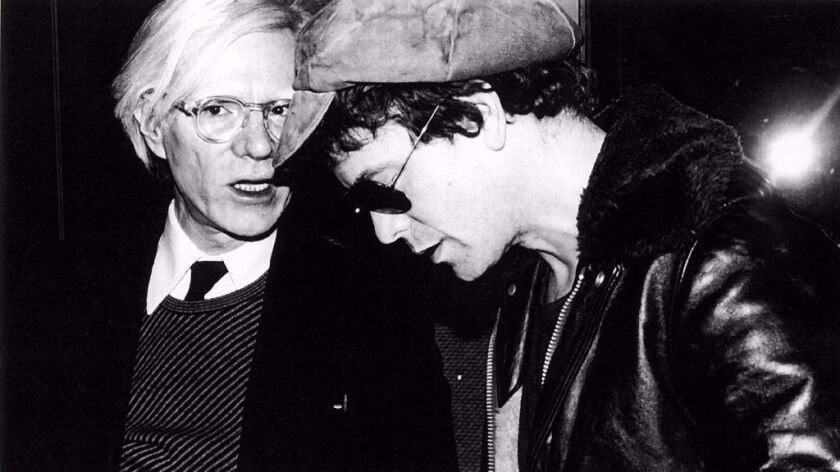 It's clear that Hartman has always been looking for something. And while that discontent might well have been the catalyst that launched her sudden transition, at almost 40, from English teacher (a peculiar career path for a woman so fixed in her dislike for children) to celebrity photographer, it appears now to manifest itself as loneliness.
Where most women her age might collect wallet-sized photos of their grandchildren, Hartman keeps a postcard-sized print of Kate Moss — a photo Hartman snapped of the model during New York Fashion Week in 1995 — which she offhandedly pulls from the outer zipper of her purse during dinner.
In the film, Mass toys with the intricately obscured under-layers of Hartman's psyche. And though she attests that the film's portrayal of her as an artist and a human being is "probably accurate," the real essence of who she is remains an elusive mystery.
There is a distinct irony in that, given Hartman's mode of stripping her subjects down to their unadulterated cores within moments of meeting them.
"I had to move quickly, otherwise you would show me your posed face," Hartman said to one subject in the documentary. "I want something that shows me, really, who you are."
Yet when Mass poses the question "Who is Rose Hartman?" near the documentary's end, Hartman dodges the inquiry, and it goes unanswered.
Upon entering the Laemmle, Hartman broke away from her entourage, approaching a haunting blown-up print of Carla Bruni walking the runway of a John Galliano fashion show in 1995 — hips angled toward the camera; eyes dark and fiery beneath a lacy, masquerade-style renaissance mask.
"Rose usually gets emotional when she sees her photos," Mass said, lingering in the entryway to the theater.
Like clockwork, Hartman gasped, teary-eyed: "Oh, I love this one. It's just so beautiful."
When she caught — out of the corner of her eye — a group of moviegoers whispering nearby as they gawked at her photographs, Hartman whipped around (suspending her conversation with Mass) to face them.
"If you have any questions," she crooned, "I'm the photographer."
A wide-eyed schoolteacher, clearly unfamiliar with Hartman's work, pointed to a photograph of Woody Allen directing a film on the streets of New York City's Greenwich Village.
"So, do you know him?" the woman asked, unaware that the distinction between "photographer" and "paparazzo" is the source of what is perhaps Hartman's most cutting insecurity.
At the question, Hartman initially feigned ignorance. She stared absently at the alabaster wall before turning back to the woman.
"Like, are you friends with him?" the woman reiterated, gesturing again to Allen. "Or do you just take the pictures and then walk away?"
Hartman laughed, perhaps a bit too heartily. "Well, he's not going to invite me over for dinner, is what I always say!"
After 40 years spent meticulously studying the nuances of the world's elite class of superstars, Hartman can muster a pretty convincing impersonation of one. And though Mass claims he's "figured her out," the question remains: Who is Rose Hartman, really?
Perhaps she just doesn't want anyone to know.
Twitter: @emczachor
ALSO
Review: Fast-paced doc 'The Incomparable Rose Hartman' glosses over photographer's complexity
Disneyland's Pirates of the Caribbean: 50 years of change
'Our relationship is our profession': At VidCon, LGBTQ social media influencers talk love and brands
---
The complete guide to home viewing
Get Screen Gab for weekly recommendations, analysis, interviews and irreverent discussion of the TV and streaming movies everyone's talking about.
You may occasionally receive promotional content from the Los Angeles Times.